Quick & Easy Eggnog Ice Cream
A quick and easy eggnog ice cream recipe with the taste of rum and nutmeg, but perfectly okay for the kiddos to eat!
The links in this post may be affiliate links.  That means that if you click them and make a purchase, this site makes a commission.  It will have no impact on the price you pay or the experience of your purchase.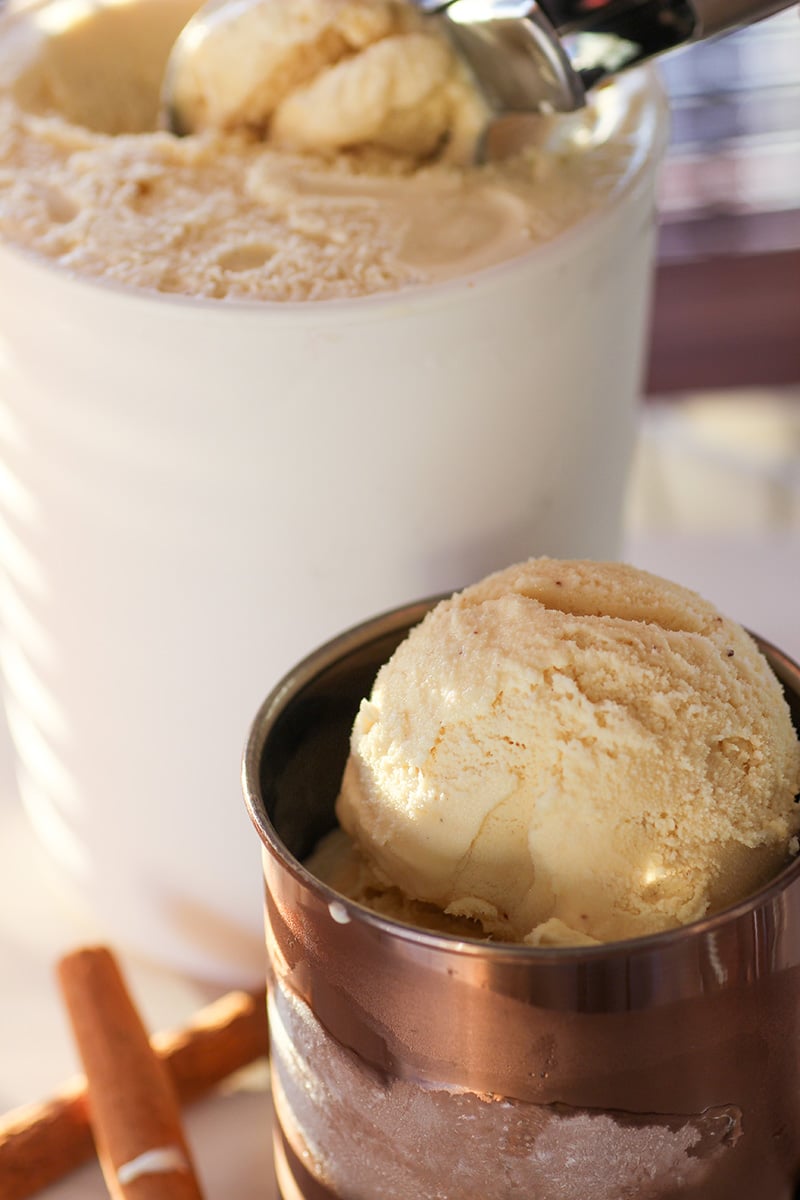 As we transition out of pumpkin season and into eggnog season, I am serving up all the eggnog goodies that I can.
Am I the only one who defines seasons with my taste buds?
Here are my seasonal tastebud correlations:
Fall
Pumpkin season, and making all things pumpkin. Then there are apple recipes as an honorable mention
Winter
Eggnog and all the baked goodies. Cause you actually need the oven to be going to help keep the house warm anyway. Might as well make goodies in it, right?
Spring
All the things infused with fresh fruit. Recipes that are infused with fruity deliciousness as all the berries and fruits come into season.
Summer
As the heat turns up ice creams help cool things down. And because you don't want to feel too heavy, salads, and replacing meals with smoothies are a must!
And DIY projects are especially on the menu around here in spring and summer. Which, get me in the garage and I may forget to eat altogether.
So based on the list, this recipe could be a little out of season, but the eggnog trumps everything. And since it's seasonal, it can make its own rules… cause I said so!
So let's make Eggnog Ice Cream, shall we?
Ingredients Needed
Eggnog
Half and half
Sugar
Brown sugar
Rum extract – or real rum if you feeling froggy
Nutmeg – can be freshly grated or the kind in the canister
Additional Items Needed For This Ice Cream Recipe
What Kind Of Ice Cream Maker Do I Need?
There are several out there, but I love the one I have. It is no longer sold, but this one is the most similar one I have found. I love mine because it was cost-effective, stores easily in the box, and is super simple to use.
Why Do I Need Rock Salt To Make Ice Cream
The rock salt which is chunkier than regular table salt helps to make the temperature colder.  This helps in the process of the ice cream freezing and is usually required by most ice cream makers.
What Can I Use If I Don't Have Rock Salt
Kosher Salt is an alternative to rock salt.  It is also chunkier than table salt, which is what allows it to work.  But it is not quite as chunky as rock salt, so you will most likely need more of it.  It also does not have any additives like iodine similarly to rock salt.
How To Make Quick and Easy Eggnog Ice Cream
While the process of making ice cream takes time, the beauty of this recipe is that most of the work is not done by you.
All you need to do is whip up the ingredients and let your ice cream machine do the work, unlike my butter pecan ice cream recipe.
Making eggnog ice cream from scratch is a little more involved and takes a little more time, so this is perfect to save time.  Or if you just aren't with doing all the extra work.
Once the ice cream is done in the maker, you can transfer it into a dish to freeze it further, or serve as soft serve if you prefer.
Whatever your preference is, you are sure to love this quick and easy Eggnog Ice Cream recipe!
Other Egg Nog Recipes You May Love:
Other Christmas Dessert Recipes You May Love: