Use your favorite unflavored eggnog for this delicious, creamy eggnog pound cake with rum drizzle. You won't regret it. And if not serving for kids, skip the rum flavor and use real rum for an adult treat.
The links in this post may be affiliate links.  That means that if you click them and make a purchase, this site makes a commission.  It will have no impact on the price you pay or the experience of your purchase.
You may look forward to the Christmas season for lights, decorations, cookies, presents and all that. But not me!
For Christmas season is synonymous with eggnog season, and that is what I look forward too most.
I love making all the things with eggnog. Namely a nice spiked eggnog cocktail. But this eggnog cake with rum drizzle is right in line after that.
This cake is moist, thick, and has all the spices you expect to be paired with eggnog
Ingredients Needed To Make Eggnog Pound Cake With Rum Drizzle
flour
cornstarch
baking powder
sugar
vanilla pudding mix
butter
eggs
salt
eggnog
vanilla
cinnamon
nutmeg
heavy cream
rum flavoring
brown sugar
How To Make Eggnog Pound Cake
Start out by heating the oven to 325 degrees.
While waiting for the stove to heat, grease and flour your bundt cake pan. If you are like me, you can skip the greasing and flouring and use a silicone pan.
Sift the flour to remove any lumps. This also helps the flour mix in with other ingredients.
Combine the pudding mix, sifted flour, cornstarch, baking powder, cinnamon, nutmeg, and then set it aside.
In a mixing bowl or the bowl of your stand mixer, mix together the butter and sugar until it's creamy.
Add in the eggs and mix until butter, sugar, and eggs are well blended.
Then add in the eggnog and vanilla to complete your wet ingredients.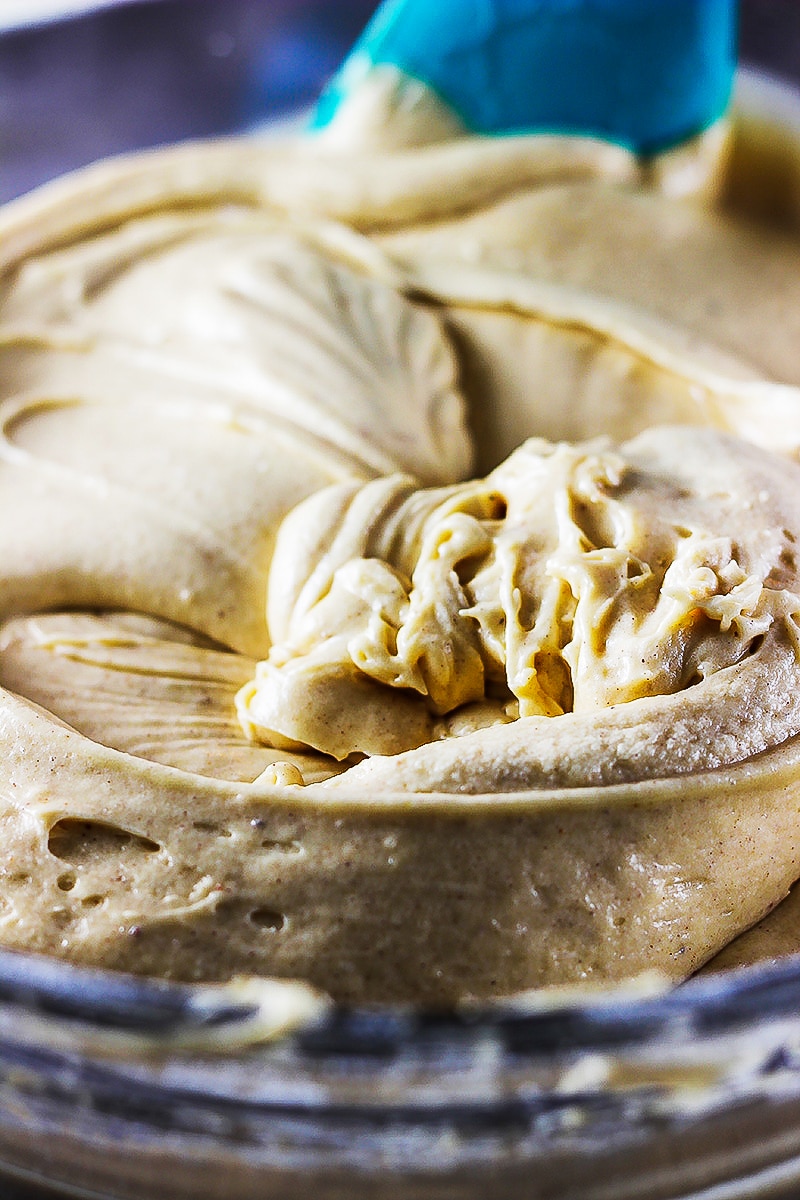 Now you will gradually mix in half of the dry ingredients mix you set aside earlier. Once blended in, combine the remaining mixture, and mix it together thoroughly.
Pour the cake mix into your bundt pan. Making sure not to fill the bundt pan more than ¾ of the way full.
That extra space is needed for the cake to rise.
Place the cake in the heated oven and bake 55-60 minutes or until a toothpick inserted in the center comes out clean.
Remove the cake from the oven and allow the cake to cool for at least 10, but no more than 20 minutes while you move on to making your rum drizzle.
Pro Tips For Baking for Eggnog Pound Cake
If using a silicone pan, I always set it on a baking sheet to make it easier to put it in and take it out of the oven. And also so the cake is not shaken during the transfer. I would hate for your cake to drop.
Slowly spoon the cake mix into the bundt pan to prevent the formation of air bubbles.
Tap the pan lightly on the counter or work surface as an added measure to settle the mix and prevent air bubbles.
Do not open the oven until it is time to check if it is done. Opening the door prematurely allows heat to escape the oven and can affect baking.
Making The Rum Drizzle For Your Eggnog Cake
In a small saucepan, combine butter and brown sugar for drizzle.
Once it is melted together, whisk in rum and cream.
Whisk until it comes to a boil to prevent burning and sticking to the saucepan. Remove it from the heat.
Allow the drizzle to set for 5 minutes or so.
Transfer your cake from the baking pan upside down on a cake plate by placing the plate on top of the pan and turning over.
Drizzle the semi-warm cake with rum drizzle using a spoon, slice and Enjoy!
Does The Flour In This Cake Have To Be Sifted?
Sifting the flour helps breaks up any lumps in the flour. Sifting can be done by using a flour sifter device just like this one, or even putting it through a strainer like these.
Sifted flour, which is much lighter than unsifted flour, is easier to mix into other ingredients, so while you do not have to sift, it definitely has benefits. Such as allowing you to measure more evenly since the flour is lighter when sifted.
Does Eggnog Cake Need To Be Put In The Fridge?
While there is no harm in putting your pound cake in the fridge, you do not have to.
This cake can be stored at room temperature in a covered cake pan just like this one, or wrapped tightly in aluminum foil.
It can stay out for up to 5 days, but I doubt that it will last that long.
What Size Bundt Pan Should I Use For This Recipe?
I would recommend using a 12-15 cup bundt pan. If you use an 8-10 cup pan, you may have enough batter leftover to put in a small loaf pan and gift to a family member, neighbor, or friend.