If you love eggnog and biscuits you are going to be in love with these buttery eggnog biscuits.
The links in this post may be affiliate links.  That means that if you click them and make a purchase, this site makes a commission.  It will have no impact on the price you pay or the experience of your purchase.
These biscuits are made from scratch with only a few ingredients and under thirty minutes. In practically no time you get tasty, buttery, delicious biscuits perfect for Christmas breakfast or brunch.
These literally came about as I tried to figure out what else I could make with that golden, creamy, Christmas season goodness (aka eggnog).
As I went to make breakfast one weekend, I went to make some honey butter biscuits and that little light bulb went off above my head and these biscuits were born.
Ingredients Needed for Eggnog Biscuits
flour
sugar
eggnog
butter
salt
lemon juice
baking soda
Seven ingredients!
That's all you need!
And I am willing to bet you have all of those things on hand.
How To Make Buttery Eggnog Biscuits
Start out by preheating the oven to 425 degrees.
Then melt the butter.
This can be done by putting the butter in the baking dish and placing it in the oven. As it heats up. Or you can put the butter in the microwave to melt it and then transfer it to the baking dish.
Either way is fine. I've done both depending on the day.
Once your butter is melted set it aside while you whip up the dough for your eggnog biscuits.
Making The Dough
To make the dough, in a medium bowl add the lemon juice and baking soda and let it react. Then mix in the flour, sugar, and salt. And follow that with a cup of eggnog.
Mix it to form a sticky dough.  If it doesn't mix well add in more eggnog, a tablespoon at a time until the dough is nice and sticky, but firm.
Preparing to Bake
Using an ice cream scooper, or spoon, scoop dough and place it in the buttered baking dish next to each other, sides touching.
Start in the center and work your way around.  Or you can use an individual brownie/biscuit pan to create perfectly shaped uniform biscuits.
If you use the individual pan, which is my preference for nicely shaped biscuits, split the butter into nine pats and place in the 9 squares.
Bake the biscuits in the oven for 10 minutes.  
After ten minutes, remove the pan from the oven and brush the tops of the biscuit tops with butter surrounding them in the bottom of the pan.
Put the pan back in the oven and continue to bake for additional 7-10 minutes. Until tops are golden brown.
Once the tops are golden and have a slight crisp remove biscuits from the oven and allow them to cool for a few minutes.
Serve them with your favorite topping or nothing at all and enjoy!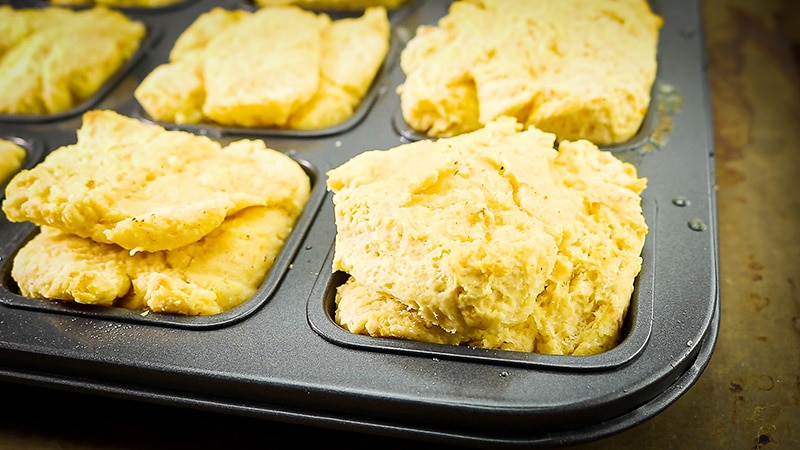 What do you top eggnog biscuits with?
We have ate them with fried apples. But they would be equally delicious with apple butter (here is an apple butter recipe for some if you wanna make your own) or simply butter.
They honestly can stand on their own.