Hwy 55 | Next Stop Is Good and Full
Fast, delicious, simple food. Made fresh. Served quickly. And in a convenient place. Hwy 55 is a food franchise serving up better food with an even better experience.
The links in this post may be affiliate links.  That means that if you click them and make a purchase, this site makes a commission.  It will have no impact on the price you pay or the experience of your purchase.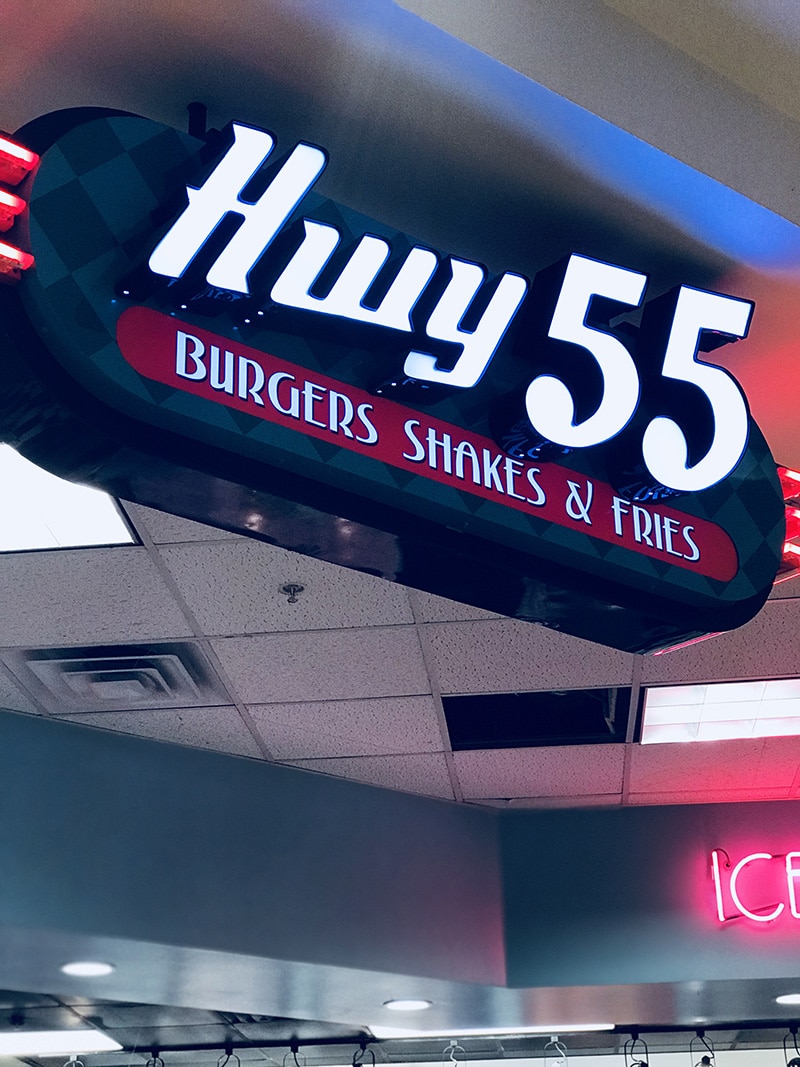 A special thank you to the folks at the Crabtree Valley location for providing my children and I with lunch on them.  While we were treated to a free meal, the opinions given are completely honest and my own.
When we first came to visit the city of Raleigh after deciding to move here we stayed right across the street from Crabtree Valley Mall.
In fact, one of the days we opted to leave the car behind and walk over.
That mall had everything. And truth be told me and the hubs aren't really mall people, so it doesn't take much for us. But our fifteen-year-old daughter is a mall person, and she loves LOVES loves Crabtree Mall.
The mall is convenient and has all the things you need that could easily keep you there for a full day.
And if you are gonna spend a full day shopping, there will undoubtedly need to be some eating.  Now I am an eating person…
Hwy 55 is a gem located inside the Crabtree Valley Mall. With a 50's diner vibe, look, and overall feel. They serve up sandwiches with finger food sides and some of the most delicious custard. And I know frozen treats pretty well. But I digress.
Earlier this week, right before the fourth of July holiday the kids and I stopped in for some good food after I went to get these eyebrows tamed.  I am a mall person for my brows, and that's about it.
Although we don't eat beef or pork, and they are known for burgers, we didn't feel slighted by the options offered on their menu.
My daughter grabbed the John Boy & Billy Chicken Sandwich, while I got the Chicken Philly. Just know that if there is a Chicken Philly on the menu, that's what I'm ordering.
RJ opted to get the grilled cheese and while he said it was tasty, I think he was more enthused by the presentation of it. The kids meal came served in old-fashioned car type tray thing that he is still playing with.
Our stay wasn't long because the food was so fast, but we were so full that I told the kids that I might pass on cooking dinner. And I did…. kinda.
I let them indulge in leftovers.
The long and short of it is that Hwy 55 had good food that didn't take all day. And you know that is what Kenya Rae is all about!
Hwy 55 is Kenya Rae approved!
While first started in North Carolina, Hwy 55 has locations across several states in the U.S.  Serving up fresh, never frozen burgers, and a host of other tasty sandwiches and side items.
Do you have a Hwy 55 in your area?  Have you ever been?