Chocolate chips are a classic, but these white chocolate chip pecan cookies are an amazing spin on a classic favorite. Soft, chewy, white choclate-y cookies that just melt in your mouth with a sweet crunch.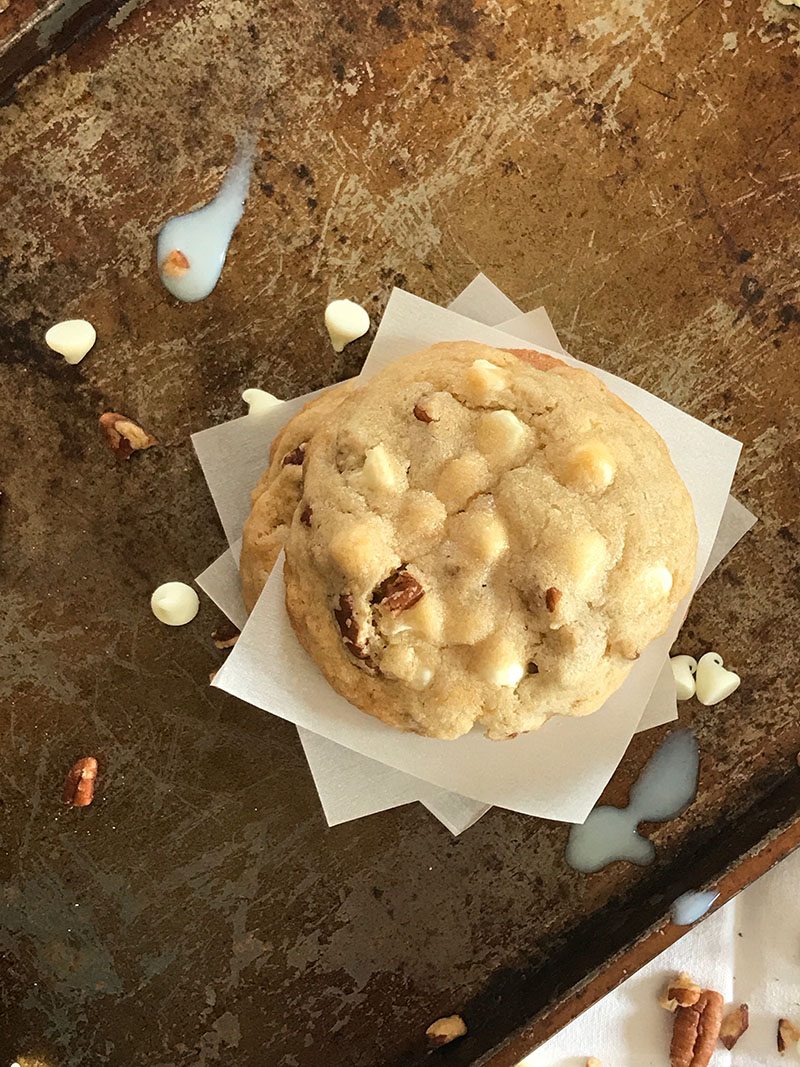 If a dog is man's best friend than these pecan white chocolate chip cookies are his girls.
I really don't know what the two have to do with each other. But what I do know is these cookies are my best friend, particularly in the holiday months.
Who am I kidding? They're my favorite on any day.
But there are a few things that are staples in my holiday palette; pumpkin, white chocolate, sweet potatoes, and eggnog.
These cookies, I stumbled on making after making my first attempt at making homemade chocolate chip cookies.
That's how it usually happens for me. I taste something and think "this would be great if I add x, or substitute z."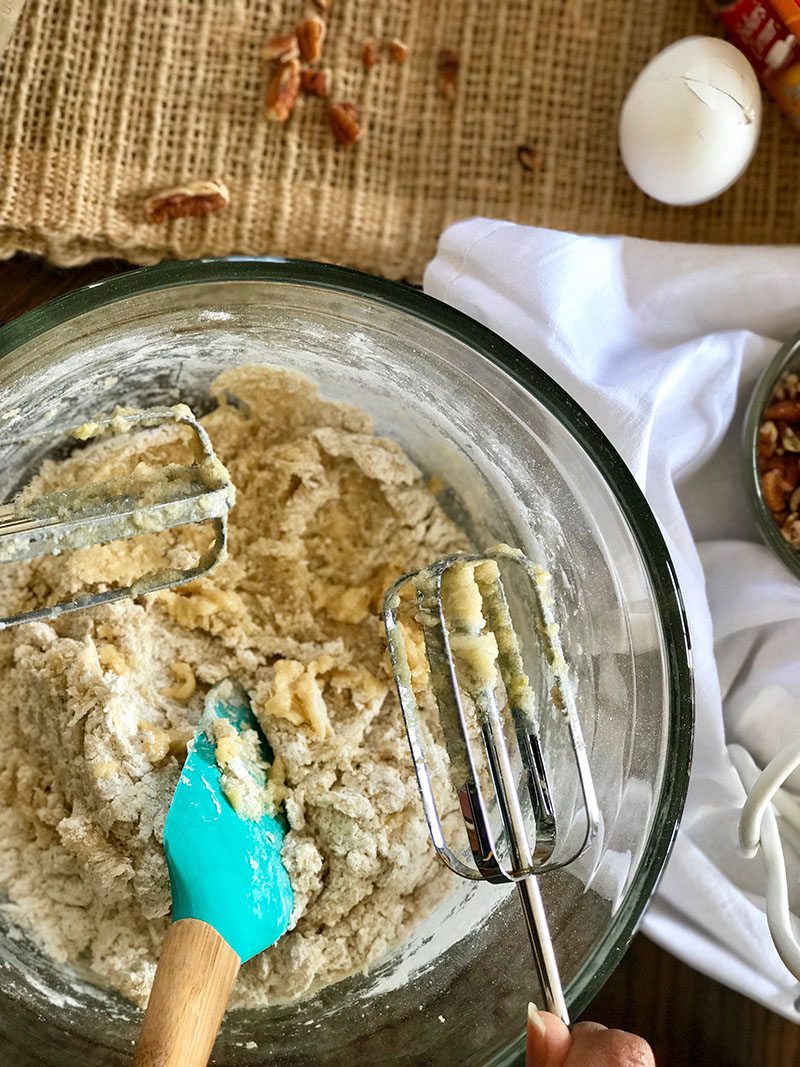 I decided to replace milk chocolate chips with the better tasting white chocolate. Yea I said it! And add pecans. Because I love a chocolate chip cookie with the added texture of nuts. And I usually have pecans on deck.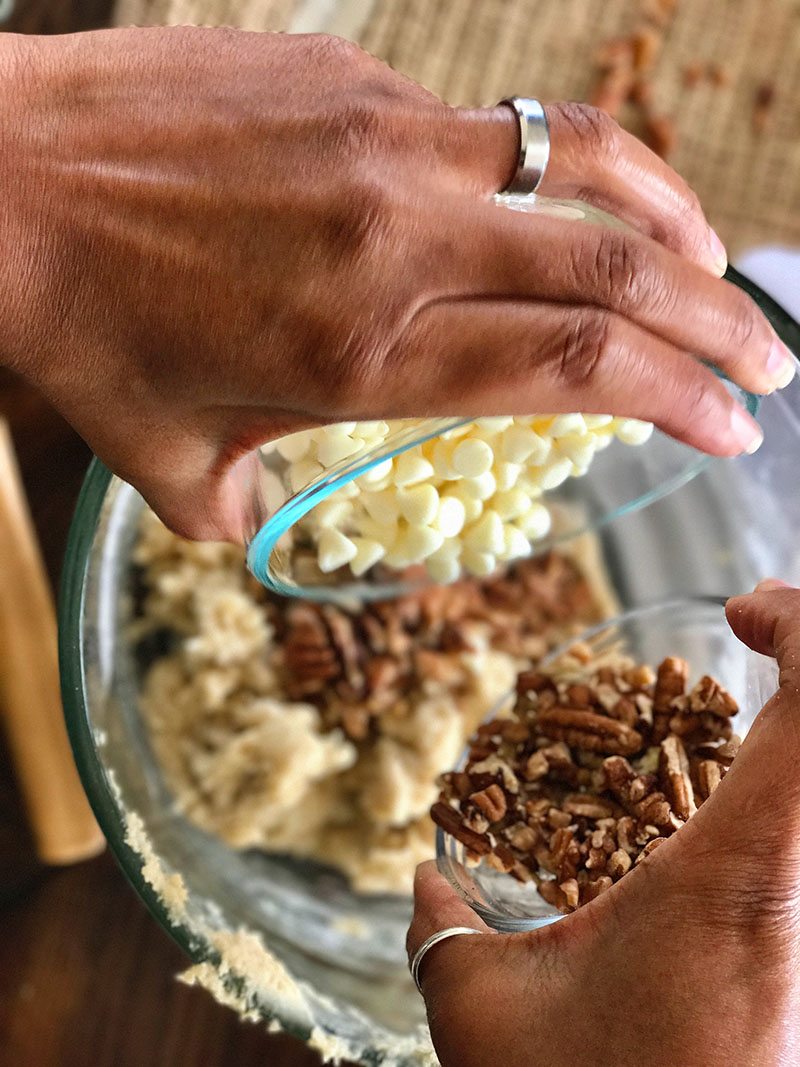 So today, I am sharing a Kenya Rae scratch made stumbled on recipe.
And the good news is there are more cookies in this basket. I have collaborated with Natasha from Houseful of Nicholes for a cookie hop called #HousefulofCookies!
You can find other cookie recipe inspiration all right here!
Houseful Of Nicholes – Slow As Molasses Cookies
A Crafty Spoonful – Chocolate Peanut Butter Crinkle Cookies
A Real Urban Mom – Chocolate Chip Cookies
Divas With A Purpose – Houseful Of Cookies 2017
Everyday Party Magazine – Simple Caramel Cream Sugar Cookies Swirls
Fab Haute Mama – Belgian Waffle Cookies
Good Girl Gone Redneck – Perfect Holiday Saltine Toffee Treat
Happily Homegrown – Old Fashioned Hermit Bar Cookies
Honest & Truly! – Triple Chocolate Dipped Cookie
I am the Maven® – Moldy Mice Cookies
Keep Calm & Teach Fifth Grade – Winter Wonderland Sugar Cookies
Kenya Rae – Pecan White Chocolate Chip Cookies
Mom On The Side – Hopscotch Crunchies Holiday Cookies
More Than Thursdays – Mint Surprise Sugar Cookies
Our Crafty Mom – Houseful Of Cookies 2017
Peyton's Momma – Houseful Of Cookies 2017
Simplify Live Love – Double Chocolate Pomegranate Cookies
Teachable Mommy – 3 Ingredient Peanut Butter Cookies
The Analytical Mommy – Favorite Lactation Cookie Recipe
The Biswolds – White Chocolate Chip Toffee Cookies
We're Parents – Cranberry Cheesecake Cookies
Pecan White Chocolate Chip Cookies
Soft, chewy, white choclate-y cookies that just melt in your mouth with a sweet crunch.
Ingredients
1 stick of salted butter, softened
1/2 cup Sugar
1/4 cup Brown sugar, I use light brown
1/4 teaspoon salt
1 1/2 cups All Purpose Flour
1/2 teaspoon baking soda
1 teaspoon Vanilla
1 egg
1/2 cup pecans, chopped
1/2 cup chocolate chips
Instructions
Heat the oven to 350℉.
Using a hand or stand mixer combine the butter with the white and brown sugars.
Add the egg and vanilla, mixing for only 30 seconds or so.
Add in the flour, baking soda, and salt. Mixing with a spoon or your hands to form the dough.
Then add the white chocolate chips and pecans and continue to mix with a spoon or hands until incorporated into the dough.
Break the dough into medium balls and place on ungreased cookie sheet. Allowing them space to spread between each.
Bake for 10-12 minutes depending on your oven.
Only cook until the cookies have puffed up, don't appear like wet dough anymore, and are slightly golden.
Remove from pan and let them cool for a few minutes before serving.
Notes
Leaving the cookies in the oven beyond the point of them being slightly golden will cause them to overbake.  I also take them off the warm baking sheet and allow them to cool elsewhere for this same reason.  Doing it this way will yield soft chewy cookies that melt in your mouth.
Interested in Making Pecan White Chocolate Chip Cookies Later? Use The Pin Button Below To Save
Questions, Comments or Just Want to Say Hey 👋🏽, Drop Me a Line in the Comments.