Protecting, Sealing & Adding a Lil Curb Appeal To My Front Porch Just In Time For Summer
Thompson's Water Seal is a well-known brand of waterproofing products that have been trusted by homeowners and professionals for decades. Whether you're looking to protect your deck, fence, or other outdoor surfaces, Thompson's Water Seal claims to offer long-lasting protection against water damage, mildew and fading.
The links in this post may be affiliate links.  That means that if you click them and make a purchase, this site makes a commission.  It will have no impact on the price you pay or the experience of your purchase.
But with so many different products and options available, how do you know which one is right for your needs?
In this blog post, we'll take a closer look at the different types of Thompson's WaterSeal products, including an in-depth review of its effectiveness and ease of use. I am sharing my experience using Thompson's Water Seal to protect my wood porch with instructions and my honest review.
Whether you're a DIY enthusiast or a professional contractor, our review will help you make an informed decision about whether Thompson's Water Seal is the right choice for your next outdoor project.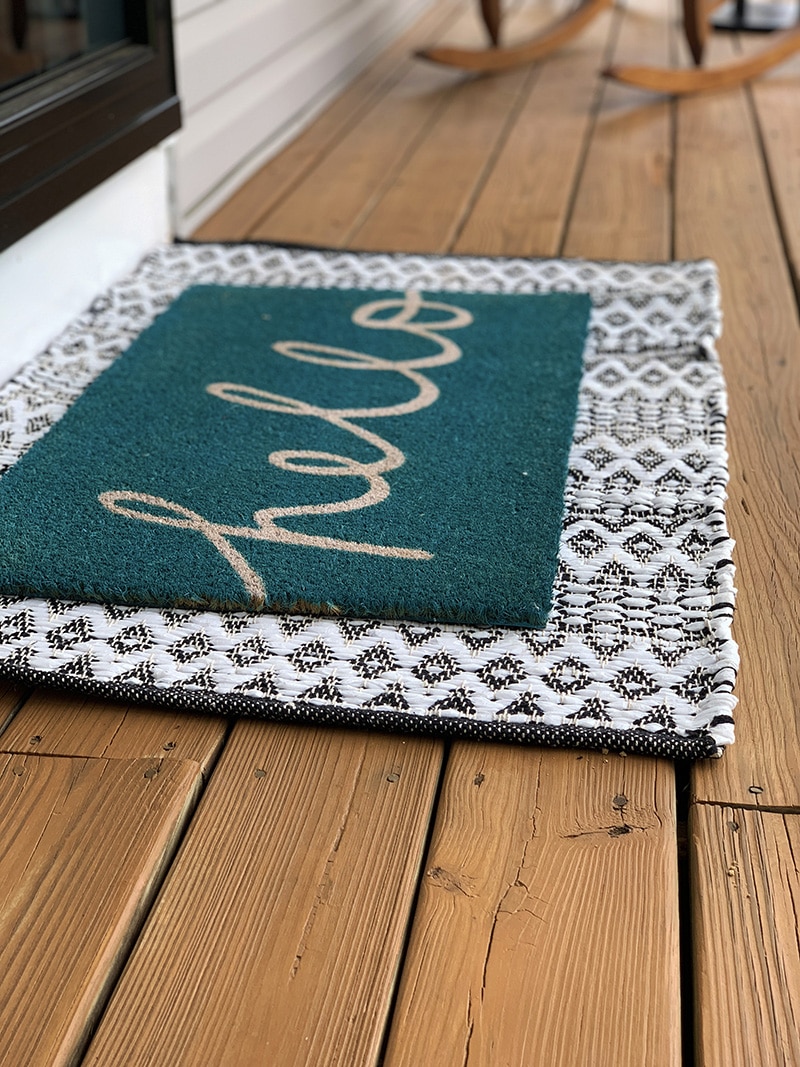 It's so important to protect your outdoor surfaces from water damage. But it is also important to make it cute in the process too! And I am here to tell you that you can do both at the same time…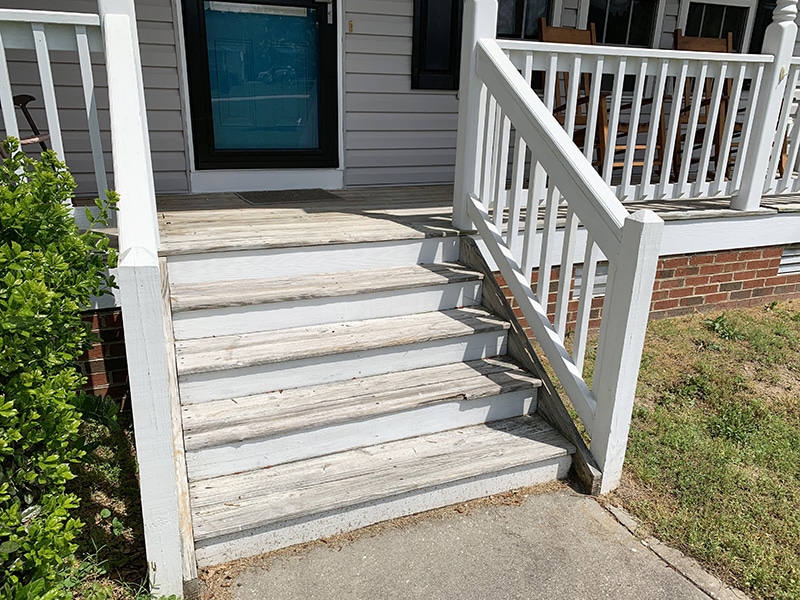 Since we moved into the house two summers ago, I've wanted to invest a bit into stepping up our curb appeal. And honestly, right now, it was get-it-done, or end up having to replace the whole porch.
In our little corner of the country, the morning and early afternoon have a soundtrack of the birds chirping and sometimes even the chatter of the neighborhood chickens. On most days accompanied by a nice subtle breeze. The evening is filled with the sounds of frogs and crickets, accompanied by the cooling of the day after the disappearance of the sun.
Why I Chose Thompson's water Seal
My dream has been to get my front porches (there are two) to a place where I could sit and sip my morning coffee and enjoys the conversation of the birds. Or finish the day with an evening wind down alongside the audio of the frogs.
While strolling through Home Depot like I sometimes do, I stumbled upon a sealant and protectant in the clearance section at the end of last year's summer season.
I purchased it so that I didn't miss out and could get the deal. But figured I could return if I find it is not what I needed. Or the fact that it was on clearance was a result of it not being worth the full price.
After researching it a bit, I fully trusted that Thompson's Water Seal waterproof stain will do what it claims to do. Protect from water damage and sun exposure.
This product not only helps bring back some color to my front porches, but it helps keep a layer of protection between my wood porches and the falling rain and beaming sun.
Whether you're looking for the best water sealer for wood or concrete and other surfaces, Thompson's Water Seal waterproof stain is a great solution.
Can you Apply Thompson's Water Seal to Wet Wood?
You can apply some of Thompson's Water Seal products to damp wood, but some of the other products require the surface to be dry for 48 hours prior to staining.
The key is to read the labels carefully before choosing which Thompson's Water Seal is right for your water damage protection project.
When choosing the best Thompson's product for your project, there are several but there are a few things to consider.
Things to Consider When Picking Your Thompson's Product
Color
Stain type
Transparency
The material you are using it on
Be sure to read the labels and ask questions if you're shopping at a local store.
This will help you figure out which sealant is best and which option is right for your surface type.
The Different Thompson's Water Seal Products Offered
Thompson's WaterSeal offers a range of different products designed to waterproof and protect outdoor surfaces. Here are some of the most popular products in their lineup:
Thompson's WaterSeal Advanced Natural Wood Protector
This product is designed to protect natural wood surfaces from water damage, mildew, and UV rays. It comes in clear and tinted formulas.
Thompson's WaterSeal Fabric Seal
Fabric Seal is a waterproofing spray designed to protect outdoor fabrics from water and stains. It can be used on patio furniture cushions, umbrellas, and more.
Thompson's WaterSeal Multi-Surface Waterproofer
This product is designed to protect a variety of surfaces, including concrete, brick, and stone, from water damage and stains.
Thompson's WaterSeal Clear Multi-Surface Waterproofer
This clear formula is designed to protect surfaces while maintaining their natural appearance. It can be used on a variety of surfaces, including wood, concrete, and brick.
Thompson's WaterSeal Waterproofing Stain
This product combines the waterproofing power of Thompson's WaterSeal with a range of different stain colors. It's designed to provide long-lasting protection against water damage and fading.
Thompson's WaterSeal Heavy Duty Deck Cleaner
This product is designed to clean and prepare outdoor surfaces for waterproofing. It removes dirt, grime, and stains from wood, concrete, and other surfaces.
Overall, Thompson's WaterSeal offers a wide range of products to meet the waterproofing and protection needs of different outdoor surfaces.
Looking to get protected and make your porch, deck, or other outdoor surfaces beautiful?
Let's get started.
Now that you've figured out which Thompson's Water Seal you'll be using, it's time to start the water damage protection process. Our choice was Thompson's Water Seal Waterproof Stain Solid in maple brown color.
How to Use Thompson's Water Seal
Start by putting painter's tape around any area that you won't want this stain to get onto. One of my best tips is to place painter's tape right up against the siding of your house. Particularly if you're using Thompson's Water Seal on a deck attached to your home. Cover surfaces that aren't meant to have this sealant on them are covered with some form of painter's tape.
Let me be perfectly honest, I skipped this step cause I absolutely hate taping. But we took our time and kept a wet rag nearby for slip-ups. I like to share the right way to do things with you guys. Sometimes I am not a good example. Do as I say, not as I do!
Always start with the railings if you have railings on the surface you're working with. This is due to the fact that you won't be able to walk on your deck for a little while as The Water Seal needs some time to dry before you can walk on it.
We started by going around the edge outside and inside of the railings, and steps with a paint brush. Then we used the Wagners Deckmaster Pad system and it made this SUPER EASY. And it allowed us to get between the wooden board with ease as well.
You could also use a paint pad to cover the surface with Thompson's Water Seal in an even form with fewer streaks if you don't want to get the paint tool.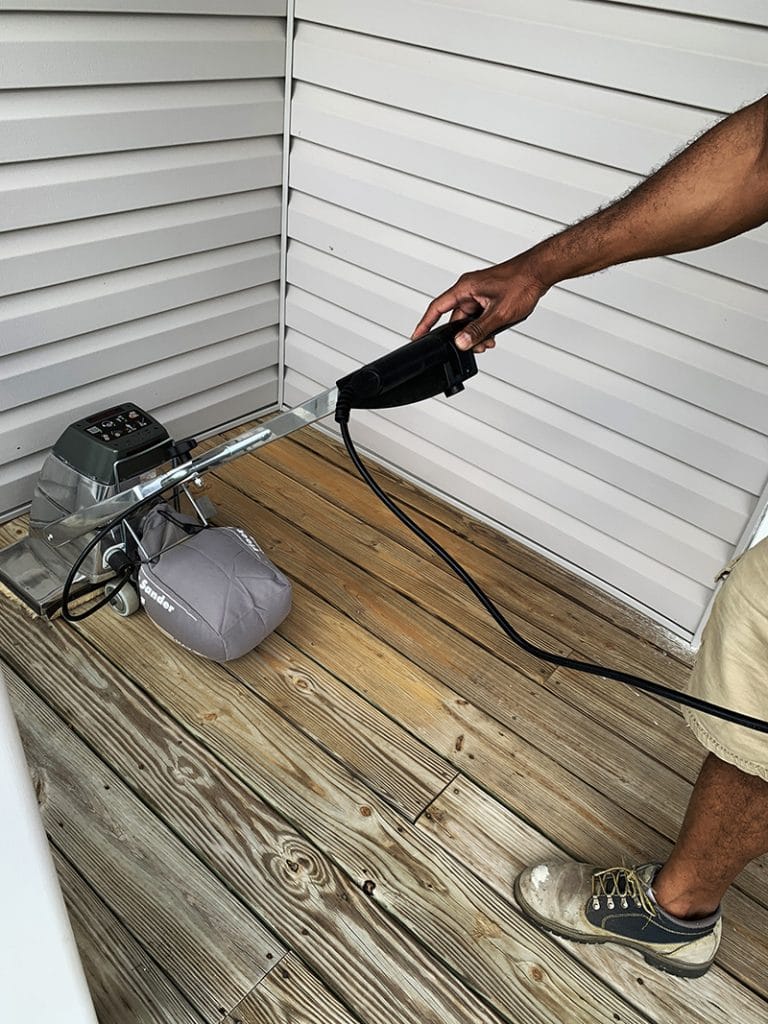 Is Sanding Required Before Using Thompson's?
Required, no. Necessary, maybe.
Even before we got into using the stain, we rented a sander from Home Depot and sanded our porch. We did this because we didn't know how long it had been, or even if the wood had been treated at all before.
The wood was looking real unclaimed versus reclaimed. Lol.
But if you don't need to sand, start with a few panels of your deck, and don't place the sealant on too thick. You only need one good layer of Thompson's Water Seal to do the job.
Work in small areas as you move forward. Keep in mind that you want Thompson's Water Seal to dry evenly. You can go back to touch up spots that didn't dry evenly, but following my tip to go slow and do small areas at a time will remove the need to have a tremendous amount of spots to touch up.
Should You Get Between The Boards During Application?
While you may want to get in between the boards of your deck, it's not absolutely necessary unless there are large gaps between boards. In this case, you can use a small paintbrush to apply Thompson's Water Seal in between the gaps.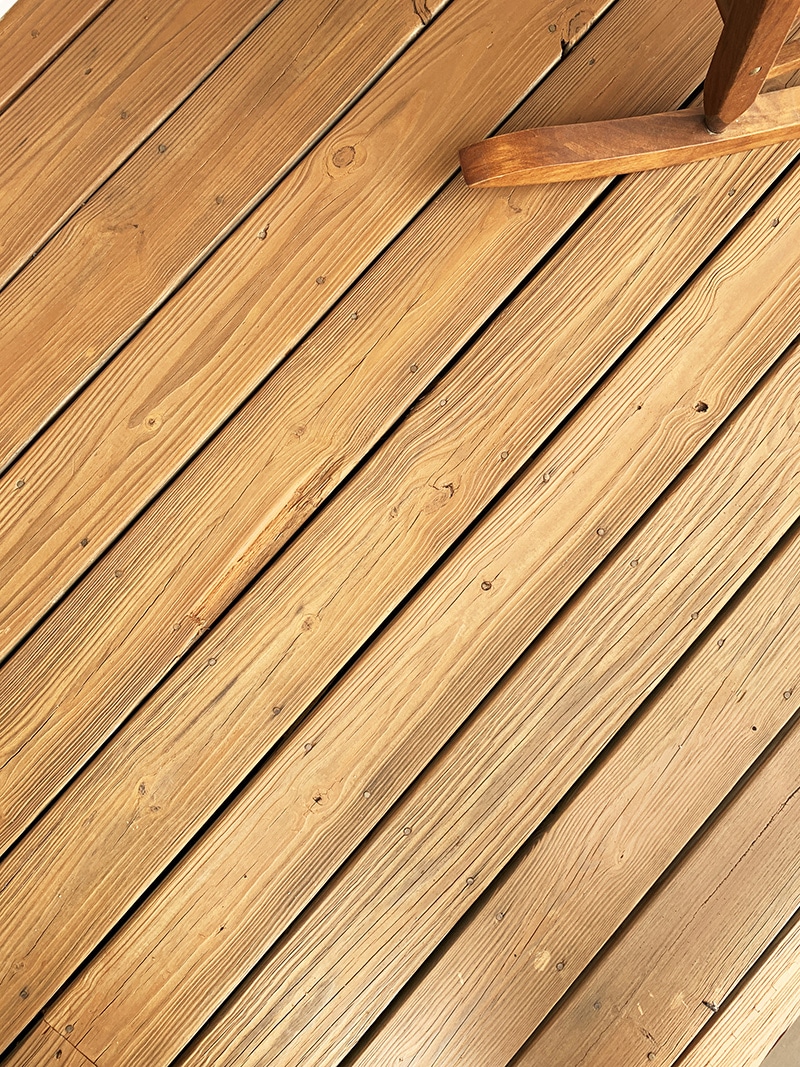 I also used a paintbrush to get to the areas that had an imperfection that the application tool didn't get well.
How Long Does It Take It To Fully Dry & Cure After Application
Now that you've applied Thompson's Water Seal, following the instructions above, to your entire surface, you can walk away and let it dry for 24 hours. That's all the time you need to let Thompson's Water Seal work to protect your outdoor surfaces from water damage.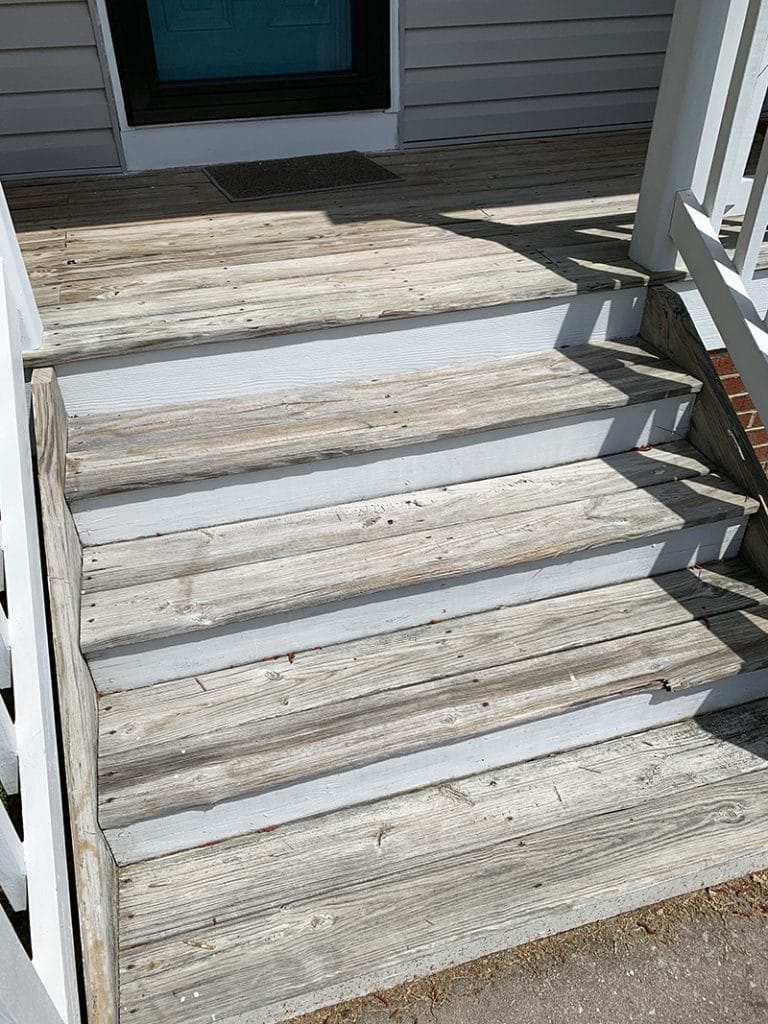 Common Reported Thompson's Water Seal Problems
While Thompson's WaterSeal is a popular choice for waterproofing outdoor surfaces, there are some potential issues to consider before using these products that I have seen in some of the Thompson Water Seal Reviews online:
Short Lifespan
Some users have reported that Thompson's WaterSeal products don't provide as long-lasting protection as they would like. While the company claims that their products provide up to 5 years of protection, many users have found that the protection begins to degrade after just 1-2 years.
Difficult to Remove
If you decide to remove or replace the Thompson's WaterSeal coating, you may find that it is difficult to do so. Some users have reported that the product can be stubborn and time-consuming to remove, especially if it has been applied multiple times.
Environmental Concerns
Thompson's WaterSeal contains chemicals that can be harmful to the environment if not properly disposed of. In addition, the fumes from these products can be irritating to the eyes and lungs, so it's important to use them in a well-ventilated area.
Limited Color Options
While some Thompson's WaterSeal products offer a range of stain colors, the options are still limited compared to other staining and waterproofing products on the market.
Application Challenges
Some users have reported difficulty applying Thompson's WaterSeal products evenly, especially on larger surfaces like decks. It's important to follow the instructions carefully and take your time during the application process to avoid streaks or uneven coverage.
My Thompsons Water Seal Review
As a child, I recall my father spending an entire summer Saturday staining our deck on his hands and knees. Thanks to Thompson's WaterSeal Waterproofing Stain and the Wagner Deck Mate, my husband and I spent significantly less time on the task.
The results were impressive, and we were able to save time.
Although we know we will eventually need to replace the wood on our porch, using this product has extended its lifespan and made it beautiful.
The stain causes rain to bead up instead of being absorbed into the wood and weakening it.
While it may be a bit expensive at full price, I still believe it's worth the investment.
Now you can sit back and relax. Enjoy the beautiful view of the newly stained deck that's also ready for those spring and summer rainstorms.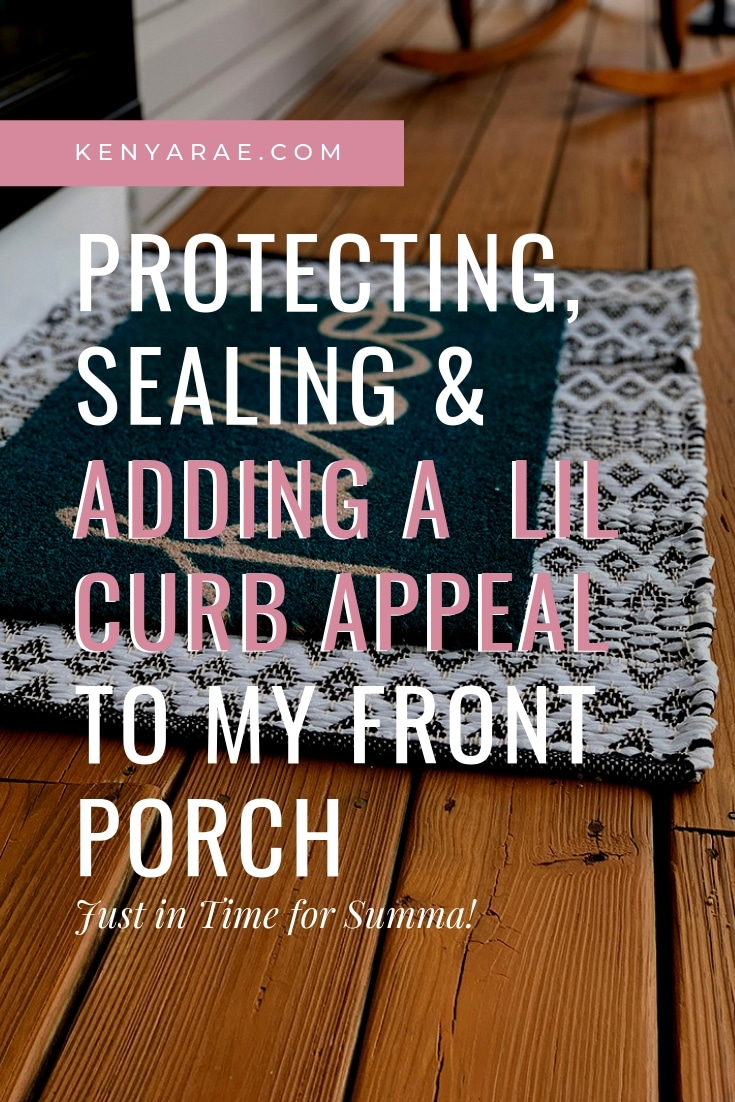 This post is a part of the At Home DIY project. Where the topic this month is a Make it Pretty Outdoors Challenge. You can click here to see all the other Make It Pretty Outdoor projects from a host of amazing blogger friends.
Other Posts & Summer Projects You May Enjoy: