How To Not Ruin Your Cabinets When Installing Hardware
In this blog post, we'll explore the best way to install cabinet handles to ensure a secure and visually pleasing result.
The links in this post may be affiliate links.  That means that if you click them and make a purchase, this site makes a commission.  It will have no impact on the price you pay or the experience of your purchase.
Installing cabinet handles may seem like a small task, but it can make a big impact on the overall look and feel of your kitchen or bathroom.
The right handles can add a touch of style and elegance to your cabinetry, while the wrong installation method can result in crooked or loose handles that detract from the overall aesthetic.
Whether you're a DIY enthusiast or a homeowner looking to update your space, our step-by-step guide will help you achieve a professional-looking finish that will last for years to come.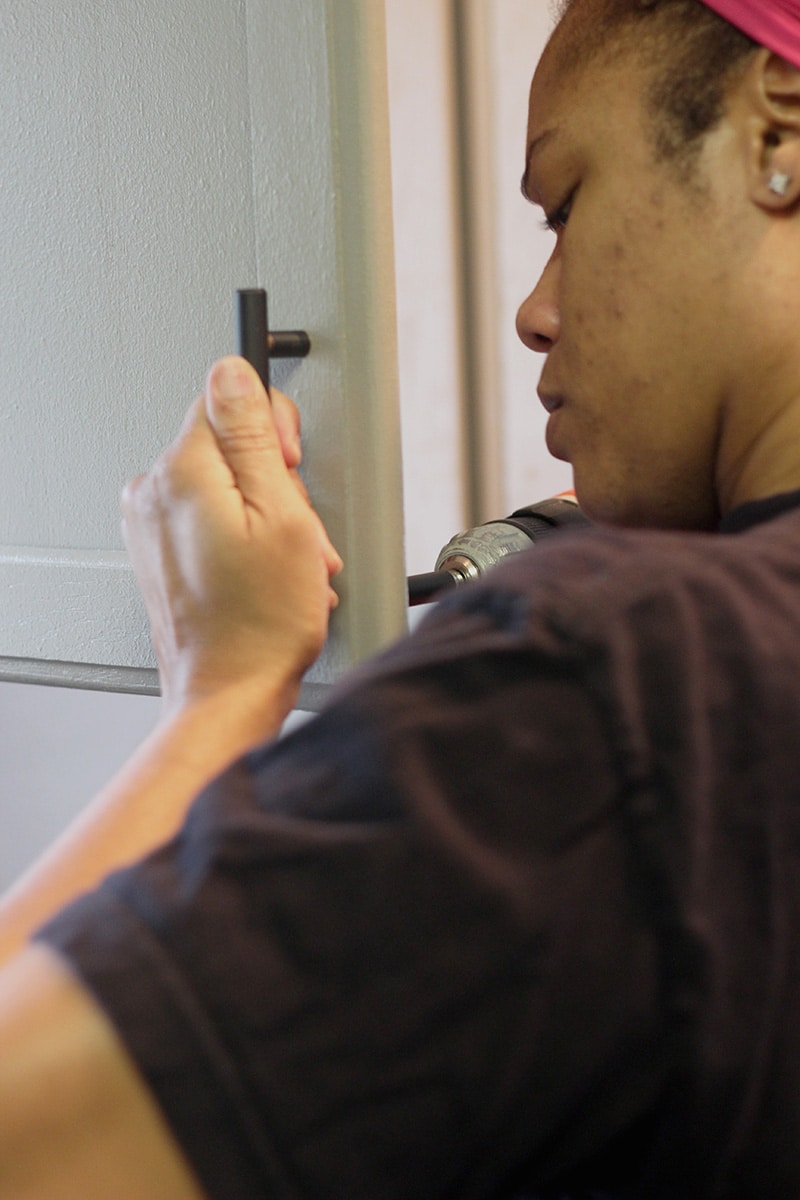 What are the benefits of adding cabinet hardware?
Adding cabinet hardware, such as handles or knobs, to your cabinets can provide a range of benefits, including:
Improved functionality: Cabinet hardware makes it easier to open and close cabinets, which can help improve the functionality of your kitchen or bathroom. This is especially important for larger cabinets or those that are located in hard-to-reach areas.
Enhanced aesthetics: Cabinet hardware can add a touch of style and elegance to your cabinets, giving them a more polished and finished look. With a wide range of styles and finishes available, you can find hardware that complements your existing decor and personal style.
Increased resale value: Adding cabinet hardware is a simple and affordable way to update the look of your kitchen or bathroom, which can increase the resale value of your home. Prospective buyers will appreciate the attention to detail and upgraded appearance of your cabinets.
Protection for cabinet surfaces: Over time, repeated use of cabinet doors and drawers can result in wear and tear on the surface of the wood or material. Cabinet hardware can help protect the surface from scratches and dings, extending the lifespan of your cabinets.
My Hardware Choices
It's only been a little over six months since we painted our cabinets. And we are just now getting around to installing the cabinet hardware.
Life. It happens.
Part of the delay was my indecisiveness on which hardware I wanted.
I wasn't sure if I wanted to go with brushed nickel to match the accents on the appliances or the bronze color that I usually go for with everything else.
Bronze won!
Now I will tell you before we go any further, this post contains affiliate links for the products that I used. If you like them and decide to order them, I get a commission but at no cost to you. You can read my full disclosure here.
I decided it was a nice accent with the color of the cabinets and also the color of the actual appliances.
I love the color choice! No regrets.
The other thing was style. I knew I wanted bars for the cabinets but I was torn between bars for the drawers too, or to do pull cups.
After scoring Pinterest for months I decided I loved the cups more and they won.
Again no regrets.
And I love that they will keep tiny fingers off the actual drawers. Hopefully cutting down on how often I have to wipe down the drawer fronts. I can dream right?
While looking online one day I stumbled across this tool I thought was really cool. Like pure genius. Essentially it is a template created for installing cabinet hardware, where you don't have to do any measuring and it guarantees uniform placement.
Genius! Pure genius folks!!
The Best Way To Install Cabinet Hardware evenly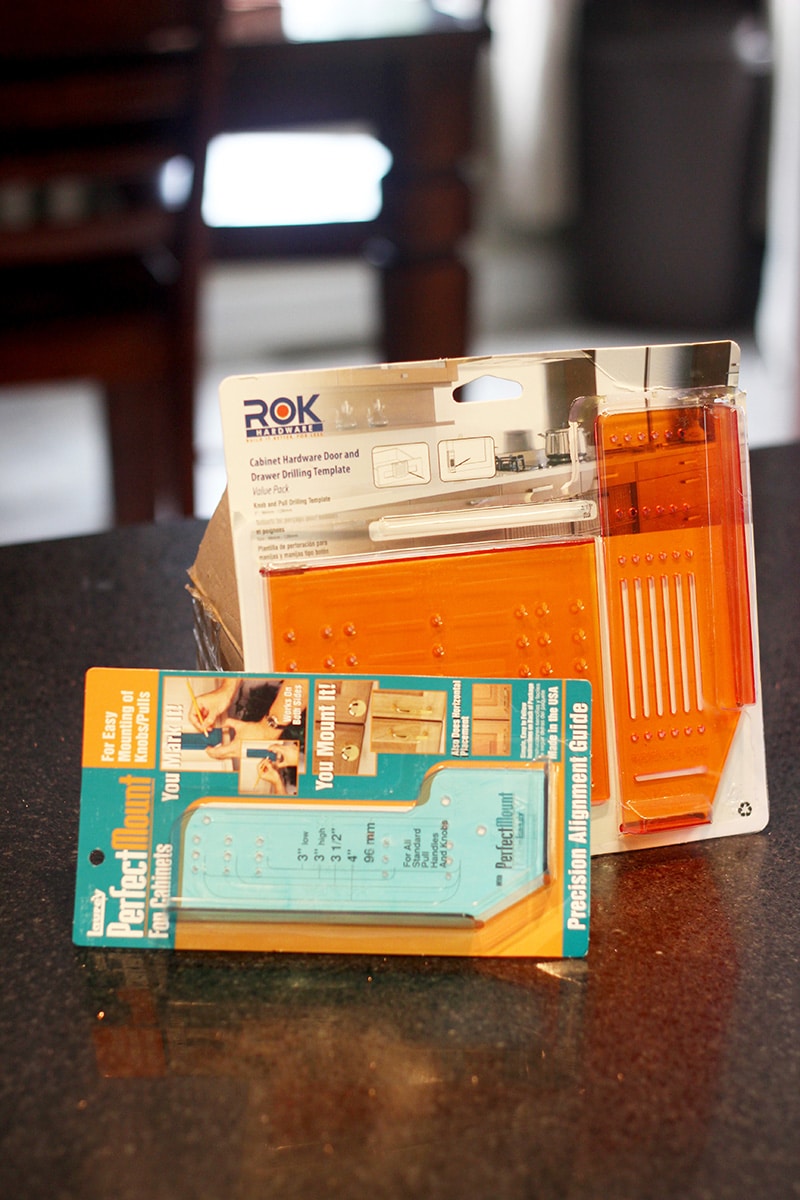 Where to put cabinet knobs or handles?
This tool aligns with the edge of the cabinet to help you ensure proper and logical placement.
This is the one I decided that I liked here.
It has a groove that fits the corner of the cabinet perfectly.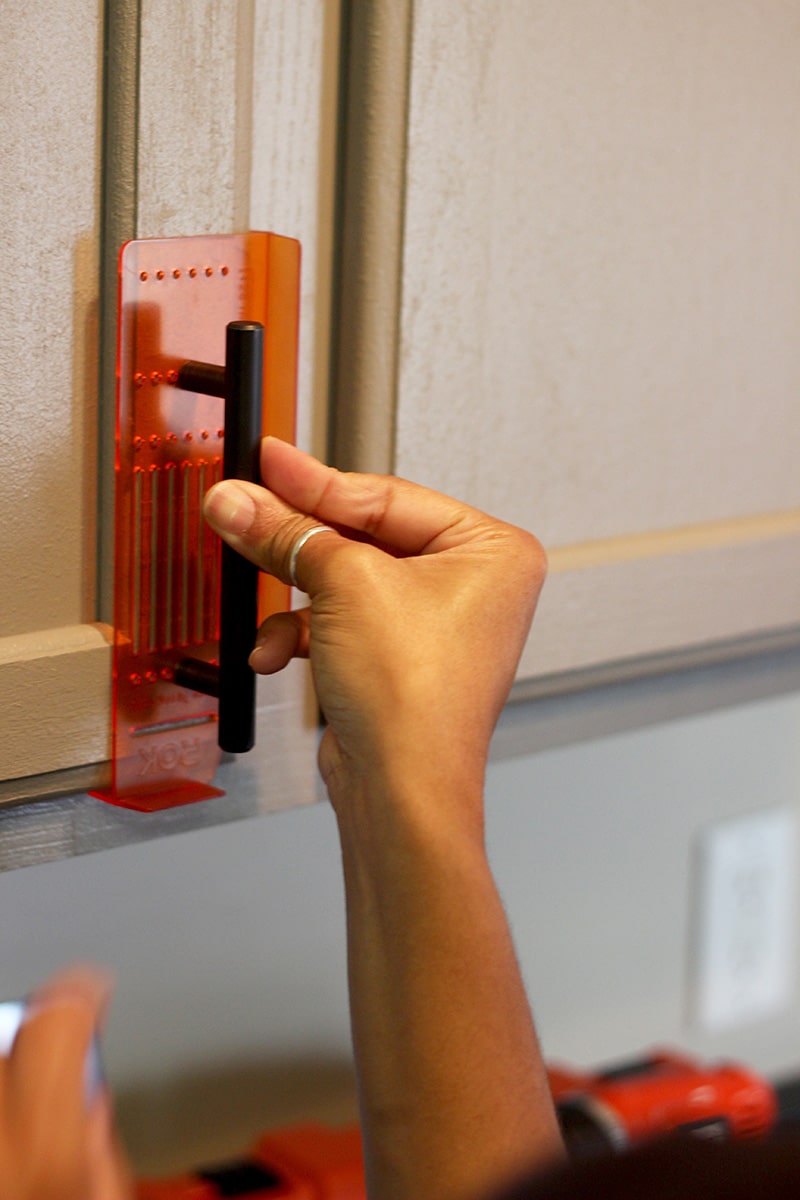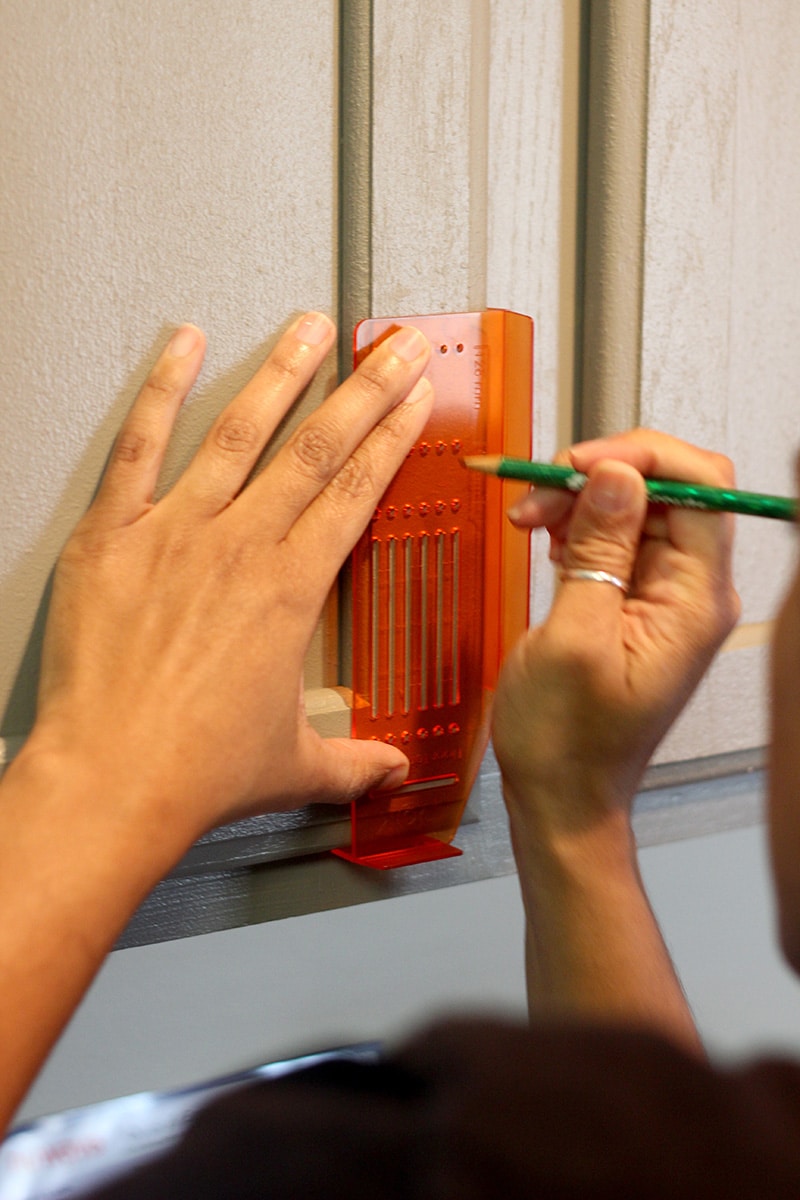 Once properly aligned you can look at the option to see which sets of holes you want to use for your placement preference.
How do you measure for drawer pulls?
I first ordered a tool that was just for cabinets, forgetting completely about the drawers. I then found one that included drawer measurements too. *slaps forehead*
So I ordered that one.
It was perfect for getting the drawer handles perfectly placed.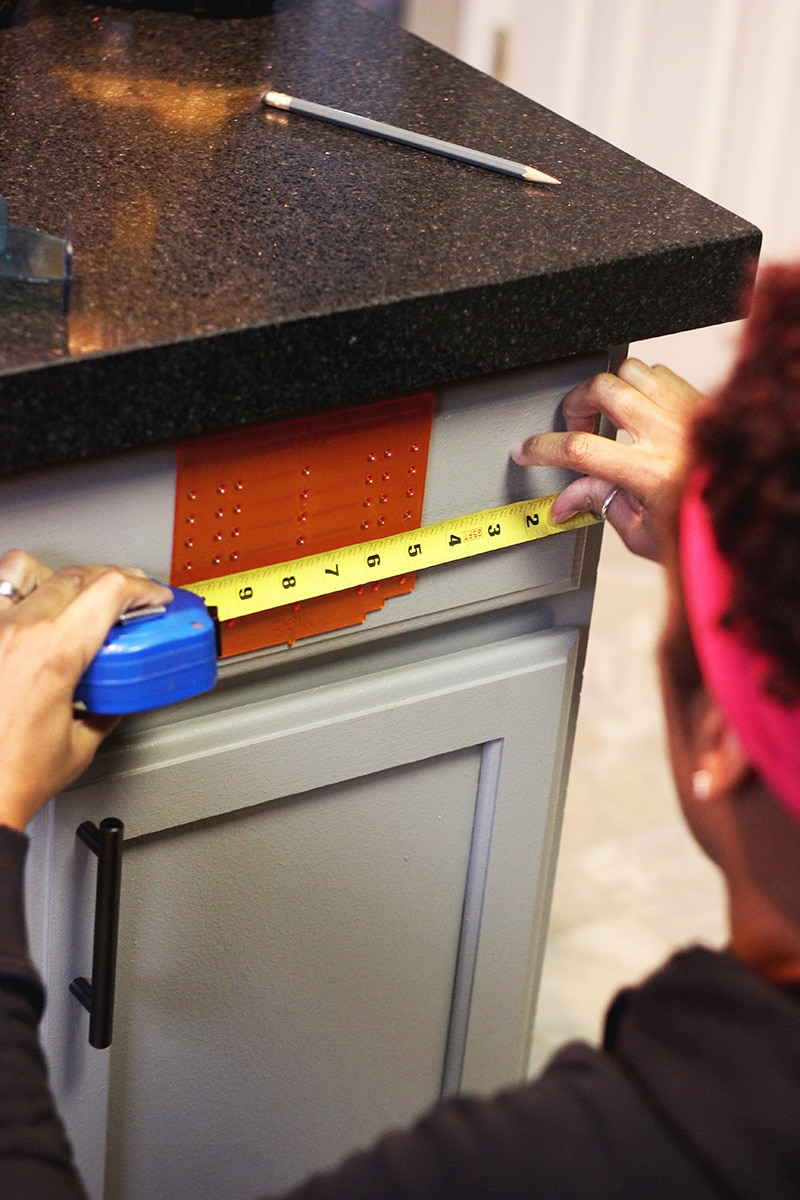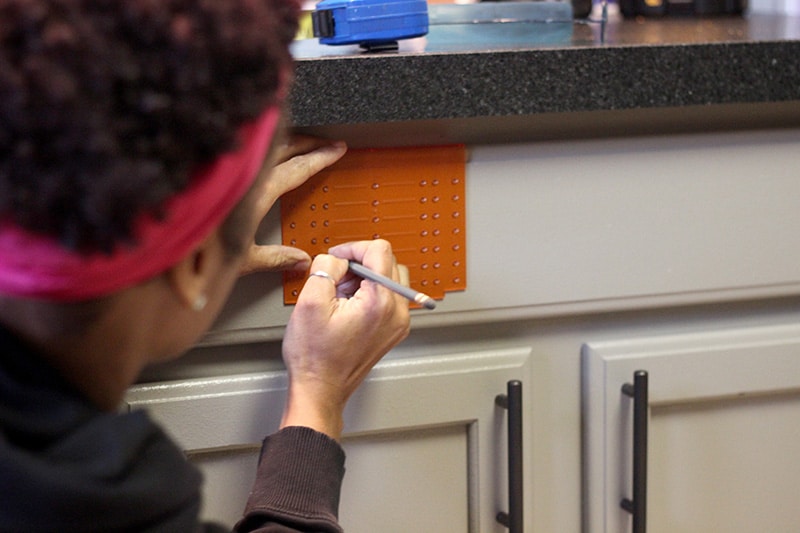 I measured the width of the drawer and placed it in the exact center and then made my marks according to the placement needed for my particular drawer pulls.
For the wider drawers, I decided to use two drawer pulls. I measured the full width of the drawer again and decided how far in from each edge I wanted the pulls.
For mine, I chose 8 inches in from each side. For the center of the pulls.
What size drill bit do you use for installing cabinet hardware?
We took the screw that came with the hardware, which was 8/32, and matched it to the drill bit that was the same size when holding them up. And the corresponding drill bit was 5/32.
I was torn on whether the lazy Susan needed hardware or not, and I opted in. Since we had leftovers. I did one on each side, so that dirty fingers do not need to touch my cabinets.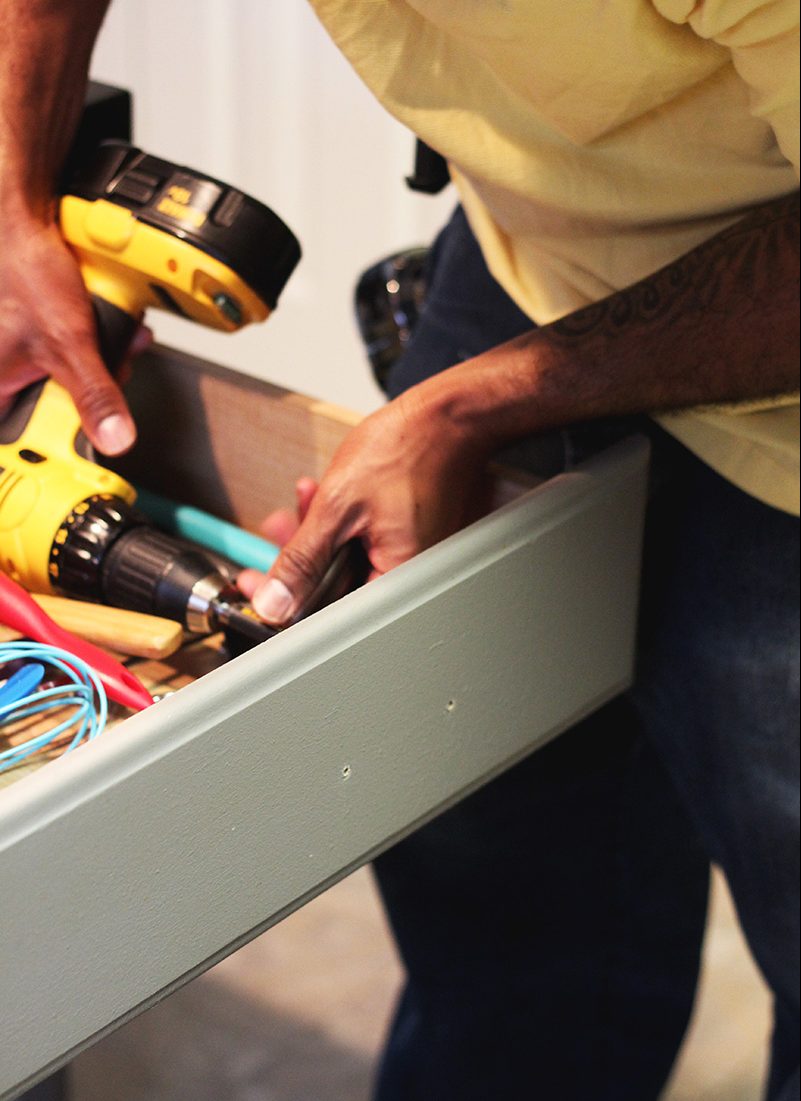 I am super excited about the finished outcome of my cabinets and totally changed the look.
Once everything is done, there will be some dust that needs cleaning up. Luckily, I have a super cute little DIY assistant that likes to help.