What To Do If You Don't Have The Tools To Complete A Project?
Sometimes you want to get something done but don't have the tools necessary to get the job done. This is a guide on knowing when to rent power tools versus buying them to make sure you can do what needs to get done most affordable.
The links in this post may be affiliate links.  That means that if you click them and make a purchase, this site makes a commission.  It will have no impact on the price you pay or the experience of your purchase.
Early on in our home owning and DIY journey I had grandiose project ideas. And while my husband was always on board and picking up what I was putting down, he uses to say, "we just need the tools…".
We didn't always have the money to buy the tools.
That was probably ten years ago. And the same still holds true.
As my project dreams grow bigger and bigger and my Pinterest boards get filled with more and more inspiration, my project list seems (actually it really is) never-ending.
Our tools collection has grown intensely over the years, but there is always more. More we want. More we need.
Not long ago I discovered Home Depot's tool rental program. It may have made me one of the happiest girls in the world. If even, only for that moment.
Now the limits were endless. He could no longer tell me we didn't have to tools or the money to buy them to halt, or altogether hinder, a project.
Now there are other reasons… Lol.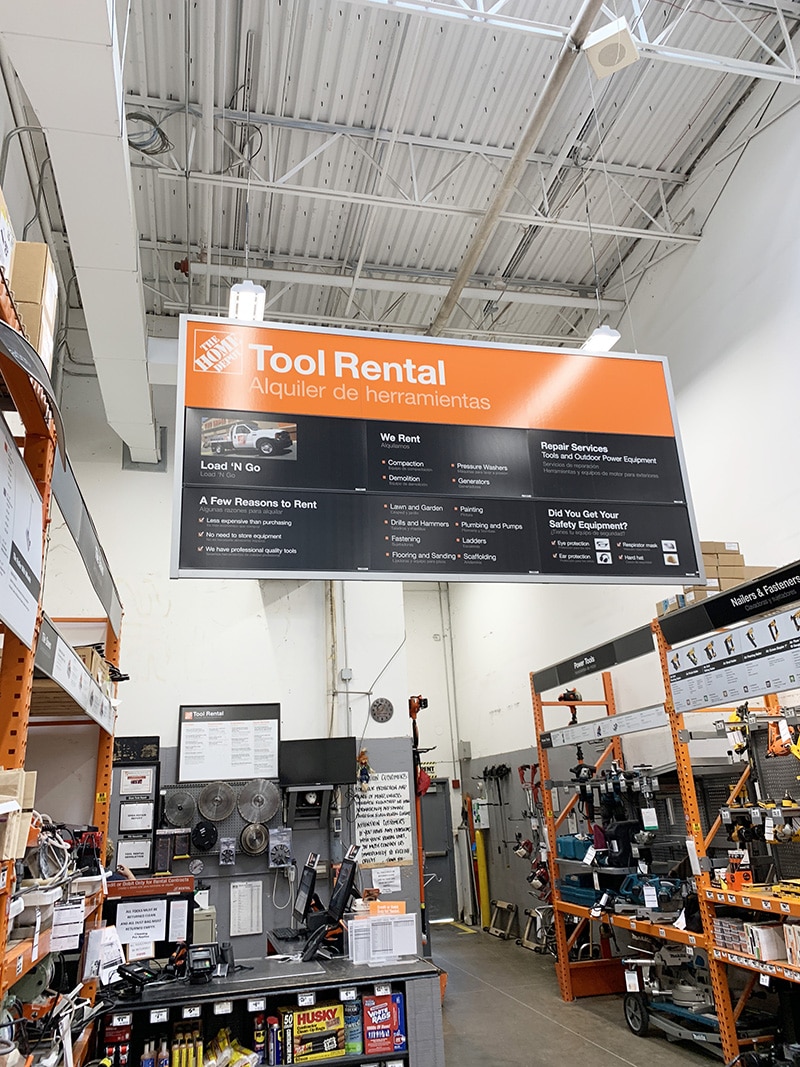 Why Would You Rent Power Tools Versus Buying Them
Money is the obvious reason. Renting tools is cheaper than having to buy them, especially if you only use them for a couple of hours or even a couple of days.
But space is another good reason to rent tools.
Tools, especially the bigger ones, take up a lot of space. And even though we have a garage and a shed, there is still only so much room for tools. And until I am able to get that workshop in my backyard that we both would love, space is limited. Just like funds.
But then there are also tools you need but honestly would only need for one job maybe two. Limited use is an excellent reason to rent tools.
How Home Depot Tool Rental Works
Find a HD location near you that offers tool rental. Not all locations have this option. While we have a location around the corner from our home that we frequent often, we had to travel 30 minutes out to a location that had tool rental.
Check online to see if they have the tool you want. Even locations that have tool rental have limited stock and selection.
Determine how long you will need the tool. Home Depot allows you to rent it starting as low as 4 hours up to weekly rental pricing. Be realistic in estimating the time needed to rent the tool you will need.
Pick up the tools. You will be required to pay a deposit for the tool. This is just like pretty much anything you rent. You are agreeing to take good care of the tool and return it in good working condition and the deposit is the insurance that you will do so.
Use and return. Do what you have to do. Clean the tool. Return to the store.
Recently when updating my porch and prepping the soil in front of the porch we needed a sander and tiller to get the job done. We determined the best course of action was to rent.
We rented both for 1 day which allowed us to get the jobs done.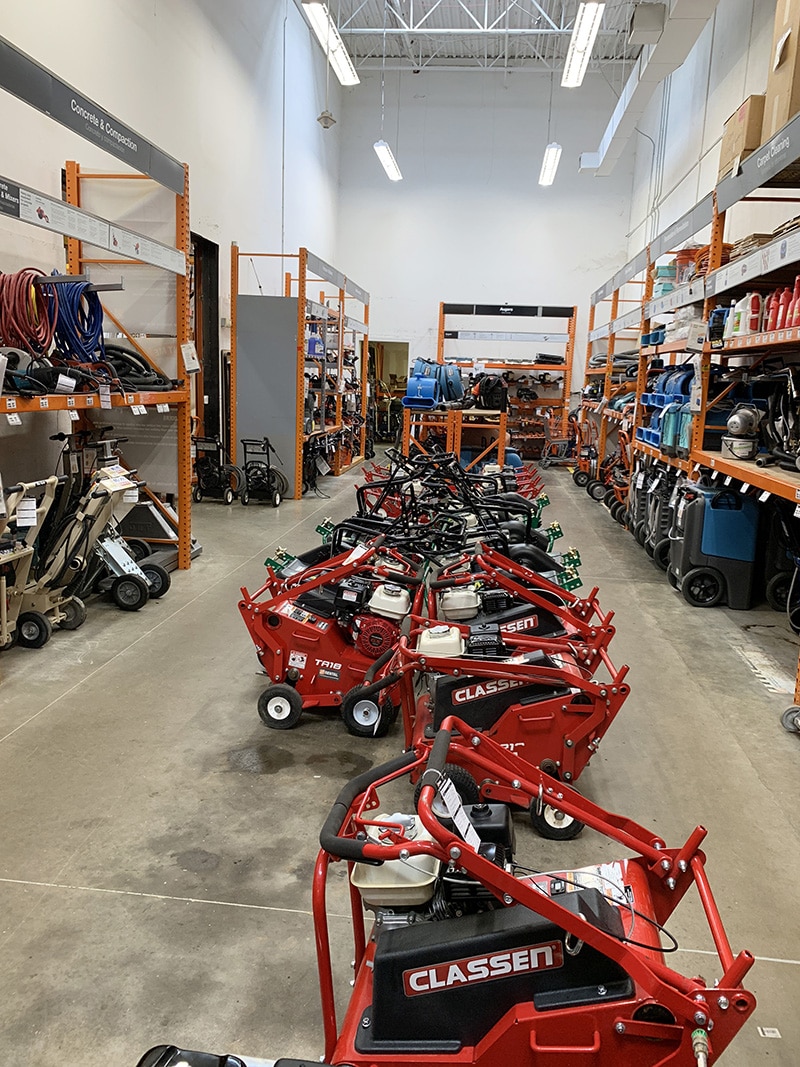 Pros and Cons of Buying Power Tools Versus Renting Power Tools
Renting Tools Pros
Cost-effective
Access to tools you may not have otherwise had access to
Don't need space to store the tool
Can try before you buy
Renting Tools Cons
You don't get to keep it
May have to travel to pick up
Buying Tools Pros
You own the tool and have access to it when needed
Buying Tools Cons
Will most likely cost more
Requires adequate storage space
Angie's List has a really good article about when to buy versus rent power tools and how to know which is best. If you are debating between the two I recommend checking it out.
While I am sure there are other tool rental places depending on where you are located, Home Depot has locations all over with access to tool rental at an affordable rate.