Crock Pot Eggnog French Toast Casserole
Crockpot eggnog french toast casserole with a hit of cranberry is all the sweet tangy-ness that's right on the world of breakfast.
The links in this post may be affiliate links.  That means that if you click them and make a purchase, this site makes a commission.  It will have no impact on the price you pay or the experience of your purchase.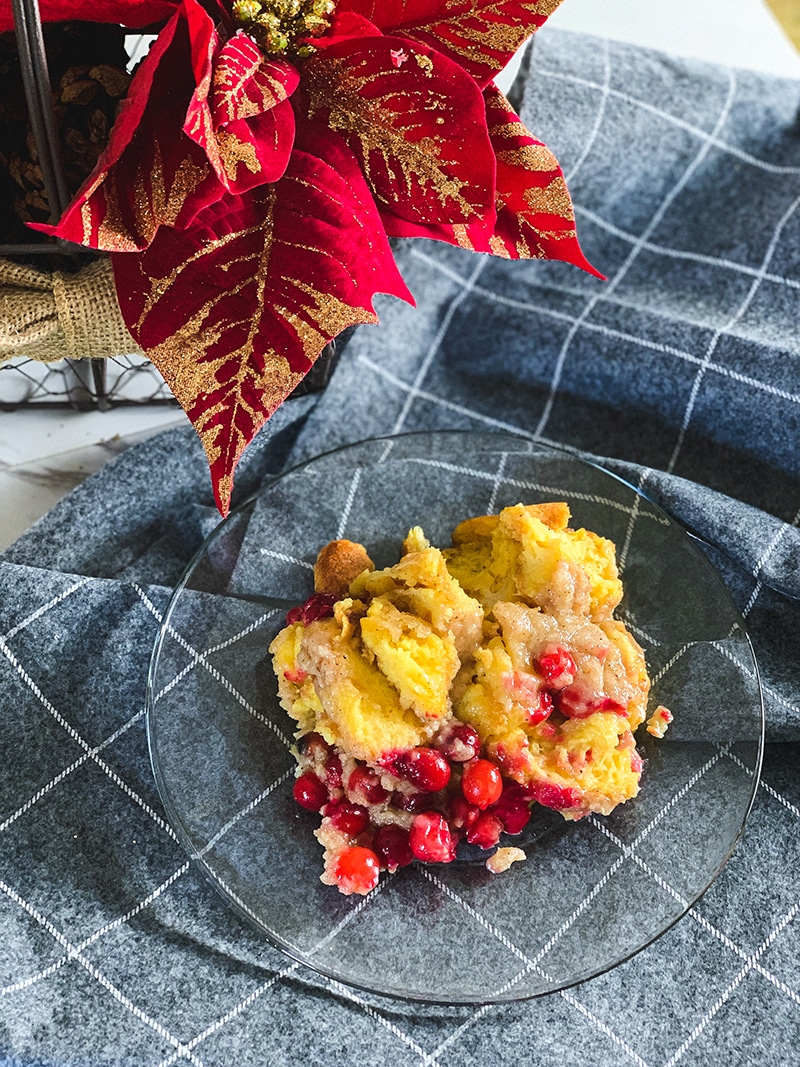 As eggnog season is winding down and it's gonna start disappearing of the shelves, I have one more recipe for your last carton.
I love how easy this recipe is.
And while it seems counterproductive I prepped this Friday night, to turn on Saturday morning, before I hit my Saturday morning gym routine.
See the trick is to get a head start on burning the calories. Then when you have something as good as this, you don't have to feel bad about it.
I ate this with no shame.  Not even a little bit.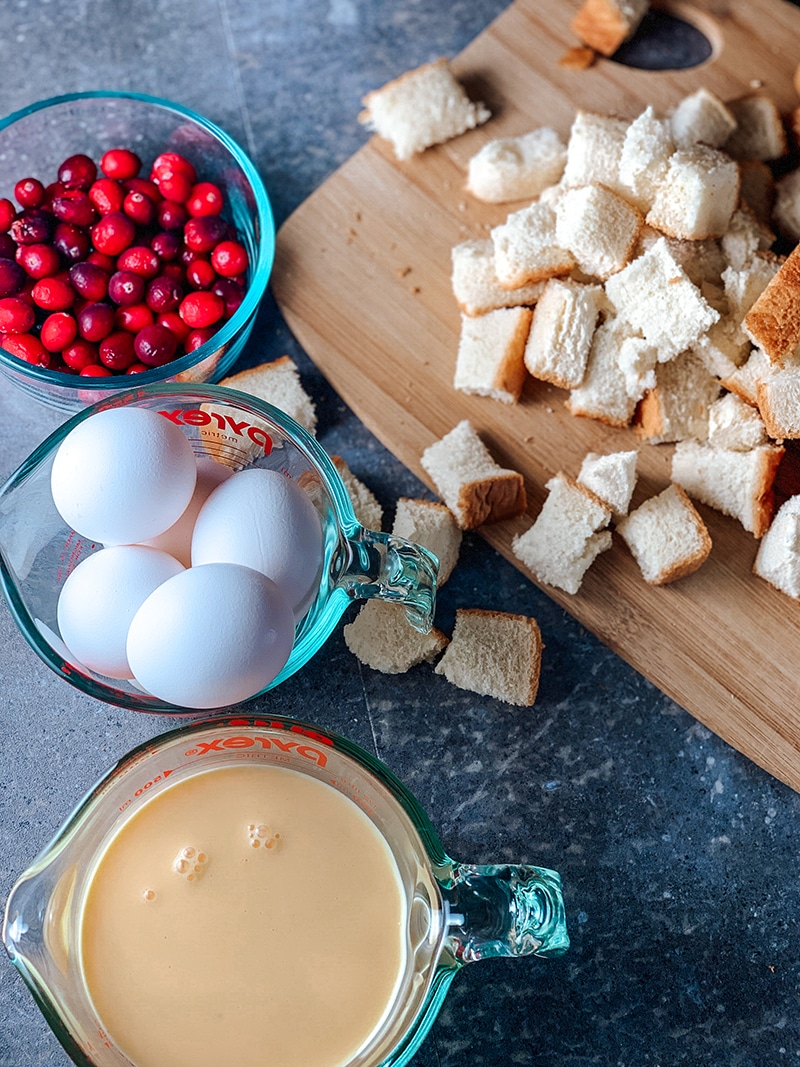 Ingredients To Make Crockpot Cranberry Eggnog French Toast Bake
Texas toast (or any other thick sliced bread)
Eggnog
Eggs
sugar
Rum extract
Flour
Nutmeg
Salt
Unsalted butter
Cranberries

What Kind Of Bread Is Best For Making Crockpot French Toast
Because you are soaking the bread overnight, I would suggest a nice thick bread.  Even letting it sit out  a couple days is not a bad idea so it isn't super soft.
Texas toast is good, but you could also use ciabatta and brioche.  Those are also great options.
How To Make Cranberry Eggnog French Toast Casserole In The Crockpot
Start out by cutting the bread into small chunks and then set the chunks aside.  You will need them in a minute.
In a large bowl, whisk together the milk, eggs, half of sugar, and rum extract.
Then put your diced bread pieces in the bowl and cover with the egg mixture.  You can pushed the bread down into it, or lightly toss with a spoon to coat the bread.
Keep in mind you are leaving it in the fridge overnight, so it will absorb it even if it is not fully covered.
Then In a separate small bowl, combine the flour, remaining sugar, nutmeg, salt, and butter. Then using a pastry cutter (or two forks if you wanna keep it simple), work the butter into the flour mixture until it forms a sandy consistency.
I recently tried using my hand mixer with the shred attachment and it did the trick nicely. You can see what I mean in the video in this post. Be sure to check that out.
Store the bowl with the bread and egg mixture, along with the butter mixture, in their seperate containers, in the refrigerator overnight.  
The next morning, grease the bowl of the crockpot.  Either with butter spray or your fingers and some butter like grandma used to do.
Transfer the bread mixture into the greased bowl of a slow cooker. You can pour out any egg mixture remaining in the bottom of the bowl.
Add the cranberries on top of the bread mixture.  Then top the bread and berries with the pre-made butter mixture.
Cook on low for four to five hours or high for three hours.
It is absolutely delicious by itself.  But can be served with maple syrup or even better dab of blonde butter syrup.
Another recipe perfect for Christmas morning.  Start the crock pot. Have your coffee. And when done opening presents enjoy a delicious no fuss breakfast. All with minimal cleanup.
Merry Christmas friends!
Other Eggnog Recipe Goodies: