My First Batch Of Homemade Ice Cream Inspired By The Creamery at Daddy Joe's
This post is a part of a sponsored series with Go RVing and Yogi Jellystone Park at Daddy Joe's in Tabor City.  The Creamery at Daddy Joe's is a part of the Jellystone camp ground.
The links in this post may be affiliate links.  That means that if you click them and make a purchase, this site makes a commission.  It will have no impact on the price you pay or the experience of your purchase.
I've heard of people making ice cream before.  And you know I am all about homemade.  But for some reason I just felt like making homemade ice cream was probably out of my league.
That is until our camping trip recently.
While there I had the chance to visit with Jessie.  He is the son of the owner at the Yogi Jellystone Park at Daddy Joe's.  And among other things, he runs The Creamery at Daddy Joe's.
We chatted for a bit and I even had the chance to go back to where the ice cream is made.  I was simply intrigued by the ice cream being made right there at the park and how good it was.  Never did I imagine I would leave there all inspired to make my own.
After speaking with Jessie I learned the secret of why their ice cream is so darn good and creamy.  He said, "really try it, go grab yourself one of those at home ice cream makers.  Do "that", and see for yourself".
Unfortunately, I can't betray his trust.  Him sharing his secret with me was in pure confidence.  I can't tell you what "that" is.  But the other day, I did "that" when I made my first batch of homemade ice cream,  and it I am happy to report that it worked.
I admire that he not only made the ice cream for the creamery.  But that he was a self-taught ice cream maker who just gave a try at it.
How The Creamery at Daddy Joe's Began
The park makes additions every year.  Some are visible to campers, some are things that happen behind the scenes that make the experience better and/or safer in some way.
The creamery was started back in 2011 after being inspired by an experience on their family vacation the previous year.  When the discussion came up about what would be added that year, he suggested a creamery and got it going.  Just like that.
Starting with the logistics, it only made sense that the clubhouse building, at the entrance, would be used for the creamery.  Allowing access to campers and the locals alike.
Then there was the equipment.  The creamery uses an industrial maker that allows them to produce batches several times a week.
No flavor is off limits.  And he says that he is able to determine if a flavor should be put in regular rotation by how the campers consume it.  But it is tested out by the parks employee "family" even before that.  Talk about job perks!
The ice cream making is done by Jessie and another young lady.  Batched regularly, no ice cream at the creamery has sat in the freezer for too long.
And did I mention they make homemade waffle cones and bowls too??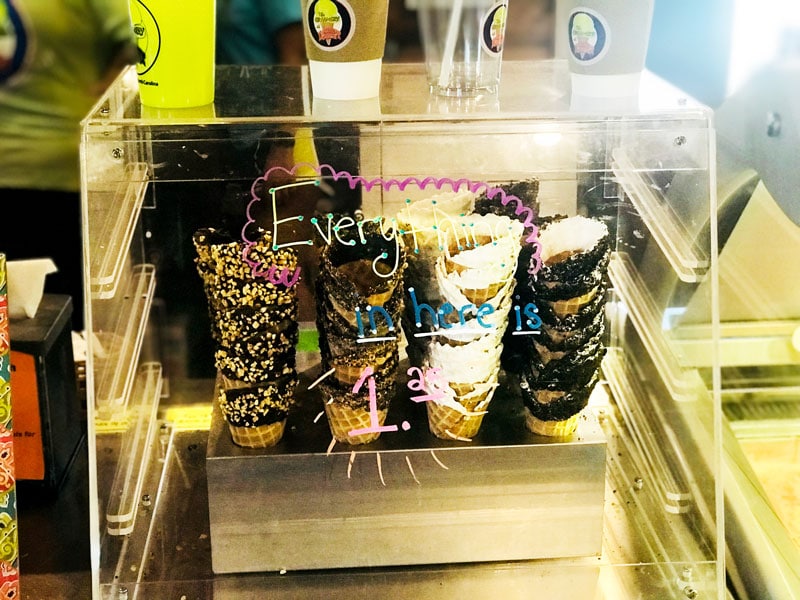 And please don't get me started on the frappes.  I love Starbucks, but I couldn't go there for a good week after my camping trip cause I was spoiled by the frappe's made with the homemade ice cream and locally blended coffee.
My FIrst Round of Ice Cream Making
So inspired by Jessie, I did just what he told me.  I headed to Target and grabbed me one of those at home, low cost, ice cream makers.  I found a simple recipe online and had a go at it.
And I am happy to report it came out so good that I won't be giving up.  In fact, I have been scouring the interwebs for more recipes to make.  And I need you to enter into prayer for me and my waistline because this could get dangerous!
For my first round, I went with a simple vanilla recipe I found here.  But there is nowhere but up to go from here my friends.
This trip to the Jellystone park has inspired me in so many ways.  If you have not already, check out all that I learned about the differences between motorhomes and towable campers after my trip, and the new camper's packing guide for your own camping adventure.
If you are ever in the Tabor City area, it is my recommendation that you swing by The Creamery at Daddy Joe's for a scoop (or more) of the delicious cream they are serving up there.
Have you ever considered making your own ice cream?
This post is a part of the Our Family Camping Vacation With GoRVing & Yogi Bear's Jellystone Park at Daddy Joe's series.