Pumpkin Torte Cake with Pumpkin Ganache
A deliciously layered pumpkin torte cake topped with creamy pumpkin ganache combined that is super decadent and simply divine.
The links in this post may be affiliate links.  That means that if you click them and make a purchase, this site makes a commission.  It will have no impact on the price you pay or the experience of your purchase.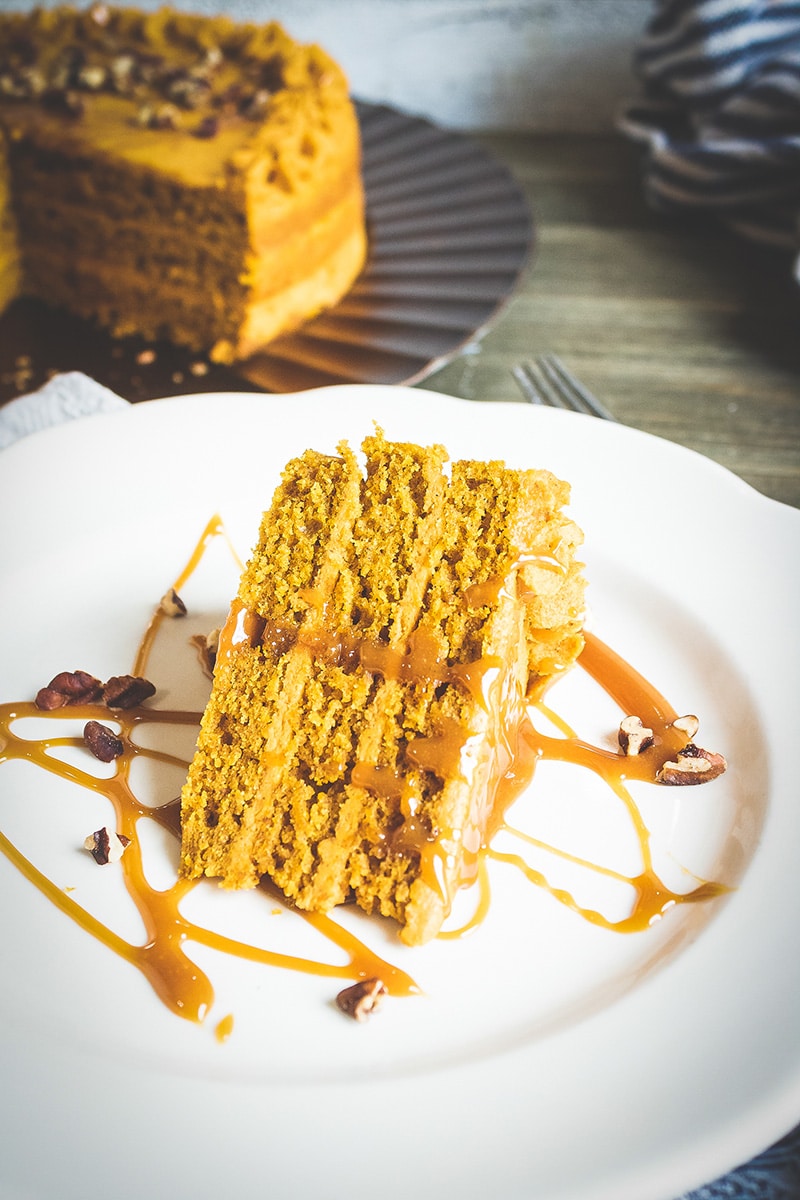 A festive recipe, perfect for the fall season.
The nights are starting to get cooler around here. Even though it is inconsistent, baking in the kitchen during the cooler months is the perfect way to heat the house. And not to mention it makes it smell REAL good.
This cake takes just a little over an hour to make. And I'm pretty sure you'll love this delicious pumpkin torte cake with pumpkin ganache. Plus, the fact that it takes no time to make is an added bonus.
Is Canned Pumpkin And Pumpkin Puree The Same Thing?
Canned pumpkin is just pumpkin pureed without any added spices.
Pumpkin puree tends to have a bit more flavor, such as cinnamon and nutmeg added to it.
This is why pumpkin puree is the ingredient listed for this layered pumpkin torte recipe. It's added seasoning makes for a slightly sweet flavor with every bite.
Is Pumpkin Good For Your Stomach?
The obvious answer to whether pumpkin is good for your stomach or not is yes, of course, it is.
This delicious layered pumpkin torte recipe will have you begging for a second slice. That means it's good, right??
If you're wondering whether or not pumpkin is good for your stomach, as far as weight loss is concerned. Pumpkin is full of fiber.
But sorry to disappoint you, you'll find that this pumpkin torte cake with pumpkin ganache is more of an indulgence than a weight loss dessert option.
What Ice Cream Goes Well With Pumpkin Torte Cake?
If you want to take this recipe even further, consider serving it with an ice cream flavor that will complement the pumpkin flavor.   My butter pecan recipe would actually do the trick!
A variety of vanilla ice cream will make a fabulous combo with this recipe if you like something a bit more simple. I've made that before too!
You could opt to go with a cinnamon ice cream or a pumpkin ice cream too if you are lucky enough to be able to find it at your local grocery store.
Those are hot items in the fall season around these parts. Some times you win, and sometimes you settle.
When Is A Good Time To Make This Recipe?
This is a great recipe idea to bring along to Thanksgiving dinner or any other holiday gathering that you may be attending during the fall season.
A good pumpkin torte cake is a welcomed dish to bring whenever you've been asked to bring along a delicious dessert to a food event.
Whenever the fall season arrives, it seems many people have a craving for pumpkin-flavored everything, and that's why I'm excited to tell you what to gather to make this recipe today!
Ingredients Needed To Make Pumpkin Torte Cake With Pumpkin Ganache
granulated sugar
vegetable oil
pumpkin puree
eggs
vanilla extract
flour
baking powder
baking soda
cinnamon
cloves
allspice
white chocolate
heavy whipping cream
nutmeg
Are There Extra Things Needed For This Recipe?
There are some products you may want to purchase to make the process easier with this recipe. In fact, I highly recommend you pick up this cake leveler to get a level torte during the cake baking process.
Don't forget to pick up this cake/frosting scraper to make sure you get that ganache evenly spread on your layered pumpkin torte recipe. And while you are at it, you don't want to forget to pick up these parchment rounds. They assist in the process of making this torte cake as well.
How Do I Make Pumpkin Torte Cake With Pumpkin Ganache?
I'm glad you asked! If you look below you'll find the step-by-step instructions for making the cake and ganache filling/topping for this layered pumpkin torte along with pumpkin ganache.
This recipe calls for white chocolate and you're probably wondering how this will blend with a pumpkin flavor. I am here to tell you that you'll love this flavor mixture of white chocolate with pumpkin to complete this magical pumpkin torte cake recipe.
Don't believe me?
Well here is the recipe to try it for yourself!
Other Recipes You May Love: