How You Can Go RVing Without Actually Owning an RV
I am not the most outdoorsy person.  But I have an open mind and a desire to experience new and different things.  So when the opportunity arose for my family to go on an RV camping adventure I have to say I was excited without any apprehension.
The links in this post may be affiliate links.  That means that if you click them and make a purchase, this site makes a commission.  It will have no impact on the price you pay or the experience of your purchase.
We often think about a vacation involving a beach, or a five-star hotel, or some other fancy accommodations.  But I am here to tell you that an RV vacation is in a class of its own.
And I now know this after a long weekend spent RVing in a rental at one of the most amazing campsites.  I might be slightly biased because I have nothing to compare it to.  But two things I know:
Yogi Bear's Jellystone Park at Daddy Joe's set the bar pretty high for future expectations.
Friends who have been camping and RVing have said that based on the photos and stories they saw me share online, it was like nothing they ever experienced in their own camping experiences.
So there's that!
This post is sponsored by GoRVing and Yogi Bear's Jellystone Park at Daddy Joe's.  While GoRVing provided my family with a trailer for our camping experience, and Tabor City Jellystone provide our campsite, any and all opinions are my own.  To learn more about what that means click here.
Why I Never Considered RVing
First and foremost I never knew that you could rent an RV!
YES, friend, you don't have to own an RV to have an amazing RV camping adventure.  I am so happy I discovered Go RV'ing when attending a conference recently.  I learned so much about the availability and access to people like you and me, who don't own RV's or campers.
Did you even know there are different types of Recreational Vehicles?
I kinda knew, but not really.  But after my stay at the campground, I was so intrigued.  There are in fact so many things to consider when you are deciding between a Motorhomes and Towable Camper.
Another thing that held me from ever having the thought of taking my family camping was the thought of my family being in the woods, camping, and me losing my entire mind.  We have my mini black panther who 'thinks' he is not scared of anything; the electronics ruled nephew who can't live without being digitally plugged in, in some way; and then as my husband called her, our daughter,  "Cinderella".
The thought of being in a cramped space in the middle of the woods with these three polar opposites did not sound exactly appealing.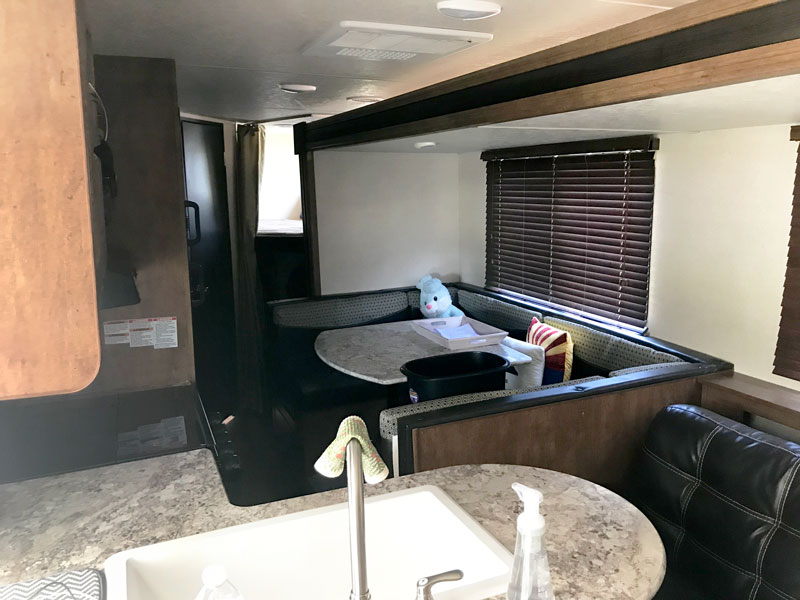 The inside of our camper actually allowed each of us to have our own space and still be comfortable.  When I needed alone time, I came back early while the family stayed at the pool and started prepping for meals.
The camper even has Bluetooth speakers built in for inside and out.  So I was able to connect my phone and play some music while I cooked, just like at home!
How We Got To Go RVing
I am happy that I didn't let those reasons stop me from taking the adventure.
In partnership with GoRVing, my family had the chance to experience an amazing RV adventure.  We originally were scheduled to experience a motorhome.  But a glitch in planning caused us to switch things up and drive to our campsite to stay in a pre-setup towable travel trailer.  Again, if you didn't know, or are wondering what is the difference, you can find out the differences between motorhomes and towable trailers here.
GoRVing is your destination for all things RVing.  With resources and information about camping, buying and renting RV's, and just about anything related to the world of RVing.
With an online blog and plethora of resources to help you decide how, when, and even where your family will camp, there is no shortage of information and help for planning your own RV adventure.
My Thoughts About Rving
After having this opportunity, my husband is looking into what it would take to own one of these things.  While it is not in our immediate future to own one, we have both agreed that this won't be our last family vacation camping and living the "RV life".
We were both pleasantly surprised by the experience.  With my husband even going as far as to say, "It's the only vacation that he has been on where he didn't take some of his thoughts, worries, and stress from home with him."
People! That is huge.  Like MASSIVELY BIG!!
My husband is a programmer by day, involved dad by night and my partner in DIY crime by any time that we have left after all that.  Between stressing over time, money, and computer code, he always has something he is stressing about.  I was so happy when I heard him say that.  So much so, that I was almost ready to book our next trip right then and there!
It truly was a peaceful and fun filled time with the family.  I was worried about being confined in such a small space with the five of us.  And I can honestly and truly tell you that it was not bad at all.  By the time my kids started driving me crazy, they were so exhausted that they put themselves to bed.  Yes and Yes Please!
I think it is an adventure that you should try at least once.  Even if you are not able to do the RV, I recommend that you at least go camping at a facility like the Tabor City Jellystone.  They offer other options for accommodations outside of an RV.
How You Can Go RVing Even If You Don't Own An RV
Head over to the GoRVing website now.
Seriously, do not wait!
Take a look at the RV rental options.  The site goes as far as helping you with locating rentals in your area, planning for the dates and things in the same way you would book a hotel.
It's totally a concierge for planning you family RVing trip.
I challenge you to at least look into it.
If you have questions drop them below so I can help you find the answers.
If you are saying, "Kenya, no, just no", tell me why below and let's chat!
Until Next time my friends.
This post is a part of the Our Family Camping Vacation With GoRVing & Yogi Bear's Jellystone Park at Daddy Joe's series.