Rich, Homemade Butter Pecan Ice Cream
If you're a fan of rich, creamy ice cream with a deliciously nutty twist, then homemade butter pecan ice cream is the perfect treat for you. With its creamy vanilla base and crunchy pecans folded in, this classic flavor is a favorite of many.
The links in this post may be affiliate links.  That means that if you click them and make a purchase, this site makes a commission.  It will have no impact on the price you pay or the experience of your purchase.
The beauty of making ice cream at home is that you can customize the flavor to your liking and create a truly unforgettable dessert.
Whether you're looking to impress guests or just indulge in a sweet treat, this homemade butter pecan ice cream recipe is sure to satisfy your cravings.
So grab your ice cream maker and get ready to create a decadent dessert that will have everyone asking for seconds.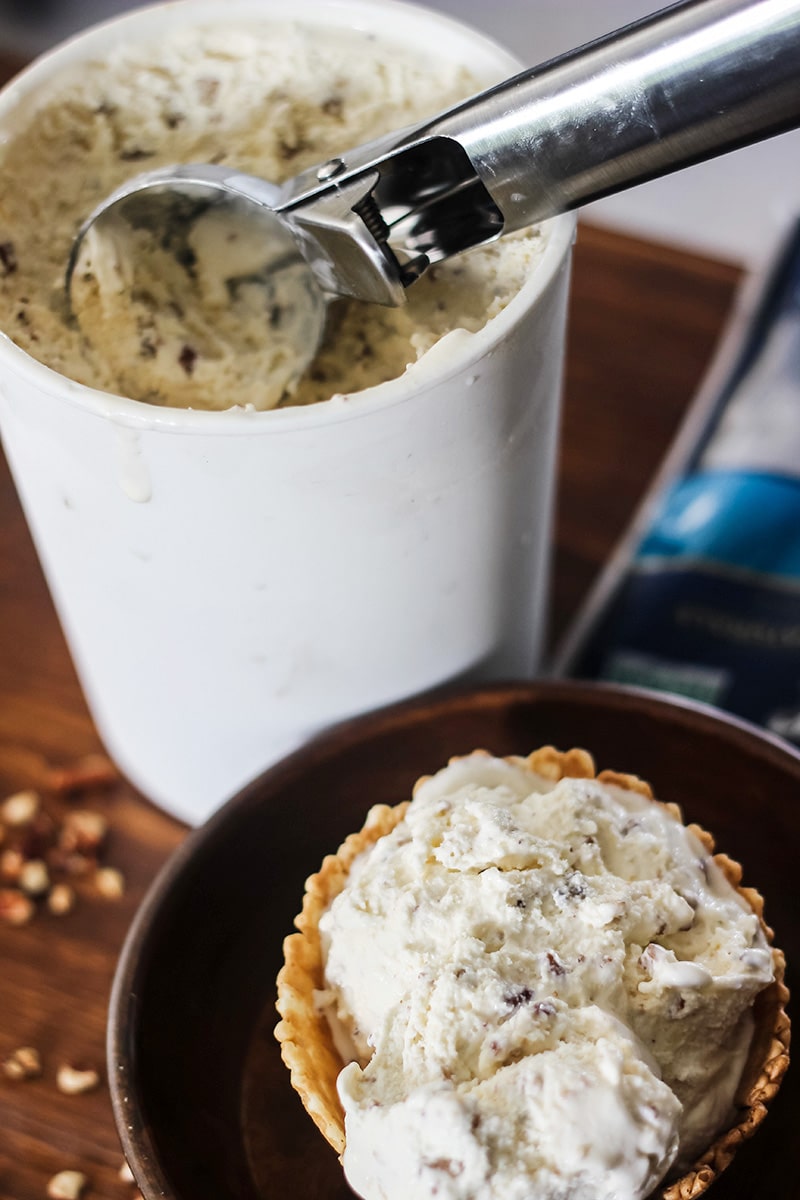 It's no secret how I feel about ice cream. It is one of my favorite snacks for after I put the kids to bed. Whether it is in the middle of the blazing summer or the dead of winter, ice cream is never NOT an option.
This recipe came on kinda randomly. In fact, I don't even know what made me decide to make it. If I was going to do it, I had to do it right.
Butter pecan is one of my dad's favorite ice creams. In fact, it might be the only one I remember him eating beside a scoop of vanilla with his apple pie.
My first batch was a little too sweet. And let me be clear, that was not me saying that. Because it is near impossible that anything is ever too sweet for me.
But the hubs said that it was too sweet, so I made a few modifications, and I got it just right!
This recipe calls for the use of heavy cream and half-and-half rather than milk. And that's because the best butter pecan ice cream is and has always been nice and rich.
The richness of the cream, coupled with the buttery brown sugar-glazed pecans, is simply divine.
So let me share with you just what I did, so you can get in the kitchen and make yourself some rich homemade, and the absolute best butter pecan ice cream too!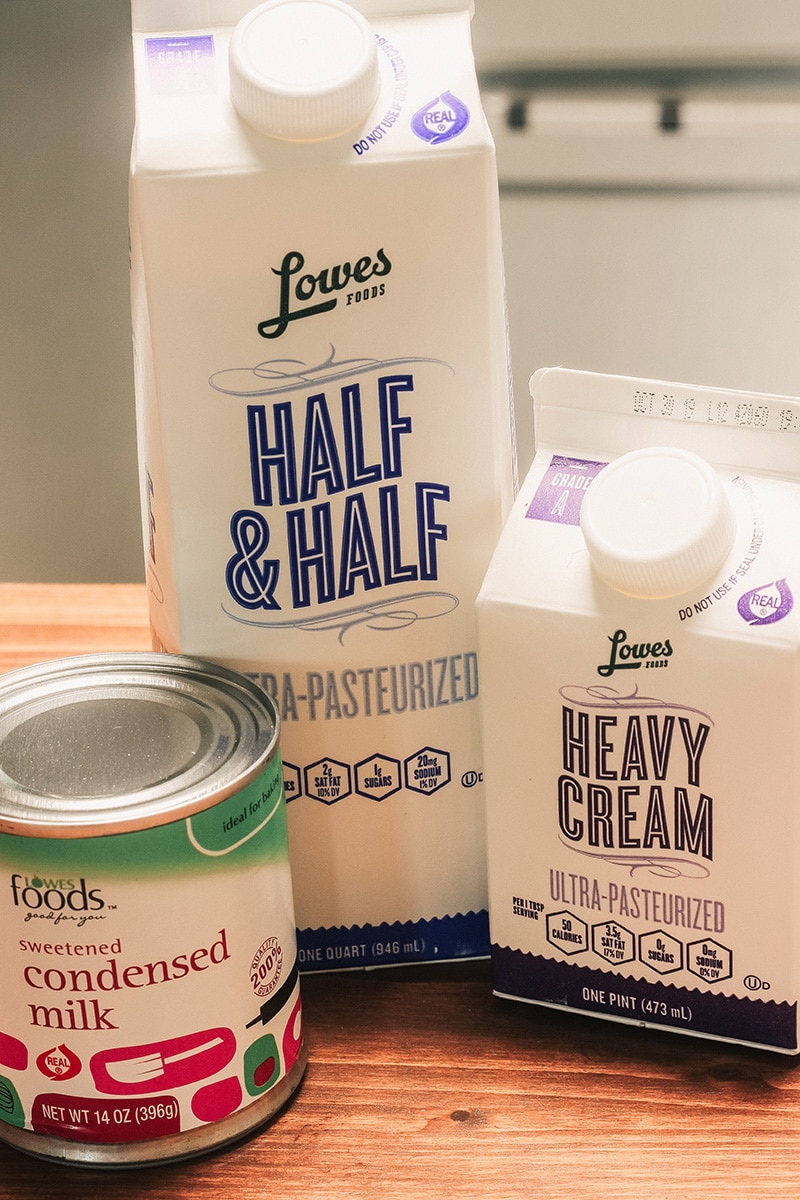 Ingredients To Make The Best Butter Pecan Ice Cream
eggs
sugar
heavy cream
half & half
vanilla
condensed milk
pecans
butter
brown sugar
sugar
How To Make Buttered Pecan Ice Cream At Home
Making the Ice Cream Base
In a glass or metal mixing bowl that can be used in a steam bath, combine the vanilla, condensed milk, heavy cream and half & half.
Set the bowl over medium-high heat in a steam bath and stir occasionally. Allowing it to get warm.
In a separate mixing bowl, beat the eggs together for a minute or two and add in the sugar. Mix them together until your eggs and sugar are completely combined. It should only take a minute or two.
Gradually whisk some of the warmed milk mixture into the eggs. Or to make it easier, take a measuring cup and just spoon some of it out the steam bath and into the egg mixture.
This step allows the eggs from starting to cook if you poured them directly into the warm milk.
Pour the egg-milk mixture back into the milk mixture over the steam bath and continue to warm over medium heat. Making sure to stir constantly until the mixture is thick enough to coat the back of a wooden spoon.
Failure to stir continuously can result in egg chunks in your cream base.
A good rough estimate is about 10 to 12 minutes.
Cooling The Ice Cream Base
If you are looking to make your ice cream right away, cool the ice cream base by setting the bowl of what is now creamy custard, in an ice bath and stir until it's chilled.
But, if you are not looking to make the ice cream right away, you can just cover it in a bowl and refrigerate until cold. At least for an hour, but you can place it in the fridge up to two days before making the ice cream in your ice cream maker.
Making The Butter Pecan Ice Cream
Once you are ready to make the ice cream, add the ice cream base to the ice cream maker and process it according to your machine's instructions.
Keeping in mind, that you will need ice and rock salt for this part of the process.
Pro Tip: I normally never have enough ice in my ice maker to add more in halfway through. It is usually just enough to get started, but not more if needed when the ice melts down.
So when I know I want to make ice cream, I take the ice in my freezer and store it in zip lock bags so that I don't have to go buy ice.
Doing that allows the ice maker to make more ice and for me to have enough and not wipe the house out of ice if they get thirsty or something.
It is the perfect time to toast your pecans while your ice cream gets started in the maker.
I did not have enough chopped pecans on hand. But I had whole ones. So I put them in a gallon-sized Ziploc bag and rolled over them a few times with the rolling pin.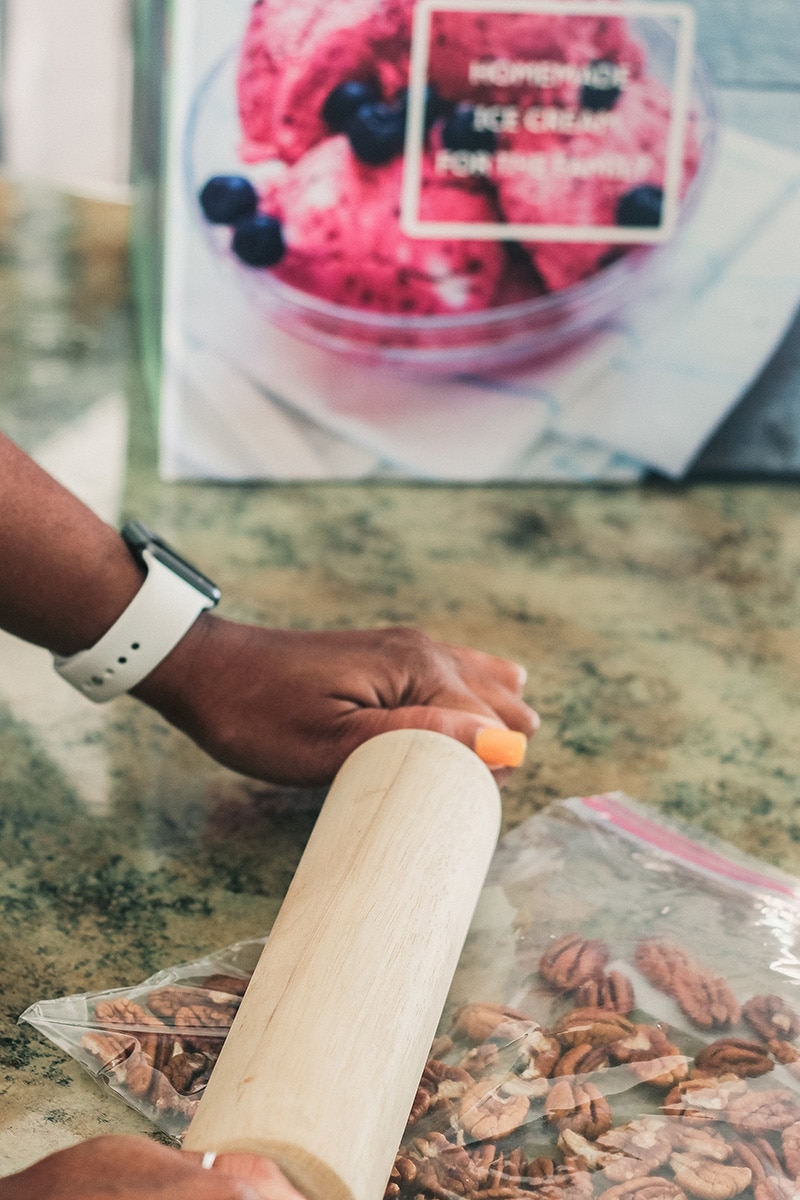 Might I add that was the cheaper alternative as well?
Imjusayin!
Buttering the Pecans
You don't want to take these steps until after you have put the ice cream base in the ice cream maker and began making the ice cream.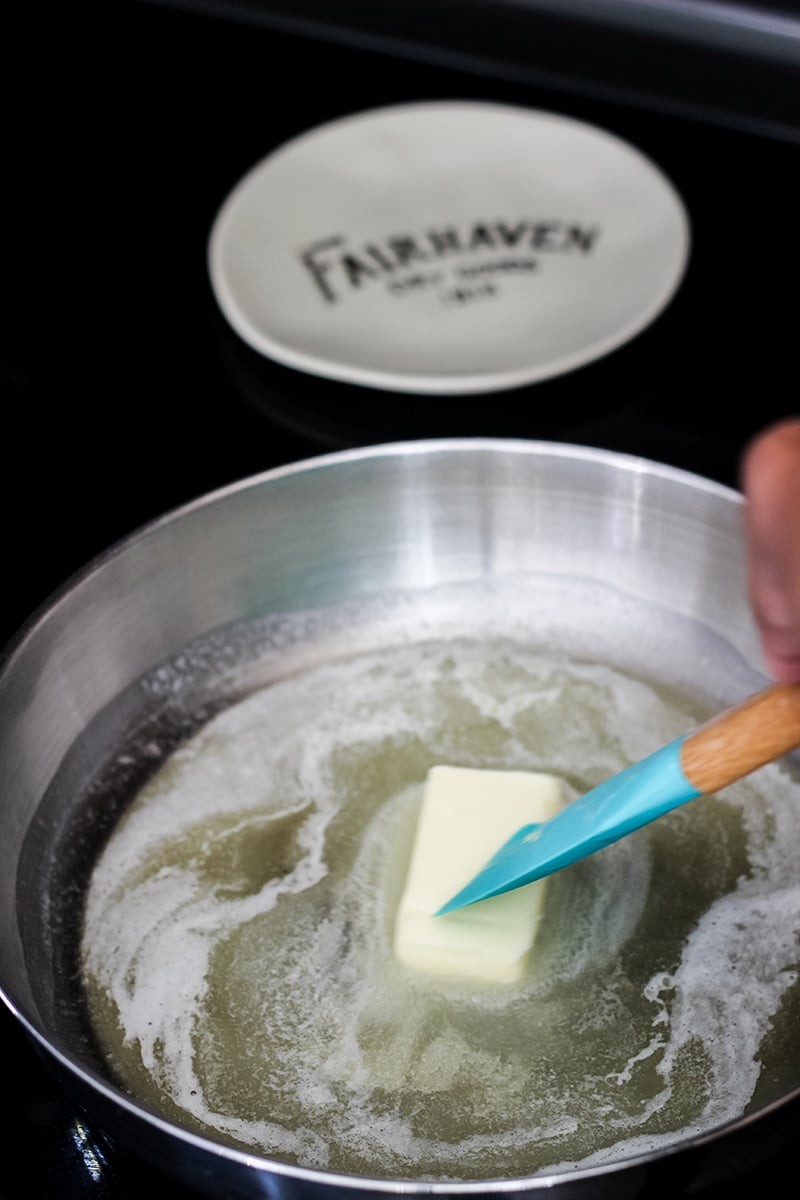 Start by melting the butter in a pan over medium-high heat.
Melt the butter completely and then add in your sugar and brown sugar. And then, stir until the sugars have dissolved into the butter.
Add in the pecans and reduce the heat to medium. Stir the pecans until they are toasted.
I am warning you to watch them closely and do not walk away. The pecans go from being done to being completely burned pretty quickly.
Remove the pecans from the heat. You will know when is a good time once the pecans smell nice and toasted and are fully coated with the crystallized sugars. Allow them to cool.
I put them in the measuring cup and just sat them in the fridge. Then I set a timer to come back and add them to the ice cream base in the maker twenty minutes later.
Siri is the boss of me. She is telling me what to do all the time! And I have no shame…
A few minutes before the ice cream is done in the maker, add in the pecans. This allows the pecans into the ice cream evenly.
I tried to manually add them when the ice cream base was done the first time I made this.
It led to a very uneven mixture of pecans in the ice cream. So I highly recommend doing it this way. The mixture is perfectly even.
And this is the best part! Enjoy the ice cream.
You can enjoy the ice cream right away as soft serve. Or, you can freeze it and allow it to get harder.
Can You Use Milk To Make the butter pecan Ice Cream?
You can use any variation of milk with this.
The heavy cream and half-and-half are what lend the delicious rich creamy flavor.
If you prefer it not so rich, you can substitute in milk or more half-and-half than heavy cream.
Pin The Best Homemade Butter Pecan Ice Cream Recipe For Later
Other Ice Cream Recipes You May Love: