Raspberry Lime No Bake Cheesecake In Jars
Single-serve individual lime no-bake cheesecakes in jars topped with raspberry are the perfect dessert for your next picnic, family camping trip, or as a delicious treat for at home. So quick and so easy.
The links in this post may be affiliate links.  That means that if you click them and make a purchase, this site makes a commission.  It will have no impact on the price you pay or the experience of your purchase.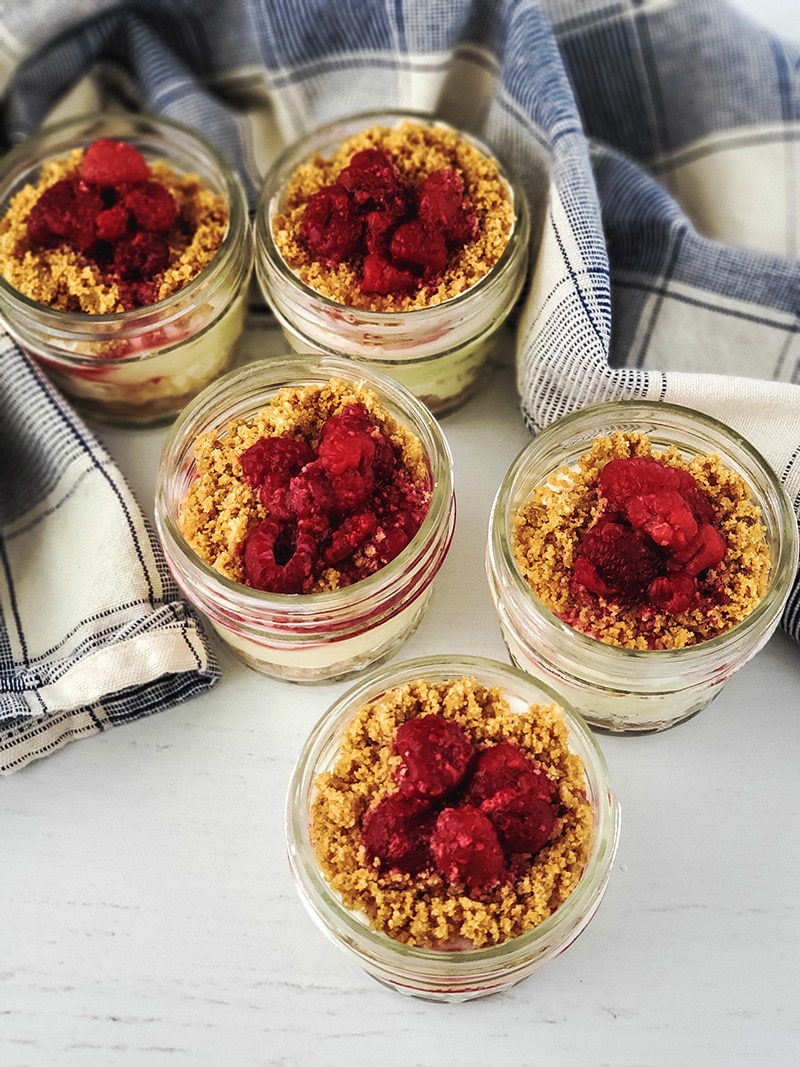 It's been a while since I have shared some kitchen love. And honestly, since the weather broke, I would much rather be in the garage than the kitchen. If I show you my project list for the coming months you would run. I am sure my husband wishes that he could, lol.
But these No Bake Raspberry Lime Cheesecake Jars are a win. They let me satisfy my sweet tooth but also not take up too much time. Which means I can hurry back into the garage.
How Long Does It Take To Make Raspberry Lime Cheesecake Jars?
No time!
No, really this is gonna be one of the fastest dessert recipes you will whip up. It should take no more than 25 minutes and dessert is served!
What Do I Need To Make These Cheesecakes In a Jar?
graham crackers
cream cheese
lime curd
sugar
butter
lime
whipping cream
raspberries, fresh or frozen thawed
How to Make Raspberry Lime Cheesecake in Jars
Start out by melting the butter. Combine the butter with the graham cracker crumbs.
Once combined, divide evenly into two equal parts. Evenly disperse into the bottom of each canning jar. Then set those aside.
In a bowl, combine the cream cheese, sugar and lime juice into and mix well. You can use a hand mixer or mixer stand making sure the scrape the edges to ensure it is all mixed together.
Using a spoon layer the cream cheese mixture on top of the graham crumbs mixture in each of the jars.
Then spoon in lime curd on top of cream cheese mixture.
From there, top with a layer of whipping cream, sprinkle with the rest of the graham crumbs.
Add your raspberries for the finishing layer.
Serve immediately or store covered in refrigerator.
How To Make Your Own Whip Cream For The Cheesecake Jars
Whip one cup of heavy whipping cream and 2 tablespoons of sugar until stiff peaks form.
If you have extra, store it in a covered dish in the refrigerator.
How Long Does No Bake Cheesecake Take To Set?
This recipe can be served immediately. Although they taste even better after being chilled. This is different from making a whole no-bake cheesecake which can require time for the cream cheese mixture to "set".
Can I Put A Cheesecake In The Freezer To Set?
I would not recommend putting these in the freezer. It can mess with the consistency of the cheesecake.
How Long Is No Bake Cheesecake Good For?
Does it really matter? They won't last!
But really you can make these ahead of time. But I would not do more than 2 days ahead to avoid siggy grahams.
Why Individual Cheesecakes Are Better?
The best thing is you don't have to worry about these cheesecakes cracking. I hate when I labor through making a cheesecake and it cracks. Part of the beauty of cooking is the presentation too.
What Can I Use To Make These Cheesecakes
Mason Jars
Cups
Disposable Cups
Ramekins
Need More No-Bake Cheesecake Inspiration?
Don't Lime Raspberry Combo?
Just Want Options?