Ryan Homes Review | Our Experience Building With Ryan Homes
This is a full review of our homebuilding experience with Ryan Homes, including some additional useful information to consider.
The links in this post may be affiliate links.  That means that if you click them and make a purchase, this site makes a commission.  It will have no impact on the price you pay or the experience of your purchase.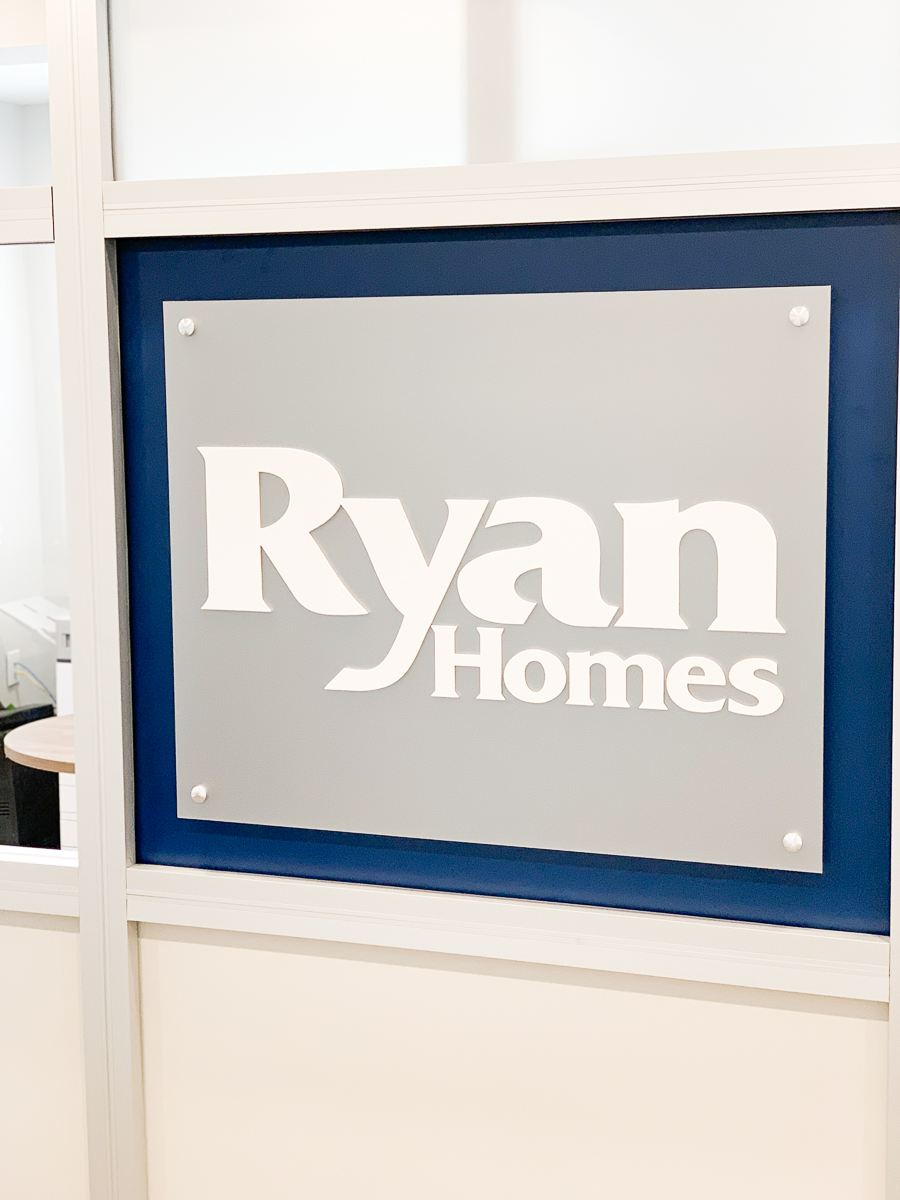 Ryan Homes is a prominent homebuilder that has been operating for over 70 years. With a presence in 16 states, they have established themselves as a trusted and reliable company for new home construction.
In this blog post, I am sharing about Ryan Homes and a review of our experience building our home with them.
Before I proceed, it's important to note that building a home is a unique and personal experience. The salespeople, project managers, and construction crews that we dealt with will differ from others. As such, it is worth saying that our experience will not necessarily be the same as everyone else's.
Our First Home Build With Ryan Homes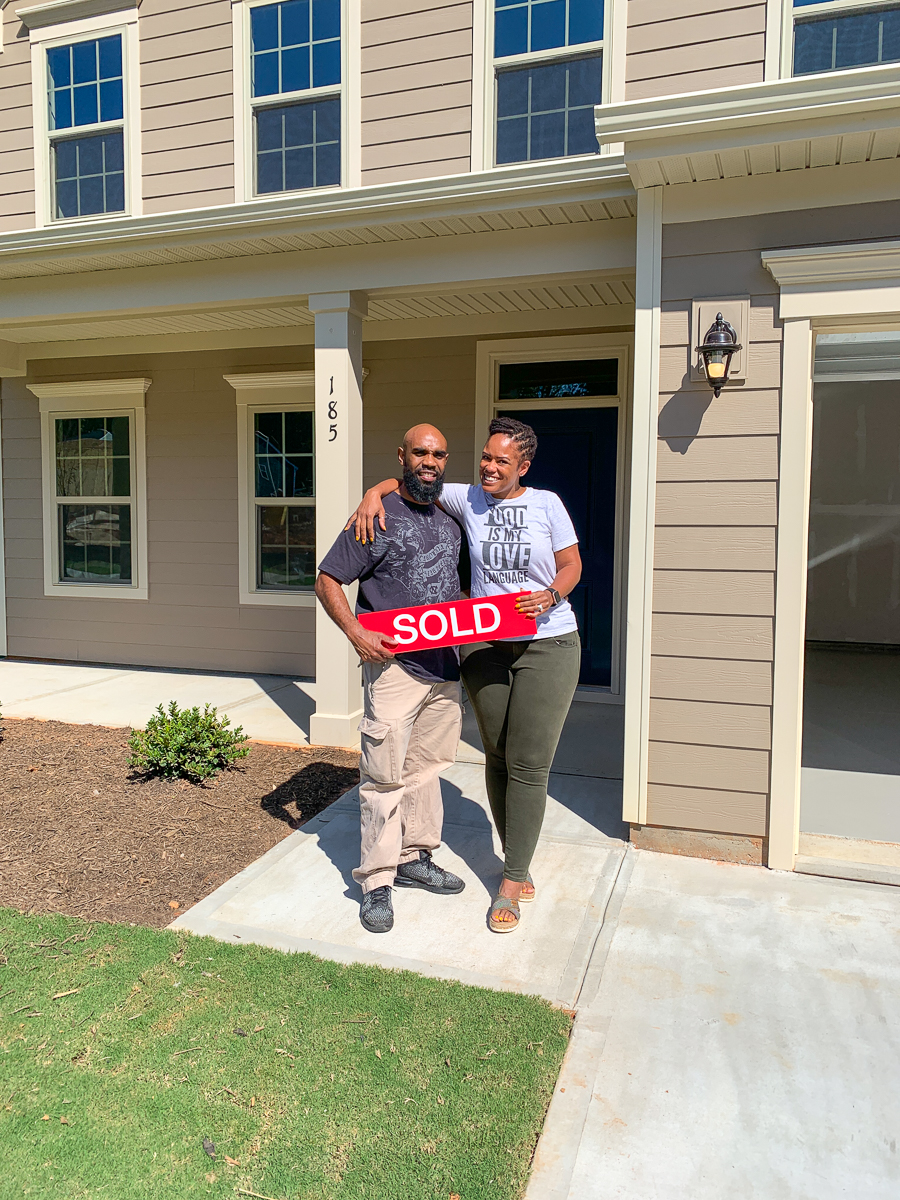 Because Ryan Homes builds across the US in several states, including our home state of Ohio, we oftentimes get asked what our experience was like.
My parents had a bad experience with Ryan years ago in Ohio, but we had several friends who had good experiences.
For this reason, we chose to go with them in the state of North Carolina because they are a community builder (versus a custom builder), which makes building a home more affordable.
Ryan Homes has not compensated or in any way sponsored this post. This is a full review of our experience working with Ryan Homes for your informational purposes and hopefully to help you make the most informed decision for your home building process.
We have now been in our house for a little over two years. I decided to wait to write this review to give us time to get settled in and have not only the building experience to reference but what living in a Ryan Home and neighborhood has been like.
The building Process
Choosing a Floorplan and Homesite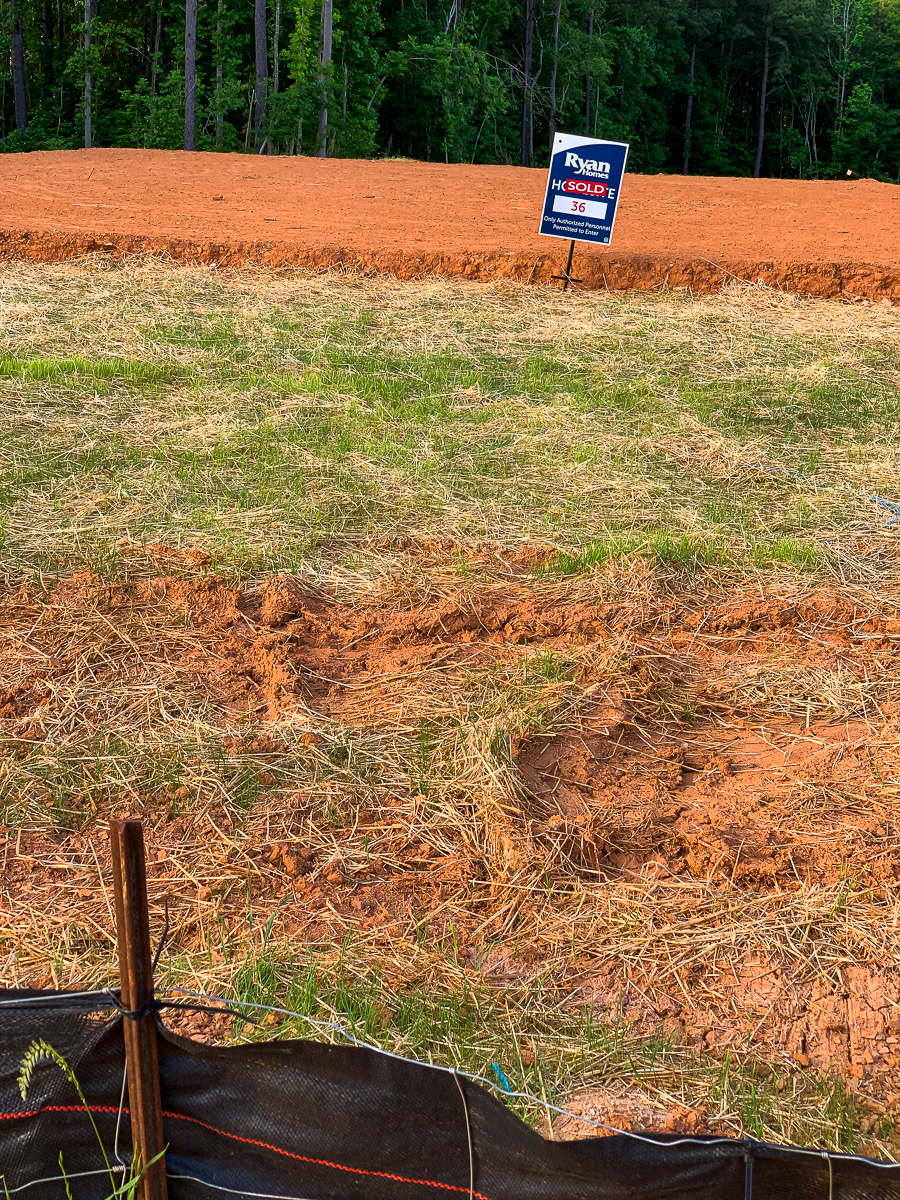 Ryan homes is known as a production builder, they offer a set number of floor plans and features but with minimal flexibility in choosing options. If you want to know more about the different types of home builders, you can check out this post I wrote that summed up my research.
The pre-building process included choosing our lot, home model, and then the options we wanted for our home.
Because we bought during the pandemic, the way things happened were a little modified and ended up impacting our overall experience. Which I will share more about further down.
Ryan Homes offers different models and options in different communities. So it's important to make sure that the community you are looking at has what you are looking for.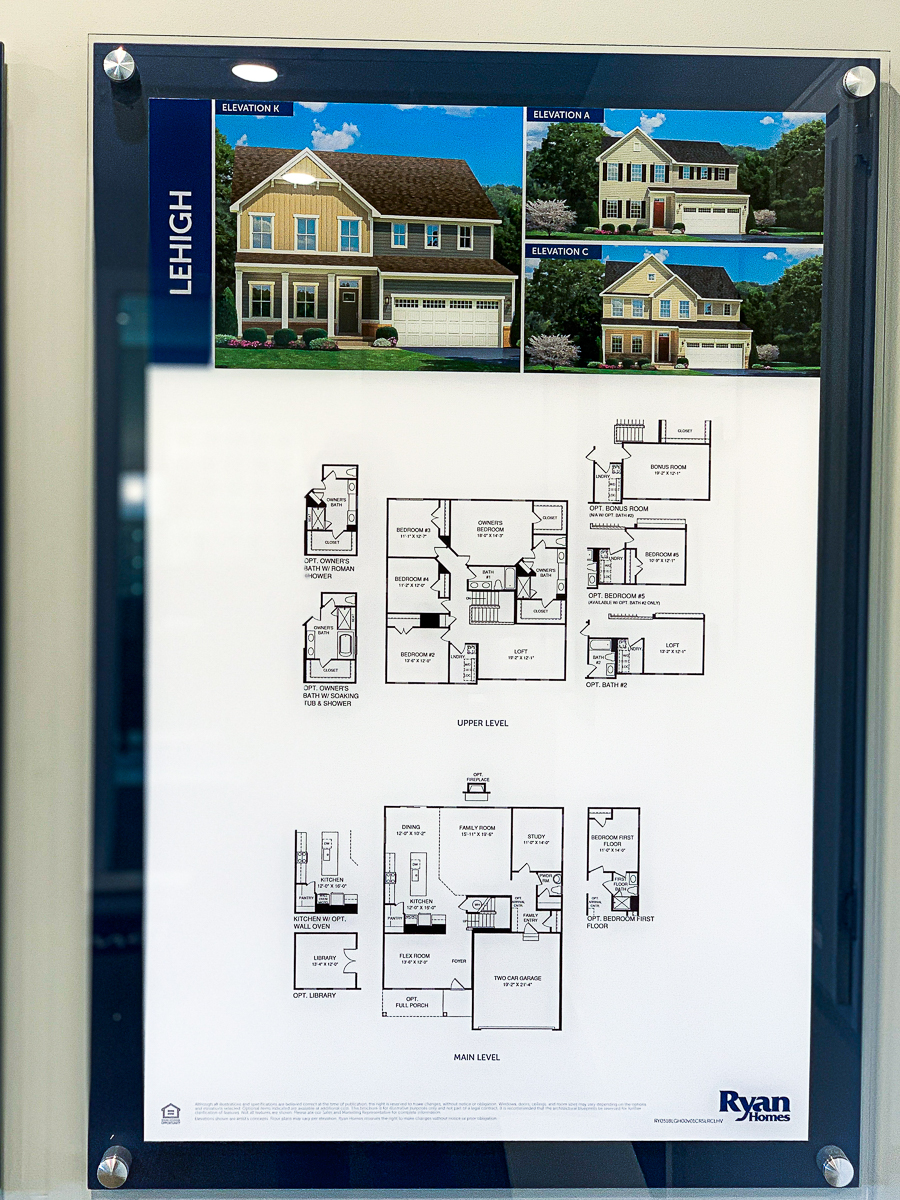 We chose the Lehigh model. It is a four bedroom house that had the option to add on an additional fifth bedroom, which we did.
Some of the features that led me to this model were the large wide open kitchen (have you met me), the open floor plan, the spacious office, the master bedroom with separate his and her closets, and one of the bedrooms on the first floor – in case we no longer could go up and down the stairs for some reason.
You can check a full list of all the models Ryan Homes offers here.
In some neighborhoods, you can upgrade to a three car garage over the standard two car garage. But in our community, that was not an option.
We chose a lot in the cul-de-sac because our son was still fairly young, and that usually offers a safer space for kids to play. But also, the lots in the cul-de-sac we a little larger and offered more yard space, which was important to my husband.
Customizing Our Home
Once you've selected your floor plan, we worked with our sales consultant to personalize our home. This involved choosing finishes, colors, and other options.
After moving into the neighborhood and visiting with neighbors, we learned that there were options that were not offered to us by our salesperson. This included upgrades to the finishes for the showers and faucets, upgrades to the flooring, and even a cabinet color option.
This was disappointing because we absolutely would have upgraded the flooring in the house and chosen a different finish for our showers.
When choosing upgrades, because we are DIYers, we chose based on a few factors:
Structural
We ask ourselves could the upgrades be added after building or if would it be too costly (or near impossible) to add. Such as the fireplace.
We knew that while there are options for adding a fireplace, we wanted one that was built in with the home.
How hard would it be to add later
We chose to upgrade the trim level because it also included an upgrade to craftsman doors versus the standard doors.
And while we could have done that on our own later, it would have been a cumbersome, time consuming, and possibly expensive undertaking.
This is where we would have also chosen to upgrade to actual hardwood floors versus vinyl. The flooring that came standard is a peel and stick type of "vinyl." And because the house is a slab home built on concrete, it is really hard on your joints and can be extremely cold in the winter months.
I did not realize that the option to choose actual hardwood was an option until we had visited the homes of a couple of our neighbors.
Customization
As mentioned before, with production builders, you get what is offered. So if you want something a little more custom, you would do better to opt out of the building process and add it later.
For this reason, we opted to wait on the screen porch. The one offered by Ryan Homes was significantly smaller than what we wanted and didn't seem to be well built.
I am glad we opted against it, as one of my neighbors had to have them come out and rebuild her entire porch almost a year later.
What We Chose To Customize In Our Home
We chose a tan exterior for our home, as a lot of the homes in the neighborhood had already used grays, green (which was my second choice), and navy blue. Our home is actually the only home in our community with the color that we chose.
The accent color was navy, but I knew I would be changing that. The only thing that was blue was the front door. I changed that not long after we moved in.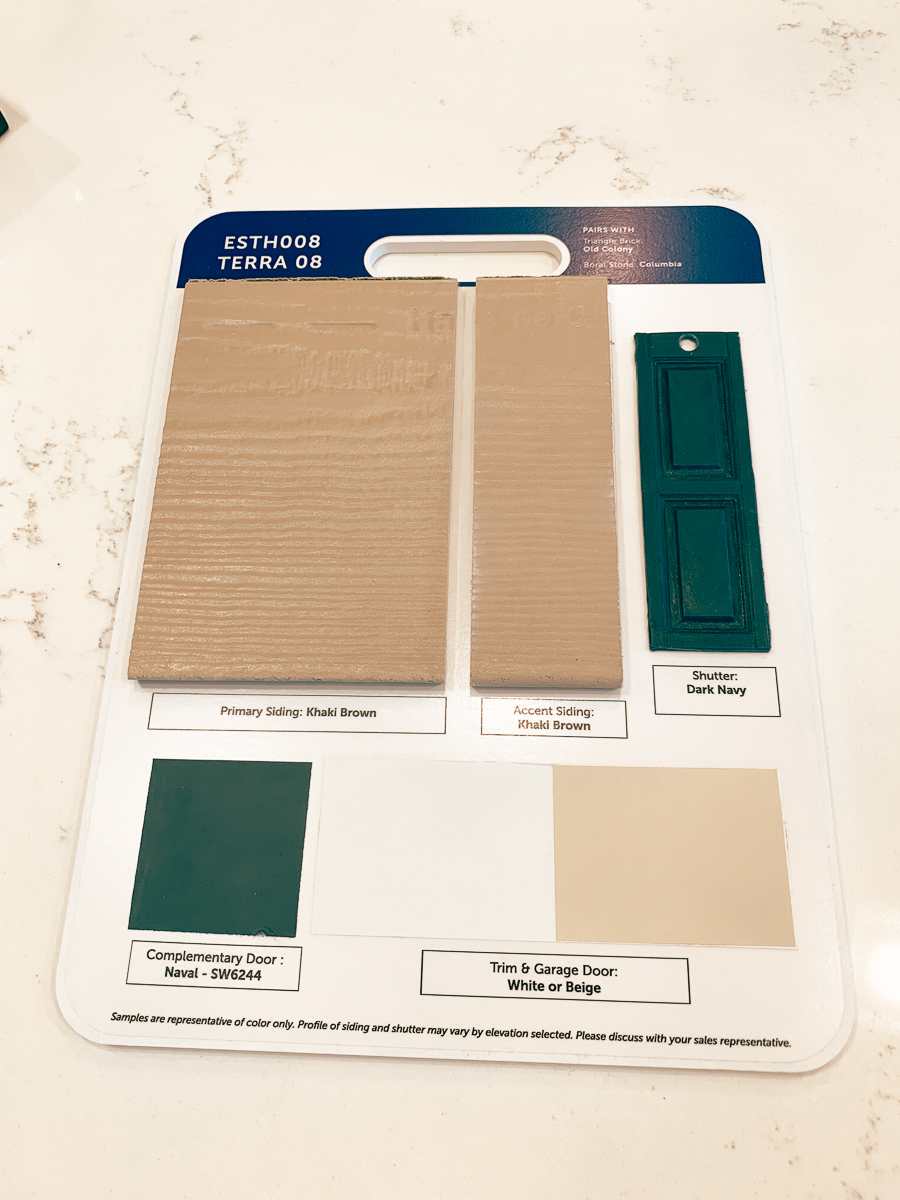 We also opted for almond colored windows instead of the standard white that almost all of the homes in our community have.
We were only presented with dark wood, white, and light gray cabinet coloring options. The wood was chosen because I knew I did not want white, and the gray was not dark enough to warrant paying more for it.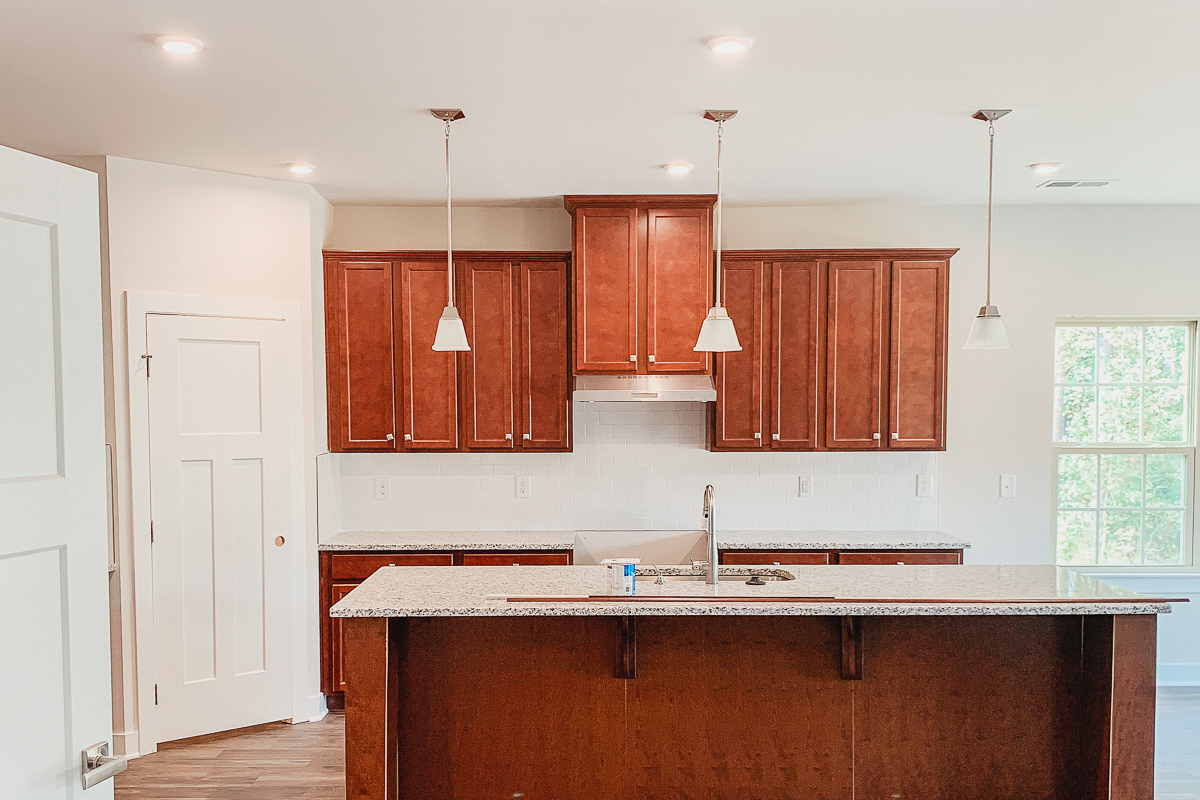 Like with the floors, I later found out that there was an option for black cabinets. I was upset about that because had I known, I would have most likely gone with the black cabinets.
We opted to close the office off instead of leaving it open. Because it felt like something that, for the price, was worth it versus trying to frame it off and close it later.
We also opted for a closed off loft upstairs versus the open layout. Hubs is used to having a basement being from up north, so this space was his to close off and use as his "man cave".
And we also chose to go with the bath/shower combo in our home because I absolutely love my baths. I was actually surprised at the number of people who opted out of the tub in the master bedroom.
With this option, you lose the additional line closet in the master bathroom, but I added an aftermarket cabinet from IKEA that does the trick!
Financing, Contract Signing, & Pre-Construction Meeting
Once you've chosen your floor plan and personalized your home, you'll need to secure financing and sign a contract with Ryan Homes.
This will include a detailed list of specifications and a timeline for the construction of your home.
Before construction begins, you'll have a pre-construction meeting with your builder to review the plans and specifications for your home.
This is an opportunity to ask questions and make any final adjustments before construction begins.
Because of the pandemic, our pre-construction meeting was held virtually. This was a huge lesson for us. Because never again would we allow a virtual meeting for this. And here's why:
A few weeks before closing on our home, we discovered that our property line was not where we were told it was by our salesperson. When we walked the lot, we specifically asked if our property line went back to a specific point, again because of the importance of yard space to the old man.
we were told our property went back to the black edging

our property line stopped where the grass ends, and the remaining land is a "community area"
We were told that it did go back to that point. We did not find out until about two to three weeks before closing, when grass was laid, that it did not go back as far as we were told.
Because our pre-construction meeting did not include an outdoor walk through of the lot and it was not easily interpreted on the paperwork virtually, it was his word against ours.
We took the issue all the way up to the VP. Who came out and met us at the property and first offered us solutions on how to "make do" with it. And also offered to let us out of our contract.
In normal circumstances, this would have been okay. But in the time that had passed, home prices had significantly increased in a matter of months during the pandemic.
That meant it was to the builders' advantage to let us out of the contract cause they could sell the home for significantly more than we were under contract for. And we would have had to pay significantly more for a home of equal size somewhere else.
This was our first realization that our salesperson had misrepresented some things. Which, we later had a long list of things he was intentionally dishonest about. Which was really disappointing.
I will say that all of my neighbor friends who worked with the other salesperson in the office had a far better experience and spoke very highly of working with her.
Construction
Once the pre-construction meeting is complete, construction on the home began. Throughout the construction process, we visited the site and monitored the progress of our home weekly.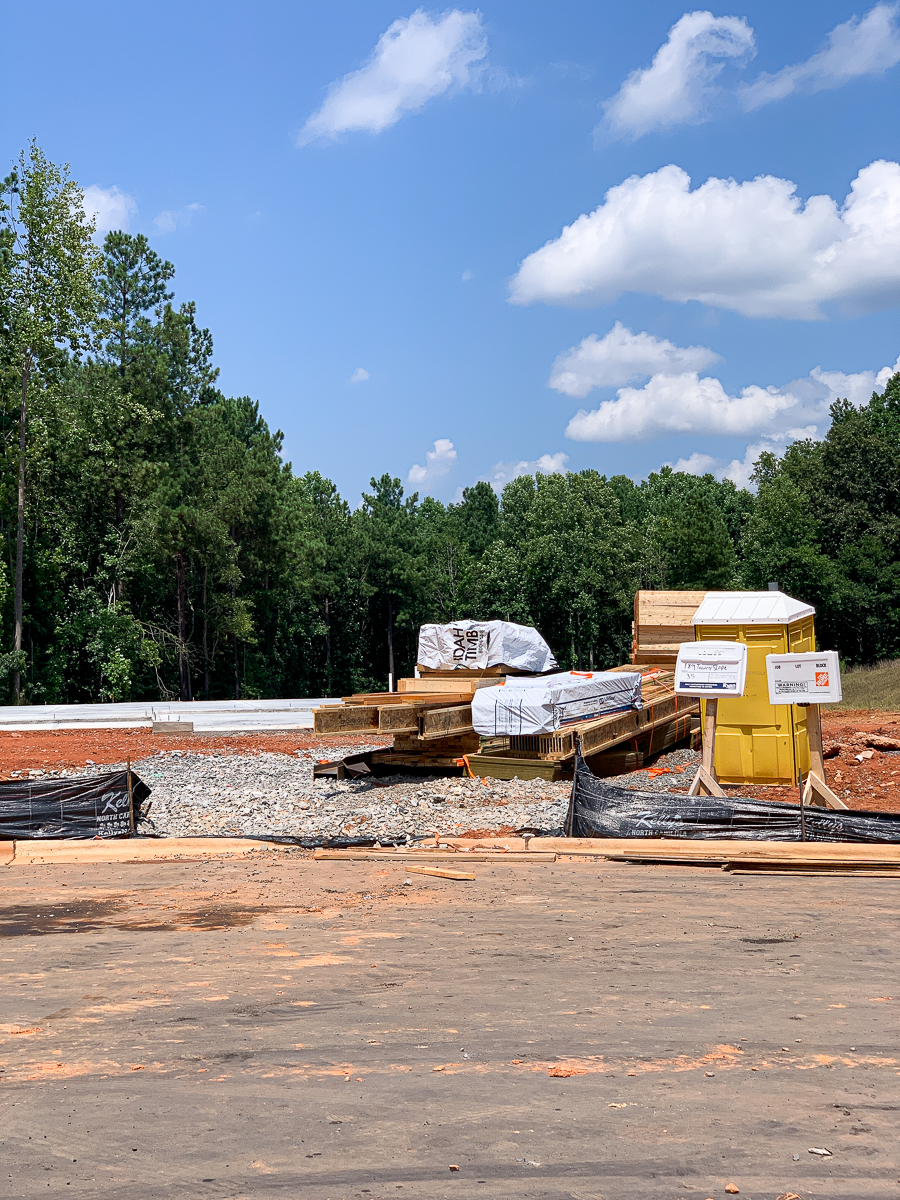 Our project manager also sent us a weekly update of what had been done. But we came out weekly to check for ourselves, and if there was something that did not seem right, we quickly brought it to his attention so it could be addressed.
Our project manager was amazing and stayed on top of things during the building process.
We opted to have a pre-drywall inspection done. Where we hired an outside inspector to come check everything up until this point with electrical and such to make sure that there were no issues that could not be seen once the drywall went up.
I highly recommend doing this. It is an added fee, but so worth it. Once the drywall goes up, there can be issues that go undetected or that can be really inconvenient and/or costly to repair, especially if discovered after your warranty period.
While others that we knew were building with other builders and having their completion dates pushed back. Our home was completed a little over a month ahead of schedule.
Final Walkthrough and Closing
Once construction was complete, we had a final walkthrough with our project manager to ensure that everything was in order and meet our expectations.
We had what our project manager called our "blue tape party", where we walked through the house and marked everything that needed touching up, adjusting, etc., with blue tape for the team to come back in and address.
In addition to that, we did a second inspection pre-closing, where we hired an outside inspector to go through the house and make sure that everything was just as it should be.
This is something that is worth the expense. We always did this when we bought existing homes and would still recommend it with a new build. Even though it is new, it is built by people. And people make mistakes and miss things.
It is one of the many ways you should advocate for yourself in the home building process.
Choices we are happy that we made in our newly built home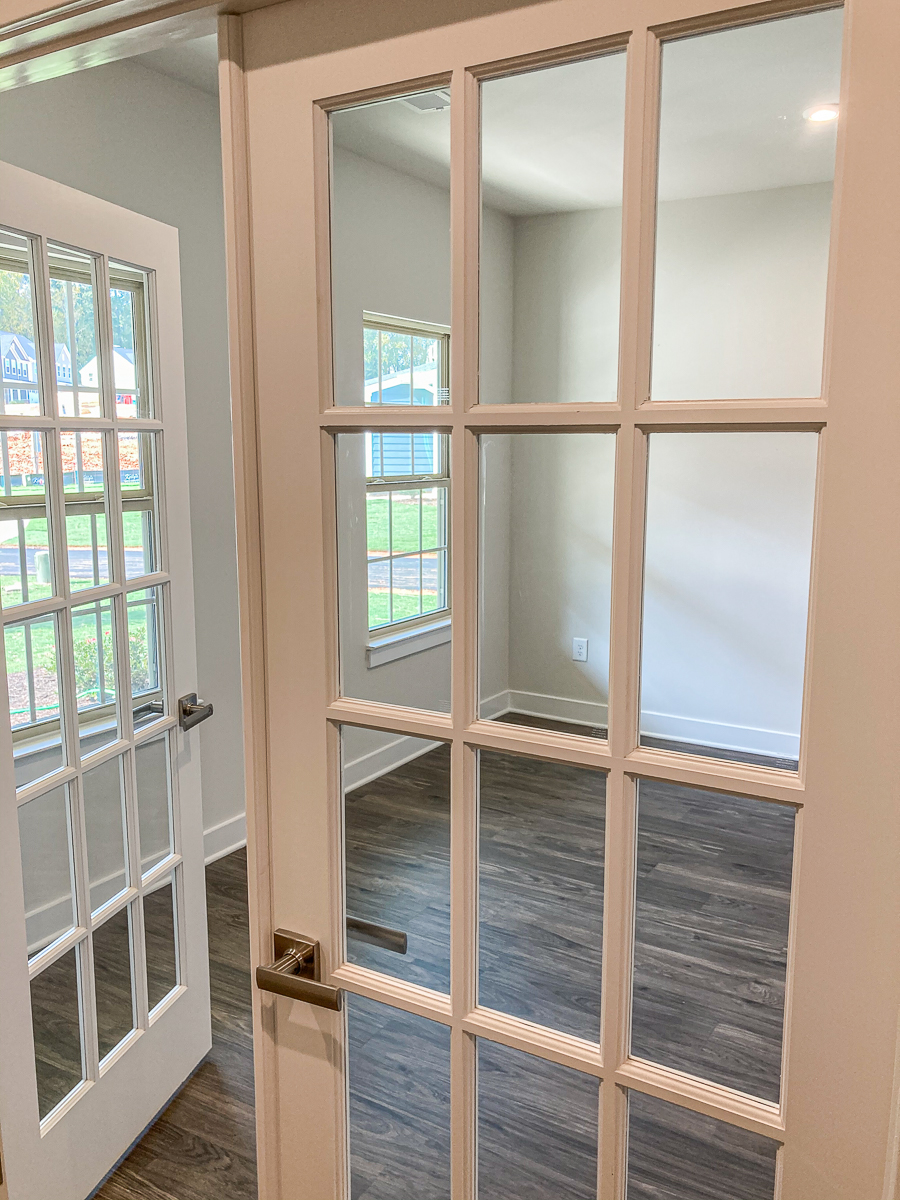 Closing off the office
There was an option for the office to be a sitting room without doors. I knew that I wanted this space to be my office, and I need to be able to close the doors for meetings or when I need focus. But also to keep the heat in from my space heater cause I am always cold in the winter.
Window Color
The almond color we chose looks really good with the exterior color we chose, but it also is a richer looking color than the standard white windows.
Floorplan
I am happy with the floor plan that we chose overall. It s spacious and well laid out. But I will say in my real forever home, I will not negotiate on the first floor master as we did here.
Adding a porch
Many of the houses in our neighborhood do not have a porch. That just was not an option for me. I love sitting on the porch for coffee in the morning, and it also adds that southern charm that I love.
Not adding the screen porch
As I mentioned above, the screen porch option was not the best. And that was confirmed for me when my friend had to have her whole porch rebuilt. We opted to expand our patio the full length of the house and will add a sunroom/porch at some point.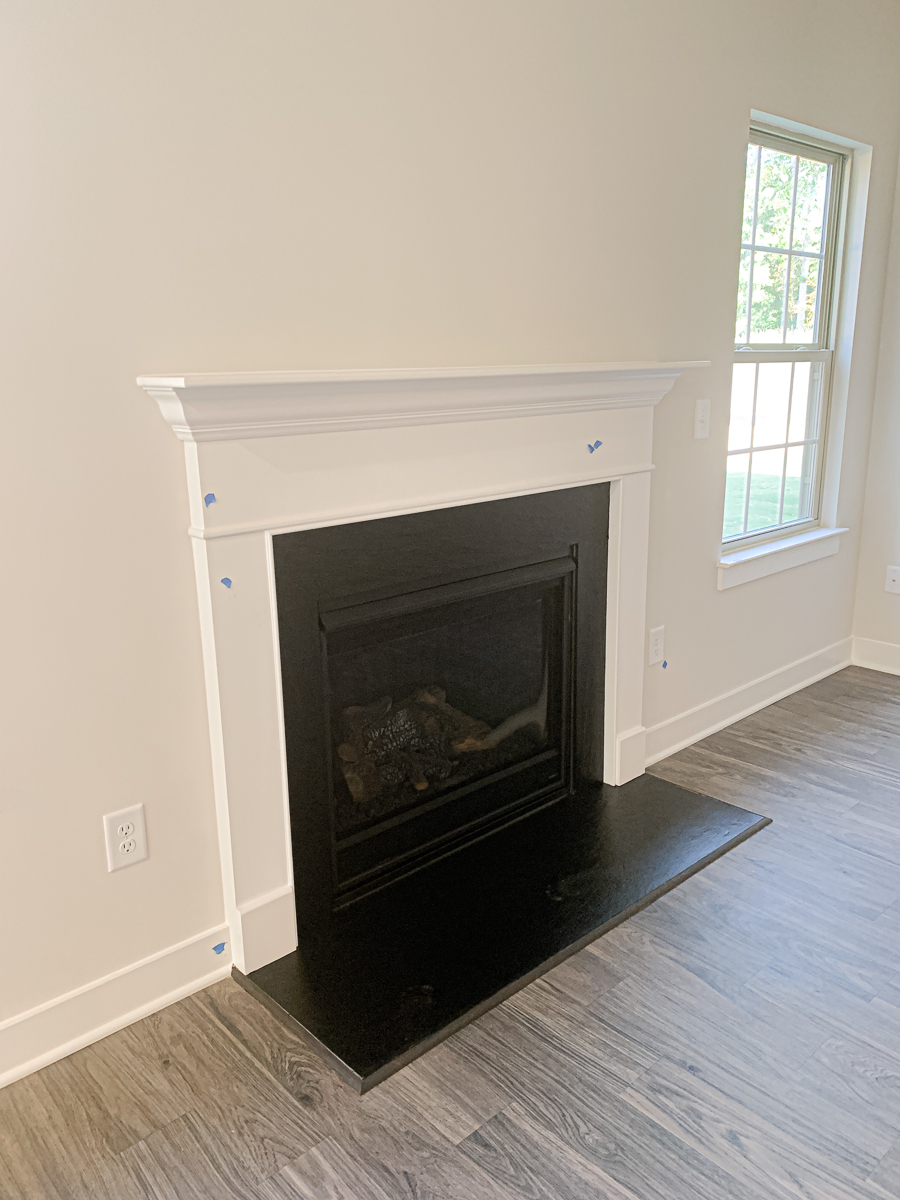 Fireplace
You may have already gathered that I am a freeze baby. So there is nothing I love more than lounging on the couch in front of the fireplace. It is especially cozy during the Christmas season. And is perfect for hanging stockings.
Expanding the driveway
We chose to pay extra to expand our driveway because the driveways were already short. Our driveway is still pretty narrow, so I am so glad we did this. Otherwise, I don't know that we would fit both of our cars in the driveway.
What we would have chosen differently
Flooring
We would have opted to do hardwood throughout the downstairs and up the stairs. The stairs are high traffic, and having carpet on them was not my first option. I would like to update the flooring to ad LifeProof flooring as we did in our last home bathrooms.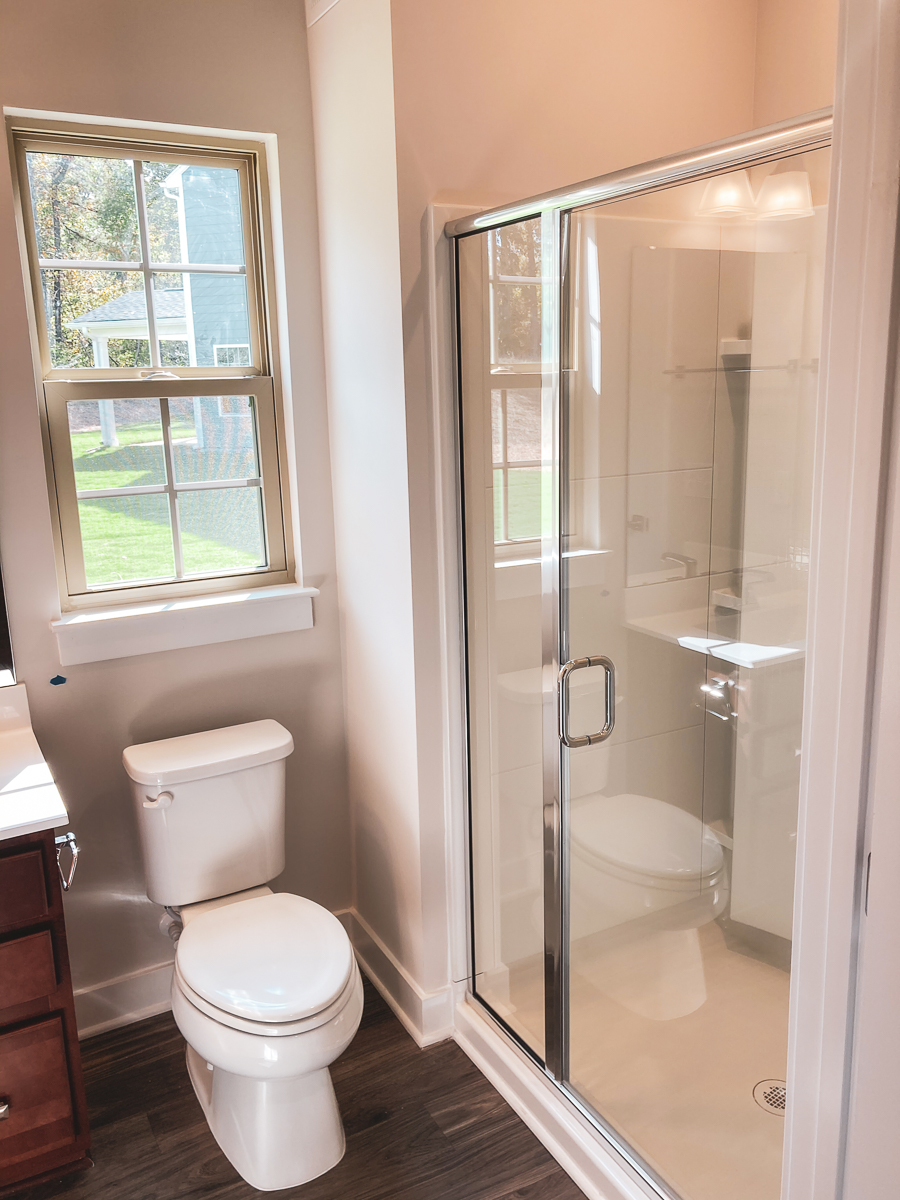 Bathroom finishes
We would have liked to go with the darker finishes that were available but were not offered to us. For that reason, we are considering upgrading at least the master bedroom.
Cabinet coloring
While I am happy that we did not go with the white or light gray cabinets, I would have loved to have the black option and probably would have chosen that. Luckily, we are not new to painting cabinets and will most likely be at least updating the bathroom cabinets with paint.
Addition of light fixtures
While we did not have light fixtures added, we did have the rough ins put where we wanted them. I thought we had added the rough for a light fixture in the center of my office, but I only did recess lighting. So I have added a plug in light fixture and the lights in my builts in to add light variety in the office.
Also, it wasn't until we moved in that I realized we didn't have a light fixture over the dining room table. That was just an oversight on my part.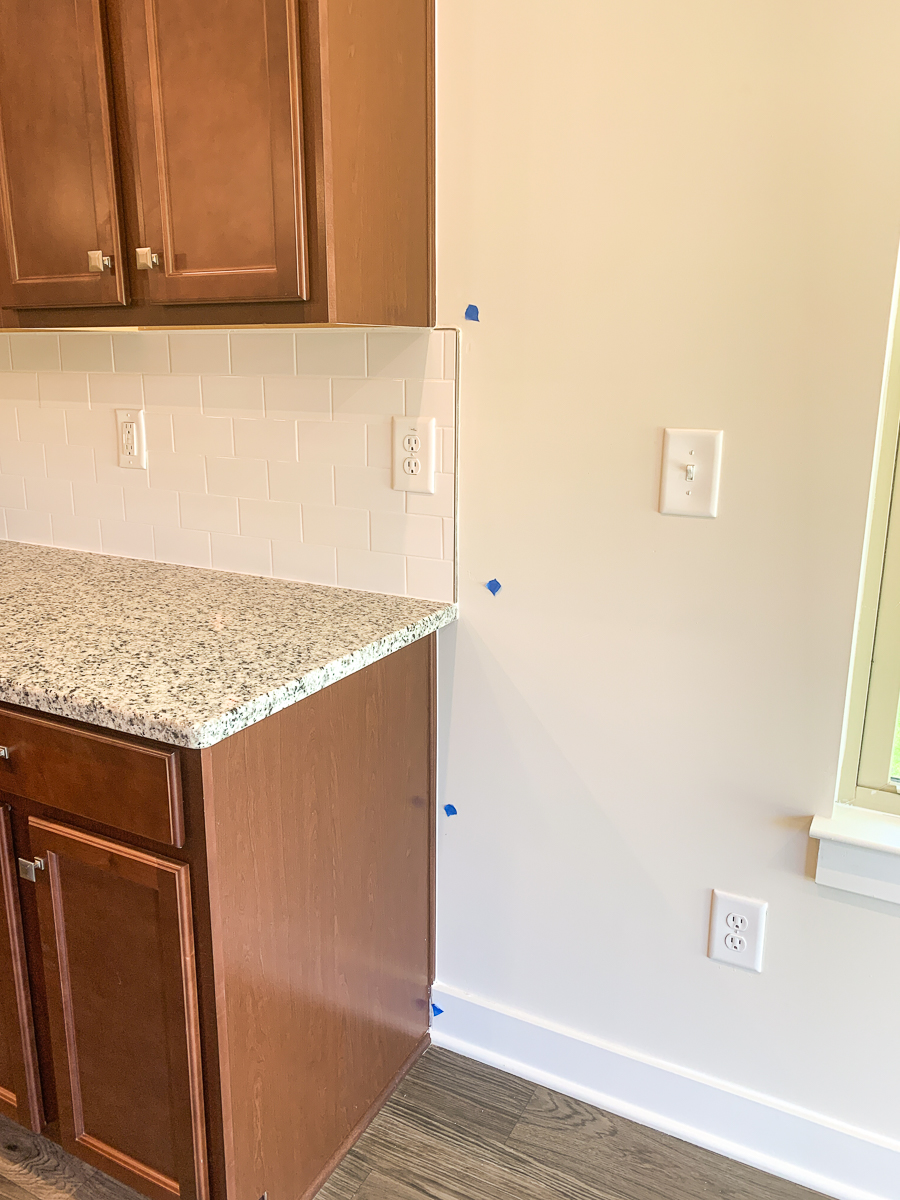 Backsplash
We were told that if we didn't add a backsplash, we would have to add a lip at the top of the counter, which I absolutely did not want. I later found out from the other salesperson that it was not required.
But I do not like the way that they installed the backsplash with a frame around it. I will be removing and re-doing the backsplash to something I like better.
What states do Ryan Homes Build In
Ryan Homes is a national homebuilder that operates in 14 states across the United States.
Here is a list of the states where Ryan Homes currently build:
Delaware
District of Columbia
Florida
Georgia
Illinois
Indiana
Maryland
New Jersey
New York
North Carolina
Ohio
Pennsylvania
South Carolina
Tennessee
Virginia
West Virginia
In each of these states, Ryan Homes has a variety of communities and floor plans available, offering homebuyers a range of options to suit their needs and preferences. With a presence in so many states, Ryan Homes has established itself as a trusted and reliable homebuilder across the country.
Things to consider before building a home
Building a home is a major decision that requires careful planning and consideration.
Here are some important things to consider before building a home:
Budget
Building a home can be expensive, so it's important to establish a budget early on in the process. This will help you determine what type of home you can afford and what features and amenities you can include.
Location
The location of your new home is important. Consider factors such as commute times, school districts, proximity to amenities, and the overall neighborhood.
Floor plan
The floor plan of your home will determine how it functions and how you use the space. Consider factors such as the number of bedrooms and bathrooms, the layout of the living spaces, and any special features you want to include.
Builder
Choosing the right builder is essential to ensuring that your home is built to your specifications and meets your expectations. Research builders in your area, read reviews (like this one), and ask for references to find a reputable builder that you trust.
Timeline
Building a home can take several months or even years, depending on the size and complexity of the project. Consider the timeline for building your home and make sure it aligns with your schedule and other commitments.
During the pandemic, materials started increasing in cost and also became harder to get. Leaving a lot of people in limbo as their project dates fluctuated.
Resale value
While you may not be thinking about selling your home right now, it's important to consider the potential resale value of your home. Choose features and finishes that you love but that will also appeal to future buyers.
Even though we thought this was our forever home, we quickly realized it was not. Luckily, we bought in a very up and coming area. And have seen property values increase in even a short period of time.
Warranty Offered
A home warranty is an important consideration when building a home because it provides peace of mind to the homeowner. It's essentially a contract between the homeowner and the builder that covers certain repairs and replacements for a specific period of time after the home is completed.
Overall, building a home requires careful planning and consideration of a variety of factors. You can check a more comprehensive list of things to consider when buying or building a new home here. By taking the time to consider these important factors, you can ensure that your home meets your needs and is built to your specifications.
The Home Warranty Offered By Ryan Homes
When building a new home with Ryan Homes, buyers can expect a comprehensive warranty package that provides coverage for different aspects of the home.
Structural Warranty
Ryan Homes provides a 10-year structural warranty on all of their homes. This warranty covers major structural defects, such as issues with the foundation, roof, walls, and load-bearing components. If any of these issues arise within the first 10 years of ownership, Ryan Homes will repair or replace the affected components at no cost.
Manufacturer Warranties
In addition to the structural warranty, Ryan Homes also provide manufacturer warranties on appliances and other components of the home. These warranties vary depending on the product but typically range from 1-5 years. These warranties cover defects in materials and workmanship and can be used to repair or replace defective items.
1-Year Workmanship Warranty
Ryan Homes also offers a 1-year workmanship warranty that covers issues related to the construction of the home. This warranty covers any defects or issues with the workmanship of the home, such as problems with the finish or installation of materials.
If any of these issues arise within the first year of ownership, Ryan Homes will repair or replace the affected components.
We also opted to have another inspection done at about the ten month mark to make sure everything was on the up and up.
We then submitted claims for all of the issues that came back from that inspection before the one year mark so Ryan Homes could come out and address and fix them.
Issues we experienced building with Ryan Homes
Lot size
The biggest and most frustrating issue we experienced was the one with the lot property line. I highly attribute that to the virtual pre-construction meeting. But also our salesperson was really dishonest. there were several things he was not honest about in the home buying process that he said to get the sale. Including sharing false information (that he technically should never have disclosed) about our future neighbors.
Heating and cooling
Maintaining a constant temperature in the home is nearly impossible. Our room is normally freezing cold in the winter and super hot in the kids' rooms. And at night, it is like the heat or air does not kick in based on temperature settings.
We have had them back out several times for this issue. But we have resolved it has something to do with how the homes are built. Because several neighbors all have the same complaints.
Property easement
Our property has an easement on it because the community trail is on the side of us. And another because the community pond is behind us. They chose to fix up the pond after all the homes were built. Bringing in really heavy equipment on the concrete, causing it to crumble along the sides.
Because it is on the property of our neighbors and us, we were advised if we wanted it fixed, it would be our expense.
Community amendments
The offered amendments in our development are within an apartment community next to the neighborhood. Our HOA fees are largely comprised of the fees for those amenities whether we use them or not. And the builder entered into a long term contract with the community before the building began. One that we have no control over.
It is not uncommon for the amenities to not be accessible without notice. Which is very frustrating.
Additionally, we were told that a part of the community was going to be a nature park area. The builders finished building and left that (and several other areas) a mess. We have had to assume the responsibility for those as a community which is very frustrating.
Would We build With Ryan Homes Again?
While I understand and stated at the beginning of this Ryan Homes review that everyone's experience is different, we personally will not consider Ryan Homs when building again.
While we did not experience many issues like some others in our neighborhood. The things we did experience left a bad taste in our mouths.
Our salesperson was a habitual liar and lacked integrity. And even when it was brought to the attention of the VP, it was not addressed.
It is worth noting that our project manager was amazing. And if the experience was solely based on him, we'd quickly say yes.