My Experience Using The CariPRO Ultrasonic By Smile Brilliant
The decision to purchase an electric toothbrush is a big one, at least for me. Today I share all the details on the CariPRO Ultrasonic Electric toothbrush from Smile Brilliant. This is a sponsored conversation between Kenya Rae and Smile Brilliant, but all opinions expressed here are my own.
The links in this post may be affiliate links.  That means that if you click them and make a purchase, this site makes a commission.  It will have no impact on the price you pay or the experience of your purchase.
This is a fairly personal post for me. And not at all weird, because being the open book that I am, I love to share, especially if it helps others.
My husband, on the other hand, is a little more private. So I had to get clearance from him to share our electric toothbrush story that we have partnered with Smile Brilliant to share today.
I've done that. So let's dive in!
Let's Talk Oral Hygiene
I have to say I am always amazed at the lack of importance placed on oral hygiene by so many people.
I have heard of so many people who do not go to the dentist regularly but instead use the dentist as a place to go fix it when it hurts. My husband was one of these people when we got together.
I grew up going to the dentist for regular check-ups every six months. I had the same dentist my entire life, pretty much, until I moved to North Carolina.
My children also both had their first dental experiences with her as well. Shout out to Dr. Bell, I just love her!
In adulthood, I made the decision to fix my smile that I did not love. Fixing, by closing up the spaces with braces and having veneers placed to help correct some of my teeth being too small. Which is part of what created all the extra space.
Before I got my veneers placed and right after taking my braces off, I did teeth whitening at the recommendation of Dr. Bell, using the Smile Brilliant system.
I trusted her, and I was younger, and so without researching at all, I said "okay"! And I do not regret it one bit.
The Smile Brilliant Teeth Whitening System was simple, I was able to do it at home, and it worked.
So as I started thinking about the use of an electric toothbrush, the CariPRO Ultrasonic toothbrush from Smile Brilliant seemed to be a no brainer to transition to.
About The CariPro Ultrasonic
The CariPRO Ultrasonic is an electric toothbrush designed to help effectively remove plaque from teeth, provide a brighter whiter smile, and improve overall gum health.
What Comes With the CariPro Ultrasonic
The Ultrasonic toothbrush
2 Brush heads with a tongue scraper
Charging dock
Features of the CariPRO Ultrasonic
5 brush modes (clean, white, massage, gum care, sensitive)
30-day battery life (

when on full charge

)
A waterproof design that is safe for use in the shower or bath
Auto-interval timer to help with even & timed brushing
Wireless charging dock that charges without cords (

outside of the cord that plugs the dock into the wall

)
Brush Modes of the CariPRO Ultrasonic
Clean
This is the first setting and default for me. It's a good daily setting. The vibration is not too strong and not too soft. It offers up a steady timed vibration to gets teeth clean every time!
White
This setting is more powerful to help remove stains and polish up your pearly whites.
Massage
A more intense vibration that is perfect for a little extra rubbin on the gum line…lol. Great to follow up after the regular clean setting.
Gum care
Standard mode for use on your gums, but best used with the regular cleaning mode for a complete clean.
Sensitive
Vibrations are not as intense to help eliminate any discomfort that comes from having sensitive teeth and/or gums/
About Smile Brilliant
The Smile Brilliant team is made up of dental professionals who have created products to help with the teeth whitening experience.
After realizing that more than 70% of the cost & time associated with professional teeth whitening revolves around trips to the dentist, it was decided to develop a system that allows people to eliminate the costs and time associated with a trip to the dentist, and allow their customers to make their own dental impressions.
Beyond that, additional products/services arose that are associated with not only getting teeth white, but also keeping them white.
To learn more about Smile Brilliant and the products they offer, you can head over to the Smile Brilliant site.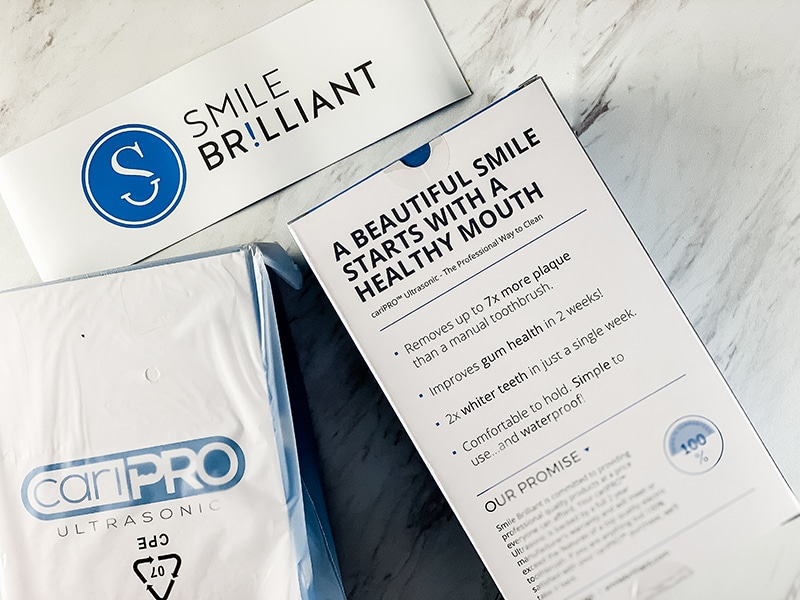 What Should You Do Outside Of Regular Brushing As Maintenance?
The use of an electric toothbrush does not eliminate the need for regular dental care. The recommendation from the American Dental Association is that regular cleanings should happen twice a year or every six months.
It is possible that more visits could be needed in some cases.
And of course, don't forget to floss!
True Story
When my husband and I first got together, he was one of the people that subscribed to the school of thought that you only went to the dentist when you had a problem.
Then came in me, and I changed his world (in more ways than one). I got him in with my dentist, and threw him into a regular preventative routine of oral hygiene care.
At the onset, he had to go every three months, rather than every six, for the first year to work through the effects of not having gone to the dentist regularly early on in his life
.
Some parts of that were not very comfortable. But it got him to a place that he no longer had to dread a visit to the dentist. And now going to the dentist is a positive experience for him.
Using an electric toothbrush further minimizes the likelihood of negative dentist experiences.
How Long Should You Brush Your Teeth?
According to many dentists, you should be brushing your teeth twice a day, for at least two minutes.
Which is one of my favorite features about the CariPRO Ultrasonic toothbrush – the timer. Not only does it auto-shutoff after two minutes. It has a pause every thirty seconds to help you brush in quadrants and cover all the bases.
Is An Electric Toothbrush Better?
I think that a manual and electric toothbrush are both effective in getting the job done and cleaning your teeth.
But an electric toothbrush makes it easier, and because of the design, I think it does do it better.
Better because it can reach places that I feel like I don't touch with my manual toothbrush. And in my mind, this means that it removes more plaque in more places and overall gives me a cleaner mouth.
I am not a professional, so this is my most humble opinion after having used a manual toothbrush all my life. And now at the age of 38, using an electric toothbrush for the first time.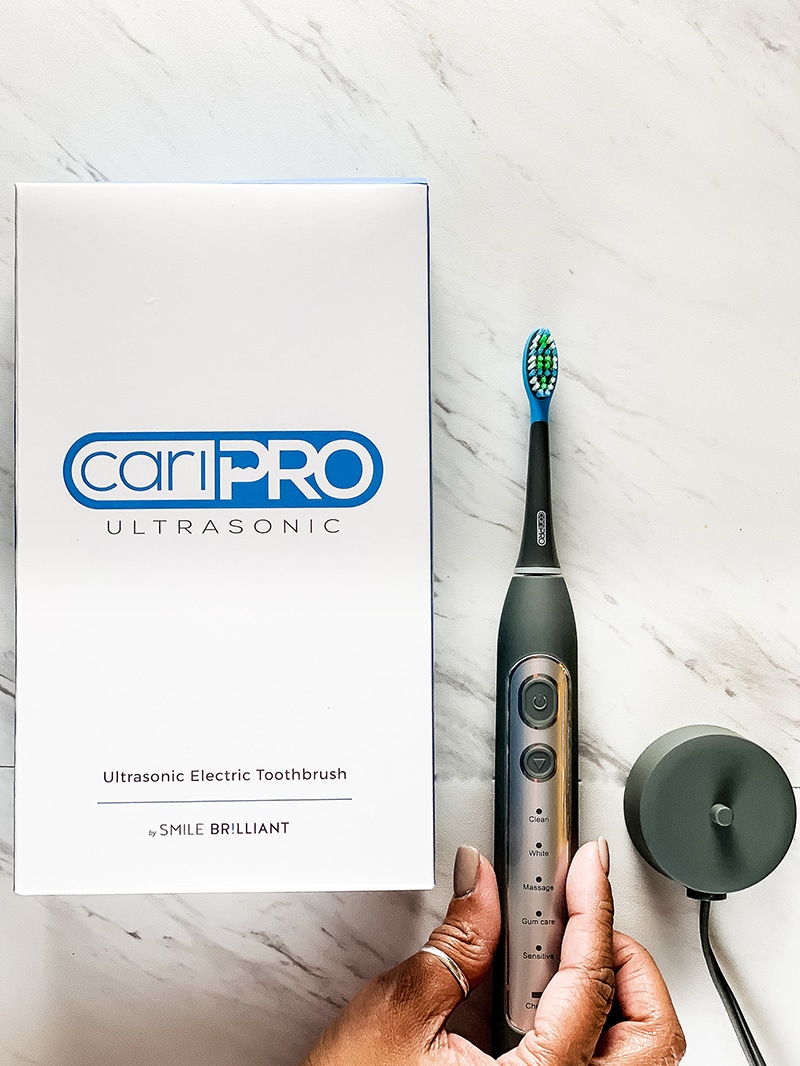 [penci_review]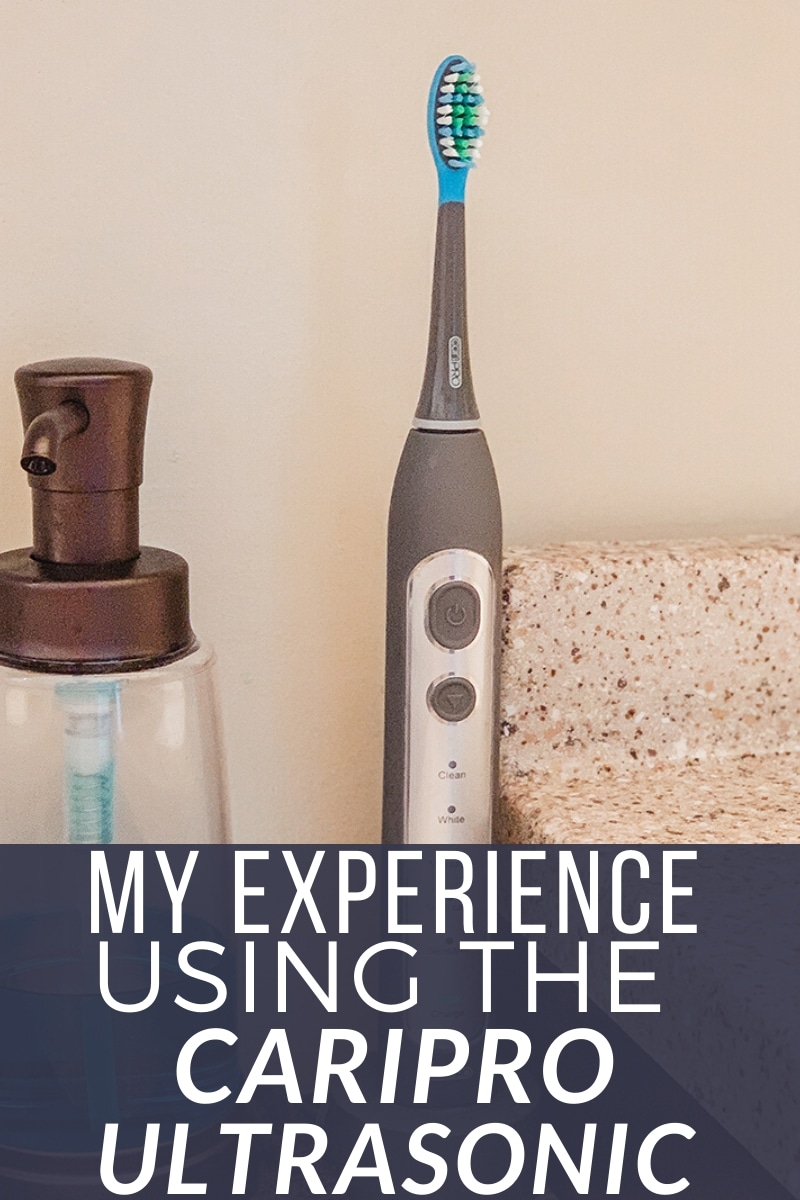 I would recommend the CariPRO Ultrasonic toothbrush, and here's why:
Long-lasting battery
Having a charge that lasts for thirty days make it easy to take with you for short travel and leave the charger at home. Grab and go.
Affordable
The CariPRO gives a lot for the price and quite frankly puts you in a position to save on future expensive dental costs to fix, repair or correct dental damage.
AND if the price is a concern, I have partnered with Smile Brilliant to not only give you a discount to own your very own, but also a chance to win (for FREE) your own CariPRO Ultrasonic Electric Toothbrush. Keep reading for the details below.
Sleek design
I love the narrow tip of the toothbrush because it allows me to get back in the way back areas of my mouth and along that gum line. Allowing me to have a lesser likelihood of needing dental work to fix or repair dental damage.
Worry-Free guarantee
Smile Brilliant is so confident in the CariPRO that they over a sixty-day money-back guarantee. Try it and don't love it and you can send it back for a refund.
How To Get Your Own Smile Brilliant Caripro Ultrasonic Toothbrush
You are in luck, my friends! Smile Brilliant has agreed to give one lucky winner of a partnered giveaway their very own CariPro! You can click here for full details and to enter for a chance to win.
But if you want to get yours right now, you do not have to wait. Visit Smile Brilliant today and use the coupon code kenyarae20 at checkout. This will give you a 20% discount and your CariPro Ultrasonic toothbrush will be on the way!
A special thank you to the folks over at Smile Brilliant for providing us with our toothbrushes to review, and so graciously providing you guys with a discount to get your own.
If you have any questions that were not addressed above or are not answered in the Smile Brilliant FAQ, please feel free to drop them in the comments below and I will make sure to answer or get answers for you.