How To Make Your Own Pancake Mix & Chuck The Deuces To That Boxed Stuff
Simple, Easy 5 ingredient homemade pancake mix.  Because no one should have to suffer through boxed pancake mix again!
The links in this post may be affiliate links.  That means that if you click them and make a purchase, this site makes a commission.  It will have no impact on the price you pay or the experience of your purchase.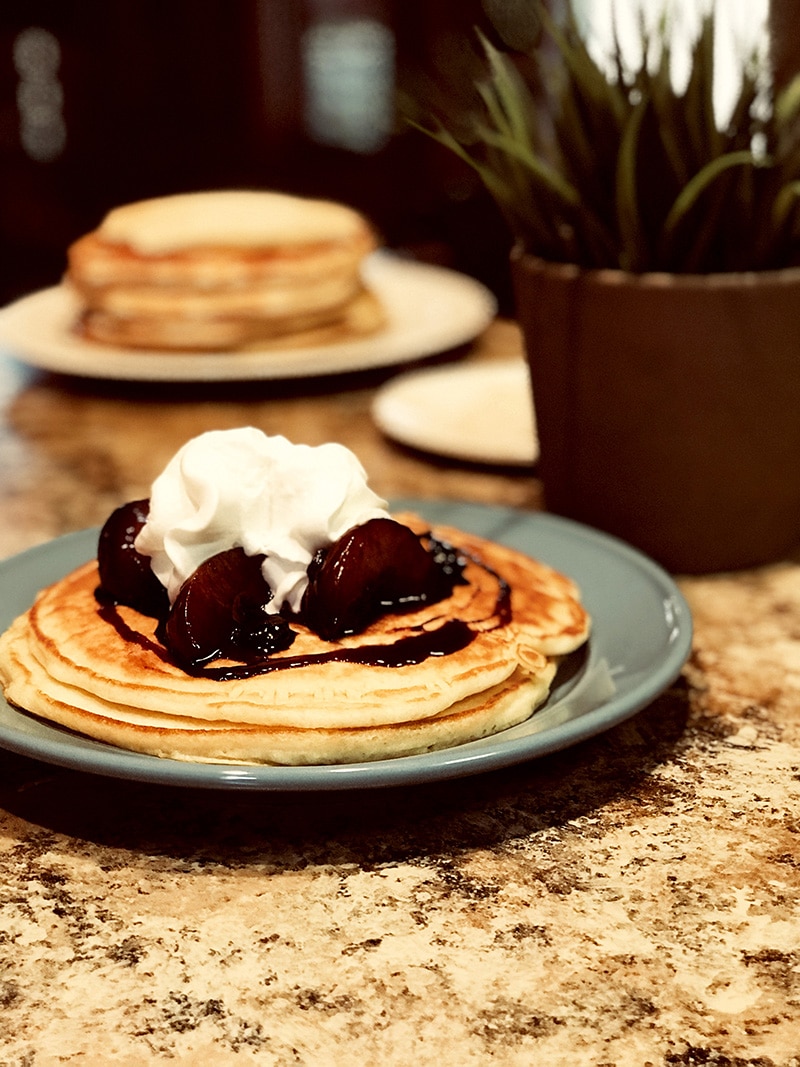 For the longest, it never even dawned on me that I could make my own pancake mix.  I always found myself finding ways to doctor up the boxed stuff to make it taste better, but who knew I had all the ingredient to make my own right in the cabinet.
And I have mentioned before, my transition to southern living brought out a desire to want to make more things from scratch.  Fresh.  To know the ingredients of the stuff that I put into my families bellies.
I can't remember what sparked me to make my own pancakes.  But after I did it the first time there was no turning back to the boxed stuff.  And even if I wanted to, my family would probably give me a major side-eye if I did.
These pancakes, they are just fluffier, butterier, and overall just more "er".  Meaning they are better in every way!
The best part is it only takes 5 ingredients.  You can make up the mix and use it at a later time, orrrrr right away!
Ingredients in DIY Homemade Pancake Mix
7 cups All-Purpose Flour
½ cup Sugar
3.5 Tbsp Baking Powder
1 Tbsp Baking Soda
1 tsp Salt
How to make Homemade Pancake Mix
Take all the ingredients listed above and add in bowl.
Whisk together until mixed well.
Store in airtight container.
Because I am me, I also shake the container to help it mix a bit.  Have you ever had something with too much baking powder?
My biscuit fails have afforded me the ability to not only tell you but to warn you, it ain't what you want.  Not.  At.  All!!
And that is all it takes to make your own pancake mix!
I may have officially migrated you over into pancake mix snob-land.  And I am ooooookay with that!
Welcome my friend! Welcome!
Cooking Pancakes Using Homemade Pancake Mix
To cook these pancakes you need a few extra ingredients – buttermilk and eggs are required.  And vanilla or almond extract can be added if you like your pancakes to have that flavor.
Using the mix above you can combine the following:
Ingredients
1 cup buttermilk
1 cup mix
1 egg, egg and yolk separated
1 tsp extract (optional)
Instructions
I use unsalted butter to keep my griddle well greased and to infuse that buttery flavor into my pancakes.
All the standard pancake making rules apply.
Heat griddle hot, but not too hot (

350 ℉ is what I have found that is perfect for me

)
Cook first side through until you see bubbles
Flip
Cook second side through
Enjoy!
The importance of using buttermilk in homemade pancakes
I'd like to note that I don't recommend substituting regular milk for buttermilk, as the acid in the buttermilk reacts with the baking soda, and that combined with separating the eggs is where they get their fluff.
If you don't have buttermilk, but you have regular milk and vinegar on hand, you can make your own really simply and quite quickly.  This is my preference because outside of pancake and biscuit making, I never have a need for buttermilk.
To find the ratio for your buttermilk and even some other common substitutions, you can reference my guide on how to halve, double and substitute for recipes.
That's really all there is to homemade pancake making.  And if you are like me circa 2 years ago, your mind is blown at how easy this is.  And you will never be making boxed pancake mix again!