Have a window seat? Does it need a new cushion? You're gonna want to read this to see how easy and quick you can make a new window seat cushion for your window seat even if you already have one!
The links in this post may be affiliate links.  That means that if you click them and make a purchase, this site makes a commission.  It will have no impact on the price you pay or the experience of your purchase.
The final piece to being able to sit and enjoy my window seat was making the window seat cushion. And I happy to report that I have finished my cushion and it was way easier than I originally thought. Like took me an hour, easy.
One of the things I love the most about my bedroom is the cute little window seat nook. Ever since I was a little girl I wanted a window seat to sit in and read and just look out the window on rainy days.
We don't get a lot of full blow rainy days around here, more like rainy hours. But if I catch them, it'll be nice to sit there and escape reality for a bit.
Materials Needed To Make A Window Seat Cushion
Sharp object – Knife or Box Cutter
Fabric/Material
SIDENOTE: You can purchase your materials from the products linked above online at Home Depot and in most cases pick them up the same day in store!
Where To Buy Materials To Make A Window Seat Cushion
You can go to the Home Depot for the staples, staple gun if you don't already have one, and the wood. I even went equipped with the measurements and had them cut the wood for me. They do it so easily with that big ol machine. And hubs was glad, cause that's one less thing for me to ask him to do. LOL.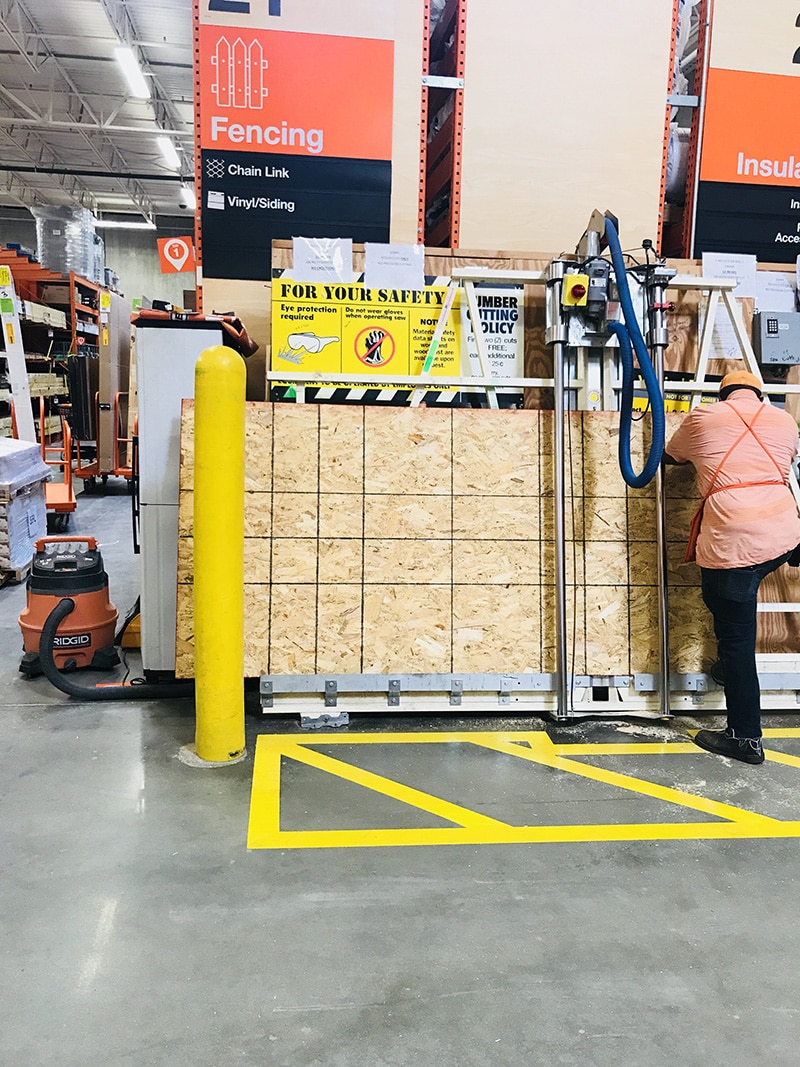 SIDENOTE: I made the width from the wall to the edge of the seat a little less than the full width of the seat. About an inch. Because it opens to storage beneath and I didn't want to have to move the cushion to open the storage beneath it. If your seat does not have storage beneath it then you don't have to think about this.
For the material, I went to Hobby Lobby, but I originally planned to go to JoAnn Fabrics. Depending on what you have in the area, you can find a variety at either of those.
I checked JoAnn online before I went. But because I am a newbie fabric shopper I decided to go into the store. But if you ain't new to this fabric measurement and purchasing game, then online is definitely an option. Then you can do JoAnn online, Fabric.com, and even Amazon. YES! Amazon sells fabric too! What don't they sell right?
But there are mad options for fabric, so I suggest you have an idea for what texture and color you are going for, or you can get completely overwhelmed.
How To Make A DIY Window Seat Cushion
These are the steps I took to bring my window seat cushion to life. Don't blink, cause it happens fast…
Gather Materials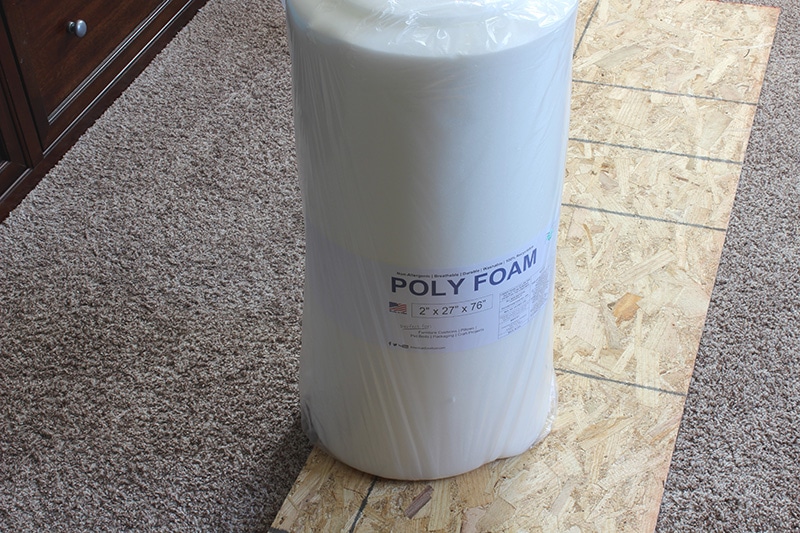 I strongly suggest that you get and gather all the materials in one place. Allow yourself an open space to work and make your foam cuts and wrapping your material.
Trim Poly Foam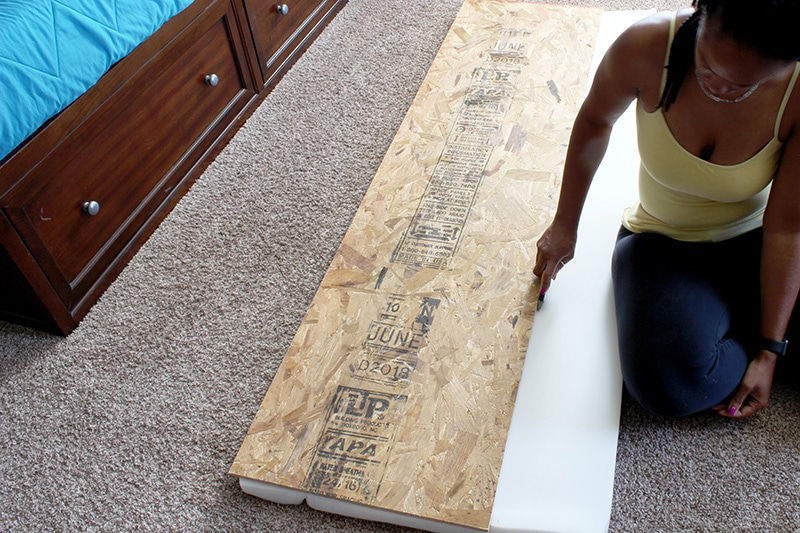 Roll out the foam and lay flat to get the curl out of it. To trim the foam I put the wood on top of the foam and aligned edges to see where I should make my cuts. Using a knife or box cutter, cut along the edge making sure not to cut through the surface below.
Align Materials
Once the foam was cut to size I laid my fabric out flat, placed the foam on top in the center horizontally and vertically. Then I placed the wood board on top.
Adhere Fabric
I adhered the fabric using a staple gun. Starting first along one of the long edges and stapling down from one end to the other. I then moved to the other long side and made sure to pull the fabric tight as I stapled.
SIDENOTE: You can choose to glue the foam to the board if you are concerned about it moving.
When I got to the two remaining sides, the short ends, I wrapped them like a present ensuring to pull those tug as well. This created nice tug folds on both sides to further keep the placement of the foam on the wood.
Enjoy Your New Window Seat Cushion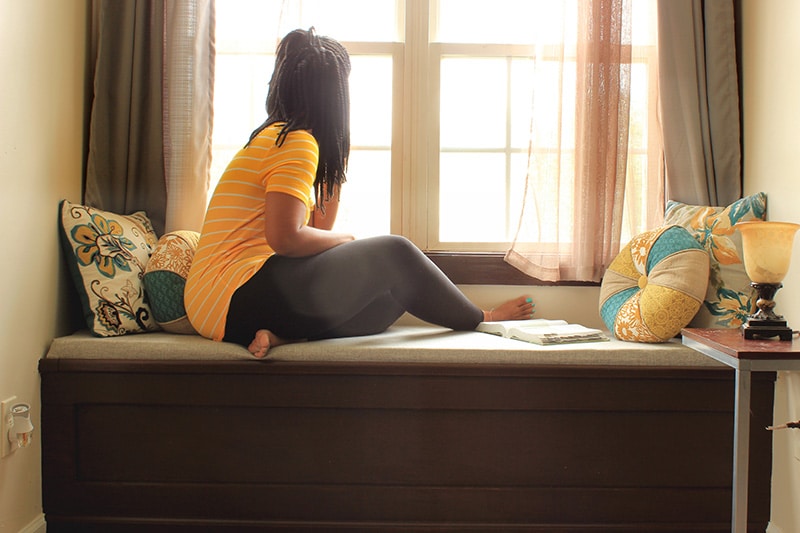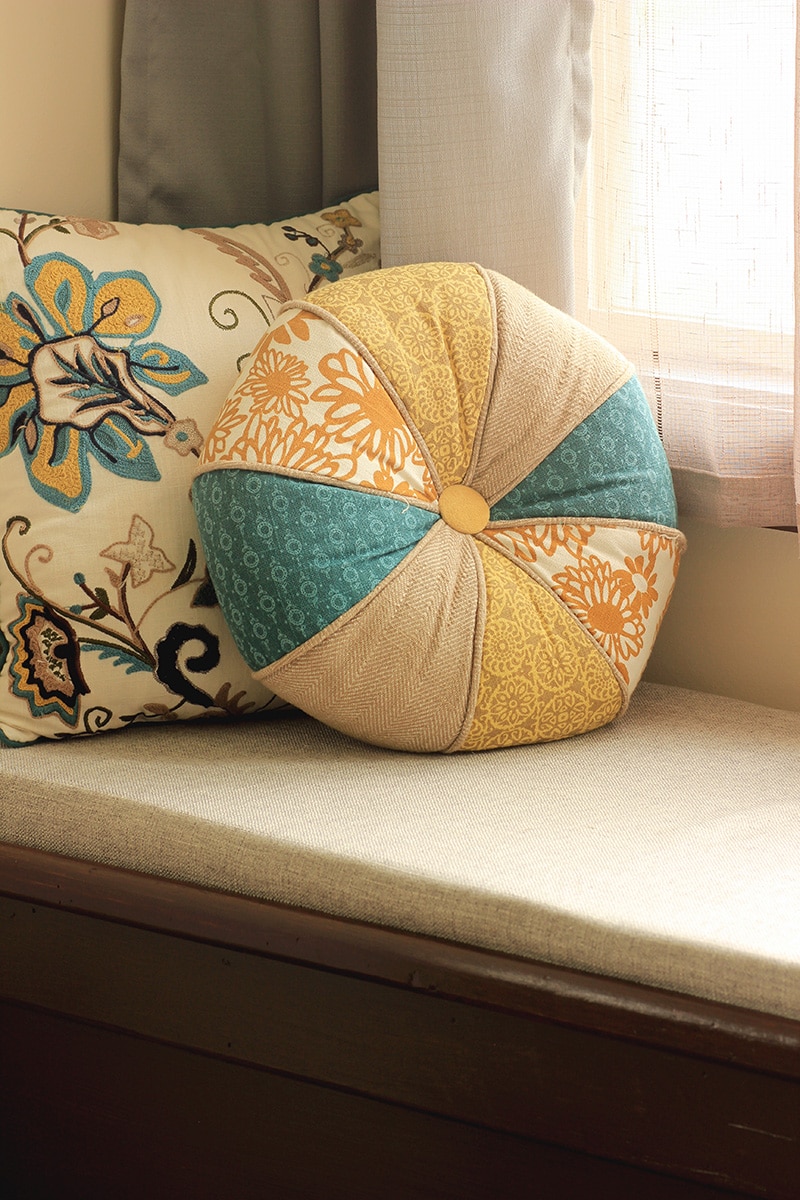 Once completed, I turn my seat cushion over and placed it atop the seat and got comfy!
I am super happy to have the window seat completed. Now on to doing these accent walls on both sides to further create my Boho bedroom vibe.
Other Posts You May Love: