Tuscan Turkey Burger Sliders Using BLENDABELLA Mushroom Blend
A flavor filled, deliciously moist turkey burger that is perfectly seasoned and a far cry from being dry. Using BLENDABELLA mushroom blends for an added pop of flavor.
The links in this post may be affiliate links.  That means that if you click them and make a purchase, this site makes a commission.  It will have no impact on the price you pay or the experience of your purchase.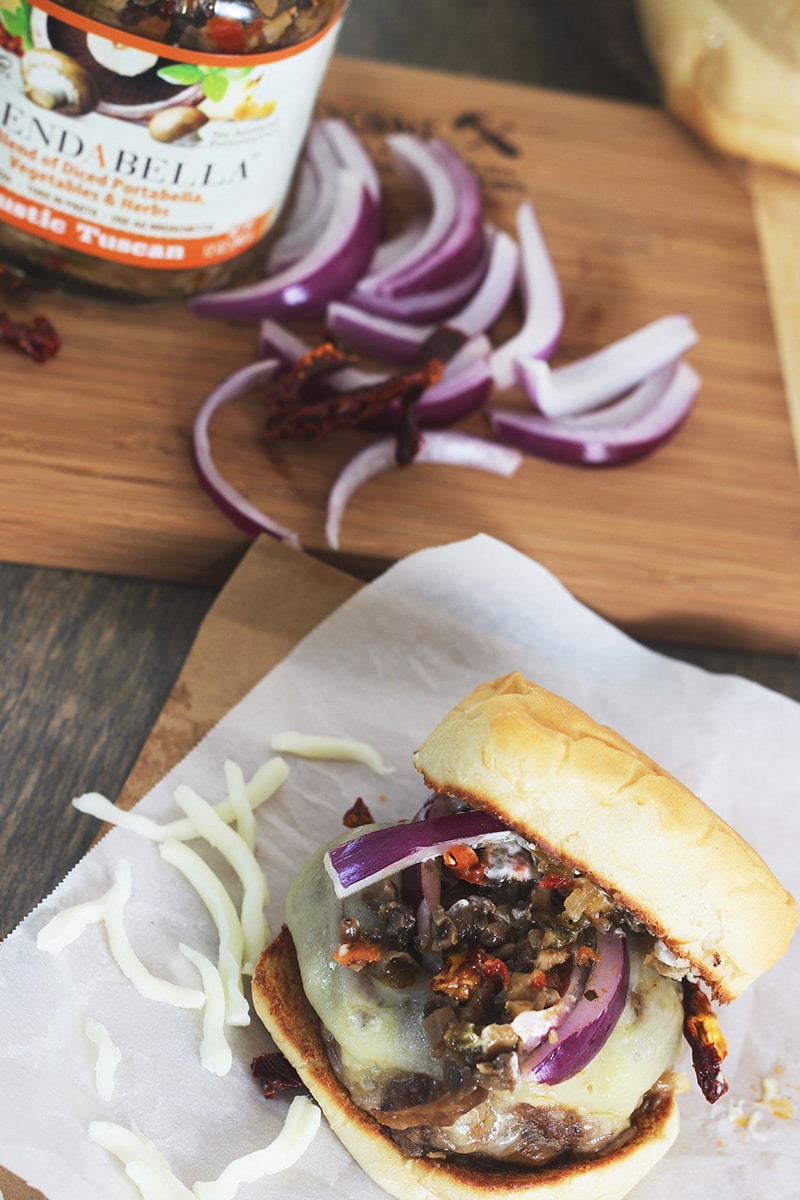 You can argue me down if you want, but not all turkey burgers lack flavor. In fact, this Tuscan turkey burger is so damn good you will be saying "what cow?" after just one bite.
I've heard it all…
Turkey burgers are dry.
Turkey burgers lack flavor.
Ain't nothing like a beef burger.
I'd agree with that last statement. But here's what I say to it. "You're right, cause these turkey burgers… these turkey burgers right here? They are BETTER than any beef burger you've ever tasted.
I said it…
How To Avoid Dry Turkey Burgers?
I personally think the answer to this lies in two things. To get moist turkey burgers you have to:
Make them from ground turkey instead of pre-made patties.
Cook them a certain way. Which I share how I do further down, just keep reading my friend.
I personally have never had a turkey patty that tasted better than those I made myself. While Bubba Burgers is the one I'd choose on any given day, and twice on Sunday if I had to choose a patty. My preference is to make my own patties.
What Seasoning To Use on Turkey Burgers?
I've said this before and I'll say it again. Turkey requires more seasoning than beef. If you have had a turkey burger you didn't like, I can almost guarantee it was not seasoned well.
There are many ways to season turkey burgers. One of which I shared in my turkey burgers served on sweet potato buns. But I recently discovered a new way. And that is what I'm sharing today.
Using BLENDABELLA mushroom's Rustic Tuscan blend, I turned these could-be-drab into nothing-but-fab turkey burgers.
The blend is composed of mushrooms, with veggies like tomatoes and peppers, then perfectly blended with delicious spices.
How To Make Turkey Burgers?
I Personally only make turkey burgers one of two ways.
The first being in the oven. I cook almost everything in the oven though. It's the most minimal way to make delicious food without feeling like a slave to a hot stove.
Alternatively, there is my NuWave oven as well. That thing is perfect for these sliders actually. Simply because they take up less room.
And juicy? Everything I cook in that thing is full of juice and flavor.
But I digress.
If I don't oven cook them, then there's the grill. Be it my outdoor grill or my George Foreman Indoor/Outdoor Grill.
Using these two ways, I can gladly say I have never produced a turkey burger that was dry or not absolutely delicious in every way.
What Makes This Rustic Tuscan Turkey Burger So Special?
It's the combination of the cheeses, the toppings, and the BLENDABELLA mushroom blend inside AND on top of the burgers.
All that flavorful goodness just oozes from these.
And did I mention these fall in that thirty-minute meal category?
Tuscan turkey burgers for the win!
How To Make Moist + Juicy Rustic Tuscan Turkey Burgers
I personally put them between a toasted bun, top off with some mayo (
Duke's of course
), and savor every. single. bite.
If these are not one of the best turkey burgers you have ever made in your own kitchen, it's you, not them… lol!
Other Turkey Burger Recipes You May Enjoy:
Want To Pin The Rustic Tuscan Turkey Burger Sliders? Use The Pin Button Below To Save It To Your Favorite Board.