How To Make a DIY Dog Bed For Under $25 Bucks
A DIY dog bed made with a simple crate and a nice throw pillow. Who says chic has to be expensive.
The links in this post may be affiliate links.  That means that if you click them and make a purchase, this site makes a commission.  It will have no impact on the price you pay or the experience of your purchase.
Kenya Rae is a space to help you find solutions, new products and more. Occasionally when I recommend a product or service, I get a commission. This article includes affiliate links. You can read what that means and how it affects your experience here.
I have to admit that this project was not on my radar or my list. But rather it came up as a sanity saver.
You see, last week was the first week of summer vacation. And long gone were the days of me having all day to get my work done while the kids are at school. Because I love what I do, work is actually kinda therapeutic for me. So now being forced to work when I can, and entertain these kids is an adjustment for me.
I was only one day in when I realized my normal work schedule was not gonna be normal anymore.
So I decided I needed to do something that could take me outside so my little one could run around and burn off some of his 'boy energy'.
Tica B recently got a haircut. And like most ladies when they get their hair done, she is prancing around here feeling herself.
That combined with the fact she needed an extra bed for downstairs in the living room made the lightbulb go off. I could make her a one.  And for less than what I would buy one for, for that matter.
So I headed to Michael's grabbed a medium sized crate. And pulled out a little stain and polyurethane from the garage and got busy.
The longest part of making the DIY dog bed was drying times. And the humidity didn't help it.
I started off by removing the top two slates of the crate on one side. That was simply done with and hammer and flathead screwdriver.
Then I went through and sanded the rough parts with 400-grade sandpaper. Not much. Just enough to smooth things out and make sure she, nor I, get splinters.
After that, I wiped it off with a damp cloth to remove the dust and begin staining.
Recently, at the recommendation of one of the Home Depot associates, I switched to Varathane brand stain. He said it took to the wood with fewer coats and overall had good feedback. And he was right.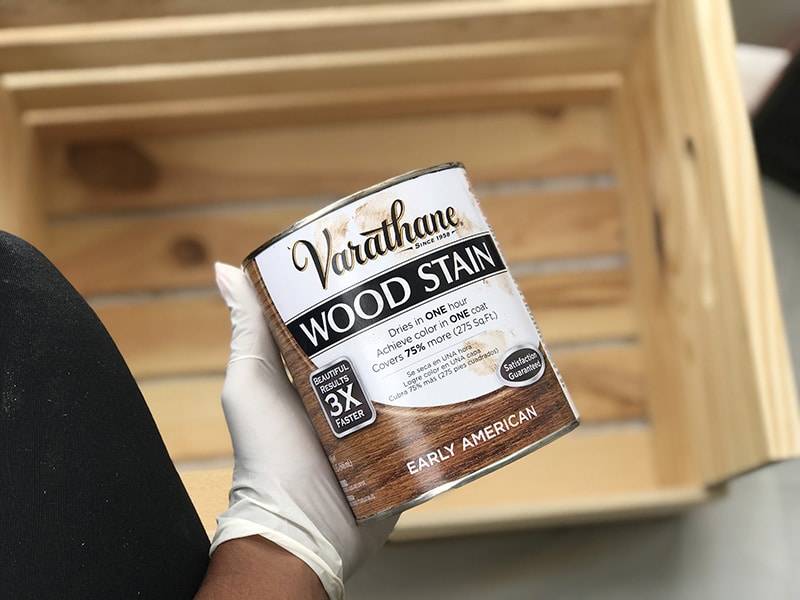 For this, I only did a single coat.
Because of the humidity, I let it dry overnight before fooling with it.
The next day I did some slight sanding to a few spots again. Wiped. And sealed with Minwax Polycrylic.
After letting it dry I put a cute little fluffy pillow in it and replaced her old bed with the new one!
She is every bit of prissy as this bed is, so it suits her perfectly.
Believe it or not, she didn't like the fluffy pillow, so I swapped it for a pillow I had after finding he sleeping on the floor next to the bed two nights in a row.
Because she is always blanket hogging, I may even crochet her a little blanket. I haven't crocheted since my childhood years, but I'm sure it'll come back to me.
Materials Needed For A DIY Dog Bed
Additional supplies:
Hammer
Flathead screwdriver
Throw pillow
So that's it my friends! Three materials, roughly 24 hours, less than $25 bucks and your dog can have a cute handmade dog bed too!