Tacky Folding TV Tray Makeover
A simple and easy update to mix-matched folding TV tray tables using some leftover paint and a little chalk paint.
The links in this post may be affiliate links.  That means that if you click them and make a purchase, this site makes a commission.  It will have no impact on the price you pay or the experience of your purchase.
You know how when two people come together and mix their already existent lives to become one?
There's some compromise, some integration, and some mixing and matching. And sometimes mixing actually matches, but this time it didn't.
It had been a thought of mine for a long time to get rid of these tray tables and just get a new set. But I never got around to it. And I'm happy I didn't.
When me and the hubs merged our belongings we both ended up with two tray tables each. Mine light, his dark.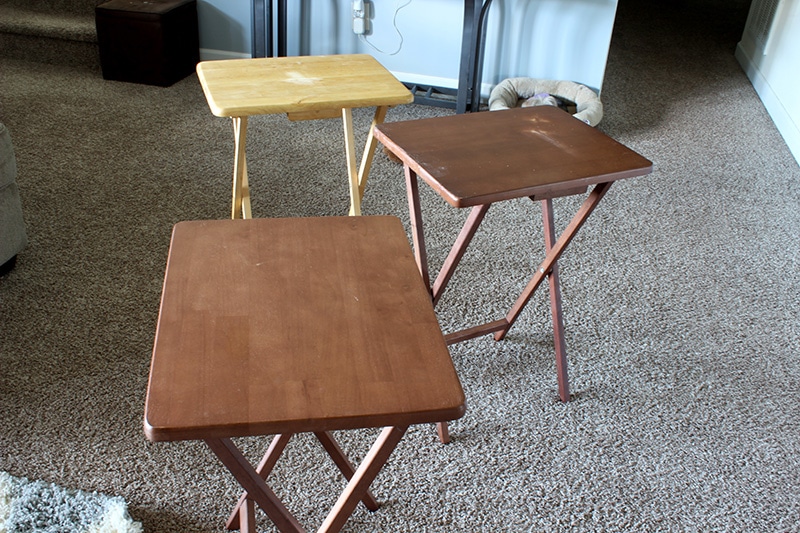 It drove me absolutely crazy that they didn't match but functionally they worked so I kept overlooking it.
But recently I had some extra paint, and I've been sprucing up my living room and figured now was the time!
I'm so glad with what came of these. You may notice there are only three. One of the tables turned into the table I take outside to set my electric skillet on to fry food. I absolutely hate the smell of fried food in the house. But that's another story for another day.
I asked myself "who says a set has to be four?" And myself responded,  "Three it is!"
I used the leftover paint from my daughter's vanity update, and some chalk paint out of my maker's studio and grabbed a stencil from Michaels. All this done for under $20 since I already had the paint.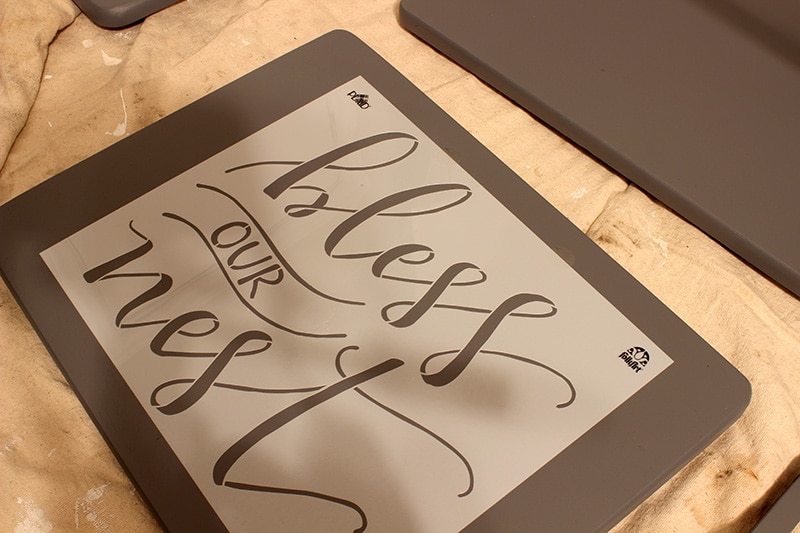 Here's How I Converted My Mix Match Folding TV Tray Tables Into New Masterpieces.
I started by cleaning the tray tables with a vinegar and water solution to remove dirt and residue.
I separated the tops from the bottoms to make it easier and to ensure I got better coverage. Be sure to put all screws and pieces in a plastic bag and set aside for later.
I set up my Homeright Spray Shelter (which you can find at Amazon or Home Depot) and used the Homeright Finish Max paint sprayer for a more even coverage. A roller or brush could be used if you don't have a sprayer.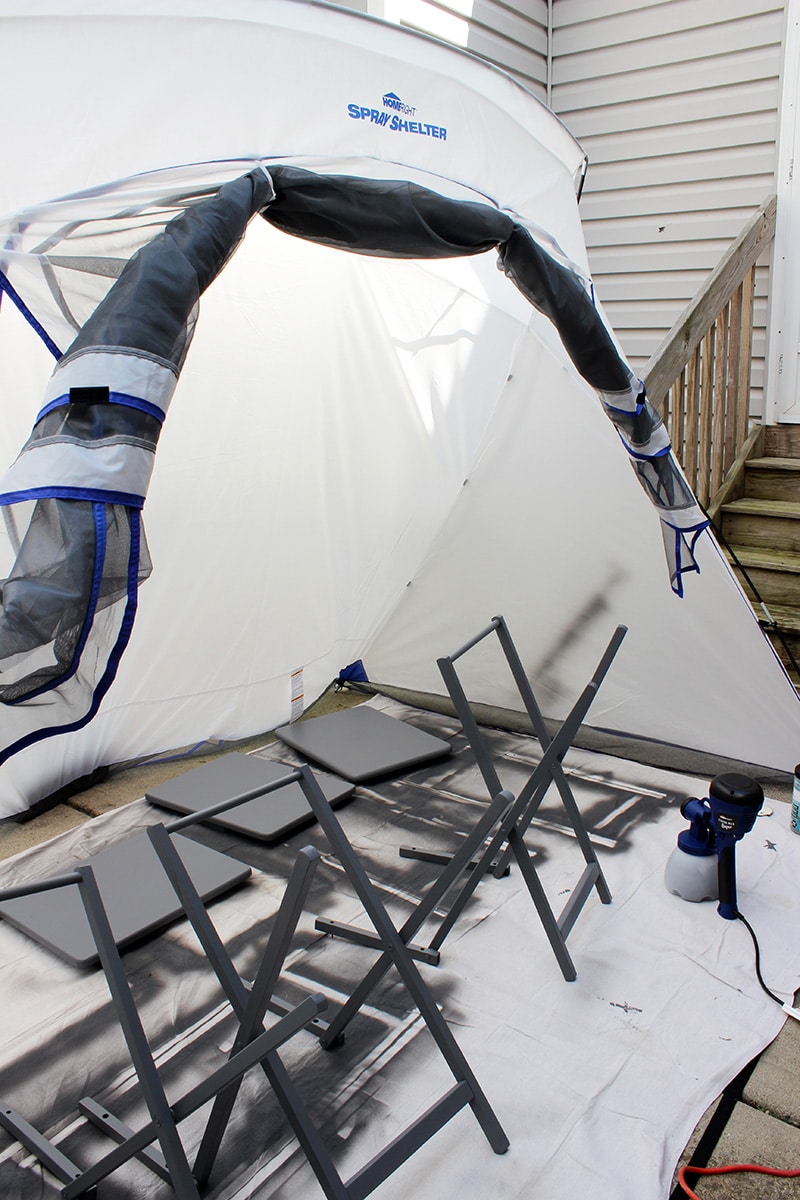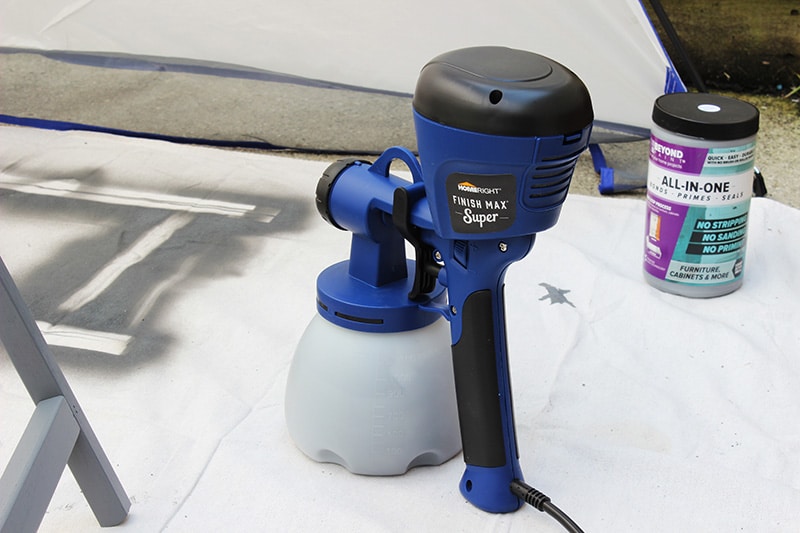 I did the equivalent of two coats for full coverage.
After they dried, using the stencil, a craft sponge, and chalk paint I added the lettered design.
I let that dry. And because of how they will be used I chose to protect with two coats of poly.
For the first one I brushed on the poly and it lightened the chalk paint. So I chose to use polyurethane spray paint to avoid that happening.
After they were completely dry, I reassembled and just marveled at how beautiful they are!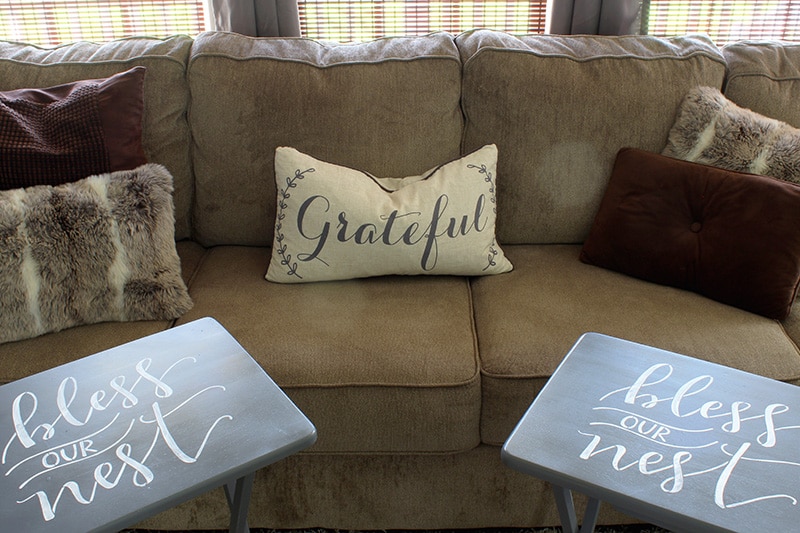 I absolutely love the touch they add to the living room. And now they blend perfectly just like me and my hubby. They are a reflection of how our lives have merged together and is still merging ten years later.
Save this for your own project inspiration by pinning below!