A creamy white queso perfect for dipping or used as a layer in a burrito bowl and other recipes.
The links in this post may be affiliate links.  That means that if you click them and make a purchase, this site makes a commission.  It will have no impact on the price you pay or the experience of your purchase.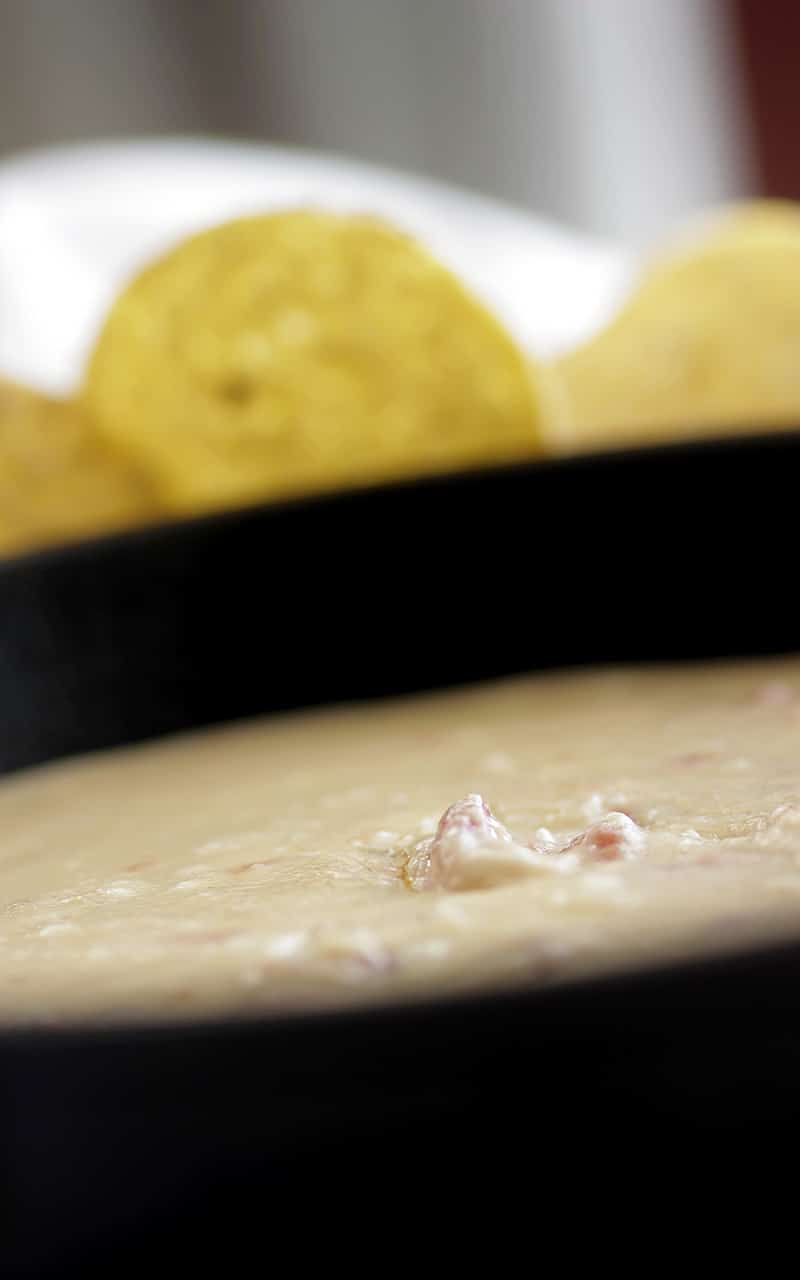 This post contains affiliate links. To understand what that means you can read my full disclosure here.
Last week I shared how you can get the perfect fajita peppers and the week before a nice chunky guacamole.
With just those two things I have totally helped you level up your Taco Tuesday fixings.
But this right here?  This?
This will change the game my friends. This will make a boring burrito bowl explode with flavor or make you eat a whole darn bag of chips til ever corner is gone.
Not too spicy, but not lacking any flavor this cheesy white queso is just what you need in ya life!
Twenty minutes and five ingredients, not including seasonings, and game on!
What type of cheese goes in queso?
Monterey Jack is a staple found in many American recipes. As for authentic Mexican, it's most likely made with queso fresco. A cheese made from raw cow's milk or a mixture of cow and goat milk.
In this recipe, I use a combination of pepper jack and white cheddar as well as cream cheese.
How to serve queso?
It's important to keep it warm so that it stays creamy. It will start to solidify once it is removed from heat.
After being prepared it can be kept warm in a small crockpot
or in a heated serving dish.
Whether you are serving this up for your next gathering or having a party of one, or two, this queso will not disappoint.
Interested in making Creamy White Queso Dip?  Pin it to your favorite board to make later!
[wpurp-searchable-recipe]20 Minute Queso – A creamy cheesy white queso perfect for dipping or used as a layer in a burrito bowl and other recipes. – white cheddar (cubed), pepperjack (cubed), cream cheese, sour cream, canned tomatoes & chillies, onion powder, garlic powder, Sugar, , Combine cheese cubes, cream cheese, sour cream, and tomatoes & chilies in cast iron skillet or saucepan.; Stir often.; Add onion and garlic powders.; Once ingredients are melted and combined whisk in sugar.; Remove from heat and serve.; ; – Can be garnished with dice tomatoes and chopped cilantro. – Dips & Snacks – Sauces – Mexican – Recipes – Side Dishes[/wpurp-searchable-recipe]