How To Eat Like You Mean It | The Taste of Asheville
Warning, this post contains all kinds of tasty photos from the Asheville, North Carolina culinary scene, also know as Foodtopia.
The links in this post may be affiliate links.  That means that if you click them and make a purchase, this site makes a commission.  It will have no impact on the price you pay or the experience of your purchase.
Consider yourself warned that your taste buds may be filled with delicious envy after viewing this article.
This post is partnered with the Asheville Tourism Board, Explore Asheville.  The opinions represented here are all my own.
To get my full disclosure and what that means click here.
A vacation with good food is a vacation worth having. Even if it's a working vacation.
Not long ago, my friend Tomiko, from Passports and Grub and I meet in the beautiful space that is Asheville. With beautiful landscapes, relaxing environments, and of course good food.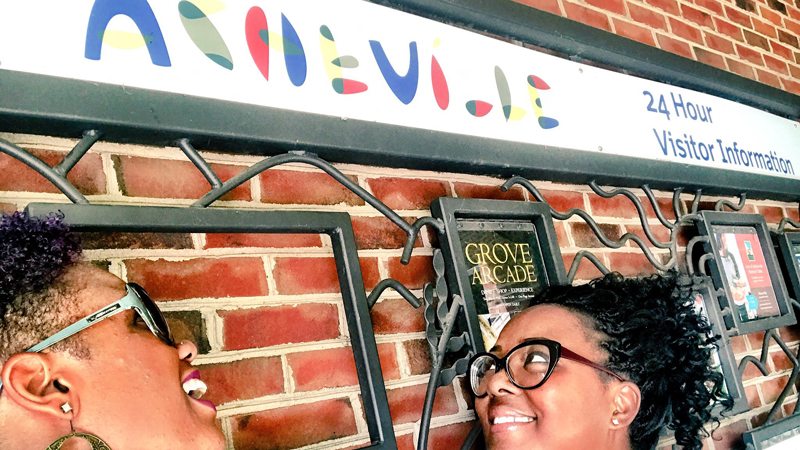 The Asheville food scene is known of Foodtopia.  It's a culmination of specialty restaurants, farms and farmers markets, and servings of specialty items and craft drinks you aren't going to find elsewhere.

Tomiko and I met online when she requested help with a project in one of the blogger groups we belong to.   I offered my help but she opted to just pay me to do it for her. And from that a beautiful friendship blossomed.
Her having more networking and people skills, and my technical skills we became fast friends helping each other strengthen our weaknesses.
While we spend time talking daily, yes every single day, about our goals and plans, life and such, we got together to have that face time, one-on-one help/interaction and to explore a new place together.
Asheville is literally the halfway point between the two of us and man is that a great place to meet up.
We got a lot accomplished in our time together. An equal balance of work and play. Oh if everyday could be that way.
Being there for roughly three and a half days gave us the opportunity to work on some of our quarter three goals and plan for quarter four.
And being the foodies we are, it also gave us the opportunity to delight our taste buds in the deliciousness of southern cuisine, varying between anything your heart (and palate) could desire.
Tomiko wrote up a full review of all the things we did and some suggestions for your trip to Asheville.  Here, I'll share with you the places we went to plus a few more that came highly recommended. We had to save a few for next time!
We had the opportunity to hit this spot up our first night in town. By the time I got there I was hangry and a little aggravated from my silly GPS turning me around. Tomiko doesn't get to eat seafood at home due to family allergies and I don't need an excuse to eat seafood because it is always good to me!
The food we got from here was nothing short of orgasmic. Okay maybe that's a bit far, but it was close.
While in Asheville we would wake up, do a little work, plan our day and head out. Our second day there we opted to go to the Moose Cafe for breakfast solely because I saw that they had homemade apple butter and biscuits.
We got there and were immediately greeted with what we came for. But we're disappointed when we found out that we were too late for breakfast.
Breakfast is my favorite meal of the day so we decided to find someplace that served breakfast a little later.
So while we did not get the full menu experience I can tell you those biscuits and butter were delicious. And the service was great as well!
Breakfast all day? My kind of place. And while it is called the Early Girl Eatery, I have to admit we were late for breakfast.
But it was so good!
I ordered the sweet potato hash. If you follow me you know how I feel about sweet potatoes. And you may also know that my hubby makes a hash to die for. So I had to measure up the competition.
It was delicious. But unfortunately after ordering and sampling a fork full I had to send it back because while I stated no sausage (don't eat pork) I was bummed when I found that it also had bacon in it.
I wasn't winning that day. But I settled for biscuits and grits. Two simple favs.
Thai Tara
One of my favorite foods is Thai food. So when we were scouting for dinner our second night there, Thai Tara ended up trumping the intriguing Carmel's we had walked by and were almost sold on.
While I can barely say it right my stomach has no problem with it I'll tell you that.
I opted for my usual, Pad Thai. It was a delicious blend of yum. With large shrimp, the sweet tangy sauce, and those delicious noodles. Yes please. and thank you kindly!
While there, we typically only did breakfast and dinner as we had so much packed in between.
Our last night in town we opted to go back to Carmel's and enjoy the nice outdoor patio and live music being played.
The food and atmosphere was awesome and those fried green tomatoes…. tell your momma move out the way cause they make me wanna smack my momma, and yours!
The southern food with their own spin did not disappoint one bit.
The Foodtopia we missed in Asheville, NC that came highly recommended
Said to be the best place for two fav's – pizza and beer.  With over 40 plus beers on tap it has been said it is the beer lovers dream!
Can I just say this sounds like a place where it offers a party in your mouth.  Combining two of my favorites I am sad I missed this one, but I can guarantee I won't next time around.
Said to be one of the best farm-to-table restaurants around with an atmosphere for just about anyone.
The focus of this place was the wine.  While we didn't make it here, we walked past it on more than one occasion where the patio was in full bloom.  Judging by that I would have to say they are onto something great in that space.
A BBQ joint that has 2 locations in Asheville.  Specializing in what they call hand pulled perfection serving up a variety of BBQ flavors to live for!!
A downtown restaurant that offers up craft beverages and creative dishes.  With a weekend brunch that runs for the early and mid-morning risers alike!
A spot that is said to have something for everyone.  With offerings for the vegan, vegetarian and gluten free community, it is a place where all can eat, drink and be merry!
I thoroughly enjoyed my time spent in Asheville and can't wait to go back and eat see more!  While this is a great list to get you started, there is no way that I could possibly list all that Asheville's culinary scene has to offer.  BUT, if you check out Explore Asheville they have it all listed out for you.  If you get overwhelmed by options, prepare yourself.
Also Check out:
Have you been to Asheville?  If not, when are you going?