Taco Pizza | Taco Tuesday Dinner In Under 30 Minutes
A marriage between a Mexican favorite and Italian favorite, this Taco Pizza wade with a crescent roll crust is a perfect Taco Tuesday menu option.
The links in this post may be affiliate links.  That means that if you click them and make a purchase, this site makes a commission.  It will have no impact on the price you pay or the experience of your purchase.
I really don't know how it got started. But somehow my family has come to expect some form of tacos on the table pretty much every Tuesday.
And I don't really mind, except when I don't have my ish together and didn't plan accordingly. Which leaves me to scramble a taco inspired something together.
But this right here? This Taco Pizza is a hit in my house EVERY. SINGLE. TIME!
And really it's a win-win because it's one of those things that can be whipped up in less than 30 minutes, start to finish.
It's even perfect for those weeknights we have something going on.
I can make all the stuff ahead, put it in containers, and throw it all together when it's time to eat.
And the flavor is not sacrificed one bit!
You can mix and match ingredients depending on your preferences.
I make my Taco Pizza with a variety of the following:
Ground turkey
Tomato
Black beans
Taco cheese blend
Green onions
You may also consider using these alternatives for your Taco Pizza:
Chicken
Ground beef
Corn
Red onion
Shallots
Really. The sky is the limit if you let your taste buds lead the way.
And the hardest part of the recipe is really getting the creases out of the crescent rolls once you spread it. So that makes this a recipe that could easily be made with the kids if you are up to it!
If your kids are like my kids, that may take you out the 30-minute meal category, so be warned.
From there add all the other toppings. Cut up into slices and serve.
How To Make Crescent Roll Crust Taco Pizza
Start out by preheating your oven according to the package instructions of the crescent rolls. Open and roll out the crescent rolls on a baking sheet.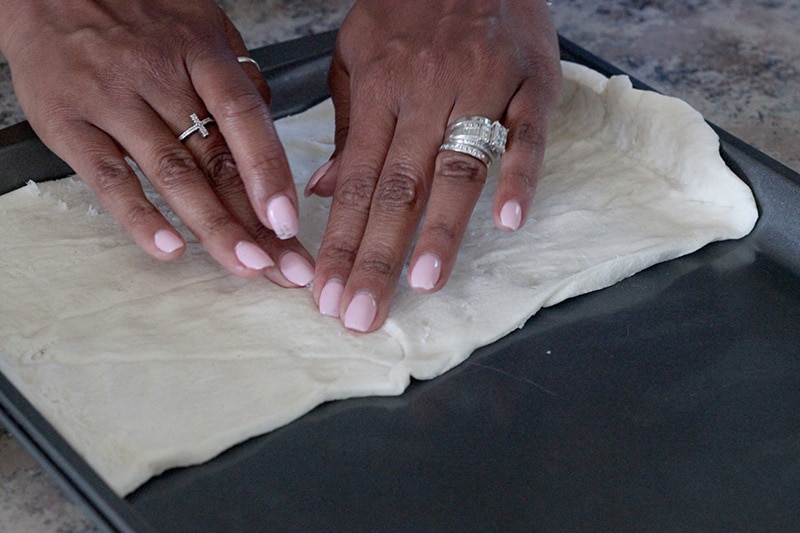 Press along the creases of the crescent rolls to seal the edges.
Pre-bake the crescents until they are lightly golden and cooked through. While they are baking, cook the ground turkey in a skillet over medium heat. Once the meat is cooked through, add in the taco seasoning (here is my homemade taco seasoning mix recipe if you want to whip some up) + ⅔ cup of water and let simmer until liquid is all pretty much absorbed into the meat. Set it aside for a moment.
Remove your crescents rolls from the stove and allow them to cool for 10-15 minutes.
Once cooled, spread sour cream on top of crescent crust leaving the edge free for the pizza crust.
Add all of the desired toppings and cut into pieces and it is ready to enjoy!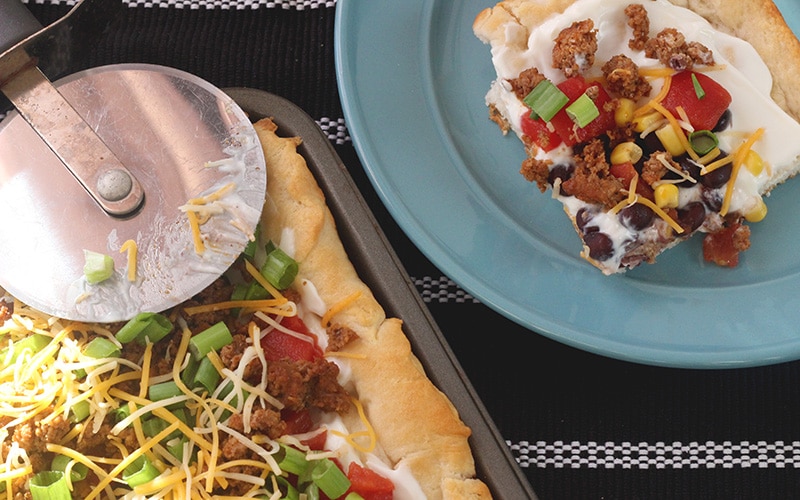 Interested in making Taco Pizza With A Crescent Roll Crust? Pin the recipe for later using the buttons below.
Other Taco Recipes You May Love: