Strawberry Shortcake Rice Krispie Treats
Ready to take your love for dessert to the next level? Let's get started on this delicious Strawberry Shortcake Rice Krispie Treats recipe!
The links in this post may be affiliate links.  That means that if you click them and make a purchase, this site makes a commission.  It will have no impact on the price you pay or the experience of your purchase.
If you're a fan of both strawberry shortcake and Rice Krispie treats, then you're in for a treat! This delicious recipe combines the best of both worlds, creating a mouthwatering dessert that is sure to please.
The result is a sweet and crunchy treat that is perfect for any occasion, from family gatherings to potluck parties.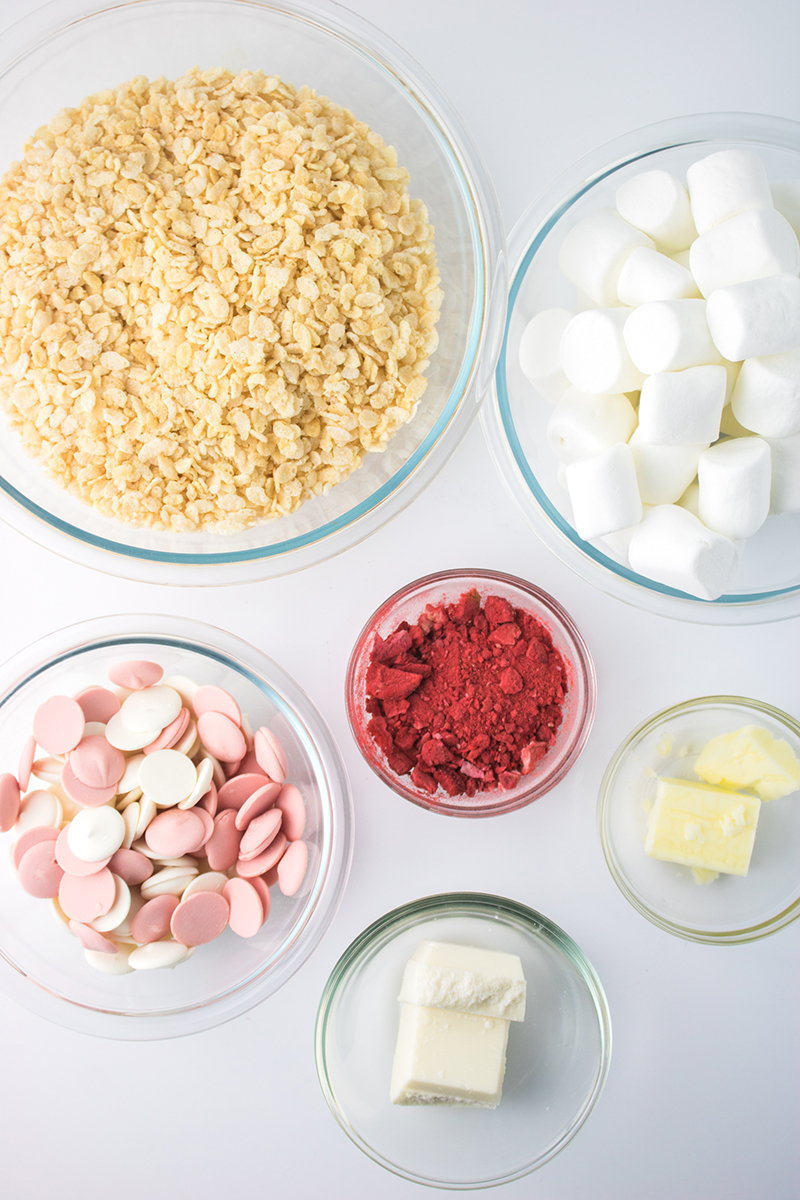 Ingredients Needed For Strawberry Rice Krispie Treats
6 cups Rice Krispies cereal
1 bag of marshmallows
3 tablespoons butter, unsalted
1 cup of dried strawberries, crushed
1 cup of pink candy melts
1 cup of white candy melts (divided)
2 tablespoons of coconut oil
Equipment Need To Make This Recipe
9×13 baking dish
Large mixing bowl
Small mixing bowl
Piping bag
Skewer or Toothpick
How To Make Strawberries And Cream Rice Krispie Treats
Start out by greasing a 9×13 pan and then set it to the side, as we will use this in a bit.
Add your butter and marshmallows to a medium-large microwave safe bowl and warm them in 45 second increments until the marshmallows begin to puff.
Then take them out and stir the mixture together to combine.
Pour in the Rice Krispies cereal and strawberries and mix it all together. Once everything is combined, you will put the mixture into your greased pan.
Set that aside, and then melt all of the pink candy melts and ½ of the white candy melts in the microwave in 30 second increments. Be sure to stir after each increment until the melts are all melted.
Place the remaining ½ cup of white candy melts or almond bark in the piping bag and heat for 30 seconds in the microwave.
Take it out of the microwave and mash gently with your fingers making sure not to bust the bag.
Then flip the bag over, and heat it for an additional 30 seconds.
Once that is done melting, add in the coconut oil and stir. It should melt the coconut oil while you stir. If it doesn't fully melt, heat it for an additional 15 seconds.
Now your pink and white chocolate is melted and ready to decorate.
Pour the pink chocolate mixture all over the Rice Krispie mixture that is in the pan. Use the back of a spoon or a spatula to spread it across the full top.
Then cut a small hole in the tip of your piping bag and draw decorative lines horizontally on the pink chocolate. You can use a skewer or toothpick to draw a line straight down, then a line straight up. and continue this until the design covers the top.
Place the finished dessert in the fridge to set for 30 mins, and then it is ready for you to slice and enjoy!
How To Store These Rice Krispie Treats
To keep your homemade Strawberry Shortcake Rice Krispie treats fresh and delicious for as long as possible, it's important to store them properly.
Here are some tips on how to store homemade Rice Krispie treats:
Let the treats cool completely before storing them. This will help prevent condensation from forming inside the storage container.
Once the treats are cooled, cut them into squares or bars and place them in an airtight container. You can use a plastic container with a tight-fitting lid, a resealable plastic bag, or wrap them individually in plastic wrap.
Store the treats at room temperature in a cool, dry place. Avoid storing them in direct sunlight or near a heat source.
If you live in a humid climate, you may want to add a desiccant packet or a piece of bread to the container to help absorb any excess moisture and keep the treats from getting stale.
Rice Krispie treats will stay fresh for up to a week when stored properly. If you need to store them for longer than that, you can freeze them.
Can You Freeze Rice Krispies Treats
Yes! You can store them in the freezer for up to 6 weeks.
To freeze, wrap each treat individually in plastic wrap and then place them in an airtight container or resealable plastic bag.
When you are ready to eat them, thaw them at room temperature for a few hours before serving them.
Love strawberries? Check out this full list of amazing strawberry recipes I am sure you will love!