3 Ingredient Pork Free Baked Beans
A slightly sweet, tasty, pork free baked beans with ground turkey recipe that is still full of delicious BBQ appropriate flavor and perfect for the dish to take to your next potluck BBQ.
The links in this post may be affiliate links.  That means that if you click them and make a purchase, this site makes a commission.  It will have no impact on the price you pay or the experience of your purchase.
Do you ever get invited to a BBQ and want to take something but don't know what?
Don't have a lot of time?
Just don't wanna be in the kitchen slaving over a hot stove?
Or looking for a delicious and easy-to-make pork-free alternative to traditional baked beans?
Well, if you answered yes to any of these or have another reason I didn't mention, this recipe will solve all of your problems. Well, at least the one concerned with what you should take the BBQ…
Look no further than this recipe for baked beans made with ground turkey!
With its rich, savory flavors and hearty texture, this dish is sure to satisfy even the most discerning taste buds. Plus, since it's made with ground turkey instead of pork, it's a great option for those who prefer to avoid pork products for dietary or personal reasons.
So why not give this recipe a try and discover a new favorite dish for your next gathering or family meal?
When I was kid people didn't say baked beans, they said pork and beans. Because there was always inevitably some form of pork in the beans. Whether it was hot dog pieces, bacon, or whatever.
But what happens if you don't eat pork?
Do you have to give up the tasty BBQ dish that is baked beans?
Absolutely NOT!
This recipe is pork free cause y'all know I stay making beef and pork modifications. And the best part is I make them taste darn good!
Did you know that unless you get the vegetarian version of baked beans, many brands still contain some form of pork or pork by-product?
So for this recipe, you have to get the vegetarian version, and we'll add our own meat.
Ingredients For Baked Beans With Ground Turkey
1 pound of ground turkey meat
1 cup diced green peppers
4 cans of vegetarian baked beans
1 cup of brown sugar
1 tablespoon seasoning salt
1 tablespoon garlic powder
How To Make Pork Free Baked Beans
Start out by preheating the oven to 350 degrees.
Open the cans of baked beans and drain the juice from 2 of the cans to keep the cooked beans from being runny.
Pour them into a 9×12 baking dish and set them aside.
On the stovetop, add your ground meat to a skillet warmed up over medium heat. Season the meat as desired. I like to use seasoning salt, garlic salt, and pepper.
Once the ground meat is halfway cooked through (which you can tell when it is half pink and half browned), add in the green peppers and cook through until all meat is browned and no pink remains.
Add the meat and peppers to the dish with the baked beans, and add in the brown sugar, seasoning salt, and garlic powder and stir until all ingredients are mixed through.
Bake for 45 minutes uncovered or until baked beans are nice and bubbly.
Take them out of the oven and allow time for them to cool.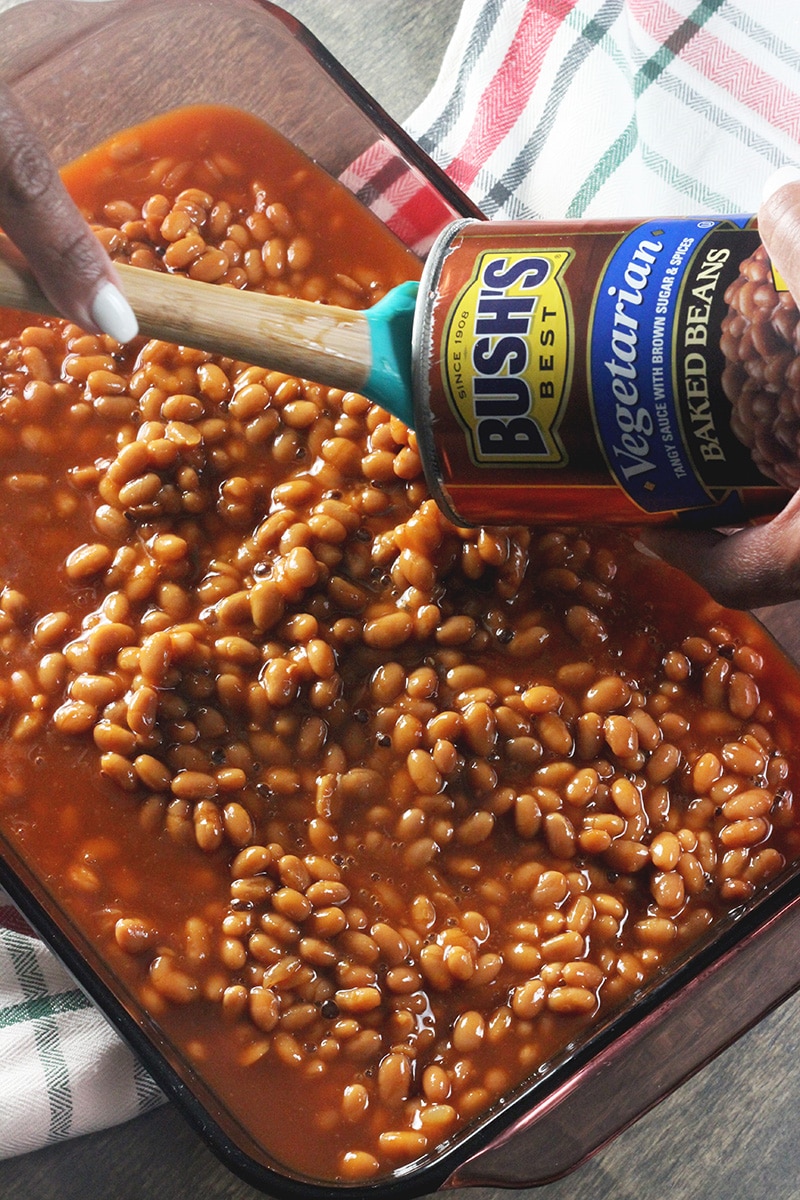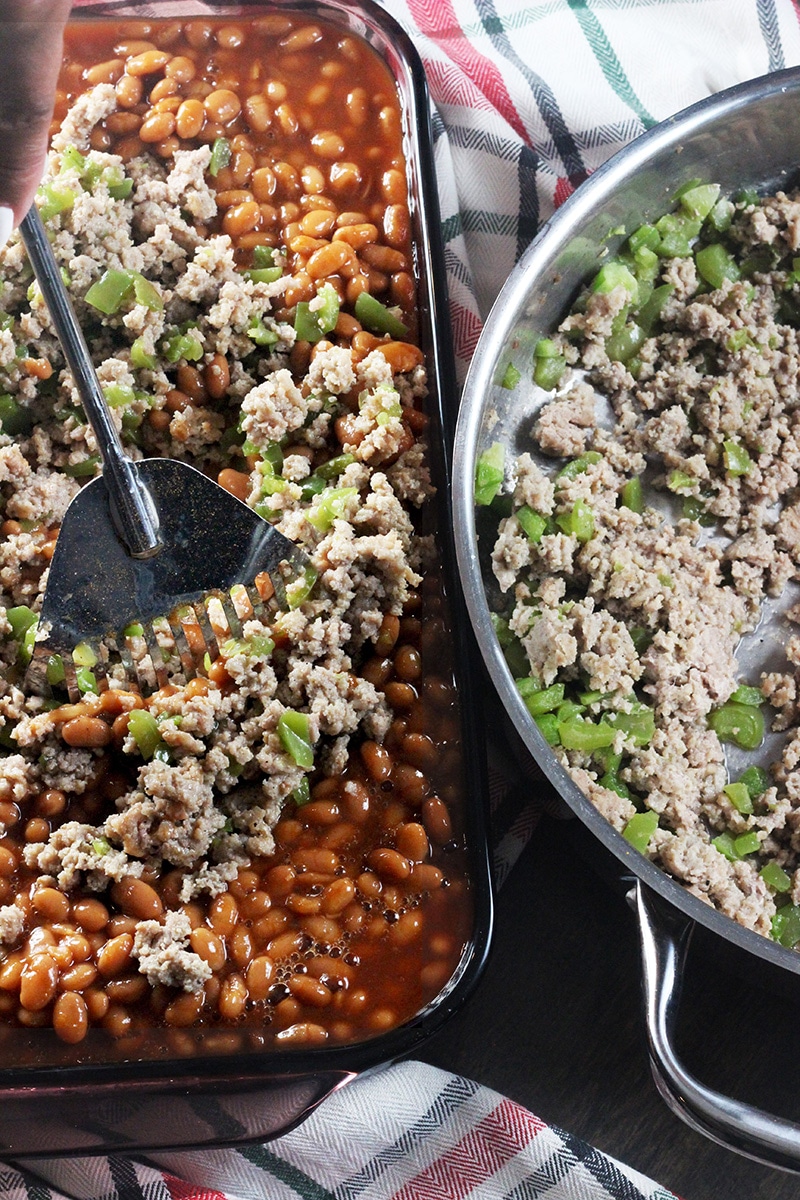 These (along with my chicken cobb pasta salad and parmesan roasted green beans) are one of the simplest BBQ sides you will prepare.
The full baked beans and ground turkey recipe and instructions are listed below for you.
Can these baked beans be made in the crockpot?
Yes, these baked beans can be made in a crockpot or slow cooker.
In fact, using a crockpot is a great way to make baked beans because it allows the flavors to develop and meld together slowly over time. Which results in a rich and flavorful dish.
To make baked beans in a crockpot, simply combine all the ingredients in the slow cooker, cover, and cook on low for 6-8 hours or on high for 3-4 hours.
Stir occasionally to make sure everything is well combined, and the beans are evenly cooked.
When the beans are tender and the sauce has thickened to your liking, they're ready to serve!
Can these baked beans be made in the instant pot?
Absolutely, baked beans can also be made in an Instant Pot.
This is great if you're short on time or want to avoid using the oven for extended periods of time.
To make baked beans with ground turkey in an Instant Pot, start by sautéing the green peppers and ground turkey, using the sauté function on the Instant Pot. After cooking the meat and vegetables, add the remaining ingredients.
Give everything a good stir, then seal the Instant Pot and set it to cook on high pressure for around 30 minutes.
After the cooking time is up, let the pressure release naturally for 10-15 minutes before opening the Instant Pot.
Give the beans a stir, and serve hot!
This recipe was a participant in the 2020 Juneteenth Cookout Takeover.

A collective of Black foodies, chefs, and home cooks established this to encourage the celebration of Juneteenth via a virtual cookout.
A celebration of freedom to commemorate the end of slavery, and to magnify the food traditions of black families through an amazing compilation of culinary creatives.

Juneteenth, formed from the merging of the words/date June Nineteenth, marks the date in 1865 that the last enslaved people learned of their freedom.

And for over 150 years since, this day has been celebrated and observed as a holiday with a wide range of food traditions that tell a story of the tenacity of a people.
---
I share with you my recipe for Pork Free Baked Beans. And keep scrolling for a variety of dishes across all categories that are collectively brought to your virtual (and physical, if you choose) table.
More Recipes
Interested in saving Pork Free Baked Beans recipe for later? Pin it using the button below.
A friend asks what they should bring to the next potluck BBQ?  Send this to them!