How To Make Realistic Hanging Boston Ferns For Under $20
A front porch update with DIY fake Boston Fern hanging baskets. So beautiful you will swear they are real.
The links in this post may be affiliate links.  That means that if you click them and make a purchase, this site makes a commission.  It will have no impact on the price you pay or the experience of your purchase.
Are you lacking a green thumb but love the character greenery and plants bring to your home? Or maybe you have a front porch that is drenched with sunshine that won't let your plants live their best life?
With these artificial ferns, you can have the best of both worlds. Plants you can't kill and don't have to water, and all the beauty that the greenery adds to the scene.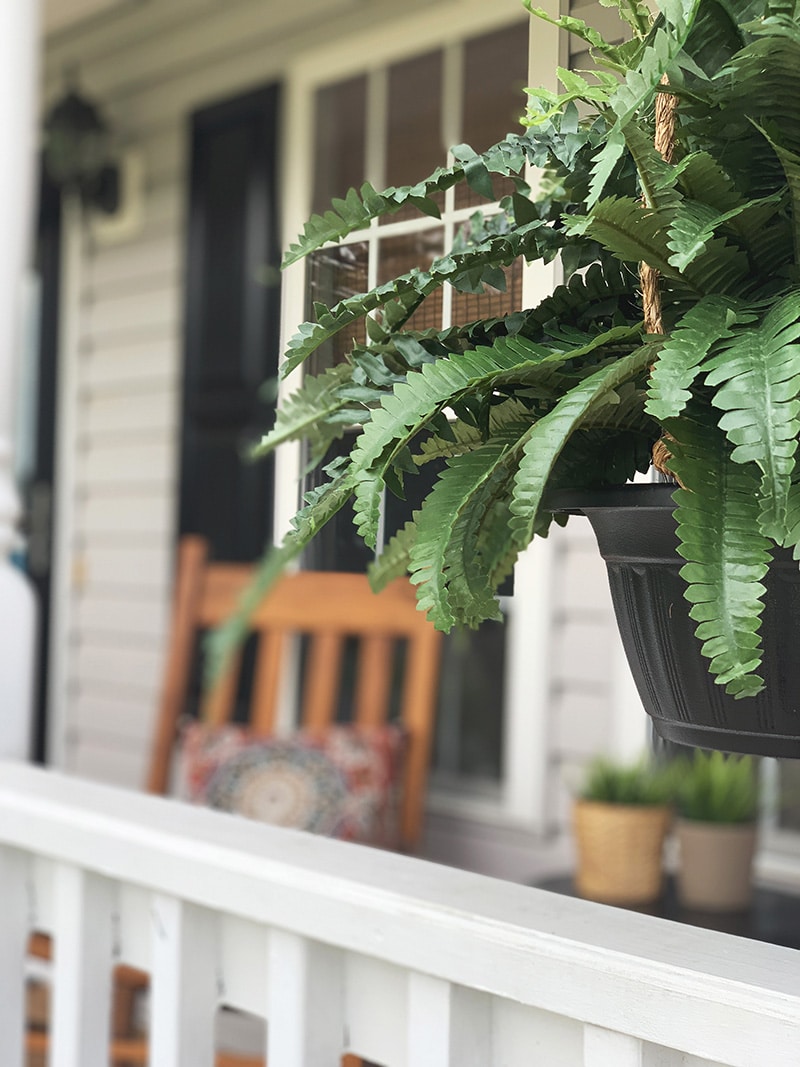 In this guide, we'll go over the steps to create your own DIY fake fern hanging baskets and give you some tips to make them look realistic and beautiful. Whether you're an experienced crafter or just starting out, creating your own fake fern hanging baskets is an easy and rewarding project that you're sure to enjoy.
I've never really had a green thumb. But I also haven't put a whole lot of effort into either. But I don't know if this is an almost 40 thing or my roots deepening here in the south, but I'm really interested in greenery these days.
Now that the porch looks like new, it's time to further step up my curb appeal. I am ready to make it super cute, comfortable, and cozy.
I was first introduced to Boston Ferns in the backyard deck of a friend's home in Cleveland. They were so simple, pure, and timeless looking. I was in love!
I've seen ferns more and more since coming south, and I decided my porch should be adorned with them. The end!
Why I Decided on Faux Ferns Versus Real Ones
Here's the deal.
The problem is my home is west facing. This means the sun beams and darn near cooks me if I dare to sit there in the late afternoon or evening. So a fern doesn't stand a chance of surviving out there.
But Kenya gets what Kenya wants. And where there is a will, there's a way.
I have the will to find the way when I want what I want.
So I share with you my DIY Boston faux ferns and hanging basket I made for under $20.
You read that right. I made these beautiful Boston Fern look-alikes for just over the price of real ones.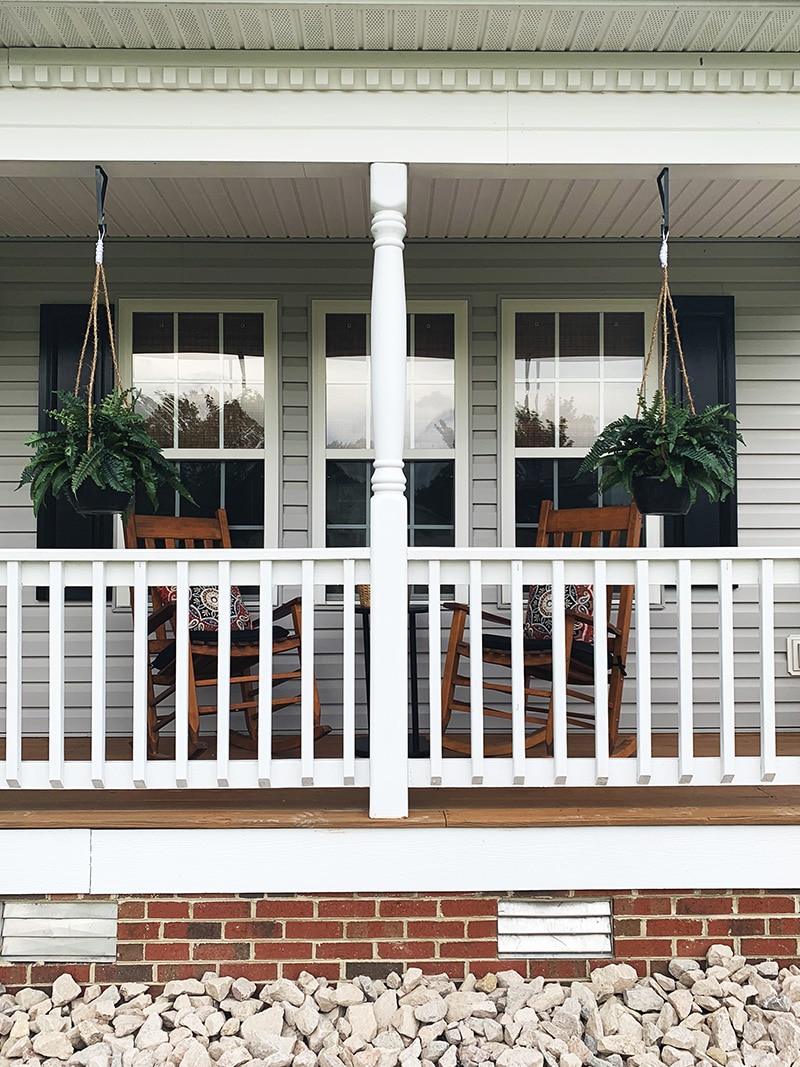 And hopefully, I'll get at least a couple of years outta them.
Materials Needed For DIY Faux Ferns and Hanging Pot
Plastic hanging pot
Spray paint
The hanging pot with the cord came from the dollar store.
I had the glue gun, glue sticks, and rope on hand.
I purchased all other things from the adult creative playground, also known as Hobby Lobby.
How To Make Your Own DIY Fern
Remove stickers from all materials. I like to do this part and get it out of the way.
Remove the string from the pots and used a drop cloth in the back yard, and spray painted the outside of the pots.
I let them dry for a couple of hours. Flipped them over. And spray painted the insides. Let that dry for the same amount of time.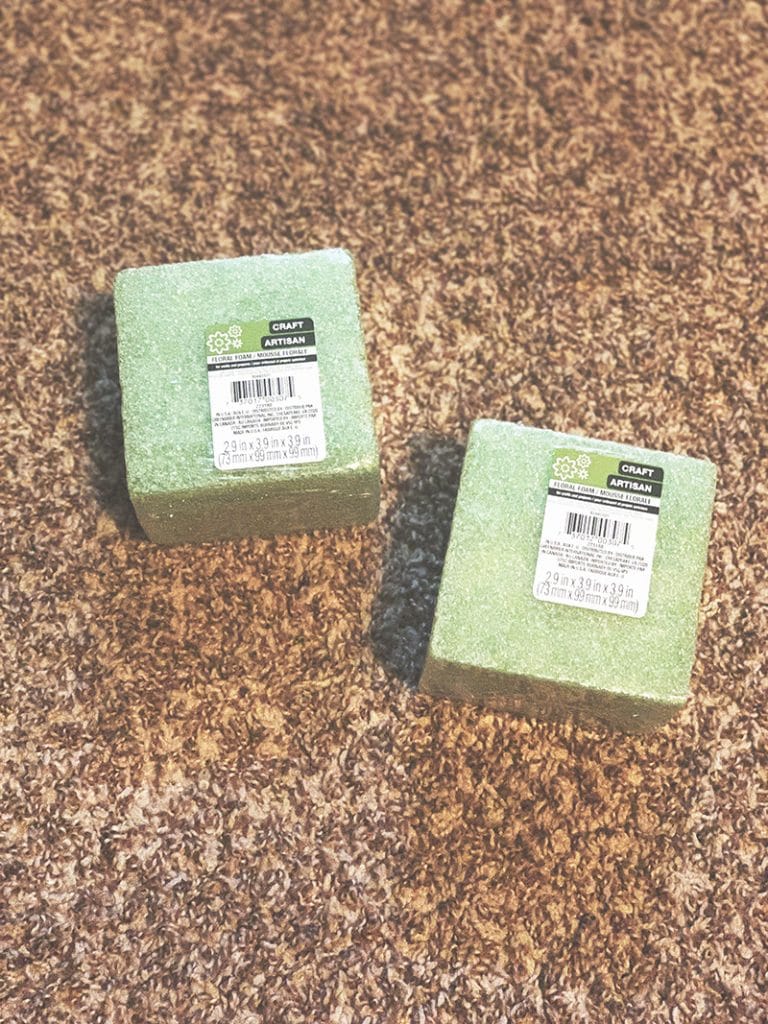 While those were drying, I started arranging the fern stems for the fake fern plants into the foam squares. I did this by placing the longer stems dead center right next to each other. Then I placed each of the four shorter stems on each side of the longer ones.
From there, I went through and adjusted and blended the "leaves" to form the plants.
Once both faux ferns were formed, I glued the foam squares in the center of each pot.
I then took the rope I had on deck and cut it into six even pieces, three for each pot.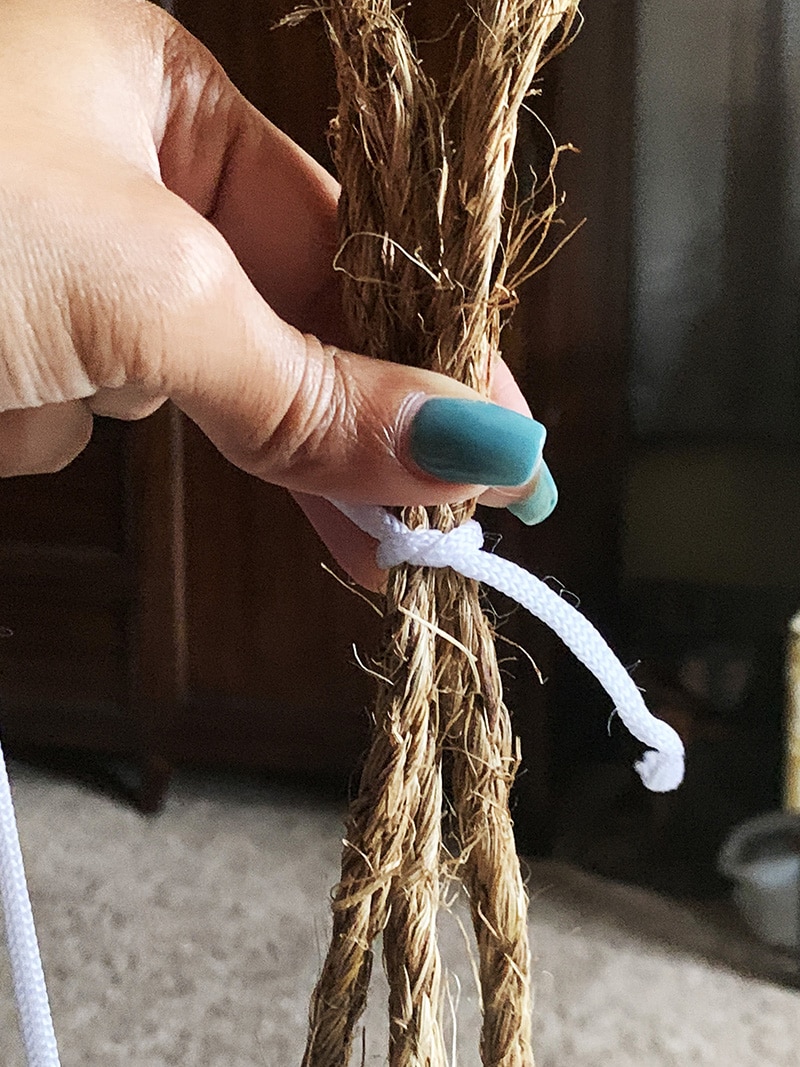 Then, I tied one end of each rope into the three loops on the pots.
I held the rope pieces up to even them out and tied the string that came from the pot around them. I left about a three-inch end on one side and the remaining length on the rest.
Using the short string, I went under and around the rope ends until there was only a small Piece. I then held it in place and created a loop with the longer string.
From there, I begin wrapping the string around the combined rope, the remaining string, and the bottom of the loop.
I wrapped it until it was covered all the way to the top of the rope tightly.
Once fully covered, I double tied the string to a piece of the bottom of the loop.
All done!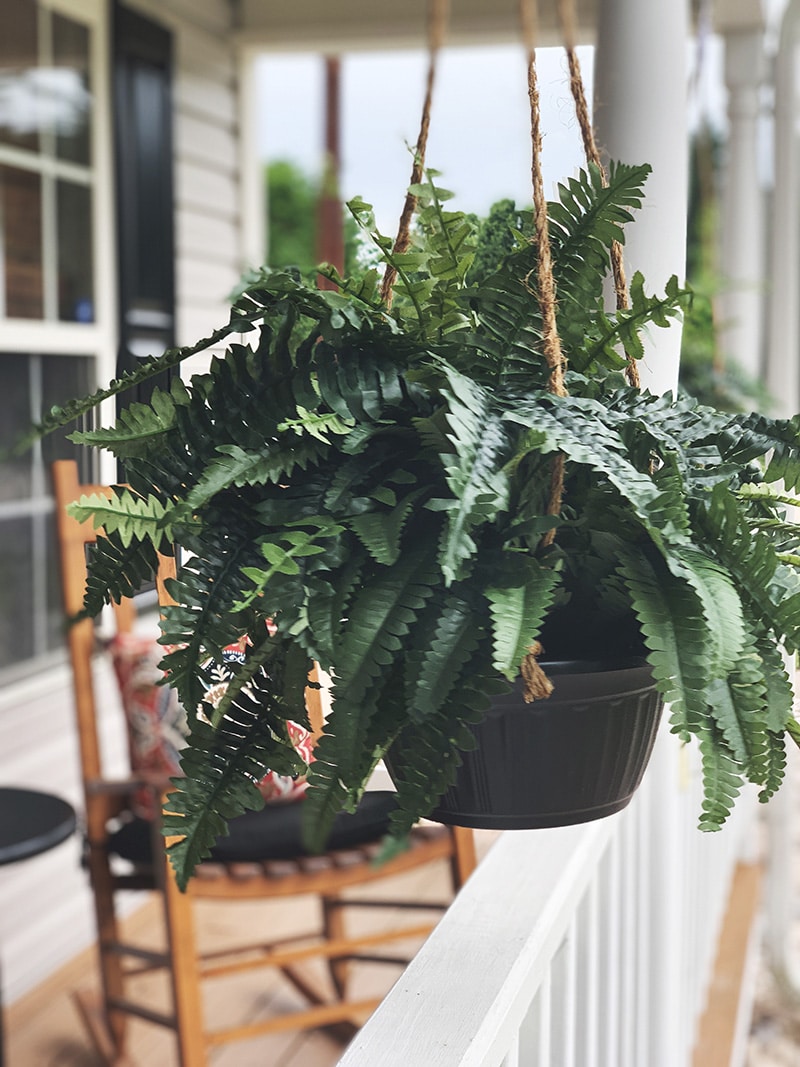 Beautiful DIY Faux Boston Ferns for under $20 that will last the entire season.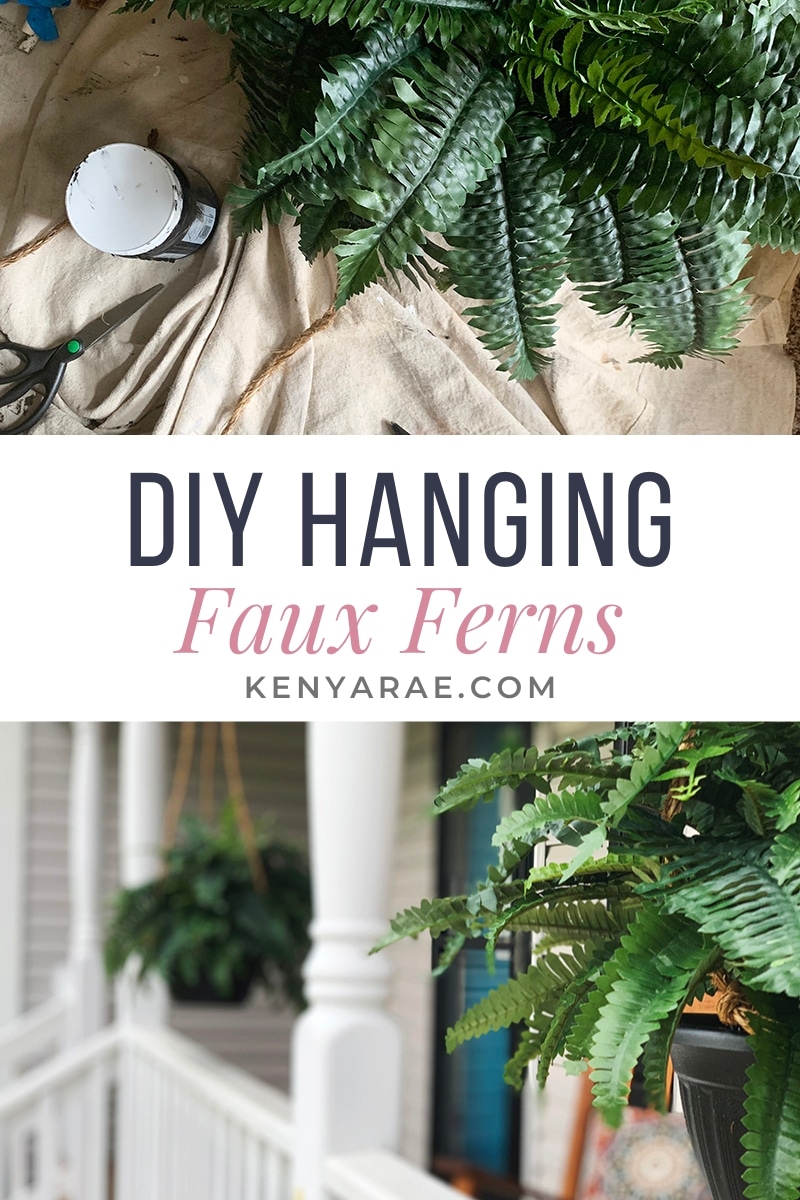 Can These Artificial Ferns Be Used Indoors?
Fake fern hanging baskets are a great way to add greenery to your indoor spaces without the maintenance and upkeep of real plants.
They provide a natural and calming atmosphere while adding a touch of elegance to any room. Making your own fake fern hanging baskets can be a fun and creative DIY project, allowing you to customize the size, shape, and style of the basket to fit your personal taste and decor.
Other DIY Tutorials You Will Love: