Simple + Easy Crockpot Buffalo Chicken Dip
This simple and easy crockpot buffalo chicken dip is the closest, and maybe even the best thing next to buffalo chicken wings.  Scooped up with your favorite chips, crackers, or veggies if you're healthy, it will win the party over, every single time!
The links in this post may be affiliate links.  That means that if you click them and make a purchase, this site makes a commission.  It will have no impact on the price you pay or the experience of your purchase.
This recipe is not new friends. But I will tell ya that it never gets old either.
And it is perfect for your upcoming super bowl party, whether it is for two or a few.
I am all about set-it-and-forget-it recipes and this is one of them. You can toss all the ingredients in the crockpot, walk away, and when you return, have a recipe masterpiece that your family, guests, coworkers, or whoever you serve it to will think you are AH-MAZ-ING!!
And guess what?
You are!
I don't really have a whole lot of words to say here yall. I am not gonna make this post longer than the process. So let's dive in, so we can dip!
Start by gathering your ingredients.
What Ingredients Are Needed For Buffalo Chicken Dip in the Crockpot
cream cheese
blue cheese dressing
Your fav buffalo wing sauce – that is not to be debated here, just do what ya like (in my digital underground voice)
chicken breast –

really you can do this several different ways and even use dark meat if you want. I'll explain further down

shredded cheddar cheese
Got ya stuff? Let's do it!
How To Make Crockpot Buffalo Chicken Dip
If you did not already gather that you need your crockpot, go get that!
Combine the cream cheese, blue cheese dressing, buffalo wing sauce, chicken breast and shredded cheddar in a small crockpot and stir it all together.
Now that the heavy lifting is done, cover the crockpot and cook on LOW for 2-3 hours, until it's all hot and bubbly.
Yum!
A quick note to make it even faster
If you're in a hurry, you can heat the ingredients in a saucepan stovetop and then transfer it to your crockpot to let it simmer for less time.
Y'all that is it! You can take it out and top it with a little extra cheese if you'd like and let that melt on top, and then serve with your favorite chips, veggies, or whatever you like. ←- did you read that in my digital underground voice that time? Because you should have.
Now to answer a couple of questions.
Do you have to use canned chicken?
Nope. But that is part of what makes it super quick and easy. You can make, or even buy a rotisserie chicken and shred that. And use it in place of the canned chicken. It will taste just as good. Trust me, I know!
Do I have to use blue cheese?
If you are not a fan of the blue cheese dressing, you can leave it out altogether. Or you can substitute it with ranch dressing. I am not a fan of blue cheese but I do like the flavor it adds here. But go with what is good to you.
What is the best hot sauce to use for this?
Like I said above, go with your favorite. If you are like me and don't really do hot sauce like that, so you don't have a favorite. Here are some of the most popular brands, in no particular order.
Red Hot
Lousiana Hot Sauce
Frank's
Sweet Baby Ray's
That's it folks. Five ingredients. Two hours that you can spend doing something else. And some of the best chicken dip you eva had.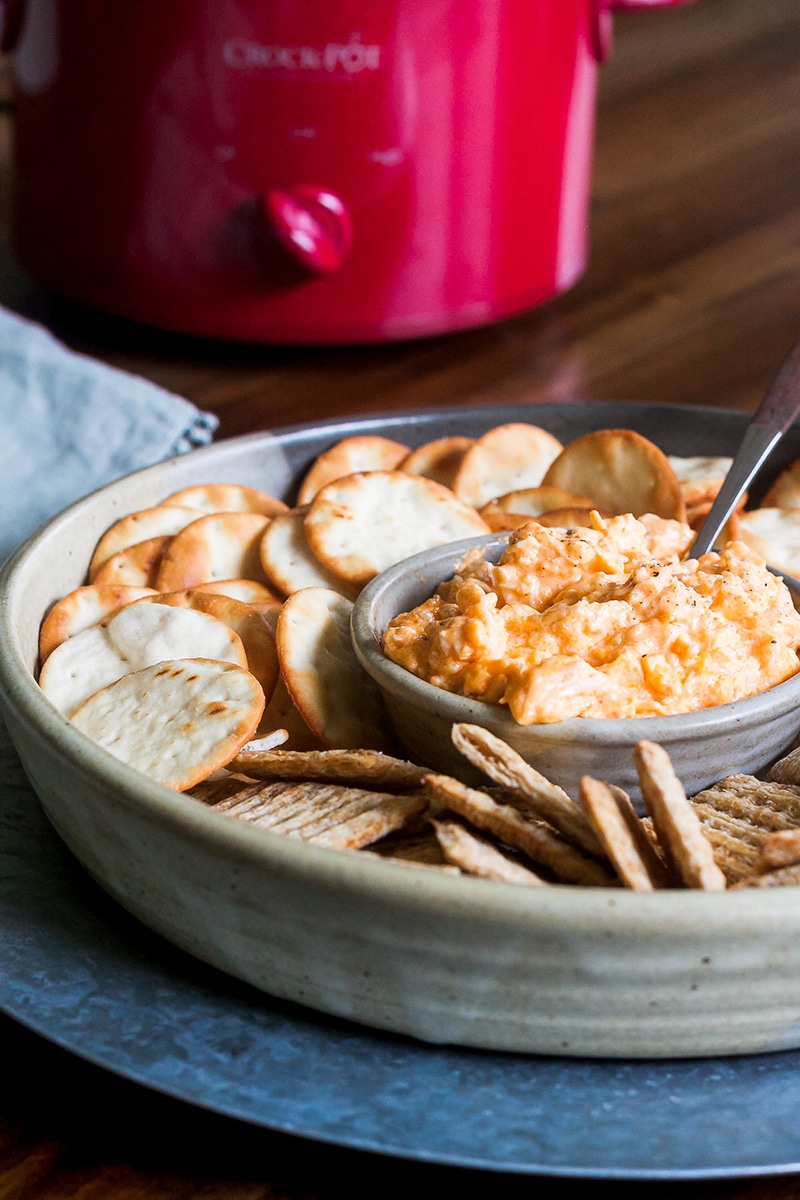 Other Recipes You May Love: