Chicken Broccoli Stuffing Foil Packs
Chicken Broccoli Stuffing Foil Packs are a perfect dish for any day you need fast, simple, and delicious. A great combo of protein and nutrition without too much hassle for cooking.
The links in this post may be affiliate links.  That means that if you click them and make a purchase, this site makes a commission.  It will have no impact on the price you pay or the experience of your purchase.
If you have no time for preparation but still want to have a delicious meal, then the Chicken Broccoli foil pack is the perfect dinner for you and your family. The ranch gives a fantastic twist of savoriness with juicy chicken.
And the best part?
You don't need pots and pans or any Utensils.
What's The Best Thing About The Chicken Broccoli Foil Pack?
You don't need to use a stovetop to make the filling, so this recipe falls into the easy cleanup category. You need a baking tray and aluminum foil; that's it.
Moreover, you just need six ingredients, and you are good to go. No mixing or marinating is required.
Ingredients For This Foil Pack Recipe
See the recipe card below for measurements
Stove Top Stuffing Mix
water
boneless skinless chicken breasts (

could substitute boneless skinless chicken thighs

)
Velvetta Shredded Cheese
broccoli florets
bacon bits
ranch dressing
cooking spray
What Are The Benefits of Chicken Baked In Foil
Besides easy cleaning up, there are many reasons to use foil for baking chicken or meat in general.
When we wrap the chicken in foil, it helps to seal the natural juice and keep it moist and tender. When we cook chicken in the oven at a high temperature and keep it open outside, the skin gets dry unless you keep basting.
With the foil, it helps to keep the steam trapped and cook faster as well.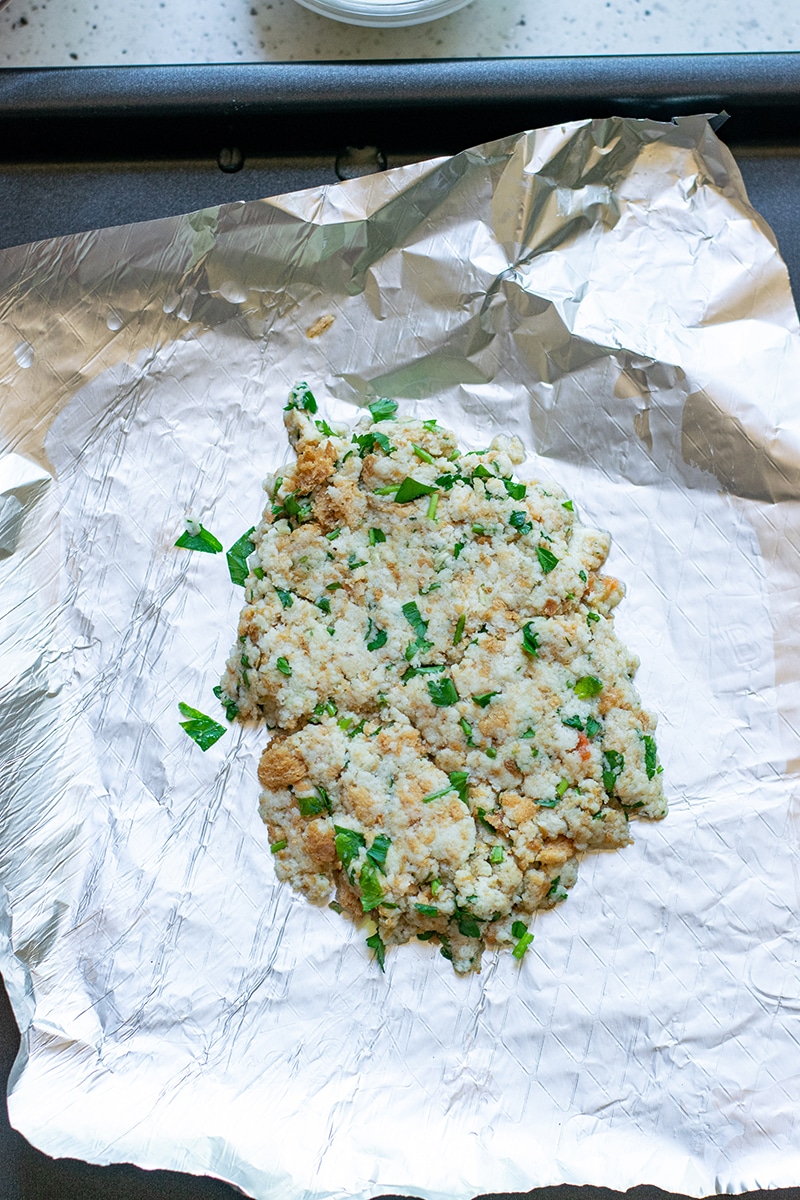 How To Make Broccoli Chicken Stuffing Foil Packs?
Prepare your oven by preheating it to 400°F.
Season the chicken according to your taste preferences on both sides. I use a mixture of seasoning salt, pepper, and garlic powder.
Then tear four equal-sized squares of foil from the roll of foil. Place them on the counter, one next to another.
The spray each of the centers of foil to avoid the food sticking.
Combine the stuffing mix and water and mix it well. The water will absorb into the stuffing.
Spoon and divide the stuffing evenly onto the center of foil sheets.
Now take a place a seasoned piece of chicken on top of the stuffing mixture. Add broccoli florets on top of chicken.
Drizzle the ingredients with ranch dressing, and sprinkle bacon bits on top.
Add ¼ cup of cheese on top of everything.
Bring up foil sides and leave a small opening up top to allow steam to escape. Fold to make four packets and place them on a baking sheet.
Bake the packers for 30 to 35 minutes or until chicken is fully cooked.
Can I Use Frozen Broccoli In The Foil Packs?
Yup! You sure can. Fresh or frozen broccoli can be used for this recipe.
Alternate Cooking Suggestions
Have leftover stuffing?
Forget the stovetop and spring for homemade.
Prefer dark meat?
Substitute chicken breast for boneless, skinless thighs
You can even use cheddar or make your own cheddar sauce in place of Velveeta.
Other Chicken Recipes You May Love: