The Different Types of Home Builders + Why I Never Wanted To Build A House, And Now I Am
We are now heading into our fourth round of home ownership. And while I never wanted to build a home, here we are now.
The links in this post may be affiliate links.  That means that if you click them and make a purchase, this site makes a commission.  It will have no impact on the price you pay or the experience of your purchase.
I'd be lying if I said I didn't sit and swoon over new built homes. I love seeing the design palettes and floor plans. Shoot at one point they were coming up in my Pinterest feed.
But even though I loved to look, I didn't want to touch the build process.
But at this moment, I am happy to report that we have secured our pile of dirt, that will soon have our forever home built on top of it.
Why I Didn't Want To Build A Home
I guess you could say the thought of having too many decisions to make, left me feeling like I couldn't handle it.
I remember back when my parents did their first build. And after moving in having to plant grass and do landscaping from scratch.
No thank you!
That there is enough for me to cash out before the game starts.
While I love a good DIY project, landscaping from scratch just is not in my wheelhouse.
And I don't do well with having to make too many decisions at once. It's a recipe for a meltdown.
It takes hands to build a house,

but only hearts can build a home….
What Changed My Mind About Building a Home
A housing market I'd never dealt with before.
Right now houses go on the market and are contingent before you can schedule to see it.
You have to be ready to walk in, look around and make an offer before you walk out.
When we were just browsing I got stressed out.
When I see a house I love, I immediately start to envision my family in it. What I'd keep, what I'd change. The projects that present themselves.
I get way too emotionally attached.
That led us to considering and discussing building as an option.
Over the course of a few weeks, We went to visit several builders.
And lots, like houses, were not moving any slower. Even as COVID-19 emerged, builders were still selling inventory. And fast!
We really wanted a basement home.
Being from the north, a basement was pretty much a given. But the builder we found that had a house we loved, had super small lots. And then they didn't have any more lots for the model we wanted.
Again, we were feeling like we would have to compromise.
One weekend we set out to see what we would see in an area we hadn't visited, and landed with Ryan Homes.
I'd heard mixed reviews about them before, so I was still hesitant.
But after talking with friends who had used them before in different places, we felt good about moving forward.
Home Building Has Come A Long Way
Back when my parents built in 2003, it took forever.
Much like what we are doing, they sold their existing home before the new house was ready, to maximize on the market as a seller.
They moved into a teeny tiny apartment and put their belongings in storage.
While I'm not thrilled to move twice, I am happy we were able to find a fully furnished home so we can store all of our belongings, and only take clothes.
We'll be displaced for about six months.
But the good news is we won't be planting grass and landscaping. This is one of the things that scared me most.
The thought of having to plan out the layout of a yard and execute it too, is beyond my skill set.
Why We Went With Ryan Homes
There are a couple different types of builders. Ryan Homes is what you would call a production builder.
While to some that may suck, it's perfect for me. I explain why down a bit, so keep reading.
You know we DIY. I don't care if the house is new or old, this girl will have projects to be done.
It's how I live my life.
I love adding my own touch on my home.
With Ryan Homes we get a new house at an affordable price, and with a fresh palette to start with. I am not sure if my old man is as excited about this as I am, but it should be a good time. LOL
What Are The Different Kinds Of Builders?
Custom Builders
You can have anything you want with a custom builder. But it usually comes at a price.
A price I probably can not afford, or are willing to pay.
Unlike production and spec builders, custom builders do not start building until they have a buyer. For that reason, they usually never have vacant, completed homes to view unless they had a buyer that failed to close.
Spec Builders
Speculative builders, also called spec builders, are in between custom and production builders. But they are more similar to production builders, with a few exceptions.
Like production builders, they will start building homes even before they have a buyer.
But unlike production builders, they do not own large lots of land or lots in a neighborhood that they are attached to.
Instead, they will generally buy lots one by one to begin building, either as prompted by buyers, or to produce a home to be ready to sell when complete.
The floorplan and features may change with every home, and there is, in most cases, more selection and customization option than with production.
Production Builders
These are larger, established builders that are often found throughout a state, if not a region, some even nationally.
They offer a set number of floor plans and features, but with minimal flexibility in choosing options.
For us we selected packages. So our counters, cabinets and a few other things were lumped together. We chose based on the cabinet style we wanted, and let the other things fall where they may.
For someone who likes more options for customizations, this may be a deal breaker.
This was the only way it could happen for us. For me, at least.
While I am already thinking about things I want to change out, and projects I want to do, I know this was the only way we could have built.
Which Builder Type Should You Choose – The Pros/The Cons
Custom Builders
Pros
Sky is the limit.  You can choose all the options you want.
More input.  In addition to options, the things you want with your layout and beyond can be accomplished.
Cons
Time.  It will most likely take more time to build than with one of the other types of builders.
Option overwhelm.  Having lost of options or the lack of a guide to follow, can be overwhelming.
Cost.  Because there are most likely not bulk ordering discounts and additional fees for customizations, price could be significantly higher.
Spec Builders
Pros
Almost custom.  More options than with production and more likely to have houses in the neighborhood that are not all similar or the same.
Price.  More options for less than the costs with a custom builder.
Small business support.  If you like to support local and/or small businesses, this is more likely to happen with this class of builder.
Cons
Less customization.  If the home is already in progress, it is highly likely that you won't have the ability to make customized selections.
Longevity.  These builders may not have a lot of time behind them, or may not be around as long as a more established builder.
Production builders
Pros
Pricing.  These are more affordable to build and because the builders have a model to follow they have a more fixed pricing structure for things.
Time.  The are typically able to build faster.
Community.  Because they typically are building the entire community, they are able to offer amenities and have more community built as a selling point.
Established.  These are usually companies that have been around and will be around for years to come.
Incentives.  Offer incentives for using the own financing and title services.
Cons
Not as customizable.  There can be more limitations in what can and can not be done.
Smaller lots.  With production builders the lot sizes can be a little smaller than with other types of builders.
The process for us so far, has been fairly painless. Life is always crazy enough without stacking up new challenges and obstacles.
For our needs, a production builder is what works. What suits the needs of your family may be a little different.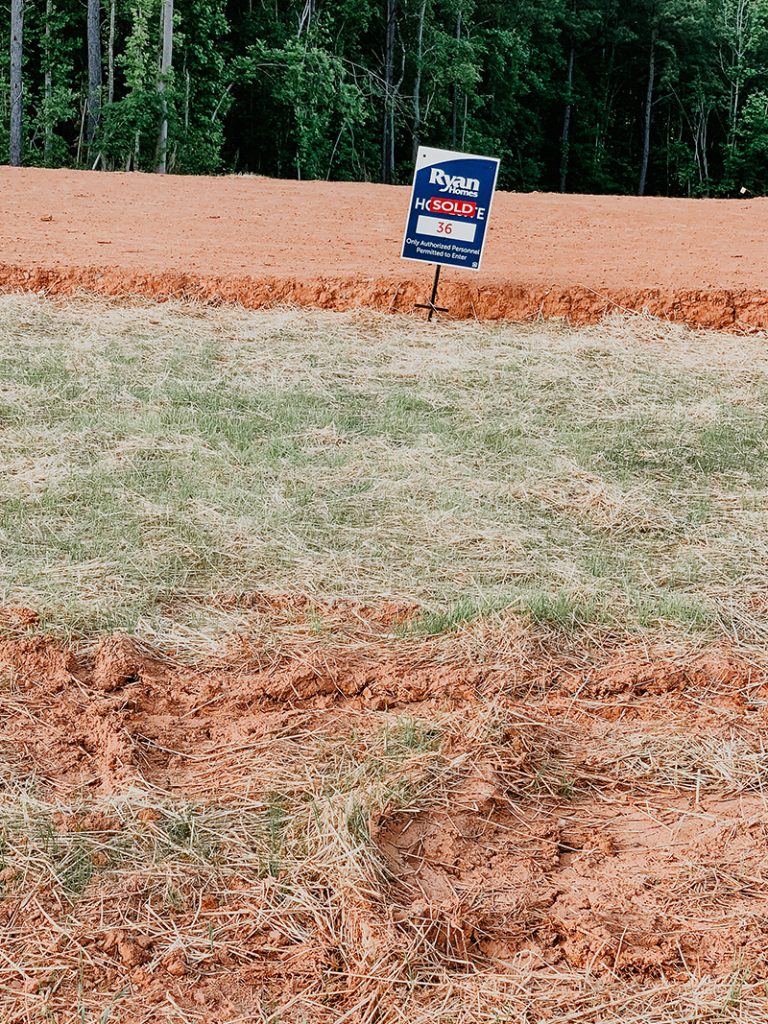 I'm excited to set foot into our new home in a few months, but I'll be sharing our process along the way.
As always feel free to shoot me whatever questions you may have.  I am happy to share and answer them.
Next up, I am going to share how we are buying (building) and selling at the same time. What we are learning, and the process we have went through with selling out house and making more than asking for it!