An American classic, made in a non-traditional way- this Sheet Pan Apple Slab Pie is everything you are used to, without all the fuss!
The links in this post may be affiliate links.  That means that if you click them and make a purchase, this site makes a commission.  It will have no impact on the price you pay or the experience of your purchase.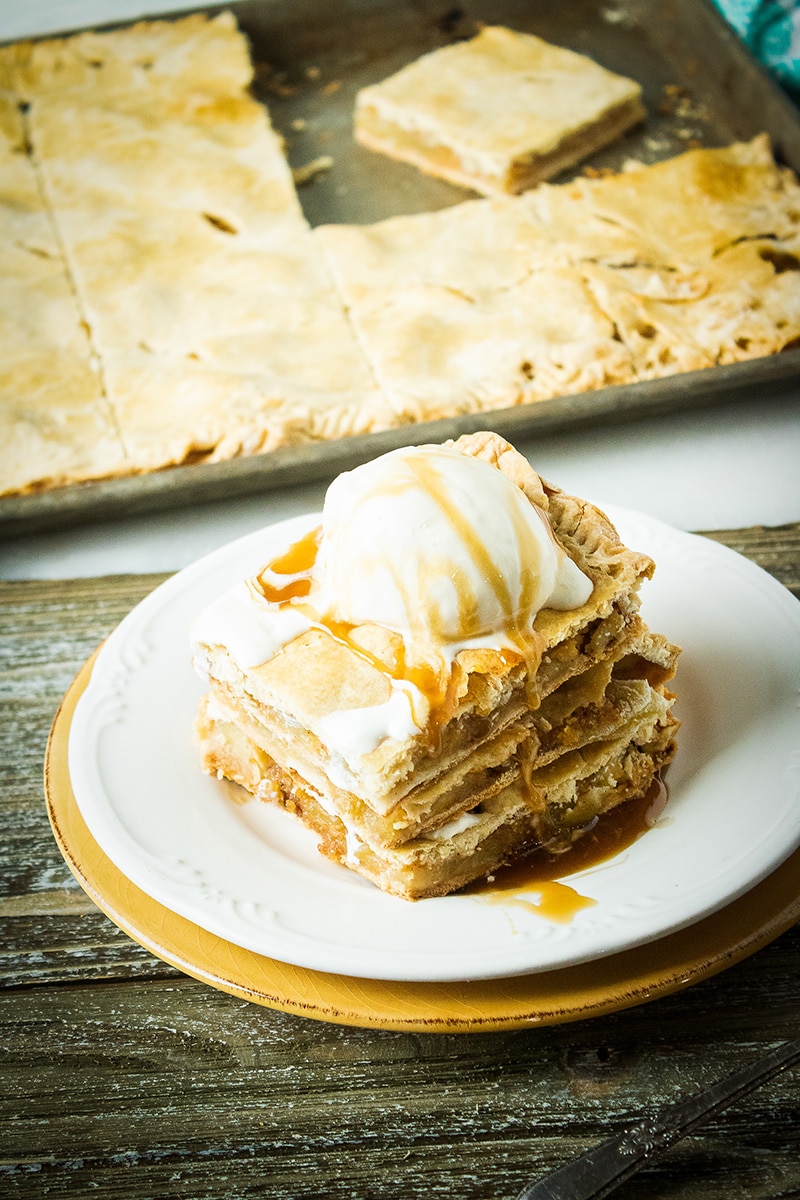 When it comes to baking, I don't want to spend hours in the kitchen. That's why I love this apple slab pie recipe. What a great way to use up those pick your own apples this fall season, without all the work of a homemade apple pie in a pie pan.
I mean seriously, this cookie sheet apple pie has some easy to follow instructions with such simple ingredients that even a beginner baker can handle this apple pie recipe.
Fall is the perfect time of year to get out there and go apple picking. Whether you opt to go with the family or just go on a solo trip to your local apple orchard, apple picking is a fun activity to enjoy during the fall season.
When you're all done with that activity, head home to whip up this delicious sheet pan apple pie. The perfect recipe idea for beginners and advanced bakers alike.
What apples should I use for apple pie?
We all have a preference of apples, for example, many bakers will opt to use McIntosh apples as they tend to be the easiest to bake with, while others may opt to use a golden delicious in their apple pie.
With this cookie sheet apple pie recipe, it simply calls for 8 cups of peeled and sliced apples. Feel free to use McIntosh, Granny Smith, Golden Delicious, or even Pink Lady apples for your homemade apple pie, as any of these apples will work just fine.
What can I do with lots of apples?
As I mentioned, apple slab pie is an easy way to use up those apples you picked this apple picking season.
If you're wondering what you can do with lots of apples, I'd say try your hand at this recipe featured below.
If you're not into using all of your apples for just apple pie, then you could opt to make a delicious apple crisp, fresh apple salsa or even apple turnovers with all of those apples you have at your fingertips.
What is the best cookie sheet to use?
When it comes to finding the best cookie sheet to use to make your own cookie sheet apple pie, I'd say it's important to opt for a nonstick cookie sheet if possible. As long as your cookie sheet is 15×10 inches in size, you can opt for a Metallic Nonstick cookie sheet or even the Nordic Ware Bakers branded cookie sheets.
The key to knowing what is the best cookie sheet to use when whipping up this apple pie, or better yet apple squares recipe, is to have the right size so that all of your ingredients fit well on the pan before placing in the oven.
Apples provide you with many nutrients and are a delightful flavor for the fall season. This cookie sheet apple pie is the perfect blend of crunchy with a delightful splash of nutmeg and cinnamon to make your pick your own apples come to life.
Follow the instructions below to get started with this tasty dessert idea to serve the family after dinner tonight.
Ingredients Needed For Apple Slab Pie
flour
salt
shortening
eggs
milk
apples
sugar
ground cinnamon
ground nutmeg
crushed cornflakes
egg white
How To Make Sheet Pan Apple Slab Pie
I try to write my recipes for the beginner who has never set foot in the kitchen and the novice baker alike. So to some, it may seem not worth mentioning that you have to preheat the oven. For this apple squares recipe, you will preheat the oven to 400 degrees.
Prep work
You'll want to peel and slice your apples and have them ready. Using a potato peeler to peel the apples and the apple slicer to slice them evenly is the easiest way.
Also, prepping the cornflakes by making them into crumbles.
Making The Dough
In a large mixing bowl, combine the flour and shortening. Cutting the shortening into flour until the mixture is crumbly. You can use your hands, a pastry blender, or even just two forks.
Grandma doesn't use all that fancy stuff. She tells me "girl, you gotta use your hands so you can feel it!" But do what works for you!
Add in the eggs and milk and then mix until it is good and doughy.
Break the dough into two pieces. I like to do a slightly even split with a tad extra or one since it will need to cover the bottom and up the sides.
Chill them both for 20 minutes.
Roll the larger of the two balls of dough out to fit the bottom and sides of a 15×10 baking sheet.
Making the Filling
Once you have done that, spread the apples over the pie crust.
Mix together all of the seasonings and cornflakes and then spread evenly over the apples.
Roll out the second piecrust and cover the pie with it. Seal the top and bottom crusts together. You can do this using a fork. It makes things look super fancy, without really being fancy at all.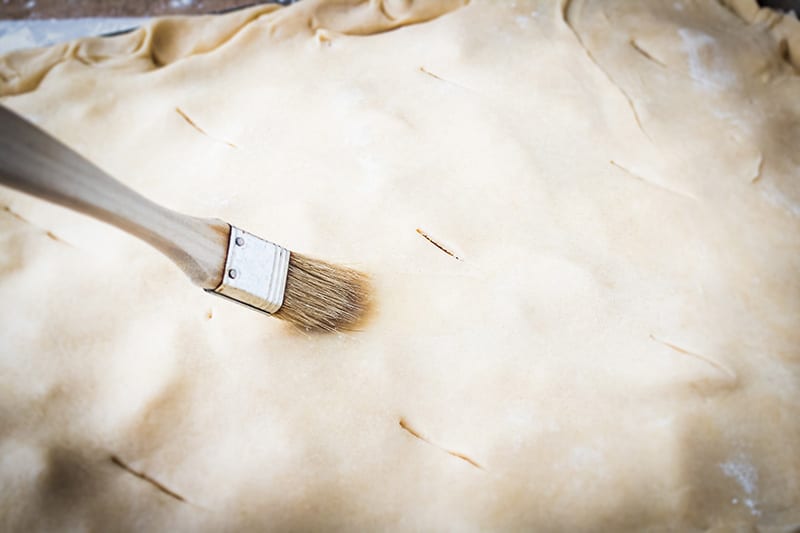 Make several slits in the top of the pie to let steam out. And finish it off by brushing it with egg white before placing it in the oven.
Bake your sheet pan apple pie at 400 degrees for 15 minutes and then reduce the heat to 350 and bake for another 25-30 minutes or until nicely golden.
Take it out and allow to cool a bit and serve warm with ice cream or whipped cream, or even both!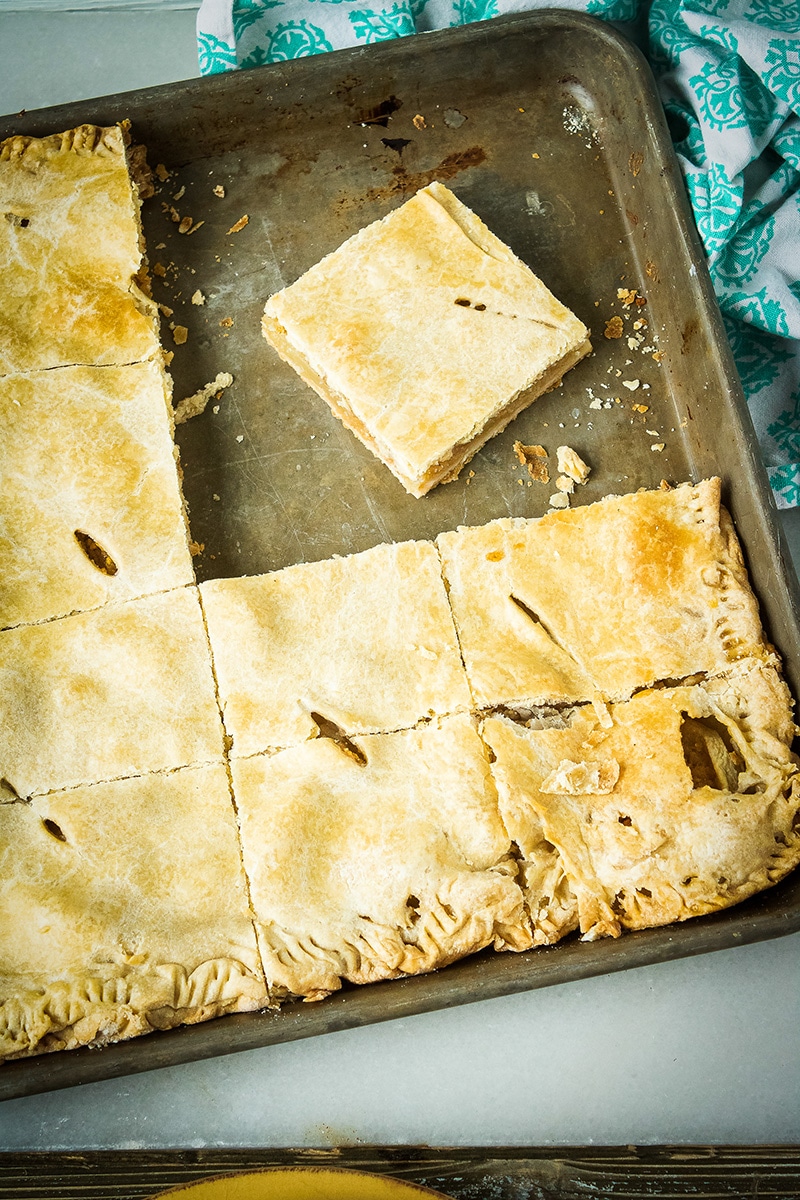 Other Recipes You May Love: