Riding Amtrak | All The Things You Wanna Know For Your First Ride
Are you considering riding Amtrak for the first time? Amtrak is an affordable and awesome alternative to those who don't like to fly, can't afford to fly, or just don't want to fly.
The links in this post may be affiliate links.  That means that if you click them and make a purchase, this site makes a commission.  It will have no impact on the price you pay or the experience of your purchase.
Train travel is becoming a popular travel option and is a fabulous way to get from one destination to another.
I recently had the chance to catch the Amtrak train as a first-timer and I have all the information for you. To help you determine if it's for you, and prepare for what to expect.
My First Trip On Amtrak
I recently had to travel to Alexandria, Virginia for a conference. While flying is the main way we typically travel for work, I figured since it was a fairly short trip, the train might be a better option.
When we compared between train travel and flights, the travel time and price were about the same for this particular trip.
Airport security is never fun to me so I figured I'd go with the less stress option. Also, I figured it be more comfortable for working while I travel. Which we always do.
While airport security is stressful, I have to say I was surprised that there was absolutely no security with the train. That made my anxiety kick into overdrive. But I'll share more about that in a bit.
My trip was supposed to be five hours. On the way, we got stopped because there was a warehouse fire along the route.
We sat still for about forty minutes and then were cleared to continue. I didn't realize it until I came back and didn't recognize some of the scenery. But we must have taken a detour. Which made my five hour trip more like eight.
What To Take With You On The Train
The downside to the trip extension was as a first-timer I didn't know to pack snacks, grab a coffee (if you are particular) and even bring a blanket. So I spent almost four dollars on coffee from a regular coffee pot that tasted like motor oil, and another six dollars for a cookie and bag of popcorn. And on the way back my freeze baby self was frozen and needed to thaw when I got off. But I will say that on the trip there, the temperature was pretty comfortable.
Because of the delay, by the time I reached Alexandria, I was exhausted and hangry. Which are never a good combination.
But I packed snacks and lunch and that part was much better on the way back.
The train also got in fifteen minutes early coming back home, so I got to experience an uneventful ride which was not bad at all.
How To Find Decent Amtrak Schedules & Ticket Prices
With the fluctuating prices of flight and long-distance driving costs, Amtrak seems to be an affordable alternative. The problem can be trying to find decent ticket prices. You can check Amtrak schedules on their website in the same way you book a flight.
I researched a bit, and I've found some information about getting the best Amtrak ticket prices:
Kids ages 2-12 are automatically eligible for half-price Amtrak tickets with each paying adult age 18+.
This deal is not available with some Amtrak options such as Acela Express trains, First Class, Business Class, or sleeper accommodations. You'll also find that some Amtrak Thruway connection services don't allow you to get half-price kids tickets.
Amtrak also offers discounts for veterans, seniors ages 65+, adult passengers with disabilities, college students, and federal employees.
You can read more about that those Amtrak discounts here.
Choosing the adult passenger option for Amtrak and booking your ticket 14 days in advance will get you the most decent ticket prices.
Many first-time Amtrak travelers have received 25% and up off tickets when booking at least 14 days in advance.
Monthly Rails Pass is a fabulous option to get decent ticket prices with Amtrak if you plan to travel frequently.
But I will say, I'd recommend you take your first Amtrak ride before purchasing their Monthly Rails Pass, just to make sure train travel is right for you.
Lastly, you can follow Amtrak on Twitter and the Amtrak Facebook account where they pride themselves on having a great sense of humor and offer many deals for decent ticket prices to their followers.
What Are The Ticketing Options With Amtrak
There are several fare options for riding Amtrak. And depending on what your trip if for, what you plan to do, and how much want to spend, is how you should go about making your selection.
Saver Fares
The most value for your money. But you need to schedule these sooner than later and there are some restrictions, along with limited availability.
These are available for Reserved Coach and Acela Business Class.
You can only cancel within 24 hours of booking, but you can not change the ticket. If you need to cancel after the 24 hour period, there is a 25% cancellation fee and a refund in the form of a voucher. There are no cash refunds for this type of fare.
If you do not cancel before the train departs then you forfeit your ticket.
Value Fares
These are available on all Amtrak routes and they offer up more flexibility for canceling and returns.
Available for Unreserved Coach, Reserved Coach, and Acela Business Class.
With this fare type, you can get a full refund if canceled at least 8 days before departure. You are eligible to receive a full refund via vouchers in this time frame.
If it is less than 8 days then you are subject to a 25% cancellation fee. If less than 8 days out, there is a 25% cancellation fee and the remainder available by e-voucher.
Flexible Fares
Flexible Fares are the perfect option if your plans are subject to change. They are fully refundable and not subject to any cancellation fee. These reservations can be easily modified.
Business fares
This option provides an affordable, but elevated travel experience, and is available on many of the trains.
The features vary by train, but most include extra legroom and complimentary non-alcoholic beverages, along with seats in a dedicated car or section of the train.
You can receive a full refund if canceled before the train departs.
Premium Fares
This option includes Premium Services include Acela First Class and sleeper accommodations.
The perks of Acela First Class include complimentary onboard food and beverage services and privileged access to ClubAcela lounges.
Sleeper accommodations are available on most long-distance routes.
What To Expect When You Board
The team will tell you where to line up to board. When there are larger groups boarding, they may split up the group based on where you are going for faster boarding.
Boarding happens FAST.
They will tell you which car to sit on based on where you are getting off. This allows passengers that are going to the same destination to be in the same general vicinity and therefore, you all get off at the same time.
I thought that was nice, as it kept down on being interrupted at every stop with people getting on and off.
once the train is moving a member of the team comes around and checks your ticket and also marks your seat with your destination. This way if you get up your set is accounted for, and also this helps them know who to check when more passengers board.
Tips For First-time Amtrak Travelers
Now that I've shared a few ways you can get the best Amtrak ticket price possible, and what to expect when boarding, I want to dig a bit deeper into some first-time Amtrak traveler tips. These Amtrak traveler tips will help you enjoy your first train ride from start to finish.
Arrive Early Before Your Train Departure
The key to having a successful departure with Amtrak is to arrive at least half an hour before your departure time.
Arriving early will provide you ample time to find your platform, prepare the bags you want to check, and allow you time to review the route, time between connecting trains, and the updated meal schedule for your train ride.
Consider Luggage Check
Amtrak has a pretty decent carry-on luggage rule with each passenger allowed up to two bags with a weight of 50 pounds or less in addition to two small personal items such as your purse or laptop.
If you want to check luggage, an Amtrak agent will be happy to help you when you arrive at the train station. The cost is around $20 per bag up to two additional bags per passenger.
Get Comfortable
Don't be afraid to travel by Amtrak in comfortable clothing. I personally am a yoga pants and comfy pants kinda traveler. And that's whether by train, plane or automobile.
It's best to be comfortable. Dress in layers to accommodate the variable temperatures and maintain personal comfort throughout your trip.
I found that coach seating was pretty comfortable for my first-time Amtrak ride. The seats are more spacious than an airplane and provide you with a comfortable place to sit for long-distance train rides.
The train table is large and can accommodate a laptop, tablet for movie viewing or even allow for writing if you choose.
I saw college students doing their homework on the train.
There's room to roam, and you're allowed to walk around the train during travel. Be sure to check out the snack car and observation car to get a bite to eat as well as check out the scenery as the train flies by each area.
Keep Your Camera Handy
It's so much fun to document your first-time Amtrak ride, especially if you're going to be on the train for a long time.
Traveling from Point A to Point B will provide ample time to snap a few photos. Make sure you have your camera handy to captures those surprise scenic moments you might see from your seat or the observation car.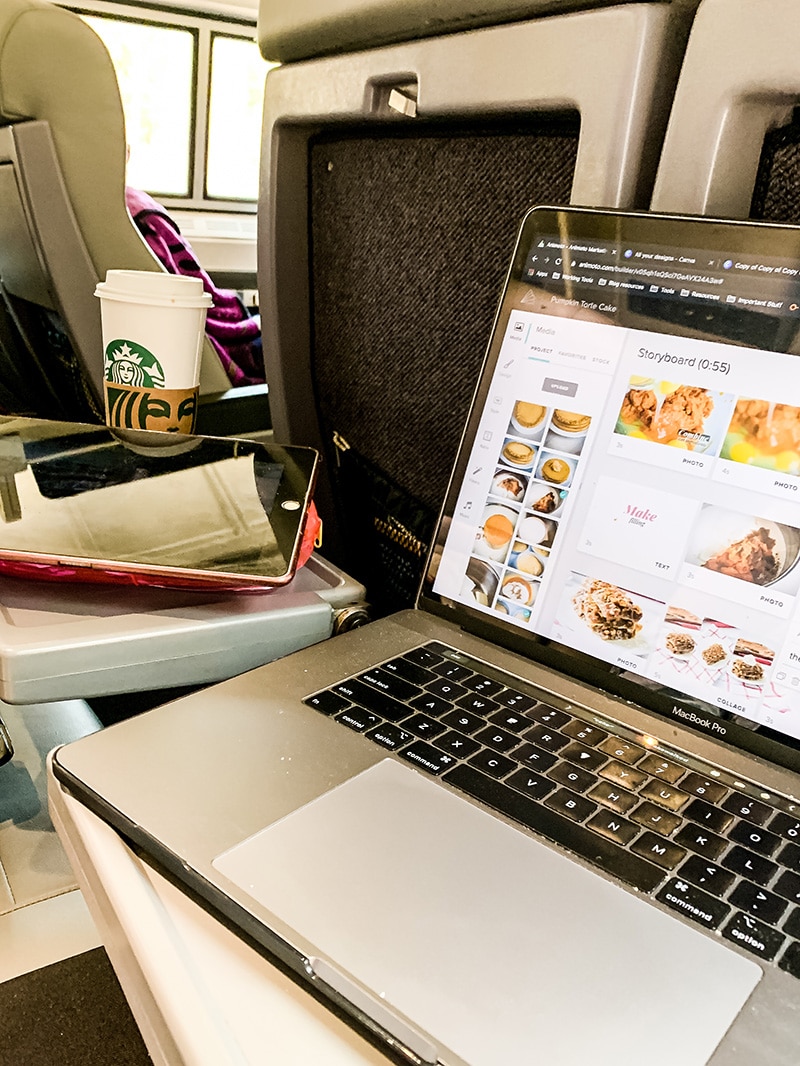 Unplug or Plug-In
A first-time Amtrak ride is the perfect time to sit back, relax and find time to read that book you've been waiting to dive into.
If you're truly having digital withdrawals and need a place to plugin that laptop or smartphone, then Amtrak coach does provide passengers with an outlet to charge their devices. I think a good balance of both relaxation and work onboard is a great compromise.
After-Dark Entertainment
At night time, you'll find that there's not much to see. This is the perfect time to watch something on your electronic device or read a book.
I highly recommend you download a few videos or audiobooks before you depart on your first-time Amtrak ride. Especially if traveling into the night hours, so that you have something for after-dark entertainment.
What Is AmtrackConnect? Does Amtrak Have WiFi?
Amtrak does have a full wifi system. I actually was really fascinated when I read about all the technical details on how the AmtrackConnect Wifi System works. I guess that is the geek in me.
Based on my research it does seem that not every Amtrak station and train has free WiFi access.
This is something they've only put in place on some trains. You'll want to check if your Amtrak ride includes free WiFi via the AmtrakConnect system.
Even if the train you're on does offer AmtrakConnect, I highly recommend you download your videos and audiobooks or other entertainment options prior to heading out to depart on your first Amtrak ride. The system is not set up to support streaming and things. I downloaded some of the videos I wanted to watch on Netflix before I left home.
For some reason, I was able to connect my phone and tablet on the train but, my computer would not connect. I used my personal wireless hotspot for my computer. But keep in mind that because train tracks are in highly wooded areas, and the system is seemingly running off cellular service, reception may be a little spotty.
What To Expect When Your Stop Comes
The team will make an announcement that your stop is coming up about ten minutes beforehand. This allows you to gather up your belongings and people start to line up in the aisle to get off.
Boarding and departing the train happen really FAST. So you need to be ready to get off when the train stops.
Once you get off, if you checked your bags, you can take your claim ticket to the baggage area and claim your belongings.
Pros and Cons Of Riding the Amtrak
Cons
Security. While security at the airport can be overwhelming, Amtrak security is the exact opposite. There was a security guard at the train station. But there was no luggage check or even metal detectors to ensure that no one is carrying weapons and such. That made me a tad anxious.
Delays. It is not uncommon for flights to be delayed. But somehow it seems less inconvenient. Our train fell extremely behind due to unforeseen circumstances. Which made our arrival much later than anticipated.
This also meant that people waiting to board were waiting a lot longer than planned as well. Because the train is subject to the things happening on the ground like, accidents, fires, and other random things can delay the train.
Stop announcements and time tracking. I didn't like the fact that I didn't know how far away we were, or even what the next stop was. Especially after the delay.
Because I did not pack food, I was really hungry and trying to hold out until arrival. When I finally asked someone how much longer we had, there was still an hour left and we were already two hours behind.
If you are wearing headphones you may not hear the announcements. Some of them, the volume was so low that I could not hear them with the headphones off. It would have been nice if there was a sign that showed what the next stop was to help you understand where you are and how much further you have to go.
Pros
Comfort. The seats are similar to airplane seats but much bigger. The seating is definitely better than airplane travel. On both of my trips, the cars were not packed and so I had the seat and the seat next to me. The only people that had people next to them, were people traveling together.
Easily change your ticket. I realized that there was a stop near my hotel that we actually drove past. I called and was able to adjust my departure station the night before. They even issued a credit for the difference which was not much but still nice.
Baggage. I had a large suitcase so I checked my bags. But the overhead cabins were pretty big and allowed for you to take on your belongings with ease. I also did not pay to check my bags, but there may be a fee on some routes. It is worth checking into so you are prepared.
Also, it is required that you arrive 30 minutes before departure if you are checking bags.
I am not a fan of lugging luggage to bathrooms and getting food and all that, so I almost always check my bags.
Space. The amount of space that you get is really nice. It definitely is more comfortable than being on an airplane. And I like that you can walk to other parts of the train, as well as just standing to stretch if needed.
Extra Details for Riding Amtrak For The First Time
Amtrak App
There is an Amtrak app similar to the one for most airlines. It will have the details of your trip, let you know if the train is on time or not, and also an electronic version of your boarding pass.
Having the app means there is one less piece of paper that you have to keep up with. I personally printed my boarding past and had it just in case technology failed me though.
Amtrak Customer Service
Contacting the Amtrak Customer Service by phone was really easy. When I found out there was an Amtrak stop closer to my hotel, I called customer service the night before to see if my boarding stop could bee changed. The Amtrak customer service rep was really nice, and helpful, changed my ticket and resent a new boarding pass.
She even waited to make sure I got the email before letting me disconnect.
When it comes to giving you the best tips for your first-time Amtrak ride, I think I've covered the basics.
Riding Amtrak makes it easier to travel for vacation, business, and pleasure.
Hopping on an Amtrak when traveling simply makes more sense to save money, time and gas for a lot of trips. I hope these tips will inspire you to hop on Amtrak soon all the while saving the most cash possible.
You May Also Love: