Pumpkin Chocolate Chip Blondies
You won't find an easier and more delicious pumpkin blondie recipe than this one! It combines pumpkin puree in a blondie batter base and for an additional treat, there's the addition of chocolate chips.
The links in this post may be affiliate links.  That means that if you click them and make a purchase, this site makes a commission.  It will have no impact on the price you pay or the experience of your purchase.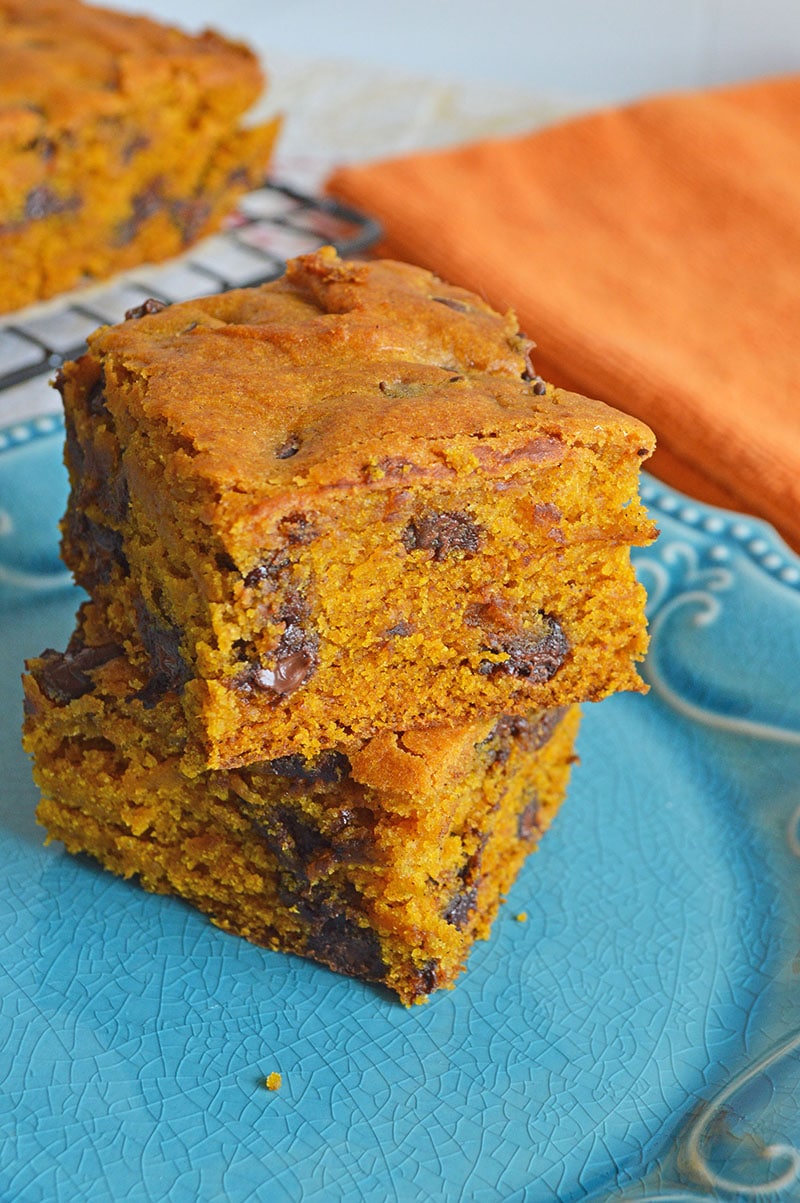 So if you're obsessed with pumpkin, like I clearly am as demonstrated by all my pumpkin recipes, this recipe is calling your name!
Do you love blondie bars and think chocolate chips should be included whenever possible?
What makes these blondies so amazing is the creamed butter. It keeps the blondies moist and tasty while allowing the pumpkin flavor to shine through.
The best part?
When you've let the blondies cool just enough to cut that first square and you take a taste and get that warm and gooey bite of melted chocolate mingled with the flavor of pumpkin spices. Yes!
So grab your brownie pan, spray it and line it with parchment paper so that it's ready for this creamy pumpkin and chocolate batter. Caution: this recipe will cause your house to smell amazing as they bake. Store in an airtight container at room temperature for up to 3 days, if they last that long.
Ingredients Needed
flour
pumpkin pie spice
baking soda
salt
butter
sugar
egg
pumpkin puree
vanilla
chocolate chips
How To Make Pumpkin Chocolate Chip Blondies
Start by preheating your oven to 350 degrees.
Then spray a 9×13 inch pan with non-stick spray and line it with parchment paper.
Using a large bowl, whisk together the dry ingredients – flour, pumpkin pie spice, baking soda, and salt, until well combined.
In another large bowl, mix the butter with your hand mixer on medium speed until well beaten, and add in the sugar, mixing until light and fluffy.
Then mix in the egg, pumpkin, and vanilla until it is all well incorporated.
Slowly add the dry ingredients to the wet ingredients, and mix until all combined.
Using a rubber spatula, gently fold in chocolate chips. Making sure not to stir too hard.
Once all mixed in, pour the batter into your prepared baking dish.
Bake 40-45 minutes, until a toothpick inserted into the center, comes out clean.
Once taken out of the oven, cool completely before removing from the pan.
Other Pumpkin Recipes You May Love