Instant Pot Copycat Gnocchi Soup Recipe
Packed full of flavors and easy to make, here's a super easy instant pot gnocchi soup recipe worth trying out. 
The links in this post may be affiliate links.  That means that if you click them and make a purchase, this site makes a commission.  It will have no impact on the price you pay or the experience of your purchase.
On the hunt for a steaming hot bowl of comfort food to dig into as we slide into fall?
Something that doesn't need a lot of effort to make and is healthy too? This easy instant pot gnocchi soup ticks all those boxes and is one of the best wholesome meals to dig into on a winter night.
Can't wait to go ahead and give it a shot? Here's what you need to know beforehand.
What Happens if I Overcook Gnocchi?
When you overcook gnocchi, they'll turn all mushy and won't retain their pillowy soft texture. Plus, they'll also end up looking all shapeless.
With this instant pot chicken gnocchi soup recipe you should not have that problem at all.
Can I Make & Freeze Gnocchi Soup Beforehand?
It is best to make and serve gnocchi right away. This soup is fine to put in the fridge and serve leftovers for lunch or another day for dinner within a couple of days. But I would not recommend freezing it and reheating it.
How Do I Know the Gnocchi Soup is Cooked?
If you're boiling gnocchi, the best way to know that they're cooked is that they'll start floating on the surface.
When you're cooking gnocchi, always make sure you boil a large pot of water, preferably with some salt added into it, and remove the gnocchi as soon as they start floating on the surface.
With this recipe, you will cook the soup first using the instant pot and then add the gnocchi to cook for a few minutes to finish things off.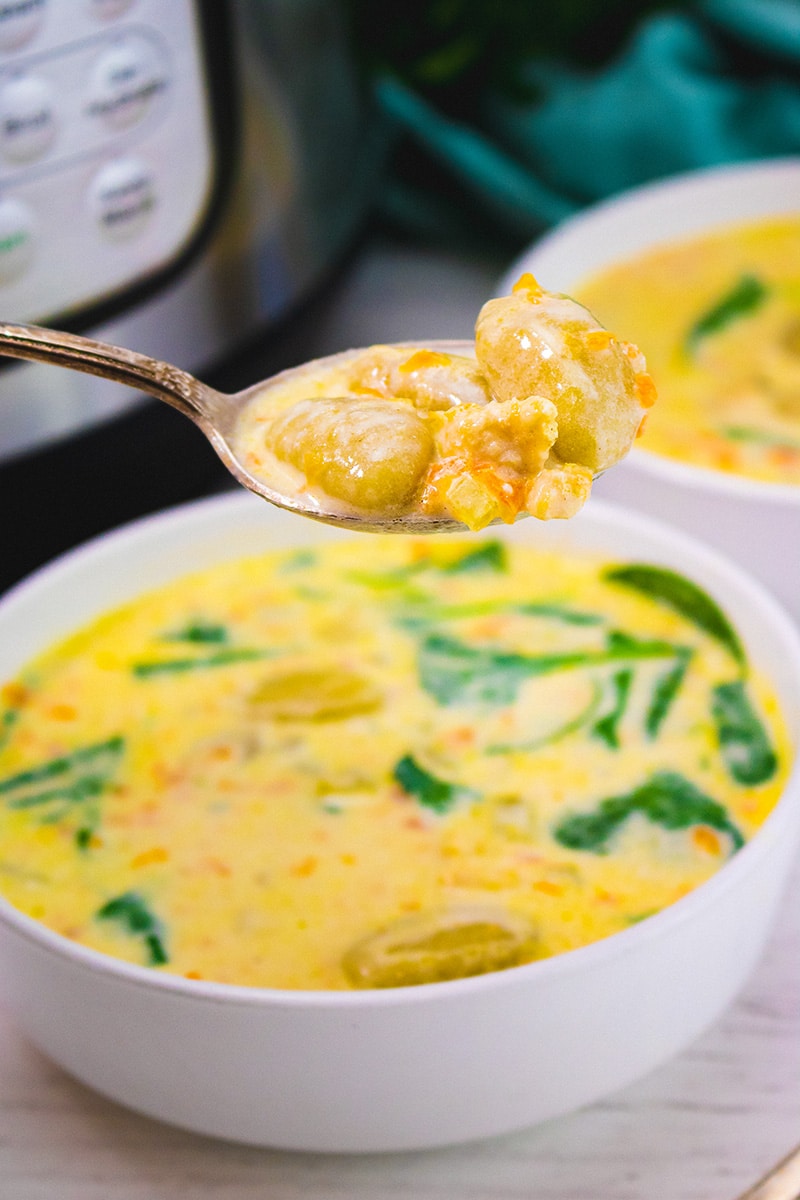 Ingredients Needed
please see full recipe for measurements below
butter
olive oil
chicken breast
yellow onion
celery
garlic cloves
flour
chicken stock
carrots
parsley
thyme
pepper
salt
nutmeg
poultry seasoning
gnocchi
half and half
parmesan cheese
spinach
How To Make Instant Pot Gnocchi Soup
Start out by prepping all your veggies. Do your dicing, chopping, or however you get things in small chewable pieces.
Set your Instant Pot to saute mode. Add in the butter and olive oil, and let your butter melt. Add in the onion, celery and saute for a minute or two. Then chicken breast and cook until chicken is no longer pink.
Turn off saute mode and add in the garlic cloves, flour, chicken stock, carrots, parsley, thyme, pepper, salt, nutmeg, and poultry seasoning.
Close the lid and turn the pressure valve to seal. Set on high pressure with a cooking time of 9 minutes, followed by a natural pressure release for 5 minutes.
What's the difference between a quick-release and a natural release on instant pot?
Natural release lets the pressure die down naturally. And leaves minimal to no steam released depending on how long you let it sit.
Quick-release lets the pressure and steam out immediately and prevents the likelihood of overcooking.
Vent the remaining pressure.
Turn saute mode on again, and add in the gnocchi, and cook until the gnocchi until it floats to the top. About 3-4 minutes.
Add in the half and half, cheese, and fresh spinach.
Cover with the lid (not locked) and allow the spinach to wilt from the enclosed heat.
Serving Ideas & Suggestions
Loved this gnocchi soup so much, considering whipping it up for some friends or guests coming over? You might also be looking for some good sides or accompaniments to go along with it, and here's some help for you with just that.
Here are a few side items you could team up with this bowl of hearty soup.
The beauty of this recipe is that you can also put some of that leftover chicken from yesterday's meal into it. And oh, you don't necessarily need to use all the veggies that the recipe calls for- just stick to the ones that you have, and you can still fix yourself a hearty, tasty meal.