Homemade Buttermilk Waffles
Instead of buying frozen waffles from the grocery store, make these homemade buttermilk waffles for breakfast!
The links in this post may be affiliate links.  That means that if you click them and make a purchase, this site makes a commission.  It will have no impact on the price you pay or the experience of your purchase.
Waffles from the store tend to taste a bit bland – without syrup or whipped cream, there's not much to them. When you make them at home, you can add cinnamon to make each waffle more than just a syrup platter.
You'll also be using ingredients with no artificial colors or flavors, which is something that isn't guaranteed in the freezer aisle at Wal-Mart.
If you're not already making waffles at home, now is a great time to start!
Ingredients Needed To Make Buttrmilk Waffles 
flour
baking powder
salt
eggs
sugar
butter
buttermilk
vegetable oil
vanilla extract
How To Make Homemade Buttermilk Waffles
Start out by seperating your egg yolks and whites.
Using a stand or hand held mixer, beat the egg whites until you have stiff peaks form, and adding in the sugar towards the end.  Set egg whites aside.
In a seperate bowl, mix all the other ingredients.  Make sure to not over-stir.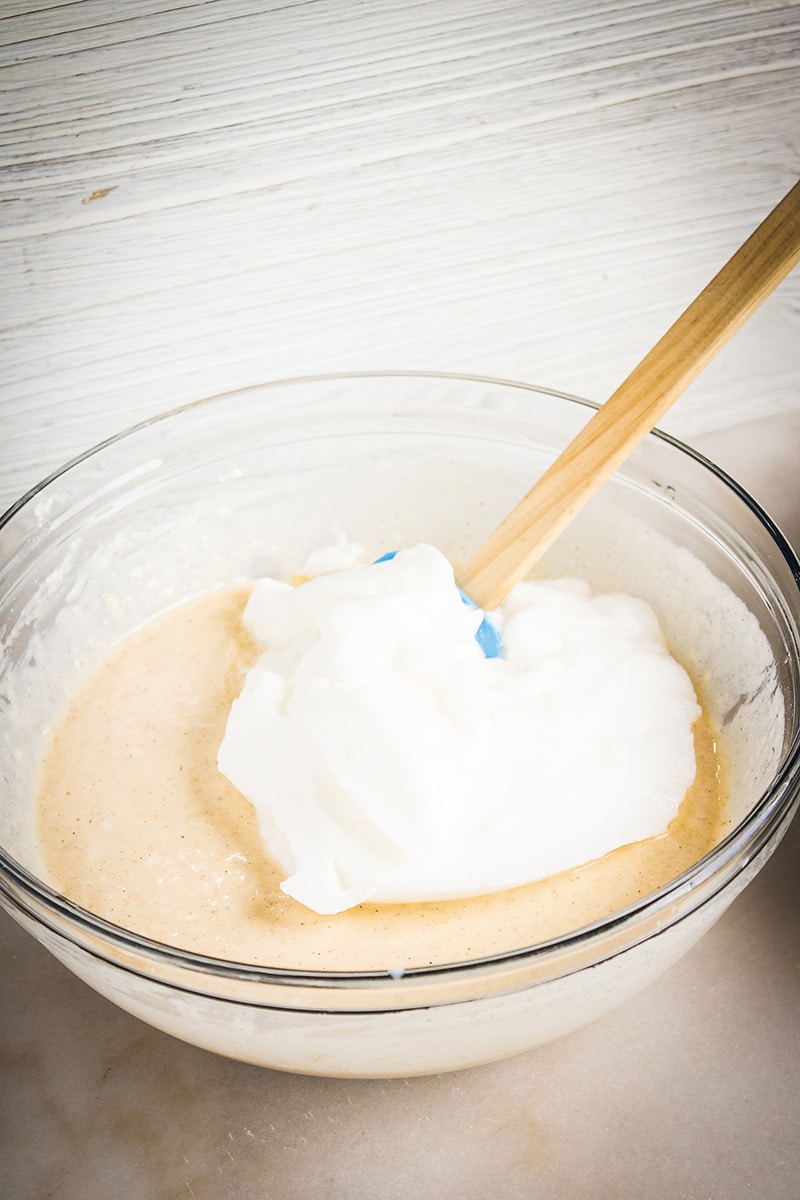 Once everything is all mixed together, fold in the whipped egg whites.  Do this with a spatula until the egg whites are just incorporated into the batter.
Cook your waffles in a waffle iron according to waffle iron instructions.
Enjoy, topped with your favorite toppings.
Waffle Making Pro Tip
Set the oven to 200 degrees and as the waffles cook place them all in there until they are all done.  This helps to keep your waffles crisp until they are all done.  Stacking them on top of each other causes them to soften.
Suggested toppings
whipped topping
nuts
fruit
berries
maple syrup
What Makes These Waffles Both Crisp and Fluffy At The Same Time?
No one loves a soggy waffle.  So this recipe delivers the perfect combination of fluff and crispness you expect from a waffle fresh out the maker.
The buttermilk reacts with the baking soda to help the waffles rise, and then high heat of the waffle iron makes every corner, nook and cranny of the waffle nice and crisp.
What's the Best Waffle Iron to Use?
To make buttermilk waffles at home, you'll need a waffle iron. If you don't already have one, you can buy one for under $20. Cuisinart makes a standard waffle iron for chefs on a budget, but those who have a bit more to spend could try this Hamilton Beach appliance. This waffle iron lets you easily flip your waffles, and it comes with a drip tray.
If you buy a mini waffle iron, you can make more than 6 servings. The Dash Mini Maker costs just $10, and you can get a Mickey Mouse waffle iron for $15. The Mickey waffle iron is great for kids and kids at heart!
Can I Make Buttermilk Waffles Gluten Free?
Yes! Every ingredient in this recipe can be replaced with a gluten free alternative.
Some of the ingredients are already gluten free, like the eggs and cinnamon. Just make sure you're using whole eggs, and you may want to consider grounding your own cinnamon to avoid the risk of cross contamination. Some ground cinnamon is rolled with flour!
Believe it or not, most baking powder is already gluten free.
Clabber Girl and Bob's Red Mill make baking powder that's safe for people with Celiac disease. Instead of using all-purpose flour, try almond flour, oat flour, or brown rice flour. Buckwheat flour is also gluten free, despite having the word "wheat" in its name.
Can I Make Vegan Buttermilk Waffles?
You can make these waffles vegan, too! Use Ener-G Egg Replacer instead of eggs, and Earth Balance Organic Buttery Spread for your butter. You'll have to make your buttermilk replacement by hand, but it's easy. Whisk some vegan yogurt into a bowl of dairy-free milk until you get the right consistency.
Alternatively, add one to two tablespoons of lemon juice to your dairy-free milk. Let it stand for 5-10 minutes before using in your recipe.
After you've made your waffles, you can top them with just about anything!
Use pancake syrup, banana slices, and chopped or crushed nuts to create a breakfast similar to what you'd find at Denny's.
You can also try whipped cream, strawberry slices, and blueberries for a patriotic dish. If you're serving these waffles for dessert, you can't go wrong with a scoop of ice cream!
When you use a regular waffle iron, this recipe yields 6 servings. Depending on how many toppings you add, you may want to make 2 waffles per person. Have some extra ingredients on hand – you may wind up making seconds!
Other Waffle Recipes You May Love:
How do you top your waffles? Take to the comments and let me know.