Quick & Easy Pumpkin Crunch Cake Recipe
Perfect for when you want to enjoy fall to its fullest, this pumpkin crunch cake has just the right combination of flavors and textures.
The links in this post may be affiliate links.  That means that if you click them and make a purchase, this site makes a commission.  It will have no impact on the price you pay or the experience of your purchase.
Pumpkin cakes are the perfect sweet treat to indulge in during fall, and if you've been wanting to try your hands at them, but haven't gotten the chance to, here's a delicious and different recipe you might want to check out.
Unlike regular pumpkin cakes or bread, this one is layered, and has a nice crunch factor to it as well.
Ready to go ahead and give it a try? Here's what you need to know before you do.
Isn't My Pumpkin Crunch Cake Supposed to Be Jiggly?
While the cake is definitely a layered cake and it does have two distinct textures in there, the cake is not supposed to be jiggly at all. In fact, if it is jiggly, it probably means the cake is undercooked. It needs a few additional minutes in the oven to cook all the way through.
Why Should I Cover the Cake With Foil?
There are a couple of reasons why you might want to cover the cake with foil before you pop it into the oven.
First, it allows your pumpkin crunch cake to cook thoroughly from within without burning the top. Burning the top is a cake disaster that commonly happens.
Plus, this little effort will also ensure that your cake stays moist and soft and doesn't dry out.
Also, when baking, make sure you place your cake in the center rack of the oven. This is to ensure that it is cooked well from both sides.
Why Should I Use Evaporated Milk?
If you're surprised that evaporated milk made its way onto the ingredients list in this recipe, don't be.
Apart from being incredibly delicious, it is actually a great ingredient to include in your baked goodies and food preparations.
Why? you might ask.
Well, that's because evaporated milk has a nice caramelized flavor to it and is mildly sweet too. Plus, it is one of those ingredients that can withstand higher temperatures without curdling.
That makes it a great option to add creaminess to your puddings and other desserts too.

Serving Ideas and Suggestions for Pumpkin Crunch Cake
This pumpkin crunch cake has a very subtle and light flavor, which makes it perfect when teamed up with a cup of coffee.
If you're serving it as a dessert, cut a slice of it and top it with a scoop of vanilla or vanilla bean ice-cream, which is another unbeatable combination.
Cream cheese is another great option to try out as a topping for this cake. If you're whipping it up for some guests coming over, a simple vanilla glaze on the top can take it up a notch!
Looking for a no fussing topping idea?
Some simple whipped cream and chopped pecans can do the trick.
Lastly, another excellent flavor combination you could try with this pumpkin cake is caramel buttercream.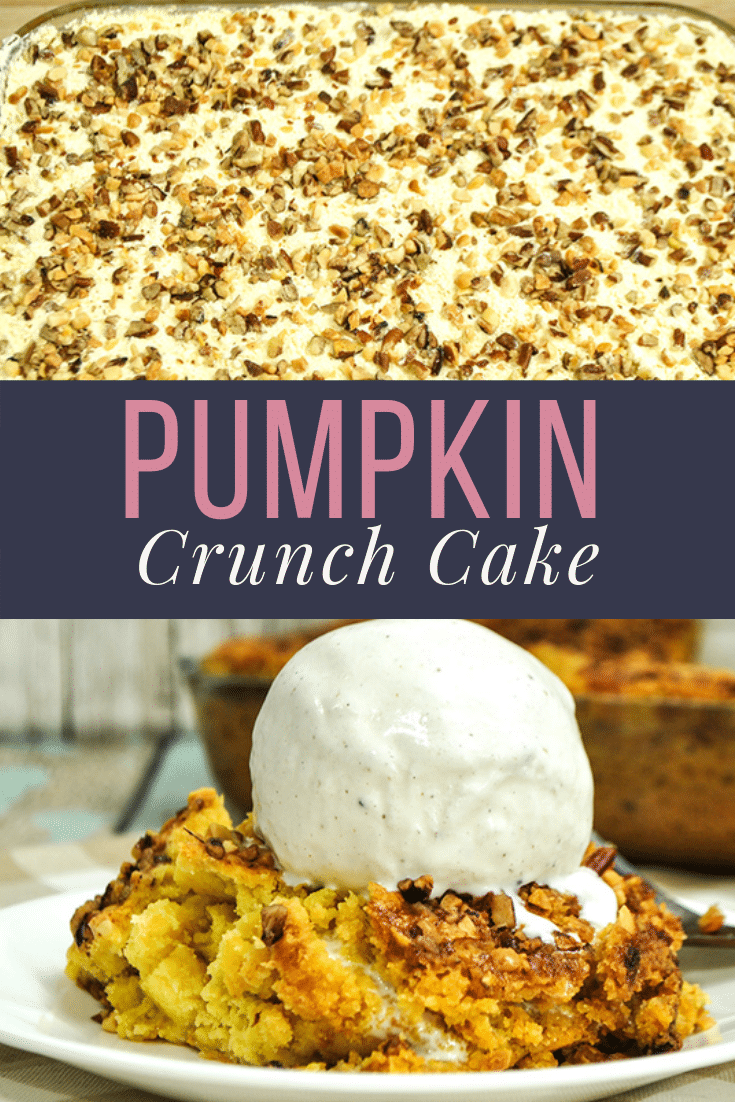 Other Pumpkin Recipes You May Love