I Stopped Going in Walmart 6 Months Ago & This Is Why
Have you ever used Walmart Grocery Pickup? Here is a how-to and review of Walmart Grocery Pickup if your a newbie!
The links in this post may be affiliate links.  That means that if you click them and make a purchase, this site makes a commission.  It will have no impact on the price you pay or the experience of your purchase.
You either completely love Walmart, or you despise it. There is really no gray area. And I am really black and white on most things, but this? There is gray area for me in my love/hate relationship of Walmart.
I mean you gotta love a store where you can go get cleaning supplies, toiletries, groceries, a quick outfit, and tires for the car in one stop. The store literally has everything. And the one by me has a pretty decent and affordable produce section, so then there's that.
But then you have the long lines, never-ending short staff, and the less than quality service in most cases.
The Walmart by my home actually has pretty regular employees there, they have made a career of Walmart, are good with it, and so they are not grumpy all the damn time. So when we moved here, I was more than okay with shopping at Walmart. And with my number one grocery store, Aldi practically in the parking lot, to be able to knock them both out in one swoop made my life so easy.
But then it started being a gamble on how long I would be in line when Iw ould go. And there seemed like I really just didn't have the time to do things like grocery shop lately. So I would find myself trying to piece meals together scrapping the cupboards, or running to the store real quick to grab a thing or two to cook.
And then I discovered Walmart Grocery Pickup, and life was forever changed!
I told you guys that my shopping strategy is Aldi everything I can, and Walmart everything I couldn't.
Now that Aldi has home delivery and Walmart pickup (and delivery too) I have not been in a grocery store in months.
All Your Questions Answered About Walmart Grocery Pickup + An Honest Review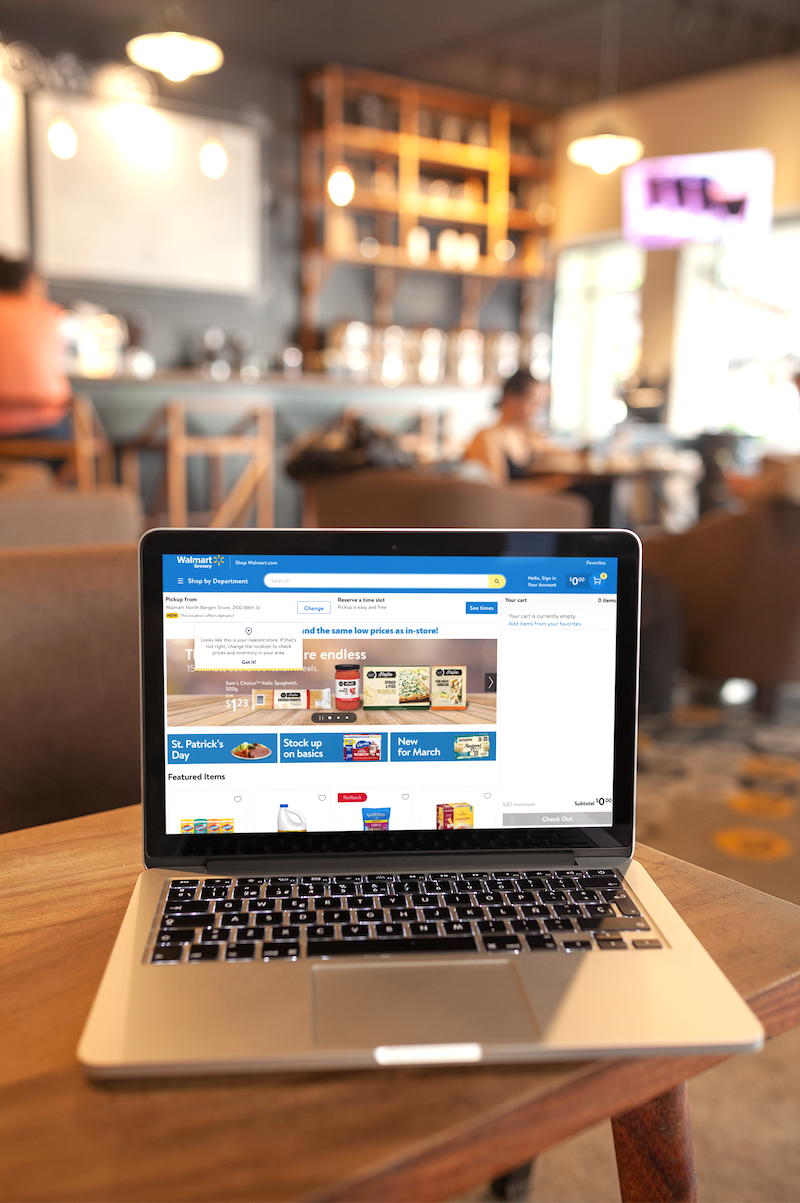 What is It and How Does It Work?
Walmart Grocery Pickup is an online service that allows you to order groceries online, drive to your local Walmart and pick up the items without turning off, or even leaving your car.
Even beyond groceries, it allows you to order a lot of the other things you have to regularly shop for like toiletries, household items, and more! I order things like lotion, paper towels, paper plates, and even face wash. Shoot I think I added hair oil one day too. Basically, I am getting all. Of. the. Things!
…from my car people!
This makes me happy just typing it.
How Do You Order Using Walmart Pickup?
Ordering works just like any online ordering you do:
Create an account
Search items and put in cart
Checkout
Literally 1-2-3. And once you save stuff to your favorites it is even quicker…
After signing in, you select from a store in your area and an available pickup time slot in one-hour increments. For me, the one that is closest to my house usually doesn't have any same day pick up slots, so occasionally I drive a little further to go to another store if I need same day.
While you can order online on the website or the app, if you order online you want to make sure you download and sign into the app so you can check in. Once you hit the check-in button, if you enable GPS, it determines when you pull in the parking lot.
It's a pretty seamless process.
The Pickup Process
Once you arrive at your Walmart store you follow the orange signs to the designated grocery pickup area. Normally on the side or back of the building.
You pull into the parking spot and then the app will recognize that you are there if you enabled GPS. If you did not enable GPS, you can mark that you have arrived.
When you arrive it will ask you to input the color of your car and the parking space number you are pulled into. The app then alerts the associates inside the store that you are there and they come out to load you up after confirming your order.
In the earlier days of the program, you were required to call the number on the parking space placard and let them know you have arrived.
I like this new way much better. Typically your shopper comes out to the car within a minute or two.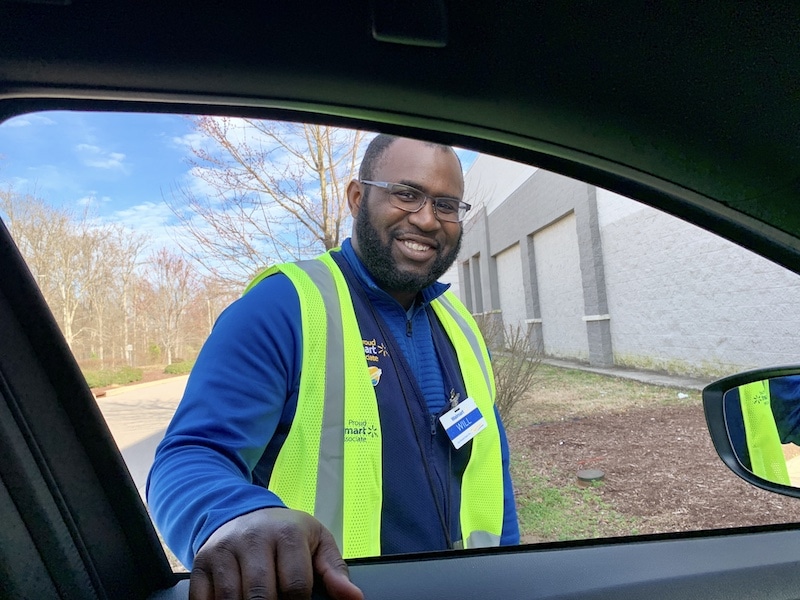 If there were any unavailable items or replacements, they go over that with you on their handheld device, and once you approve they ask you to sign for your order.
In the event you don't want the replacements, they will remove them from your order and then update it before you sign.
The payment is pre-approved when you order, kinda like how it happens at the gas station when you use a card, and then it is not finalized and processed until you actually pick up.
What If I am picky about my produce?
I will tell you I am not one of those super picky people about my produce. As long as it looks good and isn't spoiled, moldy, or all out rotten, I am good. However, if you ARE picky Walmart has a freshness guarantee where you only have to bring in your receipt for a full refund.
Also keep in mind, that things that are sold by weight will be an estimate when you order. Your shopper will try to get as close as possible to what you selected and the amount will be reflected in your final order.
Are There Any Ordering Tricks Or Special Things I Should Know?
Save Favorites. This makes future shops a breeze. You can "heart" the items you frequent and the app will put them in the "your items" section.
Plan ahead. My store hardly ever has same day appointments since it has gotten more popular. So try to plan to order at least a day ahead.
All Walmarts are not created equal. The Walmart by my house aggravates me sometimes, and most recently the service was not amazing. So I sometimes schedule the one on the way to my son's school because the people are always super friendly and organized.
My Honest Review of Walmart Grocery Pickup + Is Using Walmart To Order Groceries
Really

Worth It?

My answer is a resounding YES!

Walmart grocery pickup saves me time and it saves me money. The fact that I can't randomly end up with stuff in my cart from strolling the aisles is the best part. It has done wonders for the budget and keeping down unneeded random things.

Most grocery items and non-grocery items are available for online ordering and that makes me happy. I don't have to worry about normal household items either like soap, toothpaste and paper towels.

I have on occasion had a person who was lacking personality, but it happens. The biggest thing to me is that my order is right and if that is good. I am good.

The shoppers are not allowed to take tips, which is kinda weird to me. I mean nowadays you tip for everything, I'd gladly tip for a person to save me from shopping for groceries.

With things like the guarantee on produce and the amount of variety offered, it is honestly more than worth it. You really have nothing to lose. If you are looking at this review to determine if it is worth your time, energy, effort, money or whatever, my answer is yes!
Are There Any Special Discounts or Promo Codes To Use for Walmart Grocery Pickup?
I am glad you asked! I do have a promo code for you! If you click this link here, you can save 10 bucks on your first Walmart grocery order. And as a special thank you, Walmart gives me $10 dollars off too. We all win!!!
And the best part is that you can continue saving if you refer your friends too cause you will get your very own referral link to share. And in the very true words from uncle snoop (Snoop Dogg), "Ain't no fun if the homies can't have none?"
You May Also Enjoy:
Have you tried Walmart Grocery pickup to simplify your life?