Comfort, Safety, & Style in the 2019 Mazda CX-9 Signature
The new 2019 Mazda CX-9 Signature offers a family comfort and safety all wrapped up in a pretty stylish package.
The links in this post may be affiliate links.  That means that if you click them and make a purchase, this site makes a commission.  It will have no impact on the price you pay or the experience of your purchase.
I have told you guys many-a-time that most of my adult life I have been a new car kinda girl. I was probably one of the first people to jump on the leasing bandwagon because for me it just made sense.
For the person that loves a new car every 2-3 years, the option to lease was nothing short of a dream. I felt basically, if you take care of your cars, which I do, and drive a normal amount, it was always a win for me.
While early on style and features were at the top of my list, as I have gotten older and have more than just myself to think about safety and comfort have become equally important.
In the Mazda CX-9, I didn't feel like I had to sacrifice one for the other, I really could have it all.
I mean I still need style, and I want all the gingerbread (features & tech) but I also want to make sure that my people not only are comfortable but safe too!
The new 2019 Mazda CX-9 has all that in the bag!
Named Car and Drivers Best Mid-Sized SUV, #4 in Mid-Sized SUV's and SUV's with a 3rd row by US News & World Report, and earning a 4/5 Kelly Blue Book Expert Rating and 4.8/5 Consumer rating.
I recently had the opportunity to put it to my own test, and I was not disappointed.
2019 Mazda CX-9 Signature All Wheel Drive – The Features I Absolutely Love
Information Projection
The CX-9 has driver accessibility and convenience at the forefront which translates into a safer ride.
With the information projected on the window in front of the driver like speed, current speed limit, and different warnings like lane departure and driver distance alert, you never have a need to take your eyes off the road. This was a feature I also loved when I tested out the 2017 Mazda6 a few years ago.
Rear Passenger Window Screens
I tend to ride with the A/C on more often with my son in the car because I don't like letting the rear windows down. For fear that he may put his hand out the window or something flying in and creating a distraction while I am driving.
With the window screens, you can let the windows down allowing air in, without your kids being able to put their hands or throw toys out.
Additionally, they help to block out the sun even if the windows are up. A really cool and innovative feature.
Center Console Hand Controls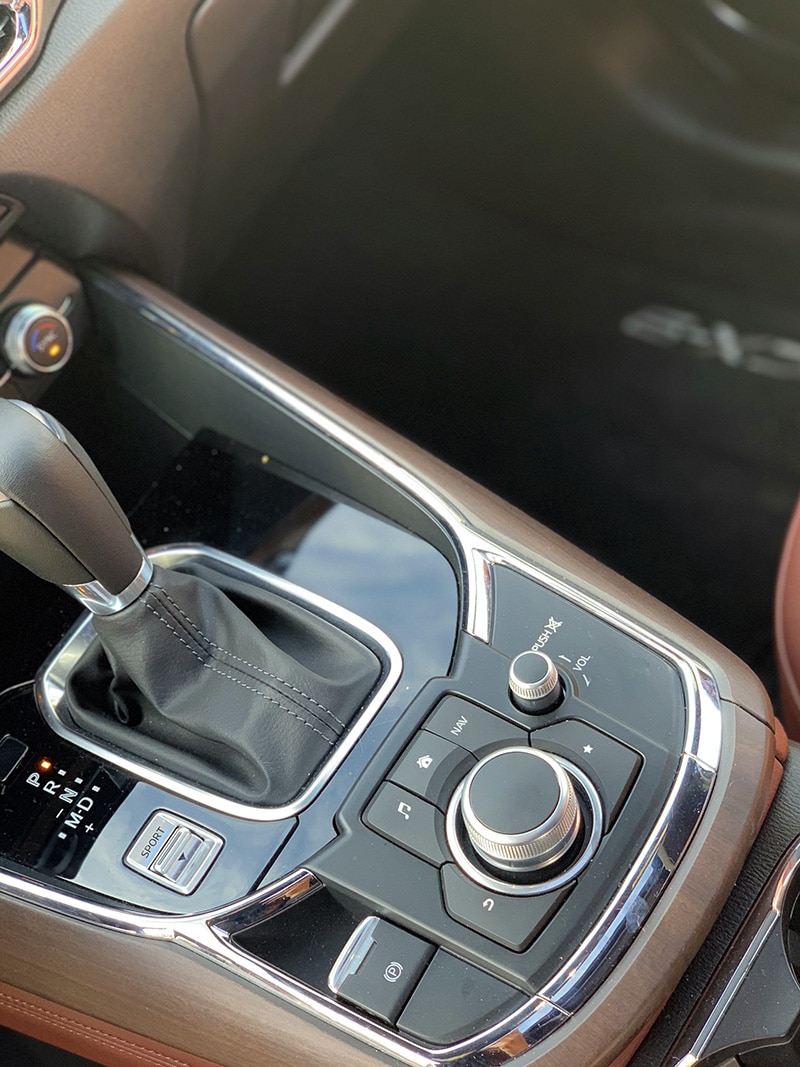 Control of everything you could need is right at your fingertips. With the audio, navigation, and settings right in the center console beneath the gear shift.
My Opinion of the 2019 Mazda CX-9 Signature
[penci_review]
Style
I never thought I would say that a full-blown, full-sized family vehicle would be the "S" word.
But my friends this thing is S-E-X-Y!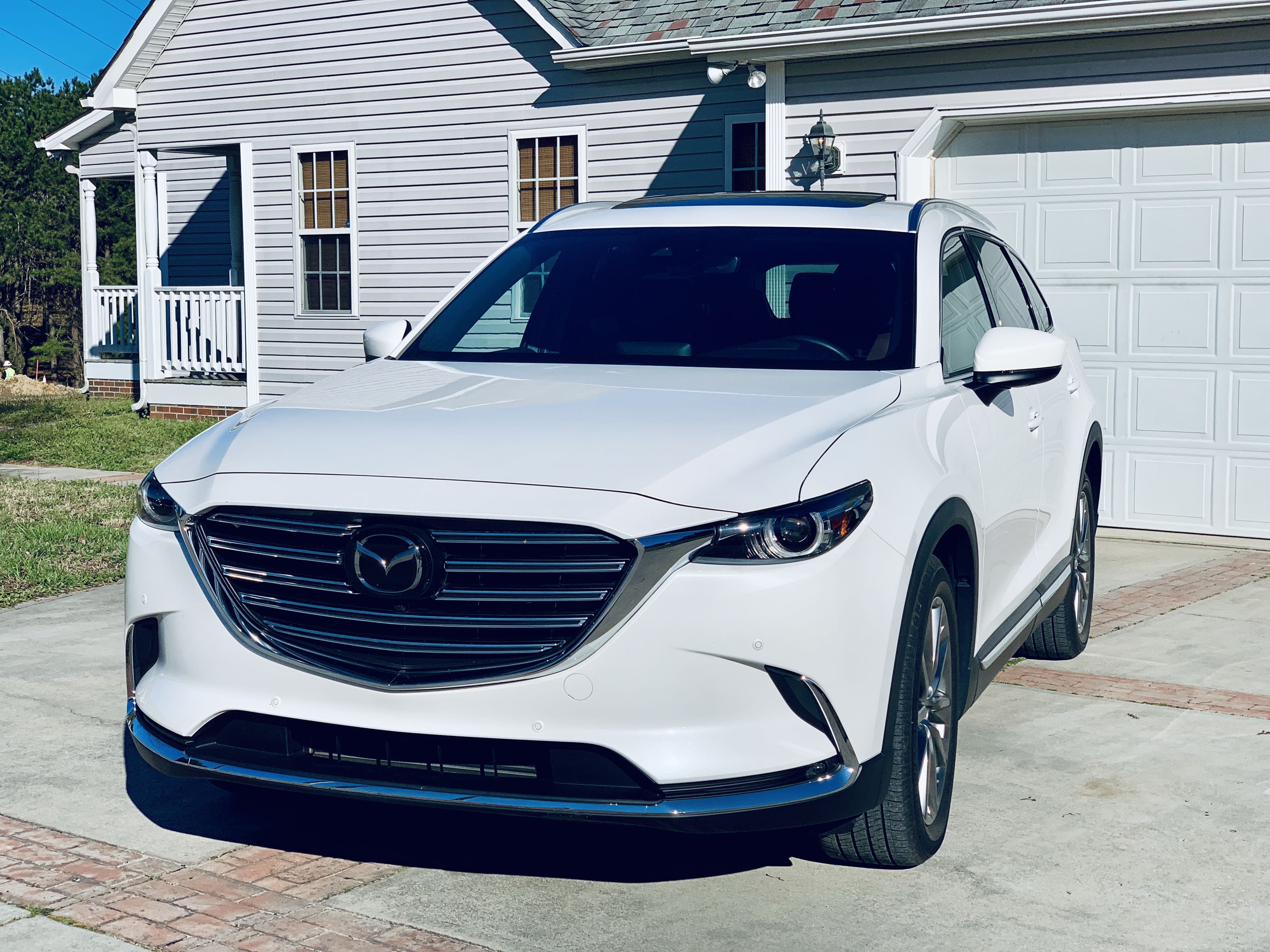 With all its beautiful curves and super sleek design, I have to say I was quite impressed, inside and out.
The color was a beautiful metallic-ey pearl white. And I can not express enough how much I love a white car. In fact, I have probably had more white cars than any other color.
And the inside was a burnt red-ish color with black accents. This thing was the little black dress of full-size family vehicles. Personally, I felt it put some of the "luxury" vehicles to shame.
Comfort
I loved the leg space in the front and 2nd-row seating areas. The third row would be great for small children or shorter adults. My girl is 6 feet, she was not fitting in the third row.
Additionally, while it has the ability to carry 7 people, let me be clear in the CX-9 you are either carrying people or carrying stuff. But definitely not both. It would be great for taking your family and maybe a couple +1's out for a day. Or for a family of four out on a weekend road trip.
Technology
This thing had all the gingerbread!
A 12-speaker Bose premium sound system with Apple Carplay and Android Auto integration, and a navigation system with a full-color display. Both integrate into a communications system that allows the driver to remain completely hands-free.
Then there was the full view camera. It allowed you to see the entire exterior of and around the vehicle.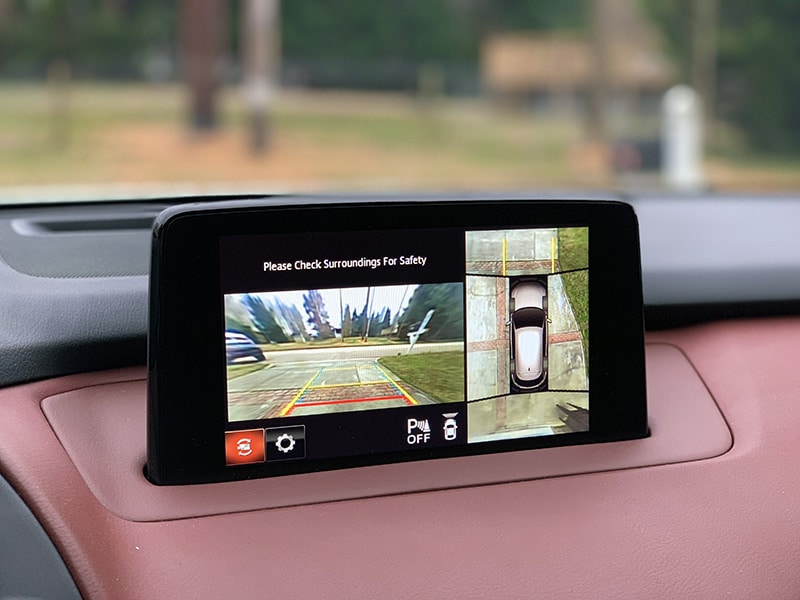 The camera quality on the backup camera left a little to be desired. But I loved this camera feature because it allows you to make sure everyone is in the car with their doors closed. As well as making sure there is nothing around you or in front of you when pulling off.
Which could have come in handy that one time I ran over my son's tricycle that he left in front of the Yukon and I didn't know.
Safety
With a family in tow, safety is of the utmost importance. This thing is fully equipped with all the things you need to help your family feel safe and like you are in control on the road.
Mazda CX-9 Exterior
Mazda CX-9 Interior
Specialty Specs of the Mazda CX-9
SKYACTIV Turbo Engine
All Wheel Drive
20-inch Alloy Wheels
Rain-sensing windshield wipers
Heated mirrors
Power Moonroof
Power liftgate
Adjustable heated leather steering wheel
Heated/Cooled front seats
Latch child seat anchors
Tire pressure monitoring
360-degree view camera monitoring
Electric assisted steering
Auto fold door mirrors
Touch keyless entry system
Push button start
3 zone climate control
Bluetooth/AUX audio jack inputs
2nd-row heated seats
Android Auto & Apple Carplay
Dual Front Airbags with side impact airbags
Blind Spot monitoring
Lane departure warning
Lane keep assist technology
Pricing
I know this is what you really want to know. Kenya, girl how much does this thing cost??
You can get a new 2019 Mazda CX-9 base model starting at 33k. This particular model I had with all the gingerbread came with a sticker of 49k.
While vehicle pricing with all the features comes with a higher ticket by-and-large, I just wouldn't expect to pay fifty thousand dollars for a Mazda.
Pricing by trim level:
Sport: $33,200
Touring: $36,300
Grand Touring: $41,800
Signature: $46,300
My Honest Thoughts on the Mazda CX-9 Signature
I turned in my Yukon Denali last year for an Acura TLX. It was a pretty drastic move, and I'd be lying if I didn't admit I miss my SUV a bit. The Mazda CX-9 was the perfect hybrid between the two. It felt like an SUV on a car frame.
I love $45 ticket to full up the gas tank. Especially since the $75+ ticket was part of the reason I got rid of my Yukon.
I was able to drive from home (the Raleigh area) to Hyattsville, Maryland (the DC area). And still didn't need to fill up right away.
With my life being committed to shuffling kids around town, gas mileage is way important to me. And I know you feel me if you have kids who are active and into sports and different activities.
My honest opinion of the CX-9 is that if I were in the market for a new vehicle, this would most likely make it's way (back) to my driveway.
See Also:
Are you in the market for a new family SUV? Have you checked out the Mazda CX-9?