Sweet Potato Drop Biscuits
Buttery sweet potato drop biscuits. Slightly sweet, extra fluffy, all kinds of buttery good.
The links in this post may be affiliate links.  That means that if you click them and make a purchase, this site makes a commission.  It will have no impact on the price you pay or the experience of your purchase.
I don't know if you've ever wondered how the sweet potato came to reign supreme over its pumpkin counterpart in the pie arena, but I have.
So when I stumbled upon this article chronicling how it all came to be the sweet potato pie became the preferred thanksgiving dinner table dessert in the black community, I was intrigued to say the least.
You may be surprised to learn that our love for the mashed veggie dessert does not originate from African descent as do our people.
But it does have roots in the present-day black community.
These sweet potato biscuits are inspired by one of my favorite desserts, made for my favorite meal of the day. Y'all know how much I love breakfast.
Perfectly topped with some honey butter, apple butter, and even Nutella, they do not disappoint.
Slightly sweet, super fluffy, extra buttery, and all kinds of good.
Black History Month Virtual Potluck
I am sharing these sweet potato drop biscuits as part of the black history month virtual potluck.
Where 28 of some of the best black food bloggers are sharing recipes inspired and enjoyed by the culture.
Every day this month there is a new vegan or vegetarian recipe that will not disappoint.
This recipe landed on my table before my husband and I were married. He went down to Virginia to see some relatives.
He came home raving about the sweet potato biscuits his aunt has made. And I accepted the challenge.
You see, this dude does not rave about food.
He loves that I cook good food but he is an aspiring health nut. Every year that he gets older, it gets worse.
We were still in our twenties and here we were in the kitchen of our first house, where I had really started to expand my culinary 'festivities'.
He was raving about about another woman's cooking…
And he was raving about another woman's biscuits.
I know, I know. It was his aunt. But I loved cooking for him. And so I made it my mission to not only make, but master, sweet potato biscuits.
I can admit it took me about a good three tries to perfect the recipe. But once I had it, babycakes lit up.
That recipe is a little more involved. I save it for special occasions or when there's time. Rolling and cutting dough and whatnot is can be the thing that makes you be like, "nah, I'm good". But this one is so simple.
This one is the one I do more times than not, because time, and mess, and overall simplicity.
Good food does not (and will not) take all day at my house.
I just don't have the time.
For the longest, he said I had to keep this one in the bag. He didn't want me sharing with Kenya Rae.
Making smart comments like "the game is to be sold, not told". *insert my eye roll*
But now.
Oh now, my friends.
Here is a quick, easy, and dare I say delicious sweet potato drop biscuit recipe.
He finally gave the okay to share. And it couldn't be at a better time.
How To Make Sweet Potato Biscuits Using The Drop Method
Start out by setting your oven temperature to 400 degrees Fahrenheit.
Peel and cut the sweet potato into chunks.
Put them on to boil, just until soft, roughly 15 minutes.
While the potatoes are boiling combine the flour, baking powder, and salt in a medium bowl and whisk and then set it aside.
Baking options
You can make these in an 8×8 dish and they'll truly be drop biscuits.
Or, you can use a muffin pan for a more formed biscuit.
I do it both ways. Today I'm using my muffin pan. You can grab one on Amazon for the low. And if you have Prime it can be there as soon as tomorrow.
If making in 8×8 dish, you can put the butter in the dish and place it in the oven to melt.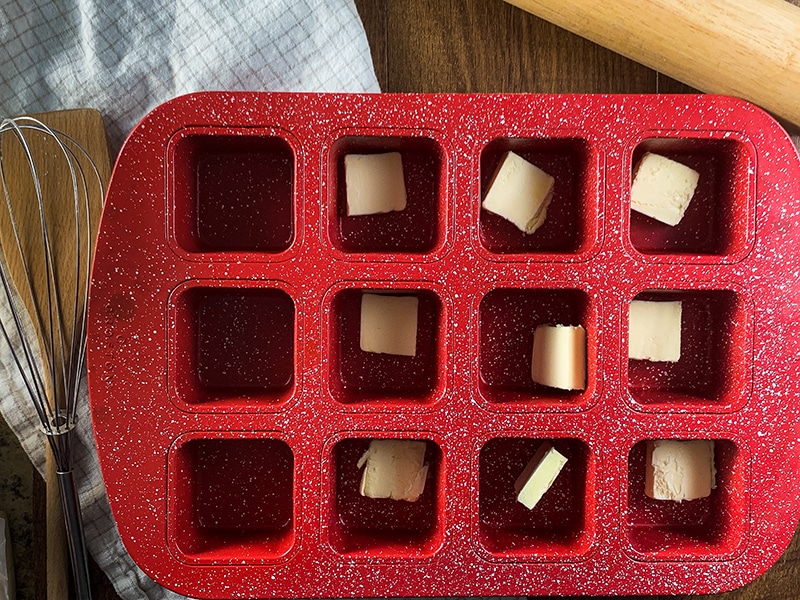 If using biscuit pan, slice and divide the butter into 9 pats, one for each biscuit. Put one in each of the biscuit squares, nine total, and melt the butter in the oven. And set it aside for a minute.
Prepping your potatoes
By now your potatoes should be soft. You can turn them off and drain the water from them.
In a separate small bowl, mix the potatoes, brown sugar and sugar using a hand mixer or potato masher, turning it into a puree.
Add the sweet potato mixture into the dry ingredients, and using a fork mix together to start to form a dough.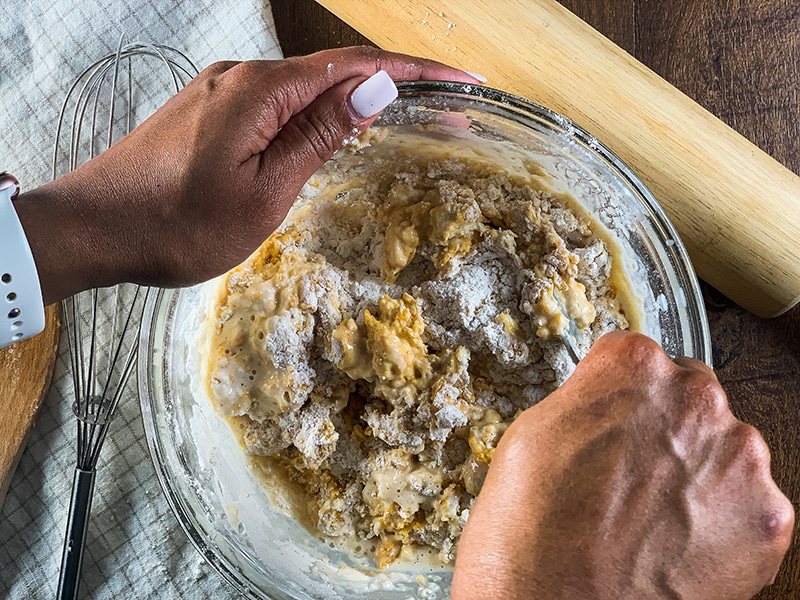 The fork helps to incorporate the ingredients together. It will be a rough mixture at this point.
Gradually pour in the milk. I do a little at a time until a sticky dough is formed. You may not need all the milk, depending on how big your potato was.
What if I don't have buttermilk?
I never have buttermilk on hand, cause I never know when I am going to use it. As an alternative to buttermilk, you can take a cup of regular milk and add a tablespoon of vinegar. Let it sit for at least five minutes. And you have a substitute for buttermilk.
Ready to bake your biscuits
Using a spoon or ice cream scooper, spoon and drop the dough into the pan.
If using the drop method, just scoop and drop the spoonfuls side by side 3×3.
If using the muffin pans, just drop into each muffin square. Don't worry about shaping, they will form as they bake.
Place your pan in the oven and bake for ten minutes or so.
Open the oven and using a basting brush, brush the tops with the surrounding butter and continue to bake an additional 7-10 minutes until the tops are golden brown.
Remove from oven and allow to cool.
These are delicious served up with fried apples, apple butter, Nutella, honey butter, or just plain ole butter.
Want to save these sweet potato biscuits to make for later? Pin below.
Other Biscuit Recipes You May Love: