Deliciously Easy Lasagna Soup Recipe
This simple and easy lasagna soup recipe is absolutely delicious and so easy. It goes together quickly, and everyone will love it. This is might be my favorite way to enjoy Lasagna. It's a great dish to serve on a chilly night, or while you're watching the game. Add some garlic bread, or crackers, and you're all set.
The links in this post may be affiliate links.  That means that if you click them and make a purchase, this site makes a commission.  It will have no impact on the price you pay or the experience of your purchase.
Make this right on your stovetop in a Dutch oven or a heavy deep pot. Full of savory sausage, onion, garlic, tomatoes and Italian spices, this soup takes the traditional flavors and ingredients of lasagna and deconstructs them to create a delicious and satisfying soup that's destined to become a family favorite!
While I love a good and slightly sweet, with a hint of spicy lasagna casserole, this recipe is a fun take on a classic dish.
Forget all the time-consuming layering work you have to do to build a lasagna casserole and instead, try this hearty lasagna soup recipe.
Plus, it's a little easier to clean up, too, since everything is happening in just one pot. I also like to make this lasagna in soup form during the fall and winter months since it's a warming comfort food after a day out in the cold.
After the soup has been made and simmered to bring out the flavors, just break up some lasagna noodles and drop them into the soup.
They'll soften up in about 20 minutes and be infused with all the spicy goodness of the soup. They'll also help thicken the soup just a bit. So add more water if you want to thin it out. Totally up to you.
Ladle this soup into large bowls and serve topped with Parmesan cheese, shredded mozzarella or both.
Oh, and don't forget the garlic bread on the side!
Ingredients Needed
sausage, I like to use ground turkey and turkey Italian sausage
onion
butter
garlic
tomatoes
tomato paste
chicken bullion cubes
garlic salt
seasoned salt
pepper
italian seasoning
oregano
basil
brown sugar
lasagna noodles
How To Make Lasagna Soup
In a heavy-bottomed soup pot, cook whatever meat you choose to use until it's dark golden brown and no pink is left. Roughly about 30 minutes.
When the meat is done, remove it from the pot, and drain any fat. That's the thing I love about turkey meat, there is typically hardly any fat to drain.
Use paper towels to remove the fat from the bottom of the soup pot. Add 1 Tablespoon of butter to the soup pot, and add in the onion.
Cook the onion until it's caramelized, or golden brown. With the heat on medium-low, add the cooked meat to the onion, and add the minced garlic, both cans of stewed tomatoes, tomato paste, bullion cubes, garlic salt, seasoned salt, seasoned pepper, Italian seasoning, ground oregano, sweet basil, and brown sugar.
Stir all ingredients until mixed well, and add the water to the soup pot.
Turn the heat up to high, and bring the soup to a boil.
Find your desired consistency
If you need to add more water, that's fine. Add enough to get it to your desired consistency.
When the soup boils, turn the heat to medium and continue to boil for a couple of minutes. Turn the heat to low, and simmer the soup for about an hour, stirring occasionally.
Stir the soup well, and place a little soup in a small dish to taste.
I like to do this to determine if more seasoning is needed.
Add in the noodles
If you're adding additional seasonings, let the soup cook for about 15 minutes after adding it to the soup; if you're not adding more seasonings, go ahead and add the lasagna noodles.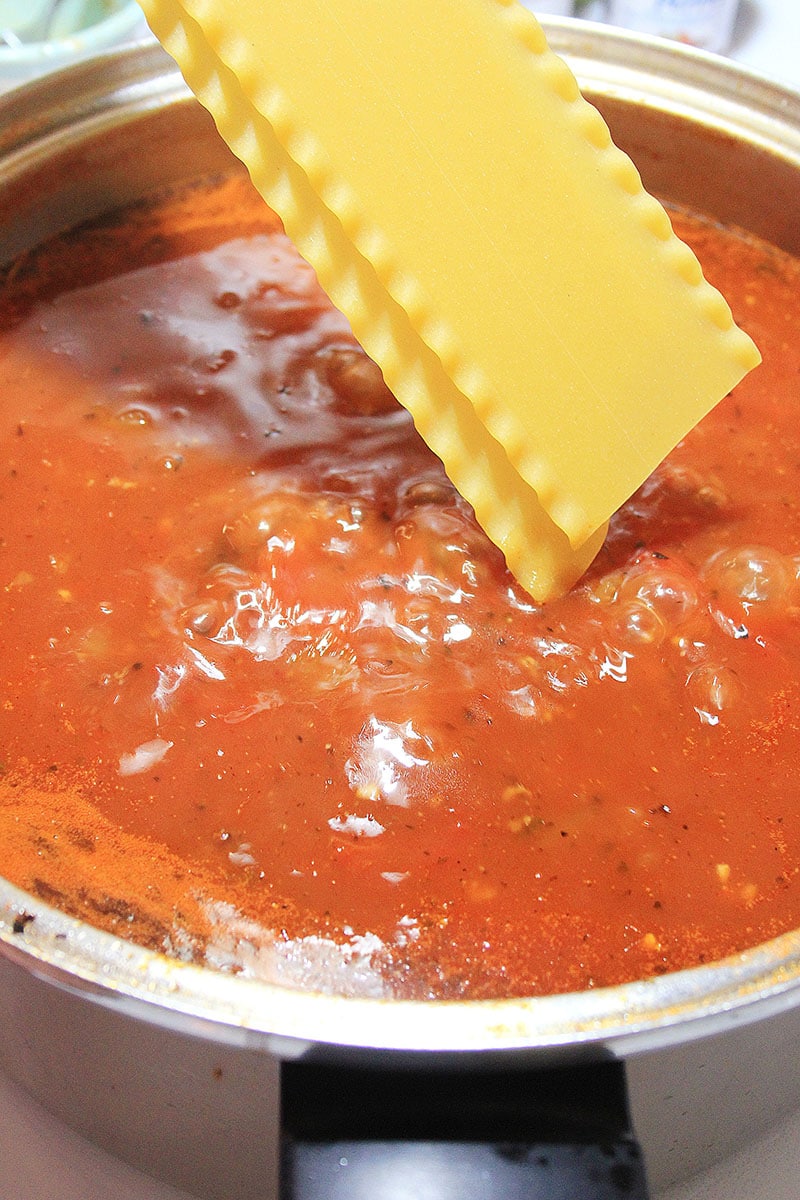 Break up the noodles into pieces, one noodle at a time, and drop into the soup.
I let the noodles cook in the soup for about 20 minutes on low. The noodles will thicken the soup, so you might want to add a little more water.
If you do add more water, I'd start with about 1 cup, and add small amounts until desired consistency is reached.
After the noodles have cooked, stir the soup, and serve the soup in large deep bowls, topped with Parmesan cheese.
Enjoy!
Alternate Varieties For Lasagna Soup
Spicy Lasagna Soup
You can add in red pepper flakes and/or siracha to give this recipe a little spice. Add in based on your desired taste preferences.
Meatless/Vegetarian Lasagna Soup
In place of meat, you can add in your favorite veggies. Some to consider are zucchini, mushrooms, carrots, and even spinach. OR, you can choose to just omit meat and have the sauce and noodles. Instead of the chicken bullion and water, you can use vegetable broth.
Cheesy Lasagna Soup
To add in more cheesy flavor, you can add in shredded parmesan and mozzarella and top with a bit of ricotta for added cheesy goodness.
Meaty Lasagna Soup
You can use any meat variety such as beef, turkey or chicken. Different ground meats and sausages can be used to satisfy your preferences.
No matter which variety you choose, lasagna soup is absolutely amazing! With a nice hearty salad before and some delicious form of garlic bread to go with it, you will not be disappointed.
Can Lasagna Soup Be Made In The Crockpot
If you prefer a more hands-off approach, you can easily make this recipe in the slow cooker. You do this by simply browning your meat as directed. Then place the meat in a crockpot with the bullion and water (or broth), tomatoes, tomato sauce, and seasonings.
Cook on low heat for 4-6 hours. Then add in the lasagna noodles during the last 30 minutes of the cooking time. And just cook until the noodles have softened.