Perfectly Seasoned Turkey Burger With Sweet Potato Bun
This shop has been compensated by Collective Bias, Inc. and Mazola® Corn Oil. All opinions are mine alone. #SimpleSwap #CollectiveBias.
The links in this post may be affiliate links.  That means that if you click them and make a purchase, this site makes a commission.  It will have no impact on the price you pay or the experience of your purchase.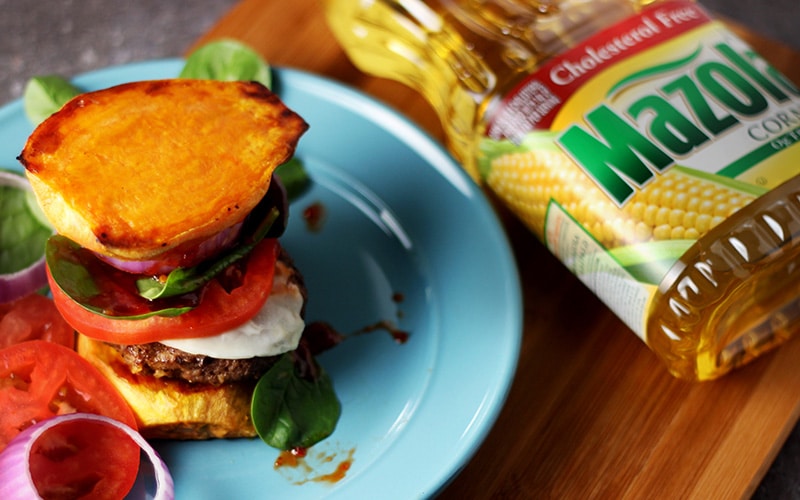 At the top of the year in an effort to change my eating habits and curb my cravings, I made an attempt at following a Keto meal plan.  Let me tell you that Keto DID NOT work for me.  I lasted a week if even that.  A recent study has found that adding Mazola® Corn Oil to one's diet resulted in lower cholesterol levels than Coconut Oil. A previous study found that corn oil can also help lower cholesterol more than extra virgin olive oil. To learn more about the study, see Mazola.com.
I say that to say, that I have found what is working for me.  Making healthier food choices and swapping out ingredients that don't compromise taste, while giving me added health benefits.
We have to do what works for us right?
Back when the hubs and I got together, he didn't eat beef or pork.  And so I made the decision that I would make that switch too.  As an alternative to beef, I often substitute turkey.
And I have had people try to argue me down that a turkey burger just can't compare to a hunk of delicious beef.  An argument I have won several times by simply sliding one of my perfectly seasoned turkey burgers in front of them and daring them to still try to win that argument.
I have heard it all…. Turkey is dry…. It tastes bland…. It's not the same.  All of which I have an answer to.
The secret to a delicious turkey burger
First and foremost, there are really two secrets to a turkey burger that makes you say, "what cow"?
Proper seasoning
Cooking for the right amount of time
Now I will say turkey meat does require proper seasoning for it to taste good as a tasty beef substitute.  That holds true in any recipe that you attempt to use it in.
For my turkey burger, I choose to use dry onion season mix, combined with seasoning salt, garlic powder, and pepper MIXED IN THE MEAT.  Keep reading though cause it does not stop there.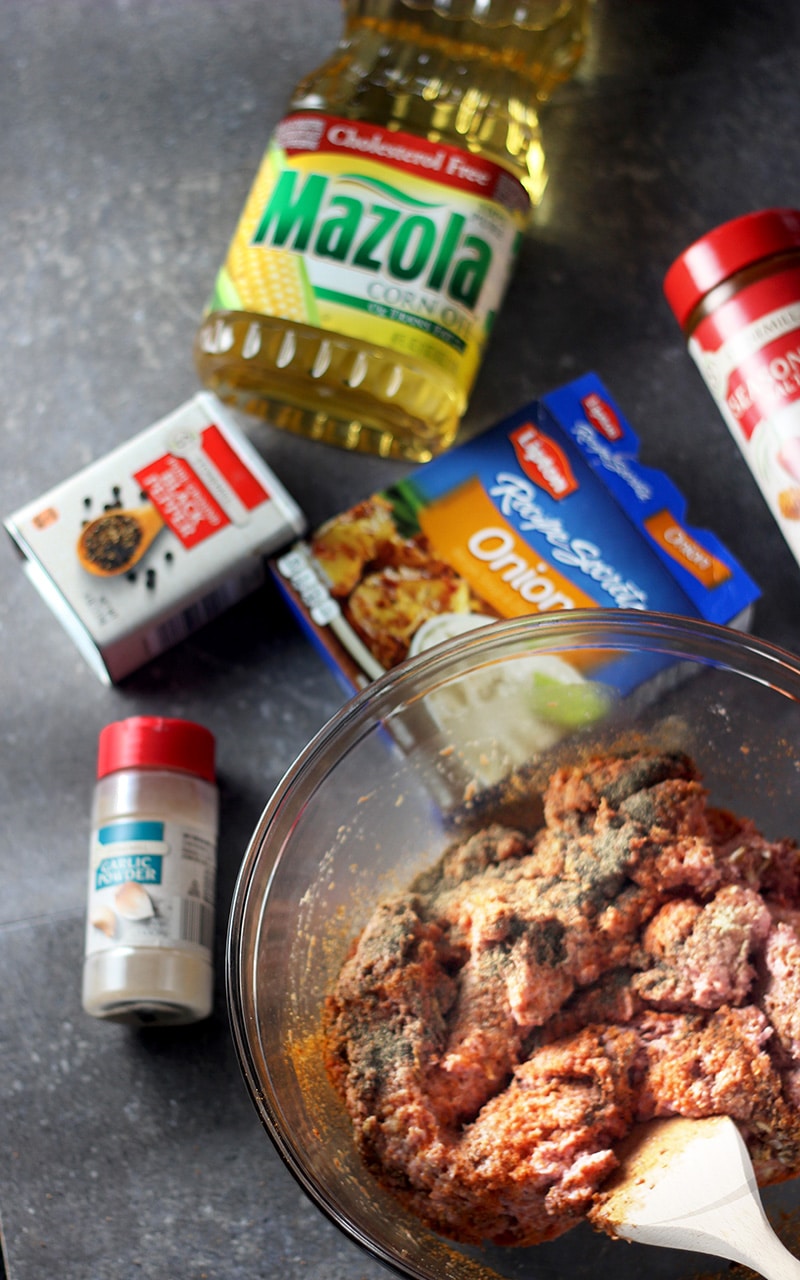 After all of that is added in and mixed well I form my burgers.
For this recipe, I am making sliders.  To make sure they are all similar in size I personally use a measuring cup (⅓ cup) to get as close to the same size as possible.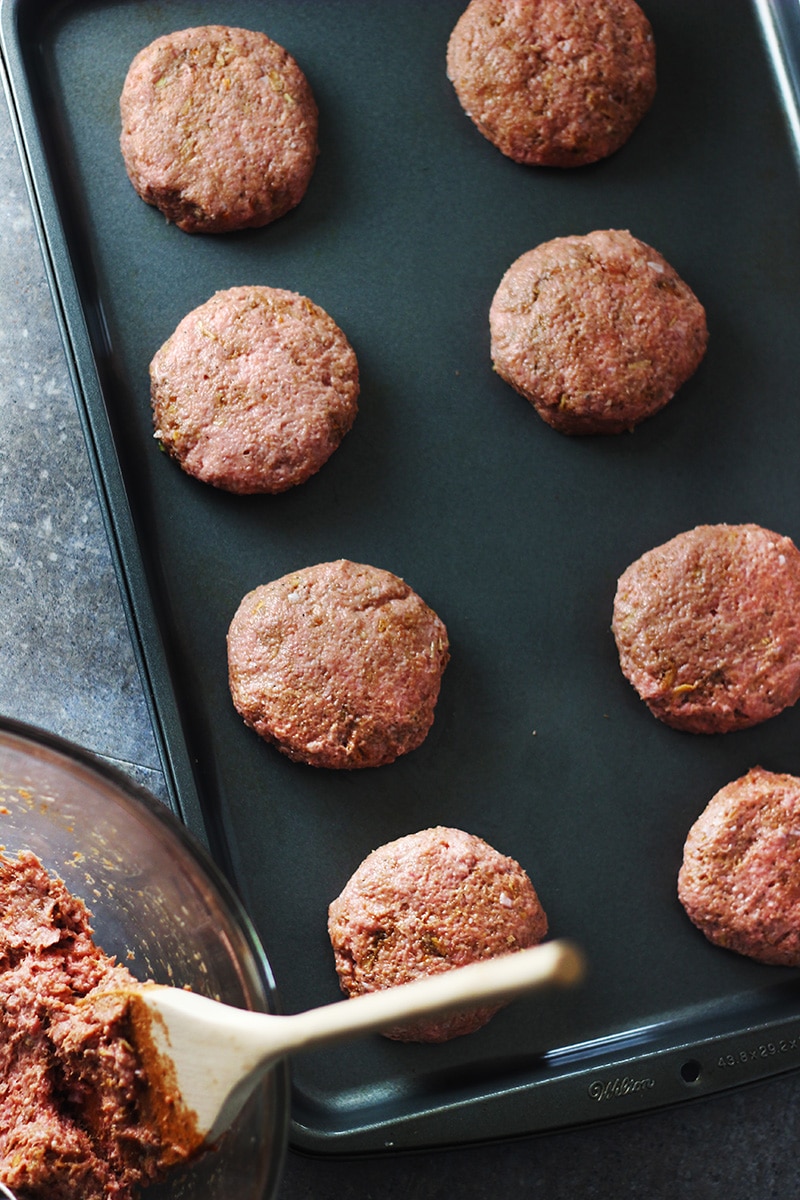 Also, to allow your burgers, no matter what kind of meat you use, to keep their shape when baking them in the oven, shape them, and place them on the pan.  Using your fingers create indents in the center of them.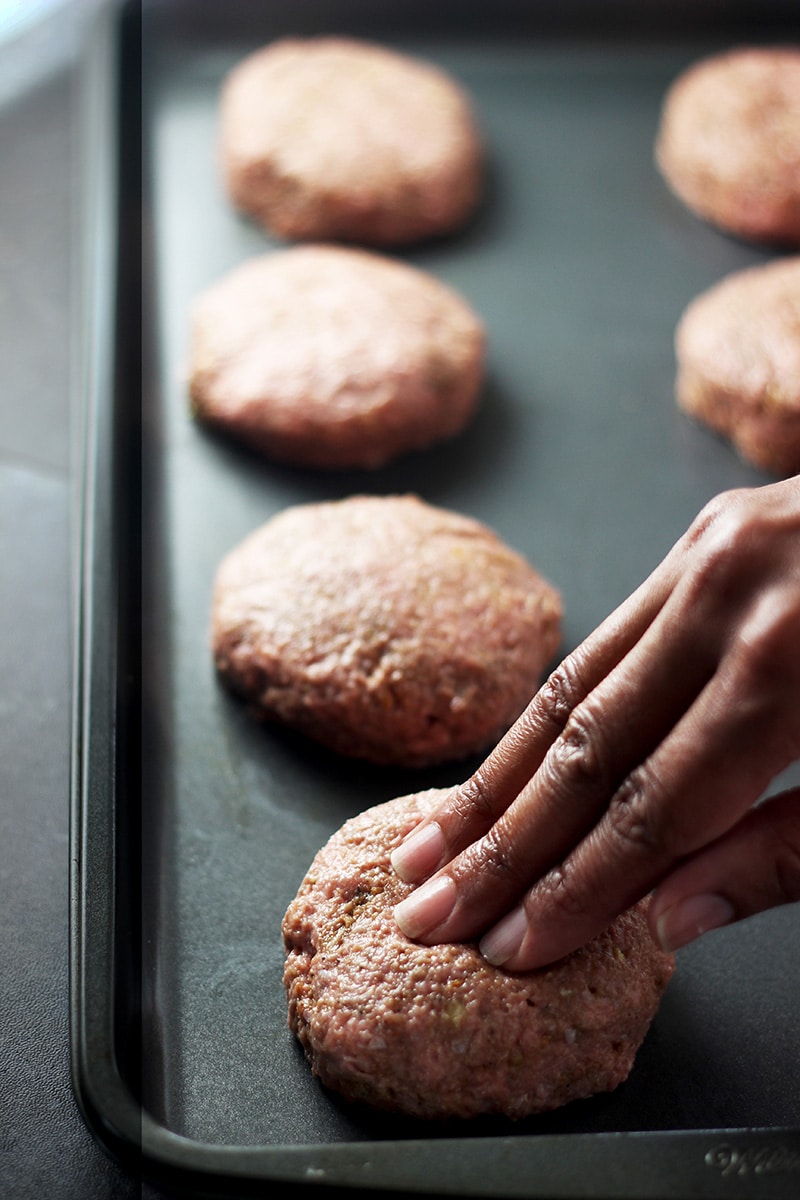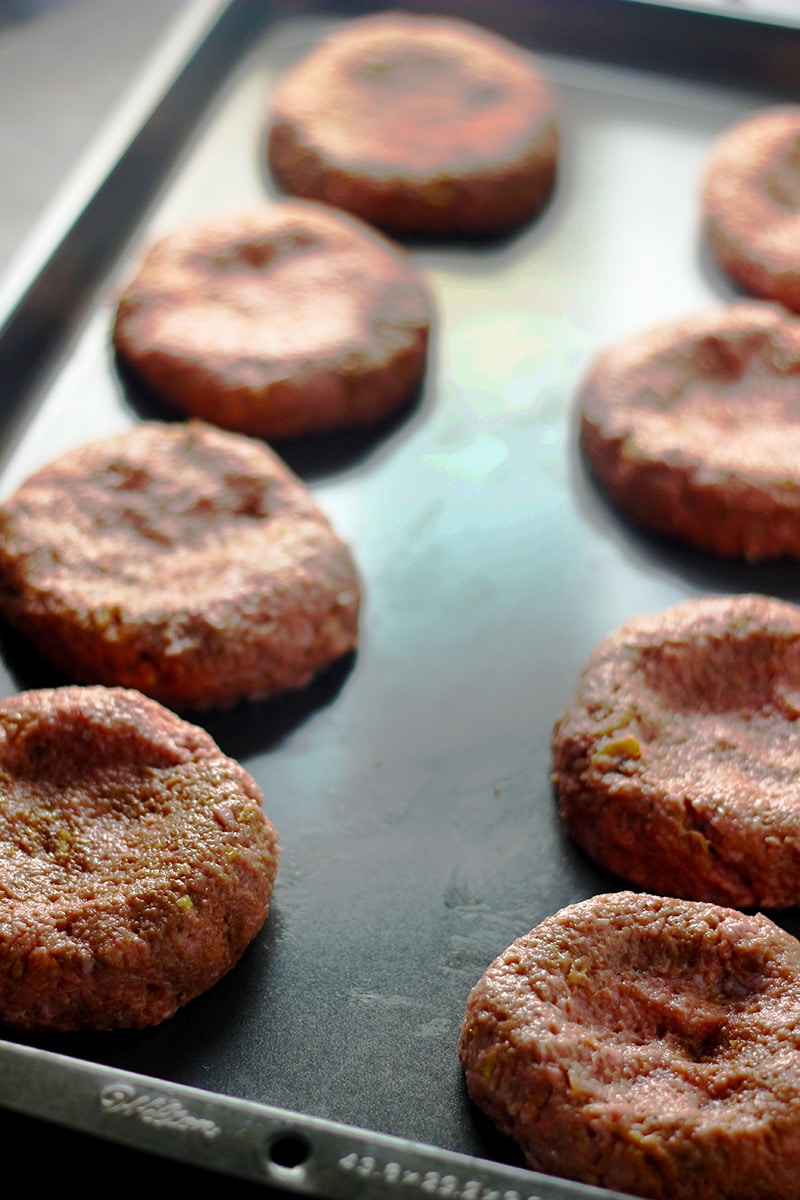 When they bake this helps them to keep their shape.  I am not sure if this is true for frying as I only bake my burgers.
I personally like to sprinkle mine with a bit of steak seasoning before putting them in the oven for a little added flavor.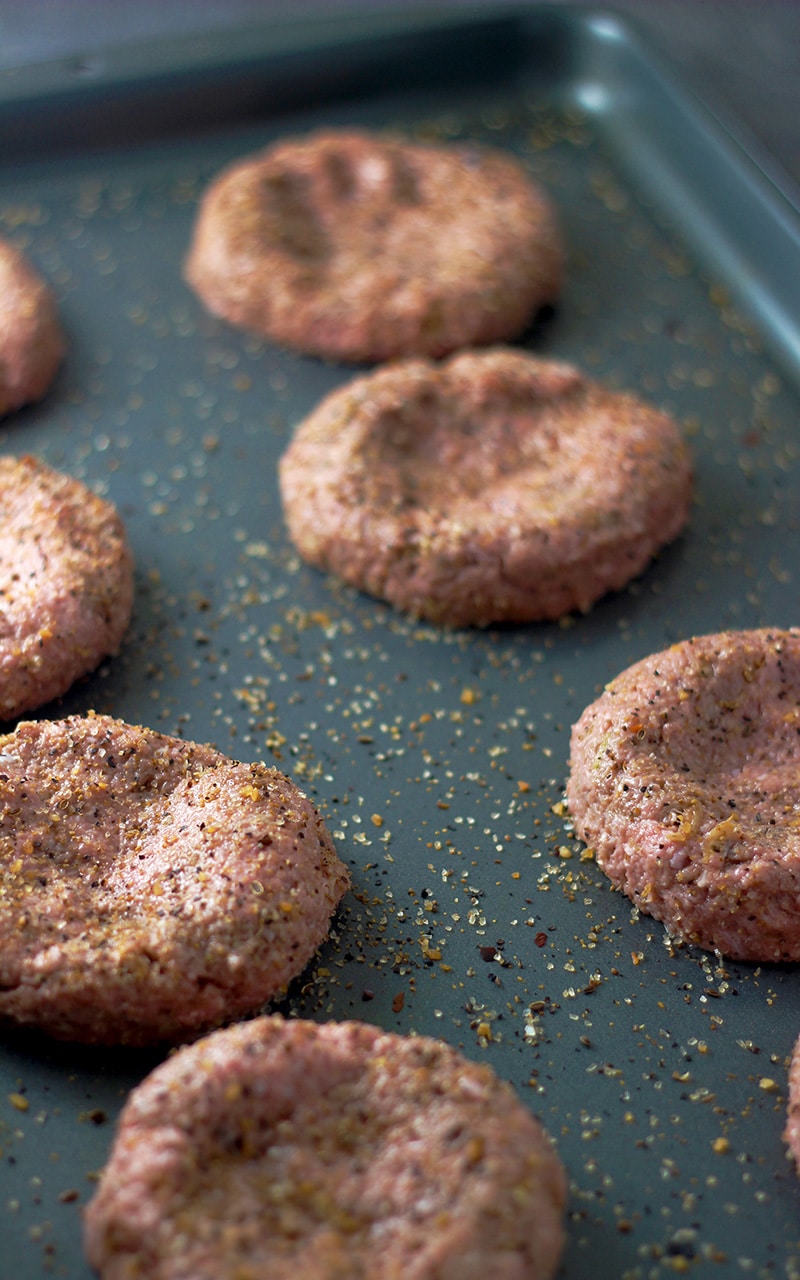 As an additional swap, I sometimes opt out of a regular bun and replace my bread with a sweet potato.
Say whaaaaaat?
Yup, a sweet potato in place of a bun.
Again, let me remind you that my taste buds win wars before you go scrunching up your face.
Using corn oil and a bit of sea salt, I make a tasty oven baked bun alternative that will make you forget that you are supposed to eat burgers on buns.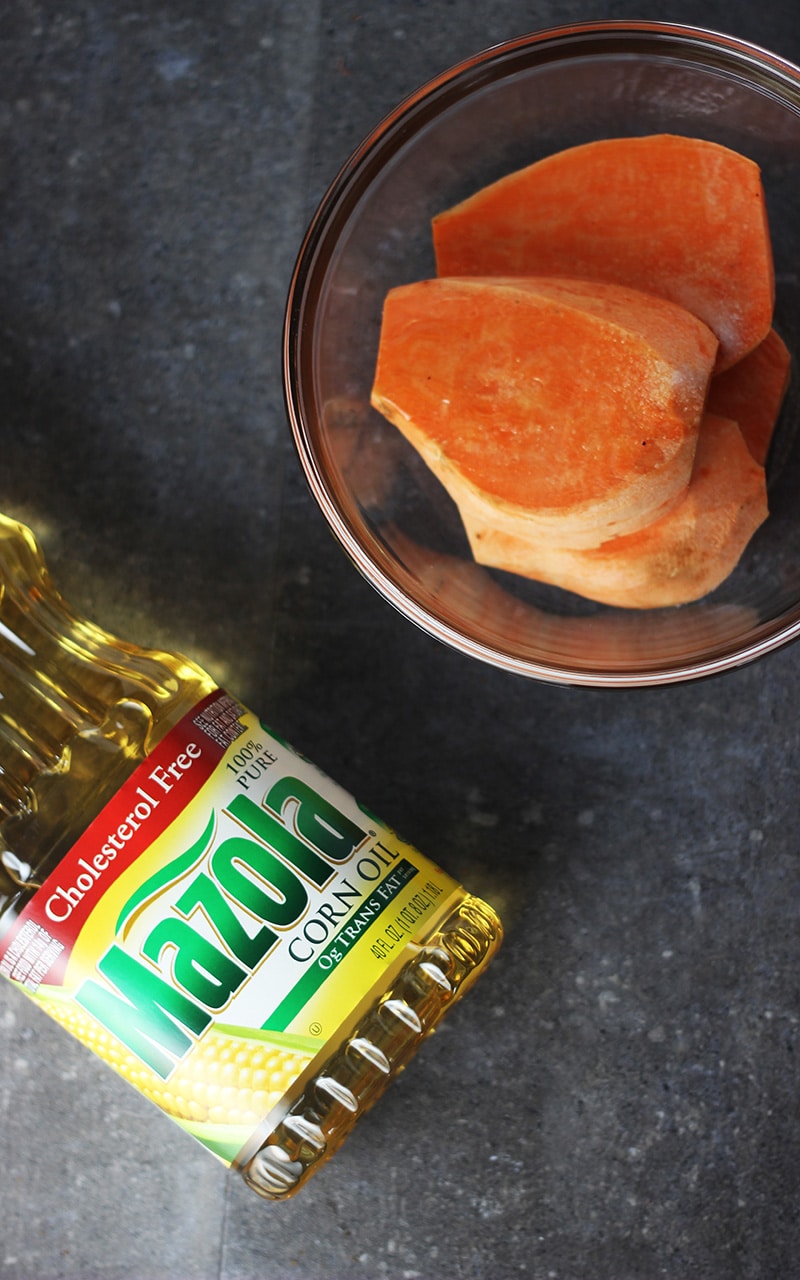 I use Mazola® Corn Oil.  It is an all-purpose cooking oil that is a smart heart-healthy choice for your family.
Why Use Corn Oil Instead of Others
A clinical study showed Mazola® Corn Oil reduces cholesterol 2x more than extra virgin olive oil. To learn more about this claim, see Mazola.com.  Mazola® Corn Oil has a neutral taste that won't negatively impact the taste of the sweet potatoes, so it lets the natural flavor be the star that it is meant to be.
To add a little extra crispness to the outer sweet potato, I place it under the broiler for about 3-5 minutes (depending on your oven). Mazola® Corn Oil has a smoke point higher than most cooking oils at 450°F and performs well in a variety of cooking forms, including stir-frying, sautéing, grilling and baking.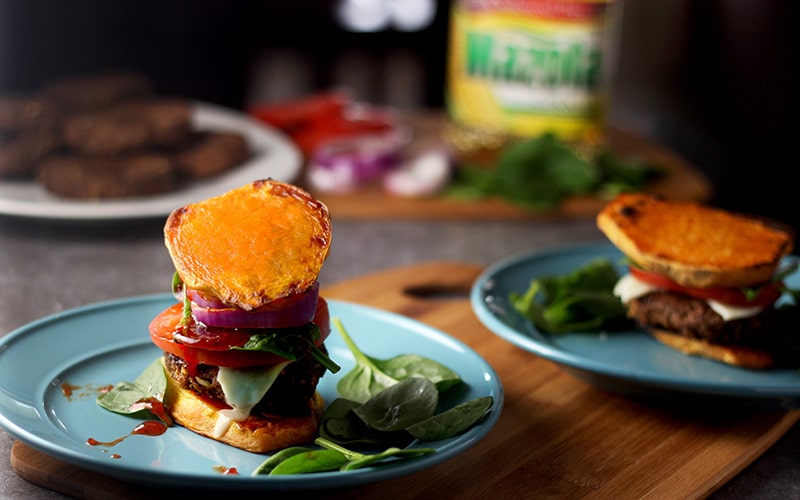 Using a medium-sized sweet potato can get you a good two buns (4 slices) out of it.  I say medium over large because the medium ones are usually more round shaped.  The larger ones are long and not ideal for making buns.
After cooking both the burgers and buns, you top it up with all your favorite veggie toppings.  And enjoy a delicious flavorful explosion in your mouth.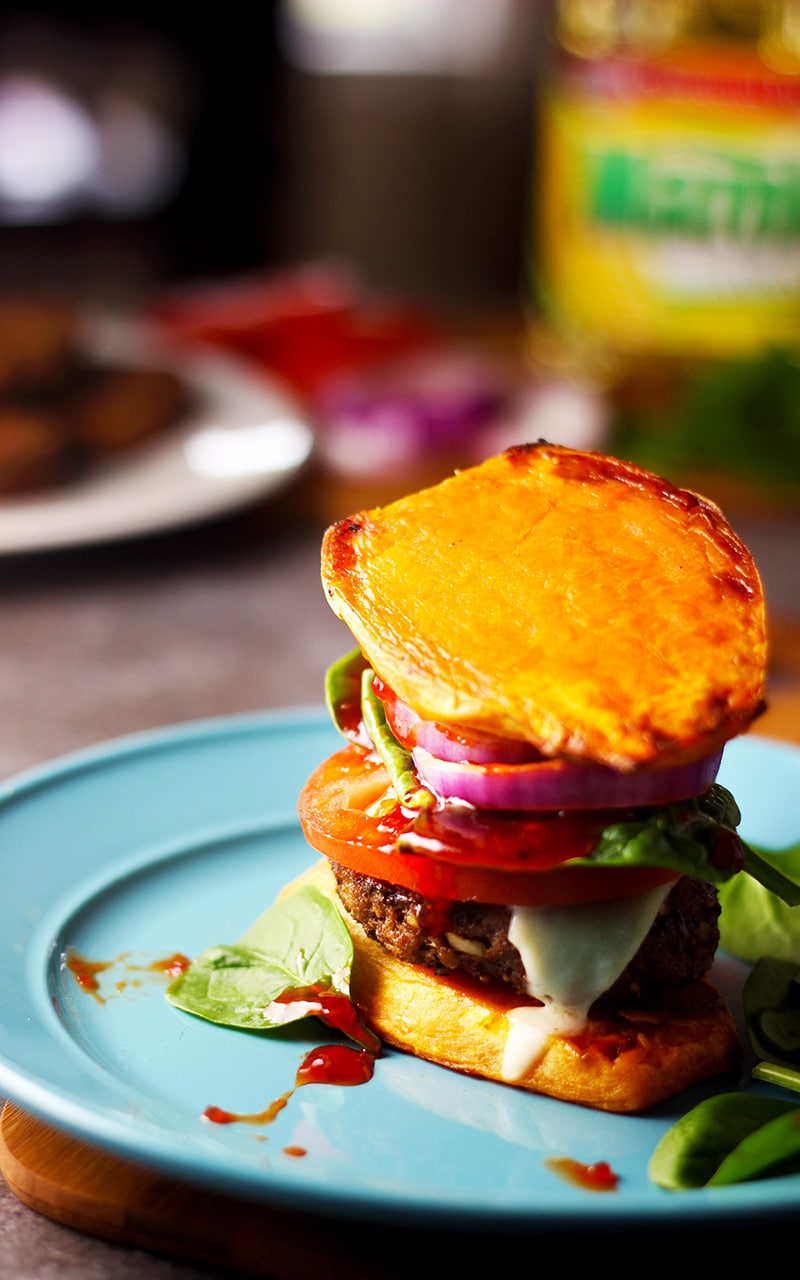 And it's all guilt-free because Mazola® cooking oil is made of 100% pure oil with no additives.
Now I will say that my hubby decided to stick with the Keto meal plan.  But I have been able to cook food that we both can have.  Some that he has to modify a tad bit further.  But we both still enjoy mealtime as usual.
This is proof that small changes and swaps don't have to be a compromise on good food that you love and are used to.
Interested in making Turkey Burgers with a Sweet Potato Bun? Pin and Save for later!
[wpurp-searchable-recipe]Turkey Burger With Sweet Potato Bun – A lighter, tasty spin on a traditional favorite. – Burgers: ground turkey, dry onion soup mix, seasoning salt, garlic powder, pepper, Sweet Potato Buns: sweet potatoes, Mazola corn oil, sea salt, Mazola corn oil, , Burgers: Pre heat oven to 350 ℉; In a large bowl combine ground turkey, dry onion soup mix, seasoning salt, garlic powder, pepper. Mix well.; Seperate meat into patties. Using 1/3 cup to make patties for slider sized burgers.; Line on baking sheet and bake for 25 minutes. Flipping halfway through.; Remove from oven and set aside.; Sweet Potato Buns: Pre heat oven to 375 ℉.; Peel sweet potatoes and slice in 1/4" thick slices.; Place potato slices, oil and salt in bowl and toss to coat potatoes.; Lay slices out on sheet pan.; Bake for 20-25 minutes, flipping halfway through.; Remove from oven and place burger patties between potato slices and top with all of yoru favorite toppins and condiments.; Enjoy!; ; – – Main Dish – American – Dinner – Recipes – ground turkey – healthy eating – sweet potatoes[/wpurp-searchable-recipe]