MyWoodWall | Why I Chose Wood Panels For My Kitchen Backsplash
When I would share the MyWoodWall sample box with friends when asked about my plans for the kitchen backsplash, I could tell that they weren't really sure how that would turn out.
The links in this post may be affiliate links.  That means that if you click them and make a purchase, this site makes a commission.  It will have no impact on the price you pay or the experience of your purchase.
I'm gonna spoil this for you a bit and tell you that they came out AH-MAZ-ING!
As you read this, keep in mind Kenya Rae is a space to help you find solutions, new products and more. MyWoodWall provided me with the panels for this project which means this is a sponsored post. It also contains affiliate links for the products I recommend. To learn more about what that means click here.
I could not be happier with the outcome of my most recent kitchen project.  Each project that I do makes me love my kitchen that much more.  But this? This has made me feel so good about not second guessing my decision and the vision that I saw for my kitchen.
Just because your vision can't be seen by others doesn't mean it's not clear.
Why I Chose to Use MyWoodWall
My kitchen didn't really have a backsplash.  And for the life of me, I can not fully understand what the previous owners of my house were thinking when they had a block of granite matching the countertop put on the one wall behind the stove.
If I had to guess, judging by the amount of grease buildup I found on the tops of the cabinets when we moved in, I assume they did it because they fried a lot of food and the grease splatter would be easier to clean.  Or even undetectable with the black color.
Either way, it was a bad decision for more reasons than one.  But it also made us have to get creative with our thoughts on how to modernize it and make it consistent.
You see the other wall was left bare, plain and painted.  And that was not gonna work!
So after some online research, I came across the MyWoodWall paneling.  And it only made sense.
It was easy for newer, or intermediate DIYer's like us to install.  ✓
It was different and not traditional. ✓
It helped to accentuate that country farmhouse vibe I have going. ✓
And it would not break the bank, as it was reasonably priced. SCORE!
This was a win.  Almost a no-brainer even.
About MyWoodWall Panels
MyWoodWall panels are peel-and-press real wood panels that are simple and straightforward to install.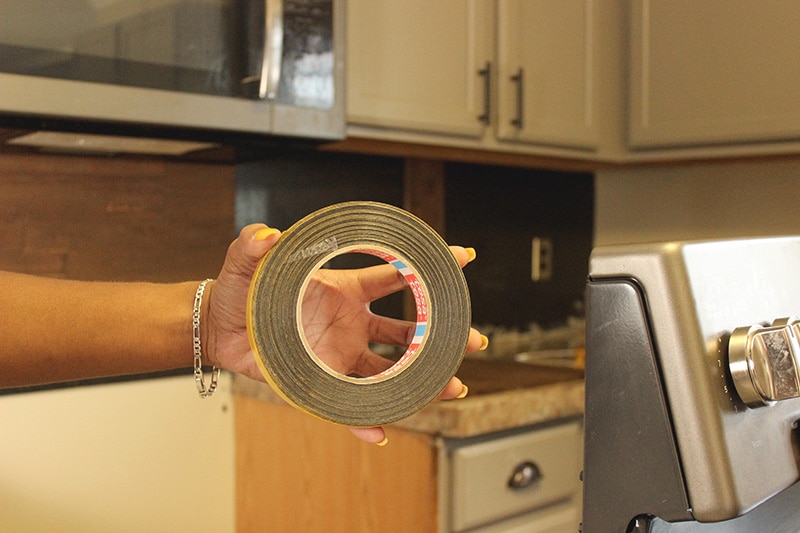 They serve as a creative alternative to plain painted walls or the hassle of wallpaper installation.
They adhere with a double-sided adhesive that is easy to use but strong enough to hold to pretty much any wall surface.
My Backsplash Installation
The hubs and I broke up installation into two evenings after work.  Doing one wall each day.
We decided to go with a vertical installation pattern, and a horizontal variation behind the stove and under the window.
There are several ways to install this where you can keep it as simple, or as creative as you want to be.
We used roughly a box and a half for the two walls.  Each panel came with two strips of adhesive already on it.  But depending on the cuts made we had to add more.
The kit came with additional adhesive strips for this reason.  So forward thinking, right?
I'd say the total installation took eight hours.  With the hardest parts being making the cuts.  Particularly for going around the outlets and the window paneling.
Finishing
Because they are in the kitchen, I opted to use polyurethane as a protective coating between the wood and whatever might get to it in the kitchen.
Using an application sponge stick, I did a single coat of the Valspar Triple Thick poly with a semi-gloss finish.
For the exposed top edges, I have decided to finish it off with a piece of quarter round for a sleek pro-like finish.
An Added Bonus
If you are into sustainability and the upkeep of the environment, which shouldn't we all be?  You will be happy to know that for every box you purchase, MyWoodWall supports the One Million Trees initiative to plant new trees.  Planting three trees for each box purchased.  Thereby ensuring sustainability and dedication to the environmental principle, "Leave things better than how you found them."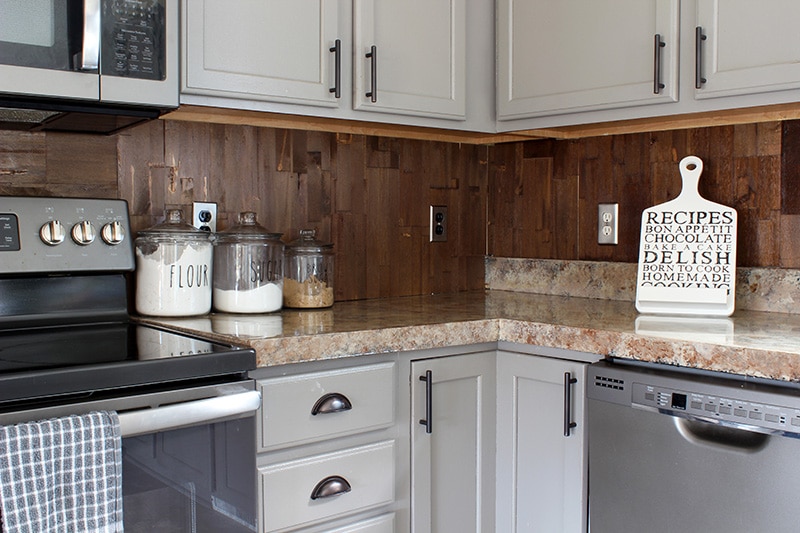 I am more than happy with how my kitchen backsplash using the MyWoodWall panels has turned out.  These panels are good for just about any room you can think of.
It is my hope you find inspiration to go and build "your wood wall" too!
Other Projects You May Like: