Homemade Pecan Crust Recipe
Pecans are a delicious and versatile ingredient that can add a rich, nutty flavor and a crunchy texture to your favorite dishes. One of the most popular ways to use pecans is by making a crust that can be used for pies, tarts, cheesecakes, and other desserts.
The links in this post may be affiliate links.  That means that if you click them and make a purchase, this site makes a commission.  It will have no impact on the price you pay or the experience of your purchase.
If you are a fan of pecans and want to try something new in the kitchen, you will love this easy-to-make pecan crust recipe.
Here's how to make pecan pie crust
Ingredients
2 cups pecan halves
1 cup all-purpose flour
1/4 cup brown sugar
1/2 tsp salt
1/2 cup unsalted butter, melted
Instructions for making homemade pecan crust
Preheat your oven to 350°F (180°C).
In a food processor, pulse the pecans until finely ground.
In a medium bowl, whisk together the ground pecans, flour, brown sugar, and salt.
Add the melted butter and mix well until a crumbly dough forms.
Press the dough into the bottom and up the sides of a 9-inch (23cm) tart or pie pan.
Bake the crust for 10-12 minutes, or until lightly golden and fragrant.
Let the crust cool completely before adding your filling.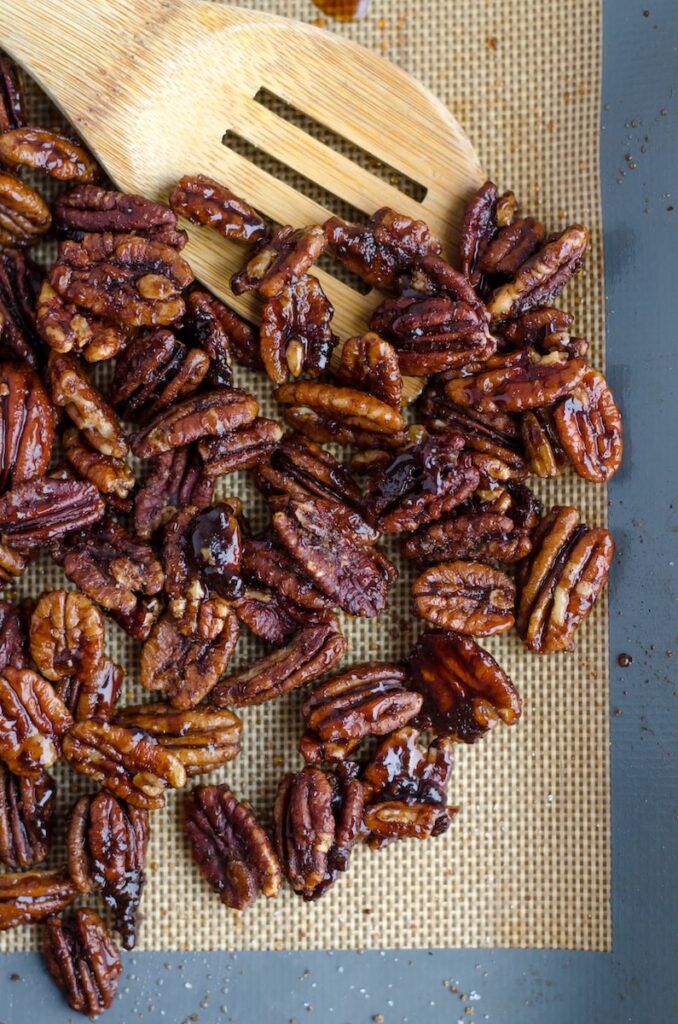 Tips for making this crust
For an even richer and more flavorful crust, you can toast the pecans in the oven for a few minutes before grinding them.
If you prefer a sweeter crust, you can add more brown sugar or substitute it with granulated sugar or honey.
If the crust feels too crumbly or dry, you can add a tablespoon of cold water or milk to help it come together.
You can also use this crust recipe for savory dishes, such as quiches or savory tarts, by reducing the amount of sugar or omitting it altogether.
Overall, this pecan crust recipe is a great addition to your baking repertoire. It's easy to make, delicious, and can be customized to suit your taste and dietary preferences. Whether you use it for a classic pecan pie or a creative dessert, this crust will definitely impress your family and friends.
Is pecan crust keto
While pecans are a keto-friendly nut. The addition of all-purpose flour and brown sugar in this crust recipe would not be considered keto-friendly.
To make a keto crust, you could try substituting almond flour or coconut flour for the all-purpose flour and using a keto-approved sweetener, such as stevia or erythritol, in place of the brown sugar.
Is pecan crust vegan
The original recipe includes butter, which is not vegan. However, you can easily make the recipe vegan-friendly by substituting the butter with a vegan butter substitute, such as coconut oil or vegan margarine.
Simply melt the vegan butter substitute and use it in place of the regular butter in the recipe. Be sure to check the labels of your ingredients to ensure they are vegan-friendly.
What are some good recipes for using a pecan crust with
Pecan crust is versatile and can be used for a variety of desserts, both sweet and savory. Here are a few recipe ideas to use a this crust with:
Pecan Pie: The most classic way to use a pecan crust is, of course, for a pecan pie. This pecan slab pie would be delicious with it. Simply fill the crust with a mixture of pecans, corn syrup, eggs, and sugar, and bake until golden and set.
Cheesecake: This crust is a delicious alternative to a graham cracker crust for a cheesecake. Try making a pumpkin cheesecake with a pecan crust for a festive fall dessert.
Tart: This crust also work well for fruit tarts, such as apple or pear. Fill the crust with a mixture of sliced fruit and a spiced custard, and bake until the crust is golden.
Quiche: Pecan crusts can be used for savory dishes as well, such as quiche. Fill the crust with a mixture of eggs, cheese, and your favorite vegetables or meats, and bake until the filling is set.
Ice Cream Cake: A pecan crust can also be used for an ice cream cake. Layer ice cream and caramel sauce on top of the crust, and freeze until solid. Top with whipped cream and chopped pecans for a delicious dessert.
These are just a few ideas for using a pecan crust in your baking. Get creative and experiment with different fillings to find your favorite combination!