Kitchen Countertop Reveal Using Giani Granite Countertop Paint
This is a reveal of my countertop makeover using a Giani Countertop Paint Kit.  For this project, I was provided the product by Giani Granite for my review and sharing with you.  To read my full disclosure you can check it out here.
The links in this post may be affiliate links.  That means that if you click them and make a purchase, this site makes a commission.  It will have no impact on the price you pay or the experience of your purchase.
When I stepped foot in what I knew was my next home, the kitchen countertops and cabinets were something I knew would need some TLC.
Luckily, like in my last home, I saw the potential in the kitchen and knew that I would be able to come up with a budget-friendly plan to make it a space I love to cook and feed my family in.
While I am not fully there, I am happy to report that I am well on my way.
I started by painting the cabinets, which felt like the hardest part.
And recently I finally made a decision on hardware which was another step in the right direction.
But my most recent accomplishment has me swooning over it all as it comes together.
See, the countertops were black granite, and it made the space look so dark and outdated.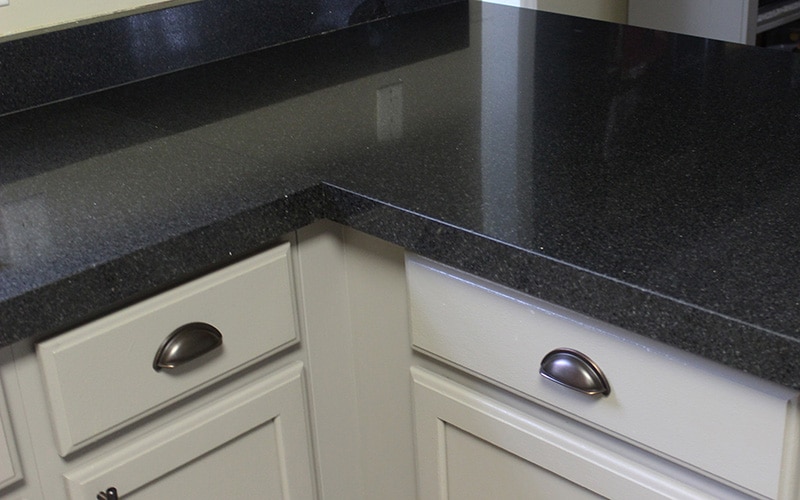 Originally I planned to rip them out. Well, have my hubby use those muscles he works really hard for. And replace them with butcher block.
But the realist in me realized a couple things.
Because of the extent of work needed to do that, I would have to shut down the kitchen for a week or more.
When you have a family of five to feed three times a day, that ain't really happening. At least not in these parts.
So I started researching alternatives and I found Giani Countertop Paint for granite to change the color.
I was totally inspired by this kitchen here I found on Pinterest. Originally, I wasn't sure if the color would come together with the gray cabinets. But I also knew I didn't want white.  This put all my fears to rest.
My inspiration found on Pinterest…
It all worked out and it's quite amazing if I may say so myself.
The process was not hard at all and was well worth the outcome.  It totally transformed not only my counters but my whole kitchen!
The kitchen is moving right along my friends and I am super excited.  Up next is the kitchen backsplash!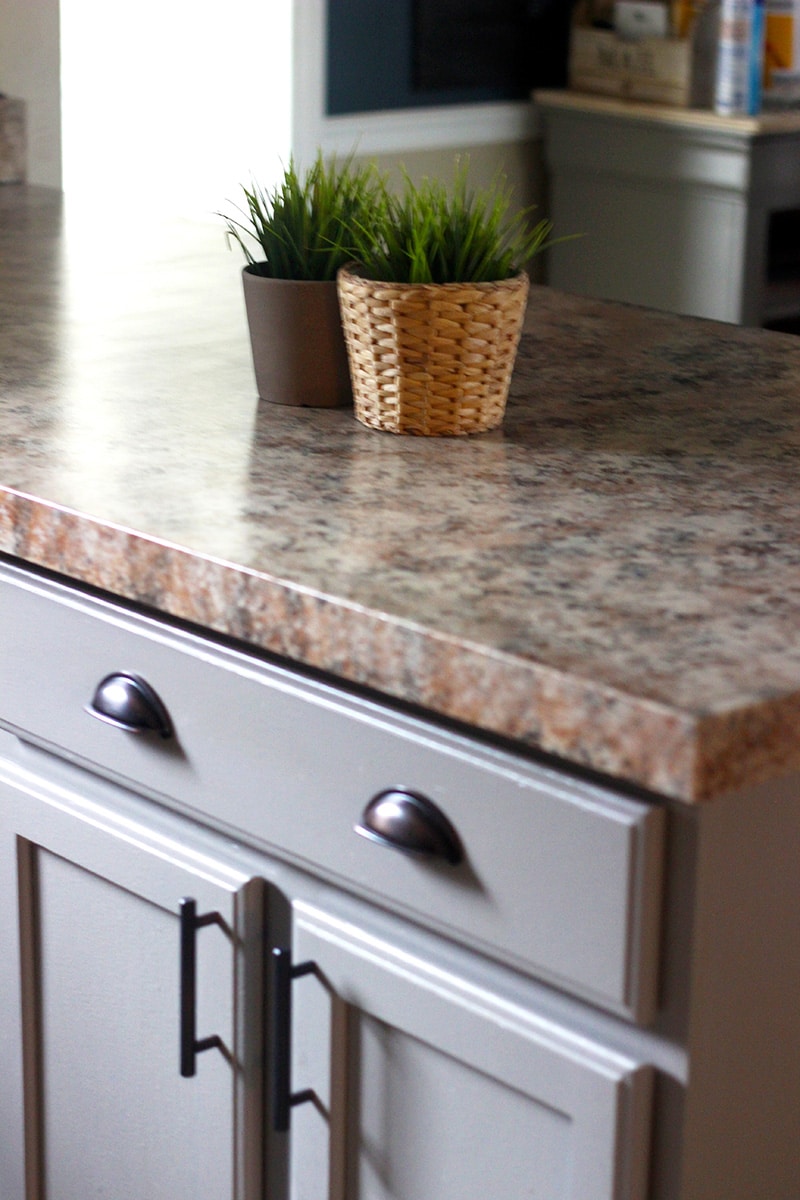 If you want to find out exactly how you can make your kitchen countertops new using Giani Granite Countertop Paint check out How To Make Your Kitchen Countertops New In 3 Steps and 1 Weekend.
I'd love to hear what you think in the comments below.  How do you think they turned out?