Garlic Butter Turkey Meatballs + Zoodles
These garlic butter turkey meatballs and zoodles are a quick low carb meal that is more than delicious, and does not take a lot of time to get on the table. Garlic-ey, butter-ey, cheese-y meatballs paired perfectly with garlic-ey, butter-ey zucchini noodles.
The links in this post may be affiliate links.  That means that if you click them and make a purchase, this site makes a commission.  It will have no impact on the price you pay or the experience of your purchase.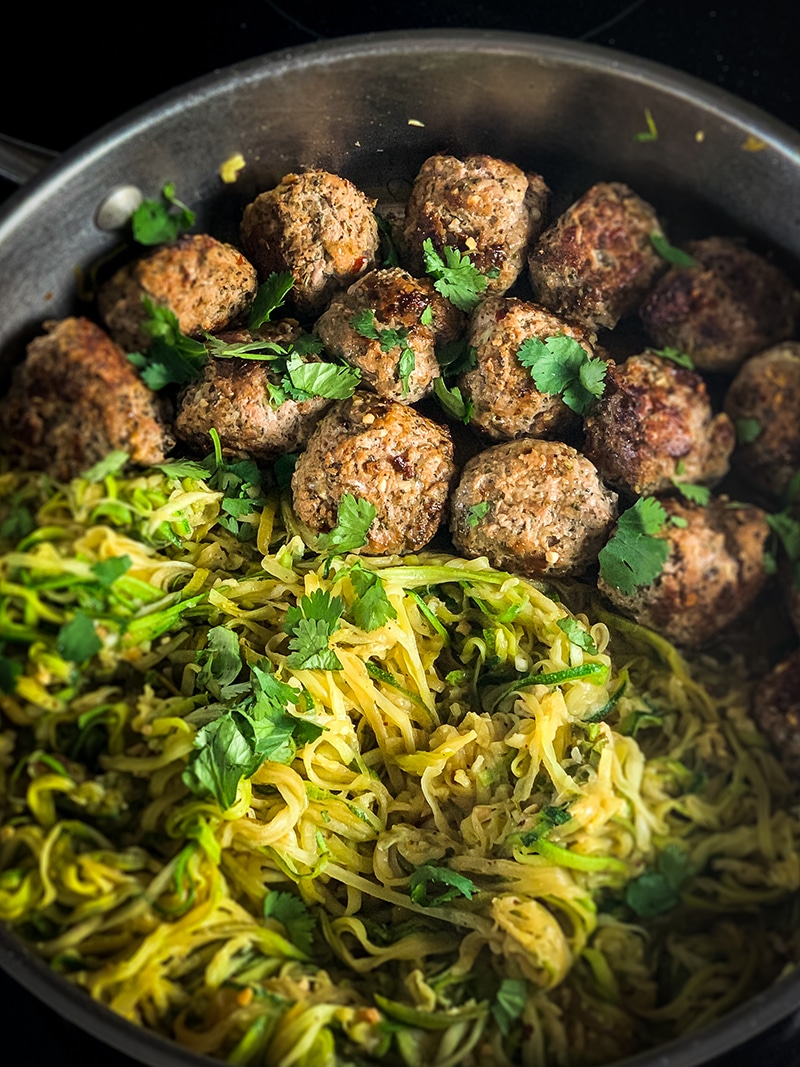 I am always looking for meals that are quick, easy and tasty. This recipe is a quick and easy weeknight meal adapted from a recipe I found on EatWell 101. A one-skillet meal that makes dinner getting on the table simple and easy with a few modifications for my family's taste preferences.
Tools Needed For This Recipe
cookie/ice cream scooper,

optional
Ingredients Needed For Garlic Butter Turkey Meatballs
ground turkey
shredded mozzarella
grated parmesan
minced garlic
italian seasoning
red crushed pepper,

optional

garlic powder
chopped cilantro
butter
Ingredients Needed For Garlic Butter Zoodles
spiralized zucchini
minced garlic
butter
lemon juice
How To Spiralize Zucchini
I use a handheld zucchini spiralizer similar to this one. I have a couple. This one gives the best results and is the easiest to use for me personally. And it is reasonably priced, so that is a huge plus as well.
To use it, you just put the zucchini into the opening and turn it against the blades.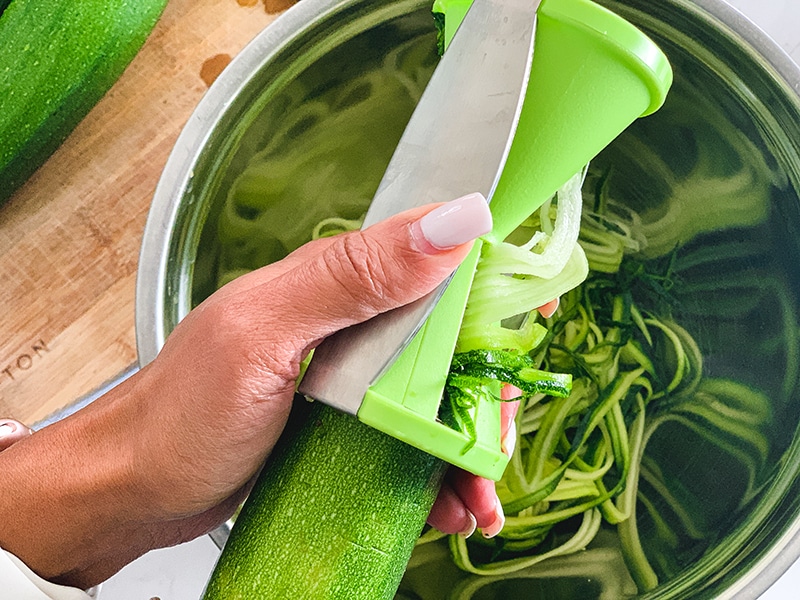 As you get to the end of the zucchini, you can use the spiky attachment that inserts into the end of the zucchini and continue turning until it goes as far as you can take it.
A skinny center of the zucchini will come through the other side that you can discard.
Zucchini is a water-rich vegetable. So I set the zoodles in a bowl lined with a paper towel and sprinkle with salt to help remove the water from the zucchini.
Before cooking, pat on top with paper towels to remove excess water.
How To Make Garlic Butter Turkey Meatballs and Zoodles
I start out by preparing or spiralizing the zoodles and making up the meatballs. Alternatively, you can buy pre-packaged zoodles from the store and skip the spiralizing step.
To me, it is quick enough to do and not worth the extra cost associated with them being spiralized in the store.
But do what works best for you.
To Cook Turkey Meatballs
To do this, combine the ground turkey, mozzarella, parmesan, 2 teaspoons of minced garlic, Italian seasoning, red pepper, garlic powder, cilantro and black pepper in a large bowl.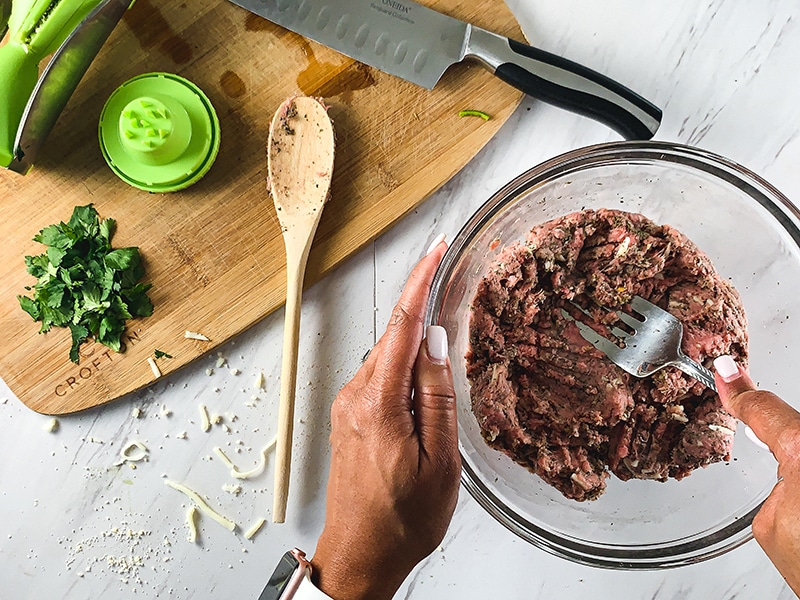 Using a wooden spoon, fork on your hands, mix everything together. Once everything is mixed well, form medium meatballs.
You can do this using a cookie or ice cream scooper to create meatballs that are uniform in size. If you do not have one, you can just eyeball it and form the meatballs with your hands.
Arrange the meatballs on a plate and set it aside.
Heat a large skillet and melt 2 tablespoons of butter over medium-low heat.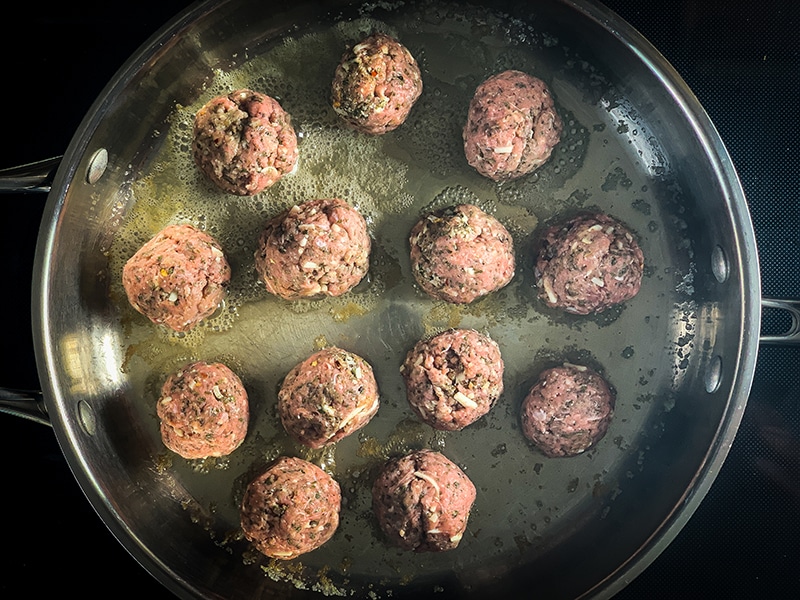 Arrange the meatballs in the skillet, and cook the meatballs on all sides, until browned and they are cooked through.
While cooking, continually spoon or brush the meatballs with the mix of butter and juices.
When done cooking, remove them from the skillet and place them on a clean plate and set aside.
To Cook Garlic Butter Zoodles
In the same skillet melt the remaining tablespoon of butter.
Then add in lemon juice and the remaining teaspoon of minced garlic.
Add in the zucchini noodles and cook for 3 to 4 minutes, tossing and stirring regularly.
The zucchini is done when it is still crisp but the juices have reduced a bit. Season with salt and pepper to taste, and garnish with more cilantro or parsley if preferred.
Move the zucchini on one side of the skillet and add the turkey meatballs back into the pan to reheat them for a minute or two. Serve the garlic butter turkey meatballs and zucchini noodles and enjoy!