Our Family Camping Adventure at Yogi Bear's Jellystone Camp at Daddy Joe's
Be forewarned. If you are planning your first camping experience, Yogi Bear's Jellystone Camp Resort at Daddy Joe's, also known as, Tabor City Jellystone Park, is gonna spoil you a bit.
The links in this post may be affiliate links.  That means that if you click them and make a purchase, this site makes a commission.  It will have no impact on the price you pay or the experience of your purchase.
I apologize if this post causes you to look at your previous camping experience and gives you camper's envy. But I encourage you to plan a trip there.
Now let me tell you that this article is to share the deets on Tabor City Jellystone Park (Daddy Joe's). And while they provided me and my family a complimentary stay, everything I am about to share with you is my true opinion and honest experience. And if it sounds like it is too good to be true, well, you'll have to visit for yourself to prove me right or wrong. Kay?
Prior to my experience camping with Tabor City Jellystone I can tell you I hadn't even thought of an RV trip for my family. And I most certainly didn't know family camping could be this fun.
I have been camping before, as a child, and in a different way.
When I was younger, two of my childhood best friend's and I would go to summer camp. The kind where we went away for a week at a time. We stayed in cabins separated by gender and had planned activities that were mostly outdoors and full of fun.
So I knew a little about camping. I knew it could be fun. I knew that it didn't just mean you stayed in tents and slept on the ground, battling bugs and hoping you didn't get any unwanted visits from random animals in the woods.
By all means, that is one way you can camp if that is your thing, but it's not the only way.
But this here was different…
Tabor City Jellystone is what you call a full-service campsite. You rent your campsite, and there are a variety of types that lend any kind of camping experience your heart desires. There are activities, amenities and loads of space for you to design your camping trip to be all that your heart desires. You can stay on site for the full time of your visit. Or leave and head out to off-site attractions and dining spaces.
Amenities and Feature of Yogi Bear's Jellystone Camp at Daddy Joe's
Site Varieties.

Tabor City Jellystone has several different campsites available. There were tent space setups, Yurts, Cabins, Secluded RV sites, Open Neighborhood style RV sites, RV quads, and bunkhouses.
To see the breakdown of the different types of campsites you can check out the video here.
Activities.

Every day there was a schedule of activities within the theme of the week. The week we stayed was a chocolate lovers theme. Activities included a chocolate slip-n-slide, SMORE basketball tournament, pudding eating contest, chocolate bar bingo, and many others. There is a published schedule that you can take a look at to plan your trip around if you so choose.
Golf Cart Rental.

While it is not completely necessary, it is surely a nice feature. The park is a nice size and you could totally walk it. But having the golf cart made getting around easier, and a whole lot more fun!
Day Passes.

If you are local or staying somewhere in the area, Daddy Joe's offers the ability for you to experience the amenities of the park without camping at reasonable prices. Day Passes allow access to the 18 hole miniature golf course, jumping pad, AquaPlay, playgrounds, basketball court, horseshoes, fishing ponds, nature trails, swimming pools, and all scheduled activities.

Yogi Rewards.

A point-based system that allows you to accumulate points for your stay that goes toward future stays and discounts. Good at different Yogi Jellystone parks across the U.S.
The site has continually evolved year after year, only making it better.
Daddy Joe's started as farmland that harvested tobacco and corn. Over the years gradually growing and expanding to what it is today. All while preserving the honor and legacy of Daddy Joe by his family. Doing each thing with excellence and having the awards to prove it, the Coleman family gradually evolved this family business into a business open to extended family. Which includes all of its visitors.
The park joined the Yogi Bear Camp – Resort system in 2004. And while that was a great accomplishment, Daddy Joe's has just continued to grow. With accolades including winning the Camp-Resort of the Year out of 70 locations and having had an exemplary inspection. Even dropping prices in the downturned economy to be able to still accommodate the family camping experience for guests.
And in 2011 adding The Creamery at Daddy Joe's which serves camp guests and the community alike.
After having the opportunity to spend a long weekend there, I am convinced that there will be many more family vacations at Tabor City Jellystone Park to come.
Family Adventure at Daddy Joe's
It is affordable and has things for everyone to fully enjoy themselves. Allowing you to bring along your pets and have a full family adventure with all the feels of being home away from home.
We even brought the dog, Tica B, along with us. And while she is not very doggy social, there was the option of the dog park to allow your fur babies to burn off their energy as well.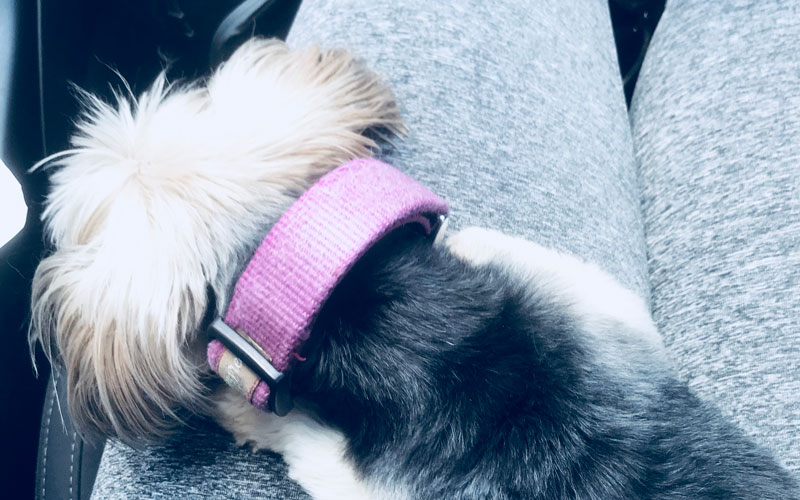 My fur baby is a homebody like her momma. And her favorite thing to do is to be snuggled up and cuddled with me. So she wasn't exactly thrilled about when we would leave her in the camper. But just the fact that she was able to be with us was wonderful!
RVing is a whole lifestyle. And let me tell you… people at the campsite were some of the nicest people I ever met. Not just the employees, but the campers as well. Our neighbors brought us over some homemade doughnuts they had made just because.
When you can go have coffee frappes without having to get in the car, that sure made me nice too!
I think it may be that whole relaxation thing, the free your mind feeling, and the allowance to feel that nothing else even matters. Makes people really nice. We could all use a dose of that every now and again!

After talking with one of the campsites regular visitors about his experience and time spent there, I am sad that we have missed out for all this time. But let me tell you, I am excited to have a new place to incorporate into my goal of building experiences and lifetime memories with my family. And this is a great place to do just that!