6 Affordable Ways To Update Your Bathroom
Updating a bathroom on a budget can seem challenging. But it doesn't have to be. Small changes go a long way. If you are looking to update your bathroom on a budget, I have you covered!
The links in this post may be affiliate links.  That means that if you click them and make a purchase, this site makes a commission.  It will have no impact on the price you pay or the experience of your purchase.
They say kitchens and bathrooms are what make our home seem like a home. And I am I clones to believe that because I am pretty sure our kitchen update in our last home is what sold that house.
A bathroom update is also a great way to improve the value of your home and make the space look more appealing at the same time.
But a complete bathroom renovation can quickly get expensive. Luckily, there are a few easy ways to give your bathroom a face lift without spending tons of money. Make sure you give these six cheap ways to update your bathroom a try!
6 Budget-Friendly Ways To Update Your Bathroom
Paint
Adding a fresh coat of paint to just about any room will instantly update it. But especially in a smaller space like a bathroom. It is a simple and cheap way to update the room.

And painting the walls isn't the only way to update the room on the cheap. Adding a coat of paint to your existing vanity is another simple way to give your bathroom a makeover without having to replace the expensive fixture. I did this last year in my daughters' bathroom and made things like new!

Plus, here's a super useful painting reference article about paint sheens for you to get started with!
And to help you choose your color, don't forget to check out how Sure Swatch adhesive film helps me sample paint before committing.
Add Storage
Most bathrooms could use more storage, so adding more storage to the space is another quick fix that will make a big impact.
You can add a new storage shelf to the room, install open shelving to the space, or hang a new medicine cabinet over the sink. Either way adding storage to your bathroom is a cheap way to update your bathroom and make things more organized.
Install Accent Tiles
While re-tiling your bathroom may be out of your budget, installing accent tiles to the room is a budget-friendly way to update the space.
Installing colorful or decorative tiles to the vanity wall or in a small section of your shower can add a pop of color to your bathroom without requiring a ton of time or money.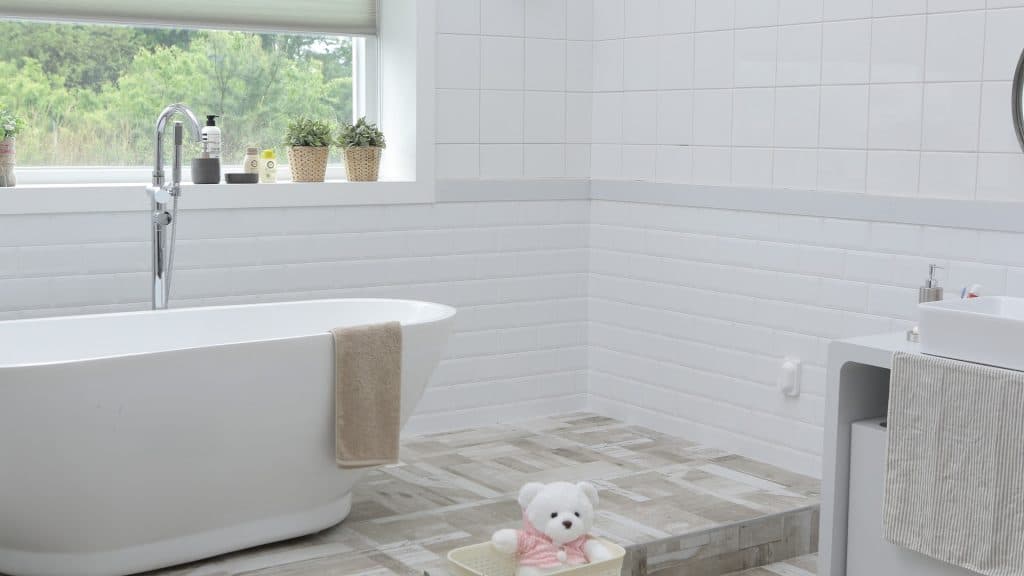 Change the Light Fixture
Light fixtures are a great way to add style to a room, and the bathroom is no exception. Swapping an outdated light fixture above your vanity or even adding a cute ceiling light for a new, more stylish fixture will instantly make the room look amazing, and is an excellent way to update your bathroom with minimal effort!
Replace the Faucets
The faucets on your sink and bathtub, as well as your bathroom's shower head, are like accessories in the room.
Replacing those fixtures for updated models can easily give your bathroom a quick face lift. And the best part about this simple renovation is that it won't cost an arm and a leg to complete because you ca man certainly do this on your own.
Hang a New Mirror
Whether you add a mirror with beveled accents or look for one with a designer frame, a new bathroom mirror is another cheap way to update your bathroom.

And while your at it, consider adding one of those fancy zoom mirrors the hotels have. They make putting on makeup, tweezing brows and all the things you need to zoom in for so much easier.
I hope this helps serve up some inspiration on updating your bathroom on a budget. Helping your understand that even when you do less, it can be so much more!