A surprisingly sweet root salad with a flavor (and color) pop. The colorful and flavorful combination is pretty to look at but even more vibrant on your taste buds.
The links in this post may be affiliate links.  That means that if you click them and make a purchase, this site makes a commission.  It will have no impact on the price you pay or the experience of your purchase.
Just because I operate in integrity, I am letting you know that this post is filled with my true, honest opinion and experience at Sassool Mediterranean Cafe. Out of the kindness of their hearts, lunch was provided at no charge. A special Thank You to the family for welcoming me to their place!
My husband and I often talk about legacy and working to leave the kids something.
I think far too often today we as a people get caught up in giving our kids immediate gratification and don't think about the long term.
A few days ago I had the opportunity to visit and tour Sassool Mediterranean Cafe here in Raleigh. It's a cross between fast food and casual dining in a cafe that offers a twist on traditional Mediterranean foods produced from their very own family recipes and traditions.
While their food is pretty darn good, being the person I am, I was actually truly wrapped up in the story tied to the cafe as well.
Sassool was introduced to the triangle area in 2014 when Mounir Saleh branched out from the family business and long-standing community staple, Neomande Restaurants and Artisan Bakery.
The cafe is named after the Saleh brother's mother Cecilia, who is nicknamed Cecilia.
I had the chance to meet and chat with Noelle, daughter of Mounir, who runs and operates the Raleigh location. There is also a location in Cary run by her sister, and there will soon be a part of the upcoming Morgan street Market. With a "Sassool Express" concept.
But one thing that I got in reading about the history of the restaurant and then talking with Noelle is that legacy and family are very important to this family. And not just their family, but yours too.
When I asked Noelle if the restaurant staff was made up of members of her family, she responded and said, "her family is still very much a part of the business, but they also have staff who have multiple members of other families. Noting that there are people who have been there for YEARS!"
I also had the chance to meet Mounir and one of his brothers briefly. Greeted with smiles and kind words, I could tell they still had the passion for the business I imagine they had when they got started. And in speaking with Noelle, they have passed that on to younger generations of their family.
That's legacy. And it's truly a legacy of love as Sassool is noted as being dedicated to Cecilia and her love and special care for cooking good food.
After having the chance to meet Noelle and her dad and being so welcomed, shoot I'm practically family too now. And if you don't believe me, I have a recipe here straight from Sassool's kitchen to share with you.
Now would I have that if I wasn't family?
Right!
Anyhoo, here's the Root Salad recipe straight from Sassool that you can prepare and enjoy with your own family and be inducted into the Sassool family just like me.
I hope you enjoy!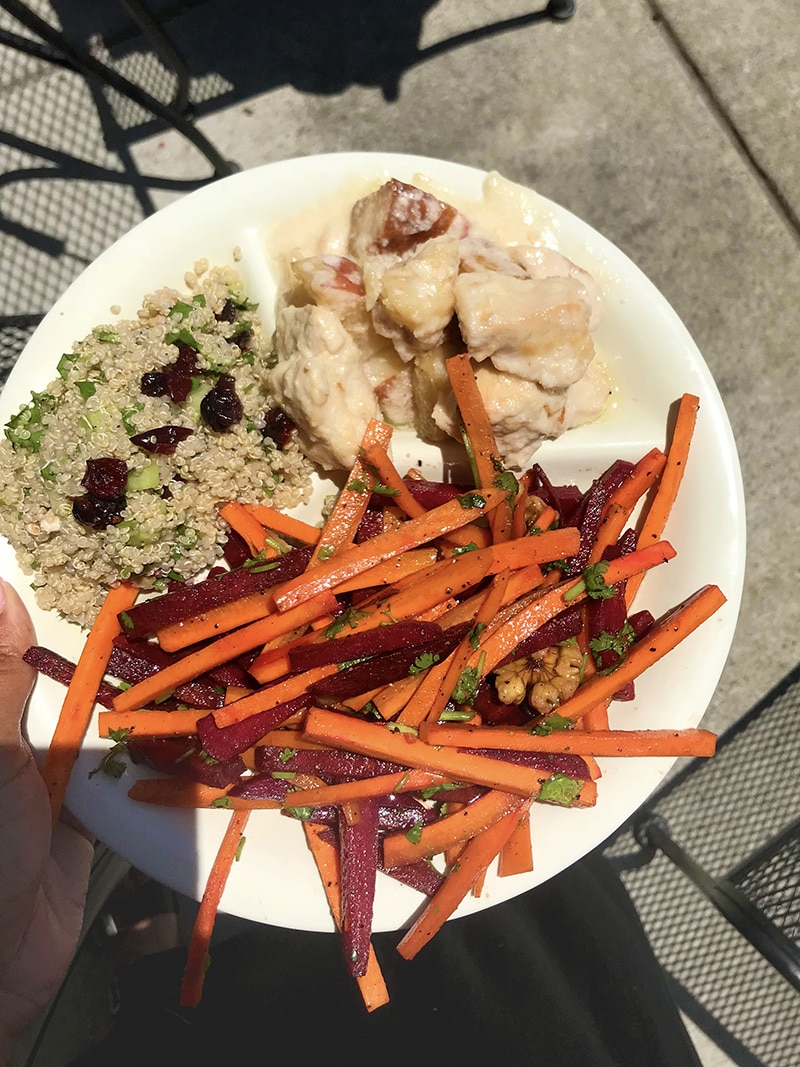 Sassool menu has an extensive selection of flavor packed items.
…and did I mention there is fresh Pita Bread baked in-house?!?!?!
The cafe also offers a market filled with ingredients found in their own recipes, baked goods, and other specialty items.
If you are in the Raleigh area and interested in checking out Sassool, they have two locations:
Sassool (North Raleigh)
9650 Strickland Rd, Raleigh, NC 27615
And
Sassool (Cary)
1347 Kildaire Farm Rd, Cary, NC 27511
Interested in making the Sassool Root Salad Recipe? Pin it for later to enjoy at your next family meal gathering.
Do you enjoy Mediterranean cuisine? Comment below and tell me what's some of your favorites so I know what to try next?