Pizza is a great weekend meal, but fruit pizza is even better.  With it's creamy slightly sweet "sauce" it's one of my most favorite, tasty desserts.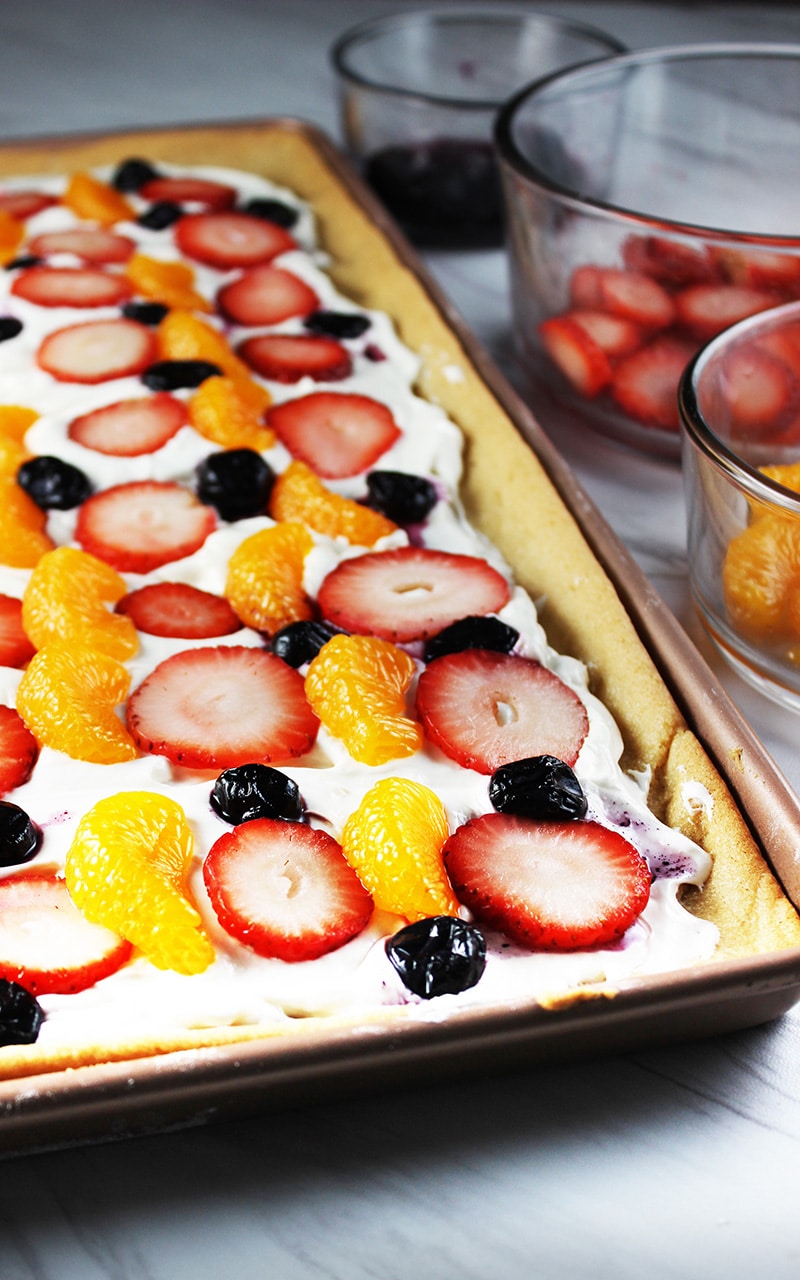 I wish I could tell you I came up with this one on my own.  But this is actually a favorite straight from my momma's kitchen.
She loves to serve this up at the holiday parties and really any special occasion where she can get some fresh strawberries.
Seeing as how strawberry season is coming up, this recipe is perfect for you to make with your fresh picked strawberries.
Mom makes it in a variety of ways using everything from kiwis, grapes and everything you see here.
I chose to go with a simple recipe of strawberries, mandarin oranges, and blueberries.  But you can make it using any fruit combination you can think of.
You simply roll out and bake the cookie.
And top it with your "sauce".
Top it with fruit….
…and that is all there is to it!
You can use fresh, frozen, or canned fruit. How I determine which I use is based on:
The season
If it's spring and summer and fresh fruit is sweet and juicy, I'll roll with that.
Availability
If the store doesn't have what I need in the fresh section, next stop is frozen fruit section.
Time
Will I have time to slice up the fresh fruit before preparing it. If I am in a crunch, I'll adjust accordingly.
| | |
| --- | --- |
| | |
Open packages of cookie dough and cut into 2-inch thick sections and spread out on cookie sheet.

Using a floured rolling pin, roll out the dough to cover the bottom of a 16-inch pan. If there are gaps, using a floured wooden spoon spread the cookie to fill the gaps.

Cookie dough does not need to go all the way to the edge as it will spread. If it is rolled to the edge, use the spoon to push it back from the edge.

Put it in the oven to bake for 18-22 minutes, depending on your oven.

While the cookie bakes, mix together the sugars, cream cheese, cool whip, and vanilla in a mixing bowl. Set aside.

When the cookie comes out the oven, allow cooling for 20-30 minutes.

Spread cream cheese mixture across the top of the cookie in an even layer.

Add fruit on top of cream cheese in any pattern that you like.

Cut into slices and enjoy!
While you don't have to do it with freshly picked strawberries or use strawberries at all, this is perfect for your strawberry picking season.
If you are located in the Raleigh-Durham area, here is a list of local farms where you can go strawberry picking this season and all the deets you need!
If you're not in RDU head to the google and see where you can grab some berries this strawberry season. Ashley over at MommyWeek has you covered for Atlanta.
INTERESTED IN MAKING THIS FRUIT PIZZA RECIPE? YOU CAN PIN IT AND SAVE IT FOR LATER WHEN YOU ARE READY TO MAKE IT!
Questions, Comments or Just Want to Say Hey 👋🏽, Drop Me a Line in the Comments.