Pecan Strawberry Poppyseed Salad
Fruits and vegetables all in one delicious place topped with a sweet tangy dressing that brings it alllll together in this Strawberry Poppyseed Salad.
The links in this post may be affiliate links.  That means that if you click them and make a purchase, this site makes a commission.  It will have no impact on the price you pay or the experience of your purchase.
I think it's safe to say that spring has finally sprung (fingers crossed).  And if you're anything like me you are so here for it!  But I'm from Cleveland, so I don't get too excited because I am used to the disappointment that Mother Nature will subject you to in April.
But being the summer bunny that I am, I am more than ready for the sun to shine on a regular basis.  To wake up to birds chirping in the morning, riding with the sunroof open, hair blowing in the wind, AND salad on my plate.
When the warmer months hit I no longer crave the heaviness of comfort food – macaroni and cheese, pasta and potatoes, and all of the things that keep me comfortable with a little bit of chubby in the winter time.
Instead, I go for lighter options.  Things like stir- fry's, roasted veggies, and just about anything that won't make me feel like I'm carrying an extra 5 pounds around.
Except for s'mores. Give me ALL the smores.
I digress.
The salad that I want to share with you today is actually one of the ones that get rotation all year round in these parts. But a heavier rotation in the spring and summer months. It's so good that even my kids ask for it specifically!

I think its something about the fruit combined with the crunch and the slightly sweet dressing that you drizzle on top.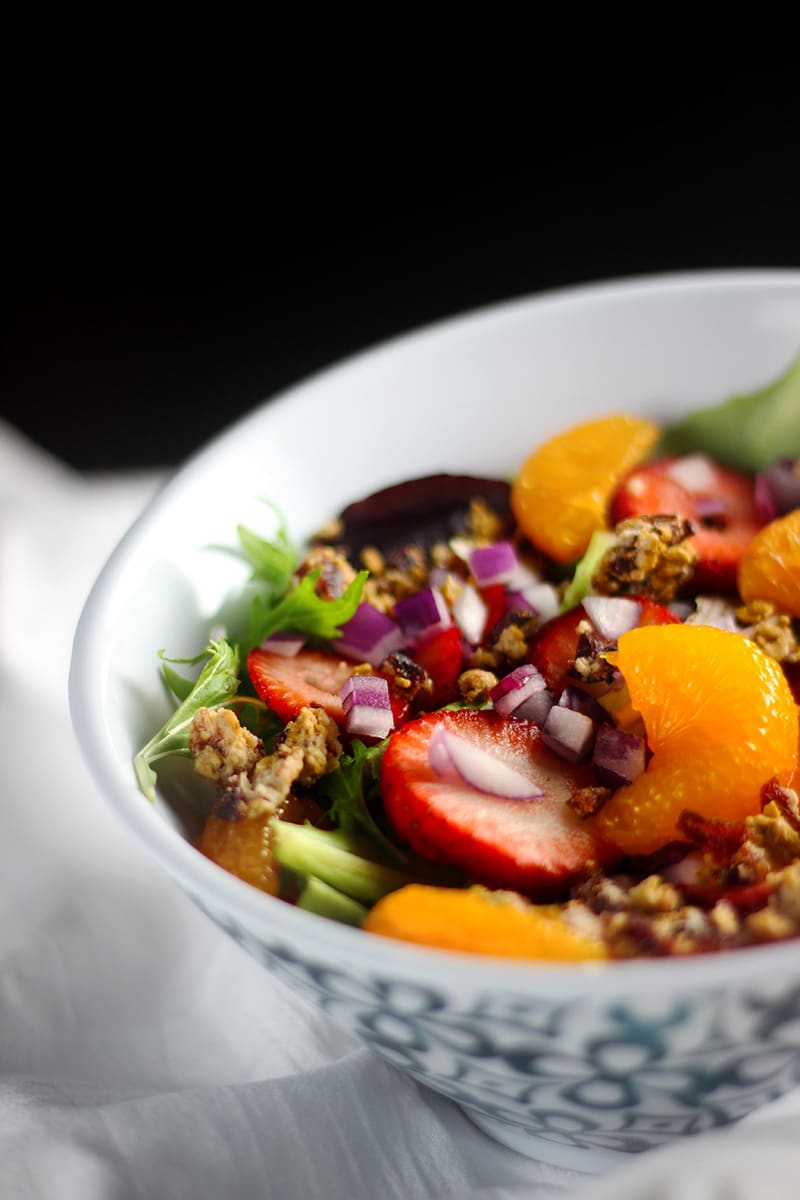 Strawberry season is upon us, so it's more than appropriate that I share this recipe with you right now. Because you're going to need to know what to do with all of those fresh strawberries that you're gonna have.  Smoothies, desserts, and yes my friends, strawberries are going to be ah-maz-ing in a salad.
And while I recently shared a dessert recipe for you to use them in, here is something that will be less taxing on your waistline.  Cause I am all about balance!
And the beauty of this salad is it could go as a main meal, with some meat added in.  Or a tasty side salad that serves up all the flavors.
INTERESTED IN MAKING  STRAWBERRY PECAN POPPYSEED SALAD?  YOU CAN PIN IT AND SAVE IT FOR LATER WHEN YOU ARE READY TO MAKE IT!